Khasi Tribe of Meghalaya
$2560

$25.60
Tax included.
Shipping
calculated at checkout.
---
---
Book Specification
Book Description
About The Book
Often some academicians with a grim view of India's future mention to the numerous secessionist battles raging in different parts of the multiethnic, multi-religious nation. Of course, politicians and nationalists take instant umbrage. But ask them to explain the mountain call for disunion and chances are that an accusing finger will point at some "foreign power". We have always refused to acknowledge the disenchantment of our people. Almost all our northeastern states are in various stages of insurgency. Open conflict in some places, uneasy cease-fires in others, and in the rest, the beginnings of what could end up in another violent call for autonomy. Meghalaya is one state of northeast India that remained calm during achieving the status of a state.
The northeast is largely cut off from mainland India, and in these remote pockets, unhappy youngsters are easily prone to feeling persecuted. They feel their community is singled out because they belong to a different ethnic stock. This resentment, if not addressed, can easily be fanned into violence. It happened in Kashmir. It happened in Nagaland and in Manipur. And it could happen in Meghalaya too.
The people in Meghalaya have simply voiced their concerns. The urge to preserve their customs and hence oppose any policy which adversely affect their culture. It is not that the Khasi are desperate to cling to their customs. Much has changed in the past 50 years. As for example the Nongkrem dance is hosted by the Syiem of Khyrim, custodian of the original tribal religion in a society that is now mostly Christian. Syiem, himself, is no hatchet wielding, grass-skirted savage who lets off alarming threatening whoops. Instead, he is a gentle 48-year-old doctor dressed in suit and tie who speaks flawless English. He talks of education, opportunities and infrastructure. Zealous missionaries have produced a highly literate population in Meghalaya that has happily adopted leather jackets and MTV. The book gives a contemporary scenario of Khasi culture which withstood against the onslaught of winds of change.
About the Author
Dr. S.H.M. Rizvi, Ph. D (Delhi University) has been engaged in bio-anthropological researches since 1986. His involvement in various research projects enabled him to conduct field work in the remotest areas of Western and North-Eastern India and study various tribes and communities living in the arid zone of Barmer districts of Rajasthan to human groups living in hilly inhospitable forests of Manipur bordering Burma.
Dr. Shibani Roy, Ph. D. (Delhi University) is actively engaged in field base empirical research among the Muslims of Northern and Western India besides doing field work-oriented research on tribes of Western and North-eastern India.
Preface
The natural resources of a country and its cultural heritage belongs to its people. Each individual has a right over it and they are also vested with the responsibility to understand appreciate and practice it for its conservation. Cultural heritage conceptually is a term which encompasses the entire cultural environment with landscapes, historical places, art forms, celebrations, biodiversity, collections, the traditional and continuing cultural practices, knowledge. wisdom and living experiences. All these are achieved over a long process of historic development forming the essene of a highly diversified national, regional, indigenous and local specificities which becomes an integral part of contemporary living. Thus, it is a collection of dynamic referral points and positive instrument for growth and change. Heritage along with collective memory are area based or community based which are irreplaceable and form the main bulwark for present and future development. India is a country which portrays variety of cultural norms and practices reflecting its diversity and character.
Tourists in thousands through all the six seasons flock here not for the airports, hotels, recreational facilities. gambling havens, geographic locations, palaces, temples and the people. Each of the above mentioned aspects of tourism in India is much below the mark of world standard. Other countries have better infrastructural and logistic support for comfort of the tourists, Popularity of India in world tourism. is because of its vibrant culture and still alive cultural heritage which are manifested in the mundane affairs of the people in their day to day living style: whether they are Hindu, non-Hindu or tribal. All these collectively is an aspect of life to be experienced and not only seen.
Introduction
Guwahati, the seat of ancient state of Kamrup, capital of contemporary Assam state and gate way of North East India is well connected by air, rail and road. Its importance as a business centre is further enhanced with introduction of industries specifically tea and oil. When one lands or arrives by train at Guwahati he cannot remain unimpressed with mighty Brahmaputra flowing ferociously and lush green landscape with little islets standing amidst the turbulent waters of this river which originates in Arunachal Himalayas. Nine kilometers away towards the south after leaving Dispur. headquarters of the capital, one finds a temple of Ganeshji where drivers of bus, truck, car and taxi offer coins to ensure a safe journey on zigzag hilly road and hair pin turns which they have to encounter ahead. The confusion, commotion, and rush of Guwahati town fades away as one approaches to Byrnihat. from where one enters in the enchanted Meghalaya state and proceeds towards its capital Shillong a drive of about 103 kilometres criss crossing hills, deep gorges and thick tropical green forest. A brief stop over at Nongpoh, to rest the warmed up motor engine and to stretch one's legs. is more rewarding when one finds himself amongst beautiful men and women selling pineapples, banana. papaya, green vegetables. The fresh look, sparkling eyes, smooth skin and unique attire attract the attention of commuters. Men in baggy trousers, moulded shoes, jeans, tops adorning a hat and guitar hanging through a string around their neck singing song on a western tune, heralds the scene of a Khasi tribal market. Women drape themselves in their traditional attire including a shawl of red and black check pattern are busy in selling their produce brought from field. A sling bag is indispensable item of their attire. Both men and women chew betelnut and leaf continuously. After the brief stopover and tasting the red tea (tea liquor without milk) and jadoh (a local preparation of rice and meat) one is awed by the picturesque landscape of plateaux, ravines, brooks, rivulets, lakes and waterfalls, besides the magnificient gorges exceeding 600 meters: in depth towards the southern part of the landmass.
Book's Contents and Sample Pages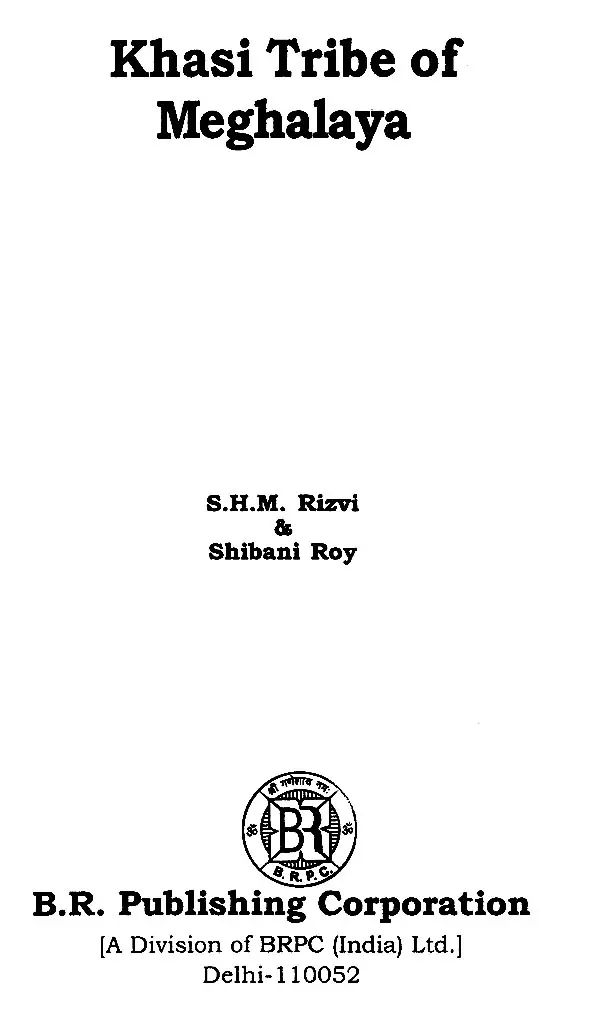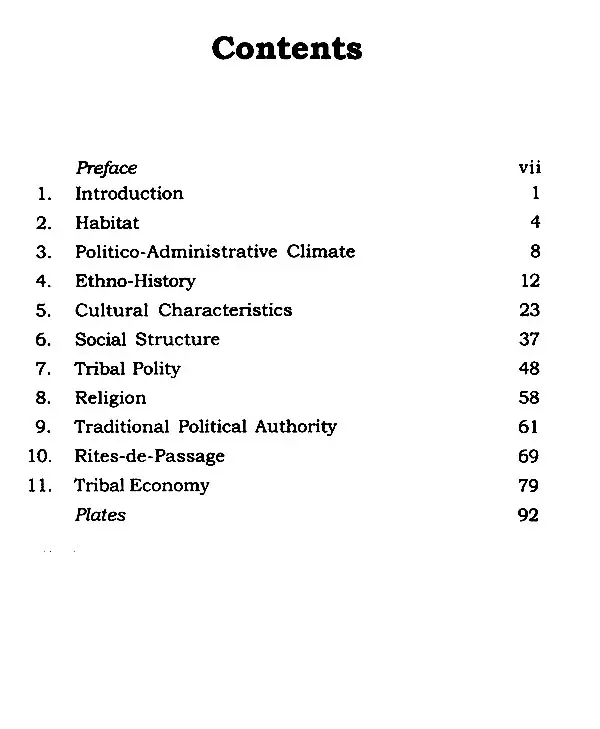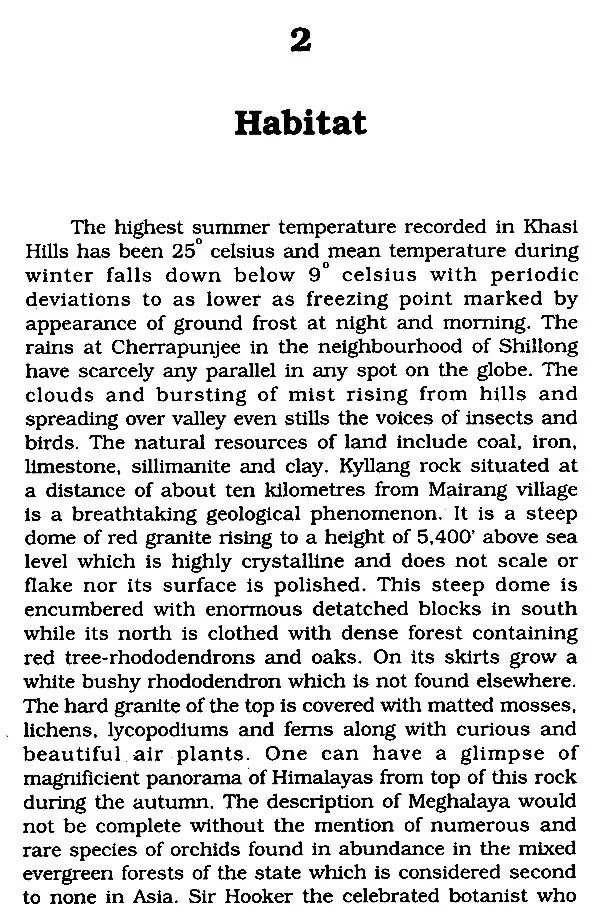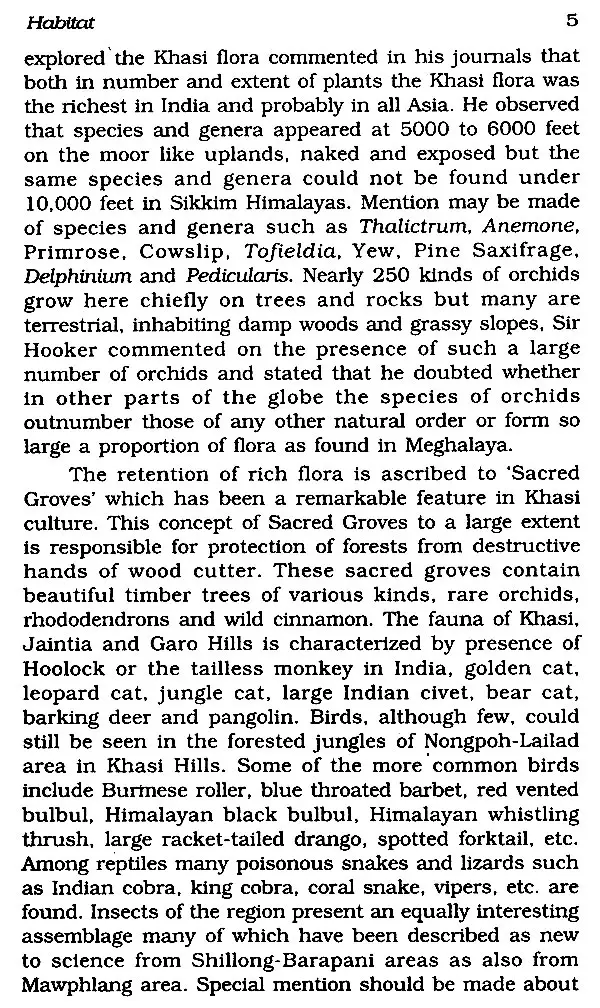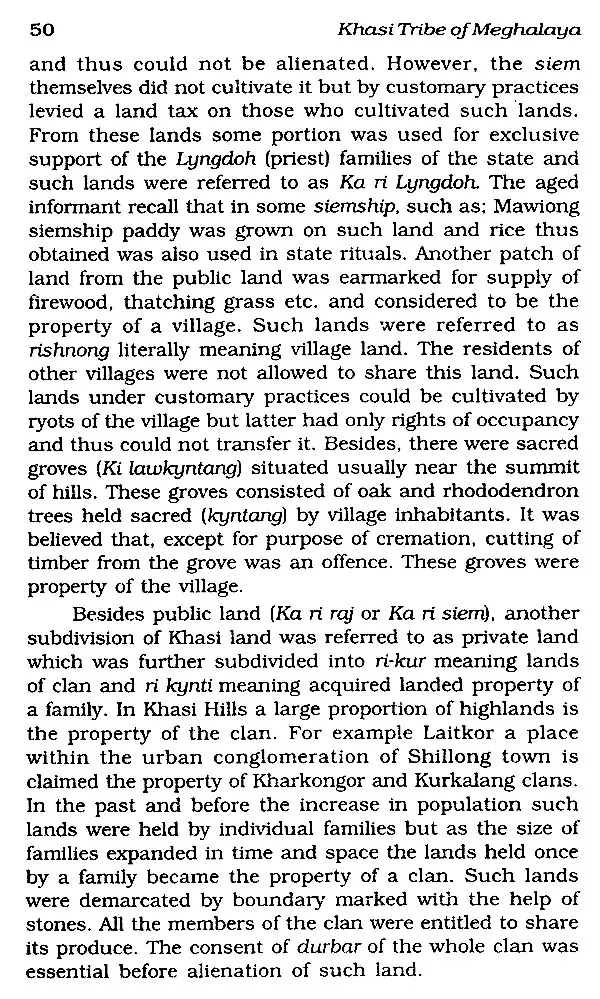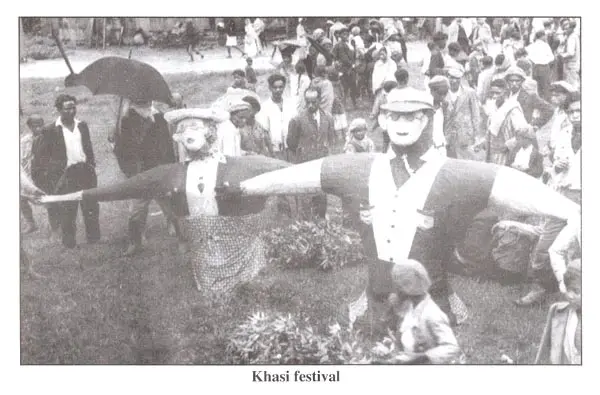 ---
We Also Recommend