Kumar Gangananda Singh- Makers of Indian Literature (An Old and Rare Book)
$2000

$20.00
Tax included.
Shipping
calculated at checkout.
---
---
Book Specification
| | |
| --- | --- |
| Item Code: | AZH012 |
| Author: | Surendra Jha |
| Publisher: | SAHITYA AKADEMI, DELHI |
| Language: | ENGLISH |
| Edition: | 1998 |
| ISBN: | 8126003642 |
| Pages: | 75 |
| Cover: | PAPERBACK |
| Other Details | 8.50x5.50 inches |
| Weight | 120 gm |
Book Description
About The Book
Kumar Gangananda Singh (1898-1971) scholar and writer in Maithili was a man of versatile genius with a wide range of achievements. There is no field associated with Mithila and Maithili that remained uninfluenced by his art. In the present monograph, an attempt has been made to evaluate the genius and versatile creativity of Kumar Gangananda Singh in various fields and also assess the influence on him of the times, place, family and trends of age in shaping his mind. Whatever he wrote became a permanent possession of literature. Besides writing in Maithili language, he also wrote in Hindi, English and even Sanskrit. The excellent style and the fine balance he maintained among thoughts, imagination and reality in handling his theme is duly acknowledged.
About the Author
SURENDRA JHA 'SUMAN' (b. 1910), the author of this monograph, is himself a man of versatile talents, working in diverse fields like his subject, from State Legislature to Central Parliament in politics, heading the college and university departments of Maithili in the educational field, editing various journals and magazines and earning encomium in the literary field as the author of more than fifty published works. He is also the recipient of the Sahitya Akademi Award.
Preface
It was in 1987 that the Maithili Advisory Board of Sahitya Akademi passed a resolution to bring out a book on the life of Kumar Ganagananda Singh as a pioneering writer of Maithili literature. Considering my close association with him I was entrusted with the task. I consented instantly, but when I tried to mentally equip myself with writing it out, the versatility of my subject as a man and artist made me realise what has been said in Samkhya Kriaka, 'atidurat Samipyat', i.e., perception as well as the its exact portraiture is made difficult by either proximity or distance. I passed through a state of disturbing cogitation as to what and how much ought to be said, how much excluded and how much included.
**Contents and Sample Pages**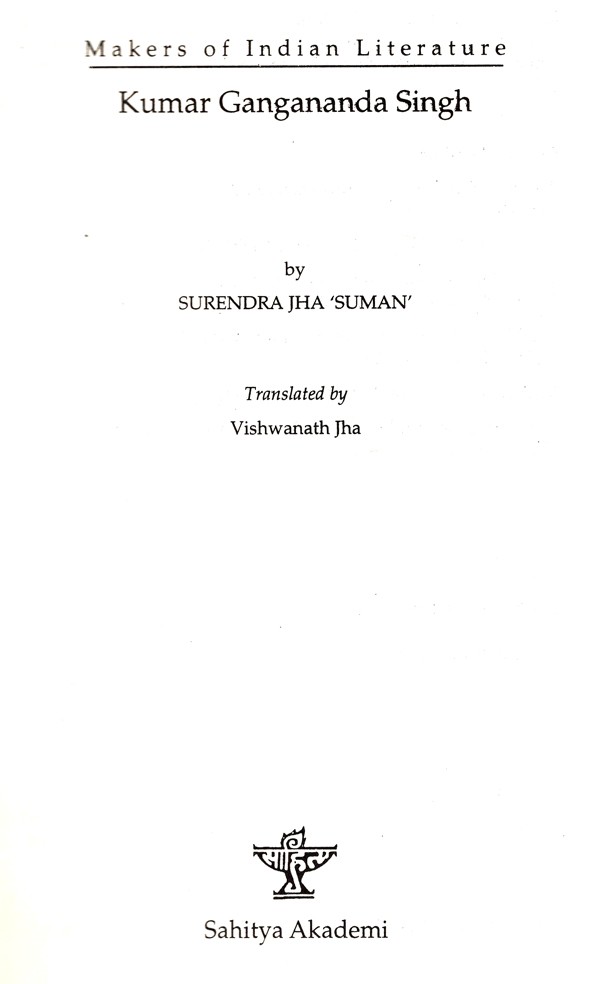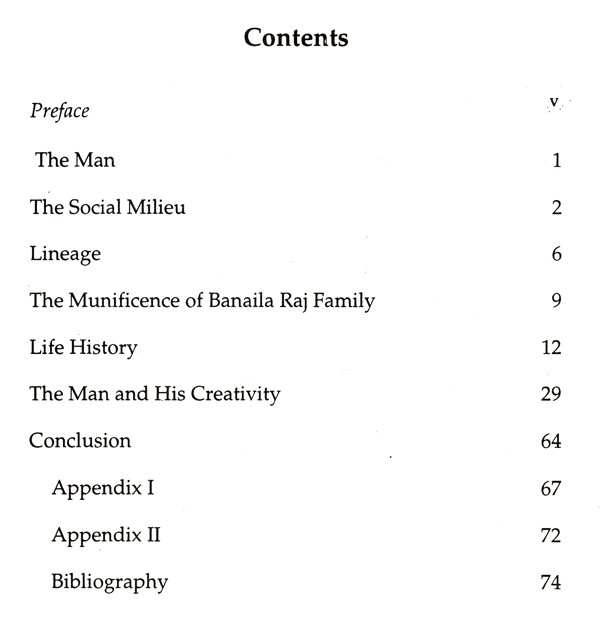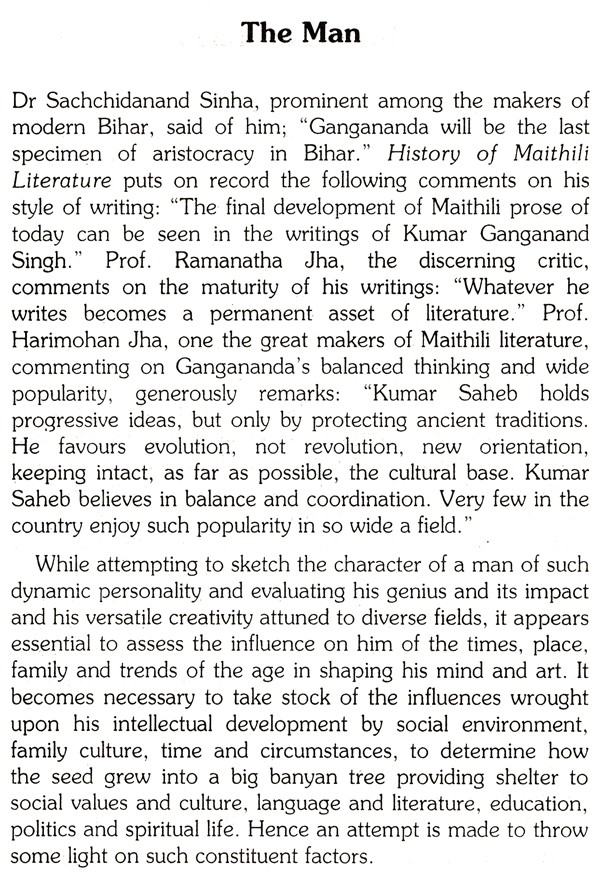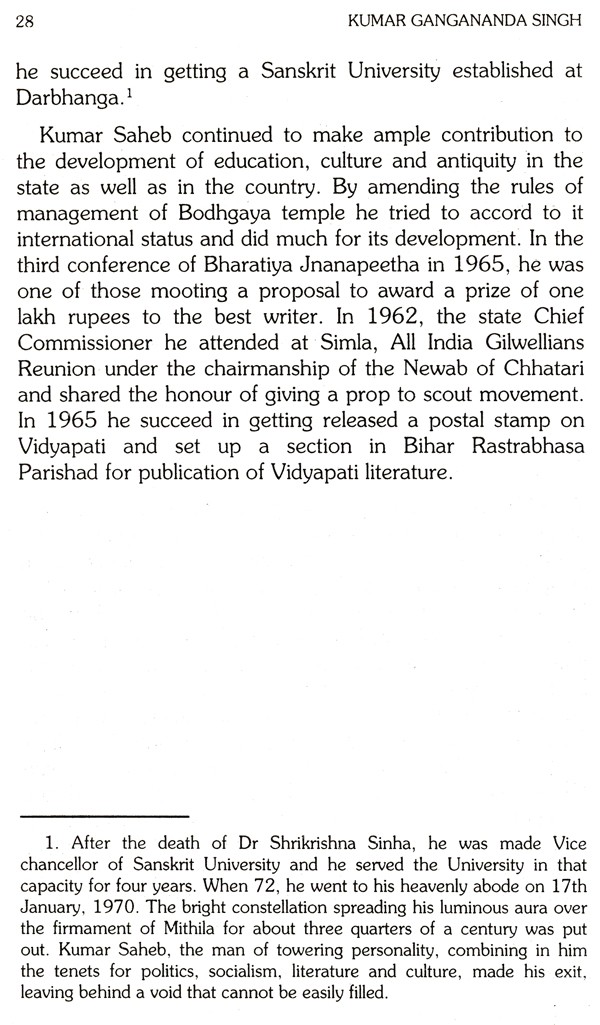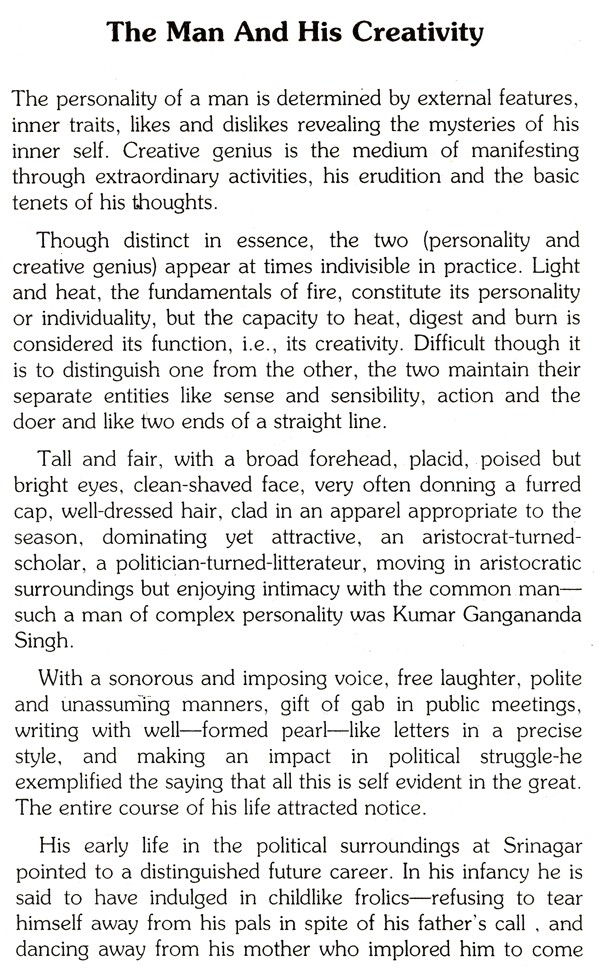 ---
We Also Recommend