Luna
$2000

$20.00
Tax included.
Shipping
calculated at checkout.
---
---
Book Specification
Book Description
About the Book
The ancient legend of Puran Bhagat is part of the folk-culture of Punjab and other states of north India. In medieval times Kadiryar wrote two versions of the story in Punjabi. Shiv Kumar Batalvi's Luna is based on this legend. His recreation is modem and realistic and a powerful assertion of the Dalit and feminine viewpoints.
About the Author
Shiv Kumar Batalvi (1937-1973) is a major modem Punjabi poet. His first selection of poems Peeran Da Paraga (1960) established him as a significant romantic voice in Punjabi literature. His verse-play Luna won the Sahitya Akademi Award in 1965 and has already attained the status of a mini-classic in Punjabi.
B.M. Bhalla the translator, was a teacher of English literature and academic administrator at the University of Delhi. Prof. Bhalla has done critical work on D.H. Lawrence, American novel, drama and Indian literature in English. He has translated Betty Smith's novel Joy in the Morning into Urdu, P.C. Chunder's Bengali novel Azdaha and a number of Hindi short stories into English. (He has also recreated Punjabi love legends in English.)
Foreword
Shiv Kumar Batalvi's Luna has by now won the status of a minor classic in modem Punjabi literature. It has been translated into Hindi already and staged many a time in India and abroad. The secret of its popularity lies in the abiding interest of the people in its ancient theme and Batalvi's effort to present it in the relevant modem form. Batalvi has succeeded in achieving in the text a rich texture. He has used classical references and a complex dialectical symbolism. Its lingering lyricism has retained the folk tradition of musical rendition of all legends which is so dear to an Punjabi.
In Indian culture there is no philosophical hiatus in folk and classical traditions. The philosophical framework is the same. The effect on the readers or the listeners depends on this recognition and the mode of presentation.
An this makes the task of the translator very difficult, and translation into English doubly so, because the ethos, structure and the philosophical foundation of English and Punjabi are so different. This is why this adventure is so worthwhile.
Translation from one language into another has to achieve authenticity, easy readability and the original flavour. Translating a verse play involves tremendous effort.
It is hoped that this endeavour of translating Luna into an English verse play will achieve the reader's approval.
Introduction
Nothing definite can be said about the content and structure of the epic. Homer, Dante and Milton chose their subject matter according to their own worldviews. The epical modes of the Eastern epic was dependent on the then current, established and elitist notions. But the Greek and Western epical tradition was based on the human foibles of common men and women. This is why the western tradition is thought to be more earth-bound and realistic.
The life depicted in the Punjabi love-legends reflects the common life of common people of a particular age. But some story tellers and upholders of traditional values have tried to somehow show how these legends belong to a single cultural tradition. They have also sought to treat them as vehicles for didactic and moral teaching. But if we take an unbiased view the Greek influence seems quite evident.
Puran's love story is perhaps the most popular among the Punjabi people. Its theme is not new. The story of the second queen of Ashoka the Great, who fell in love with his son, and which resulted in the loss of hands and feet of the young man is well-known. The tale of Tunde Asraj is very similar to Puran's story. Though an old version of Puran's story is not available anywhere in any Hindu religious text, yet its elements are woven in the texture of Punjabi folk-songs. The extended version of the same description is available in Kadaryar's "Puran Bhagat" and "Kallian Puran Bhagat". It is strange that there is a substantial difference in the two versions of the story written bythe same author. My story is primarily based on the version found in Kadaryar's "Puran Bhagat" and ends with the severing of the hands and feet of Puran. Beyond this the story does not seem to be imaginatively convincing. Going beyond this point was also not relevant. I have also made some appropriate changes in the story which make it more probable and realistic, for instance, in my story Puran's age is 18 and not 12, because accusing a young boy of 12 of characterlessness makes little sense. To say that Purari's age was 18 means that Puran was young. though it does not matter whether he was 18 or 20.
The second change that I have made in the story is that after the second marriage of Raja Salwan, his first wife Ichran is shown to have returned to her parents. She is depicted as an ordinary daughter of a king who feels terribly upset by this happening and returns to her parents. This seems reasonable and also proper. The reality of life points out that any self- respecting woman would never expect her husband to share his love with another woman in her life or even after her death.
Another significant point is that Natti and Suterdhar introduce the story. I depict Luna as a resident of Chamba. There is another opinion that she belonged to Rodus village of the Syalkot district. Another opinion is that she came from the Chamyari village of the Ajnala sub-division. Nobody has actually established these facts. There is a reference about her in a hill song as follows:
The Chamba state of the high hills,
Is rain-drenched every day.
The line of teak trees on the right,
The line of teak trees on the left
Intoxicated sway.
How should I explain its beauty,
How should I describe,
Full of beauties is Ravi River.
Luna, the untouchable shoe-maker's daughter,
Rising out of water,
Stands married to a king.
Luna has been accepted as a native of Chamba because of this reference in the last line of the song. Kadaryar also confirms that she belonged to the untouchable caste of the leather-workers.
After this another important issue for me was: how should the first meeting of Luna and Salwan be presented? It has been shown that Raja Varrnan of Chamba is a close friend of Sal wan, and it is there that he meets Luna for the first time. All this is imaginative construction. Introducing this character in the story has another purpose. Sal wan should have a friend with whom he could share his heart's secrets. I as a writer stand detached from my own story. I needed only a structure through which I could reach the inner workings of the minds of my characters. This is how the characters have been invented. These characters are not improbable. Varman, the king of Chamba, his queen Kunte, Ira and Mathri, the friends ofLuna, Luna's father and a maid are imaginative creations.The story-line and other characters such as Salwan, Puran, Luna, Ichran and her father Chaudal (the king of Udainagar), have been borrowed from Kadaryar. The difference if any, lies in the ideology prevalent today.
As a matter of fact the story throws a lot of light on the different aspects of life under the ancient kings. Such conspiracies were hatched to deprive the step-sons from ascending the throne. A little variation of the theme shows how Kaikeyi, the step-mother of Rama had banished him from his kingdom. Another angle to the story is that the elderly kings were incapable of giving love to the young wives, who were of the age of their sons, which could sustain them. Meeting their youthful yeamings was out of question. Besides, stale love can never provide spiritual satisfaction to the young blood. It is only the fresh and pure mingling of young blood which can lead them to perfection; make their lives worth living, and provide them with spiritual satisfaction beyond the fleshly and lustful gratification. The basic difference between animal passion and human love is that for animals, physical upsurge is seasonal, instant and unconscious need of the moment. While human love is abiding and spiritual. Man has transformed it into an extremely romantic and varied experience so that it dominates each moment of his life.
The elderly kings used to fall victim of doubt and suspicion for petty reasons and their court poets, who were dependent on their masters' bounty would forget the truth and depict in the histories and stories that they would write that their masters were without fault. They would protect their honour by depicting the queens and their progeny as immoral. They did not have the moral strength to question the then current moral code. Instead, if one writer would construct a plot in a particular way, others would toe the line without raising any doubt.
How can a modem poet follow that tradition blindly when there is no finality about any issue. There is always another aspect to any solution or resolution, and the line of approach can always be flexible. The traditional way may lead man to ajuncture from where he has to chalk up his own path. The responsibility of his choice is always his own. This is how the artist and the scientist have come close to complement each other.
When we talk of a new direction in literary creation it amounts to flouting the tradition to some extent and the artist has to search for the new meaning and interpretation in the traditional literature.
To say that Purarr's story is actually Luna's story amounts to a new interpretation, a new meaning. According to one version Puran was a yogi, the one who had attained perfection. Perhaps he became the protagonist of the story because of this reason. According to an oral tradition the famous yogi Chauranginath and Puran were one and the same person. He was a prince. He had to be a prince to be accepted as a guru by the common people. This condition of high birth was needed even by Rama, Buddha, Charpat and Puran. Not only this, in order to prove that they were really great, the beauties like Luna were depicted as the embodiment of lust, temptresses and the hand-maidens of the devil, designated to deceive and mislead the high-placed righteous followers of the spiritual path to salvation. These beauties were normally of lower caste.
Was it then that only the people of the depressed classes were always at fault? Atleast I don't think so. Their basic fault was that they were poor but beautiful. Their biggest misfortune was that they were born in poor and insignificant families. They were also the property of the rulers like everything else on earth. Who was there so bold and courageous to take note of their sufferings or share their pain. I have tried to give a sympathetic touch to this pain. I don't know whether my sympathetic concern has increased or decreased their pain. But I have tried to assuage this pain from the deep recesses of my soul where my feminism lay dormant. Also my manhood. Salwans are not rare even today. Luna is not thought blameless even today. The only difference is of name and time.
Even today the custom of walking completely veiled is prevalent. If we think detachedly we don't approve of the veil. But the pose that we assume in public is that we hide over- selves under a veil. Perhaps this is our compulsion. It is difficult to walk naked. I have presented my characters in this book in their stark reality. I can't detach myself from these characters. I leave it to the readers to judge their frank reality and truth as they think fit. The people who believe in traditional values may find my approach very objectionable but I believe that it is only the naked truth and its frank presentation that can cure societies, religions and nations of superstitions and falsehoods, and give them health and vigour.
Sample Pages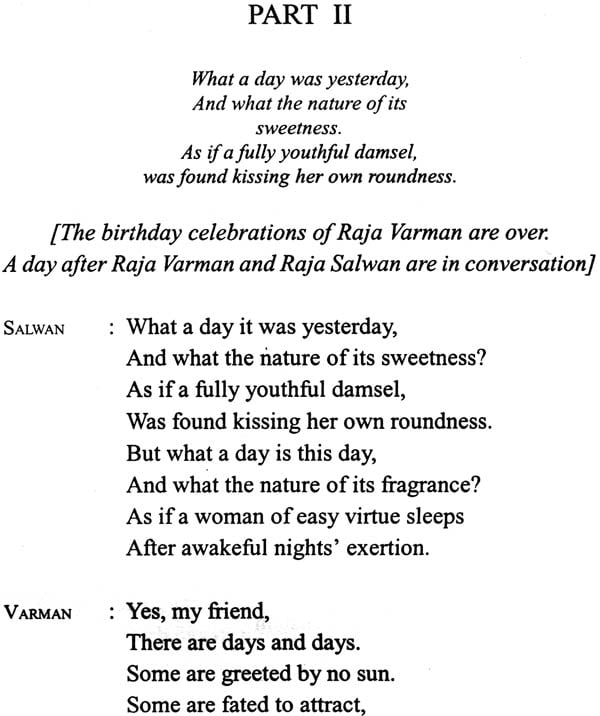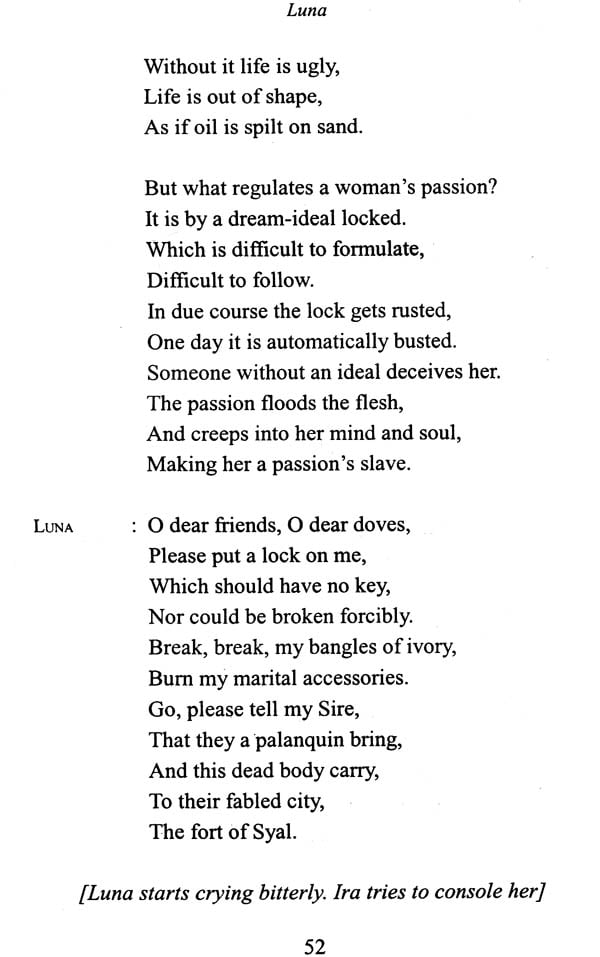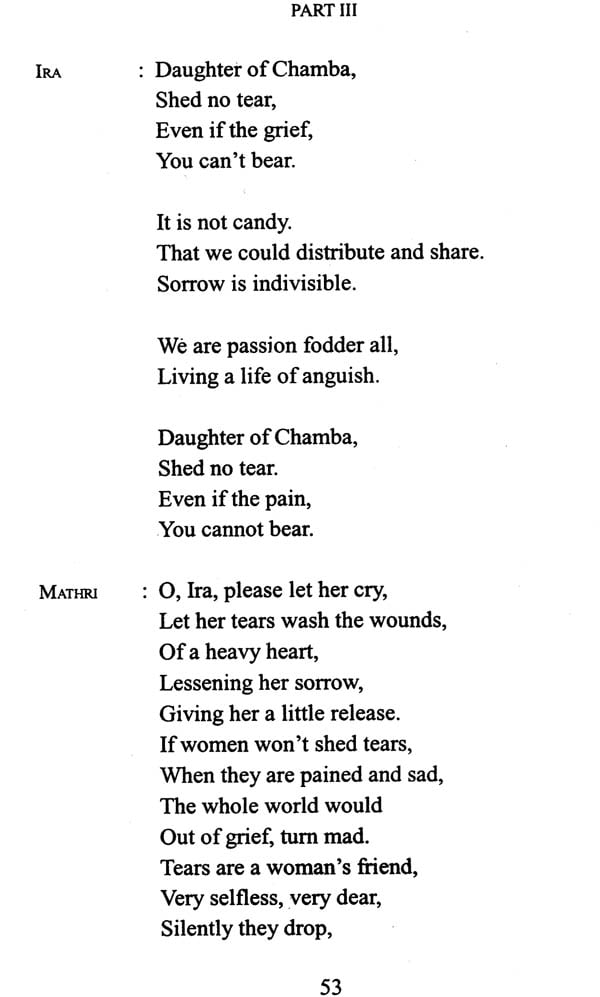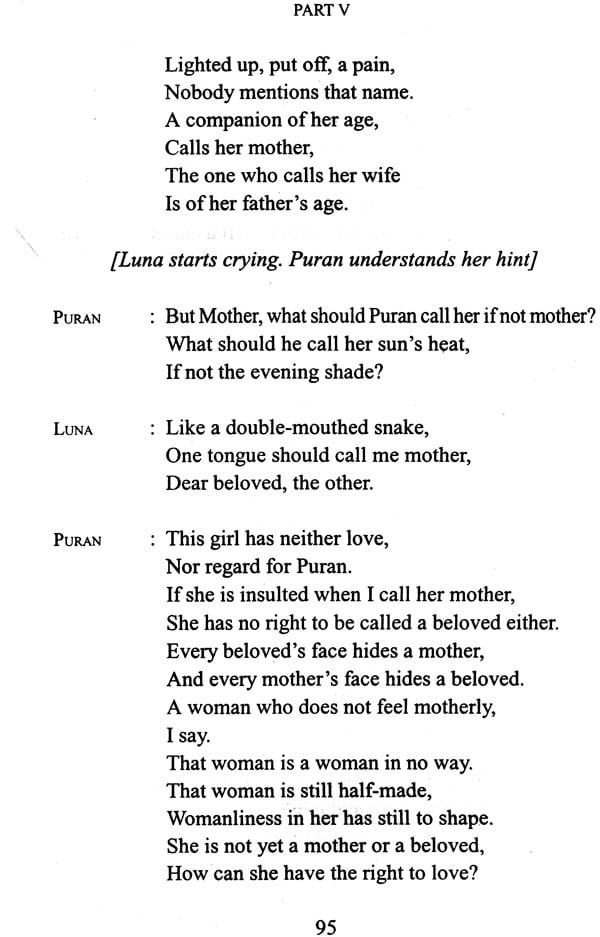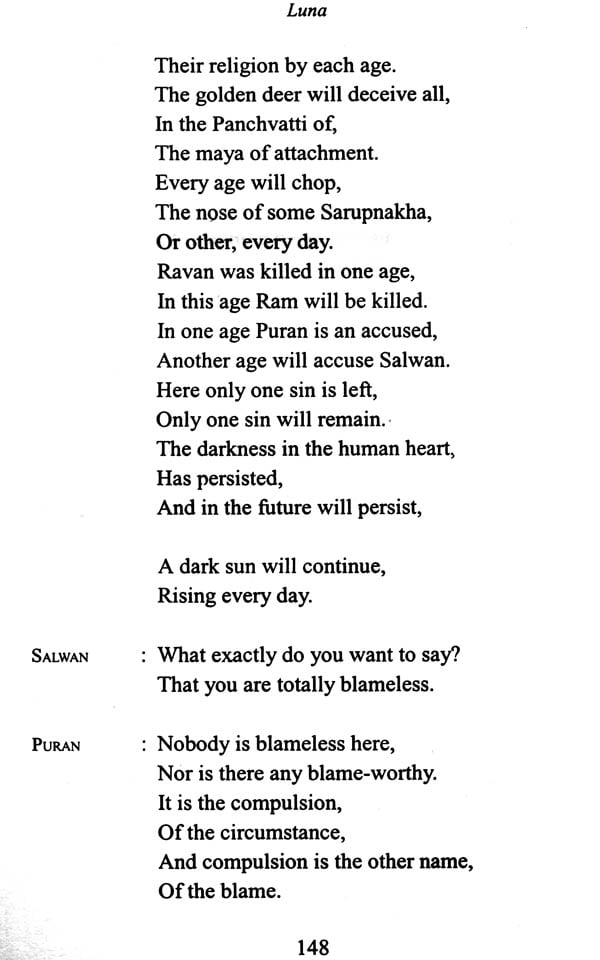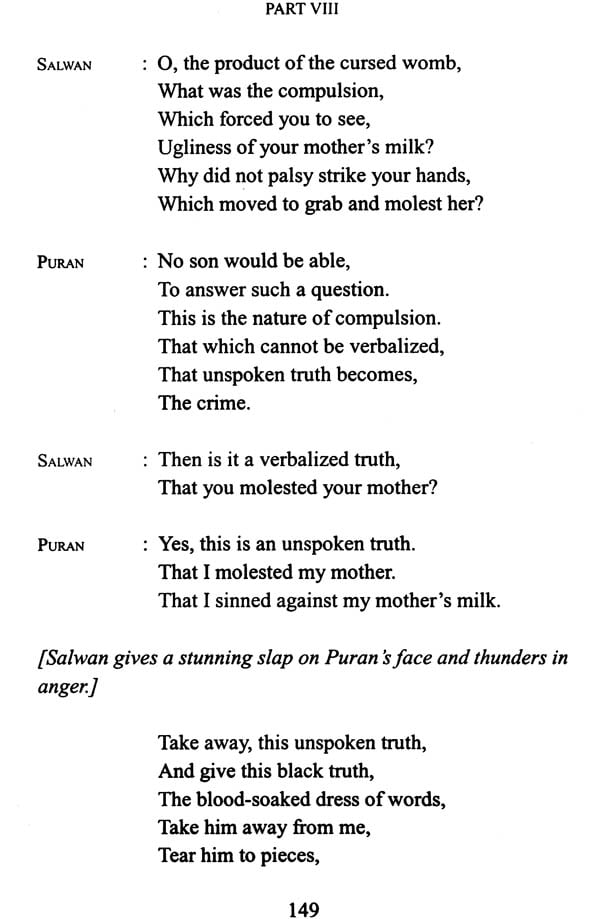 ---
We Also Recommend