The Magnificent Maharaja (The Life and Times of Maharaja Bhupindar Singh of Patiala (1891-1938)
$3000

$30.00
Tax included.
Shipping
calculated at checkout.
---
---
Book Specification
| | |
| --- | --- |
| Item Code: | IDK012 |
| Author: | K. Natwar Singh |
| Publisher: | Rupa Publication Pvt. Ltd. |
| Edition: | 2008 |
| ISBN: | 812910783X |
| Pages: | 388 (Black & White Illustrations 20) |
| Cover: | Paperback |
| Other Details | 8.3" X 5.3" |
| Weight | 470 gm |
Book Description
Back of the Book:
Praise for
"The Magnificent Maharaja"
(the work) is meticulously researched and full of unsparing biographical details. The book manages to bring out the multi-dimensional personality of the man in a style that is both lucid and engaging. - THE TELEGRAPH.
A magnificent book about a magnificent personality. INDIAN REVIEW OF BOOKS
(A) Factual, through stylized biography of the men and the maharaja. THE TRIBUNE
(A) Largely impartial study (of Bhupindar Singh), THE PIONEER
A glowing tribute to MBS. (Singh) has done exhaustive research on the topic. THE INDIAN EXPRESS
One of the most authentic, informative and objective biographies of our time. THE STATESMAN
Prologue
The Man and The Maharaja
The idea of writing this book first occurred to me in Milan in the summer of 1976. My wife and I were window-shopping after an overpowering visit to the Milan Cathedral. Her eyes fell on an exquisite round marble table. As we entered the shop, an elderly man greeted us. 'From India?' he asked in accented English. 'Yes we are. Have you had any Indian customers?' I enquired 'Oh! Have I? Sure. Sure. The Maharaja of Patiala, before the war. He bought many marble tables.'
It really was uncanny. Of all the shops in Milan we had walked into one in which the memory of Maharaja Bhupindar Singh, the magnificent, had not faded. We looked around overcome, and left, without telling the man that he had been talking to the Maharaja's grand-daughter.
I am not a blood relation. I am, therefore, constrained by no filial inhibitions. That no one so far has written a biography of the Maharaja is surprising and fortunate for me. Here's a fabulous and fascinating story waiting to the told. He has had a harsh time after his death. Vile things have been written about him. He has been lampooned as a man obsessed with sex who took to bed a virgin each night and has been given excessive credit for this feat. His self-indulgence, his extravagance, his hedonism, has attracted almost exclusive, animadvertative, and censorious notice. His vices are extolled with relish, while his virtues are seldom recounted.
This is giving the princely dog a bad name and hanging him. His serious side is seldom mentioned. The two interwars decades- 1918-1938 were crucial in the history of the Raj. Throughout this period, and particularly as chancellor of the Chamber of Princes, 1926-31-38, he was among those few influential Indians who were engaged in finding those few influential Indians who were engaged in finding solutions for the 'India problem'. He was sitting at the high table of empire politics. This is all but forgotten. Even someone like John Gunther took several uncharitable digs at the Maharaja. In Inside Asia he wrote:
If the Nizam of Hyderbad is known as His Exalted Highness, the old Maharaja of Patiala was called His Exhausted Highness. He had a prodigious harem and a considerable part of his activity was the acquisition of young ladies to freshen it. In 1930 an organization known as the 'Patiala Enquiry Committee' appointed by the Indian State's Peoples Conference, wrote a strong report charging the old maharaja with most crimes and sins in the calendar, from lechery to murder.
Gunther did not mention that the 'old Maharaja' was exonerated of each one of the twelve charges leveled against him. Also, that the Maharaja was not old. He died at the age of forty-six.
A more recent offender is Jarmani Das. His book, Maharaja, is as good or bad an instance as you can get of biting the hand that feeds you. Jarmani Das was one of the Maharaja's employees and was well looked after and cared for. He turned out to be an ungrateful courtier. His book, a medley of quarter truths and malignant fiction, sold in large numbers. Bhupindar Singh figures prominently in several chapters. Portions of the book have been lifted by several authors without checking their authenticity.
Collins and Lapierre crossed all limits of decency in their book, Freedom at Midnight. The Patiala family treated their vulgar description with disdain. Freedom at Midnight is racy, popular journalism, with innumerable errors. Yet it became the tourist's guide to India and sold in millons.
On page 169, the due write:
Centerpiece of the great collection of the Sikh Maharaja of Patiala was a pearl necklace insured by Lloyds of London for one million dollars. Its most intriguing item, however, was a diamond breastplate, its luminous item, however, was a diamond breastplate, its luminous surface composed of 1001 brilliantly matched blue-white diamonds. Until the end of the century, it had been the custom of the Maharaja of Patiala to appear once a year before his subjects naked except for his diamond breastplate, his organ in full and glorious erection. His performance was judged a kind of temporal manifestation of the Shivalinga, the phallic representation of Lord Shiva's organ. As the Maharaja walked about, his subjects gleefully applauded, their cheers acknowledging both the dimensions of the princely organ and the fact that it was supposed to be radiating magic powers to drive evil spirit from the land.
Not a shred of evidence is produced to support these outrageous assertions. In which book, newspaper, and archive did the authors find these 'facts'? And which Patiala Maharaja did they have in mind?
They were no doubt looking for pruient gossip. Did they care to read what K.M. Panikkar wrote in his autobiography about Maharaja Bhupindar Singh? And Baron Jean Pellanc in Diamonds and Dust. J.N. Sahni, in The Lid Off, says this of the Maharaja:
All the Princes maintained one or more well-furnished guesthouses for visiting residents, officers of the Government of India and their own friends. But it was in Patiala alone where, besides all these, at any time in the year, one could meet painters, poets, authors, artists, philosophers, politicians of national and international fame, and listen to His Highness discussing surrealism, the abstract in art, the theories of Cobden and John Stuart Mill, the views of Nietzsche, Freud and Jung, the strategy of Machiavelli, the teachings of Chanakya, the philosophy of Plato and the genesis of Thumri, illustrated by a fund of anecdotes and a profoundness rare among his class..
His strikes me as a person more remarkable for what he was than for what he did or achieved. He knew how to dominate a setting, mesmerize beautiful women and his portrait painters. While I am unable to identify myself with him, I have no antipathy towards him either. At times, tension built up between us on paper, but it was of the creative kind. It spurred me on to write. He was spontaneous, stubborn, impulsive. He was a risk taker, and he lived dangerously, which was admirable. Twenty-five percent of his life was wasted, seventy-five percent was not.
While I have no intention of tidying up the past, I do not subscribe to the 'key-hole' view of history. Some are tickled by voyeurism, while others are not. I am with Barbara W. tuchman who has written in her essay, Biography as a Prism of History: "It seems to me, however, that in so far as biography is used to illuminate history, voyeurism has no place".
If Maharaja Bhupindar Singh had been a whole time philanderer and trivializer, he would be of no interest whatsoever to a biographer. His attraction lies in his multidimensional personality- prince, patriot, philanthropist; polygamist, sportsman, soldier, statesman; lover of music, manuscripts, medals, High Mason and tantrik; adoring father, indifferent husband, loyal friend, generous patron, intrepid enemy, father of Indian cricket, and crafty politician - all at the same time.
The Maharaja was so prominent a public figure, that no aspect of his life could escape public scrutiny. He made no effort to cover his tracks. Much has been written about his seraglio which certainly existed. It was an intrigue-ridden golden cage, whose innumerable inmates lead luxurious if unexciting lives.
Maharaja Bhupindar Singh's senior Maharani was Bakhtavar Kaur. Only two of her seven children survived. The surviving son, Maharaja Yadvindra Singh, succeeded his father in 1938, earning in 1947 and subsequently, a name for himself.
The scope of this book limits me from writing about the numerous other members of this family, several of them individuals of uncommon talent, who have attained positions of eminence in administration, business, sports and politics at the national level.
Favourable and discriminating write-ups on Maharaja Bhupindar Singh are not wanting. Among the most accurate and perceptive is one of the French traveler, Baron Jean Pellanc, who in his book, Diamonds and Dust, wrote:
Patiala seems the living incarnation of those omnipotent sovereigns of the past whose ungovernable personalities loom large across the eyes, men of the stamp of King Herod, Jenghiz Khan, or Henry VIII. None could embody more superbly the Eastern Prince of fairy-tales, the hero of our childish dreams, none more aptly illustrate the magnificence and despotic power of the last absolute monarchs.
After putting the Maharaja in such frightening company, the Baron proceeds to describe the physique and deportment of Bhupindar singh in some details:
There is much of the ideal tyrant in his physical appearance. Above a torso, bulky as a wine-cask, rises a huge, puissant head. Between the Sikh turban sitting well down upon his temples like a helmet, and black rolls of bread which like a chin piece wrap his neck and jaw, a dark face peers out as from the opening of a visor under the heavy, drooping lids of half-shut, whiteless eyes glow darkly; but behind their veil of feigned indifference lurks something rather ominous, an elemental force emanating from a world that is not ours and may well not be heaven. The large-lipped mouth is fleshy, intrinsically carnal, but with a fine amoral beauty of its own. There is something plethoric about the whole face, inordinately proud, brazenly authoritative.
Contents
| | |
| --- | --- |
| List of Illustrations | ix |
| Acknowledgements | xi |
| Prologue: The man and the Maharaja | 1 |
| The Founding Father | 15 |
| The Orphan Prince | 43 |
| The Maharaja, The Nehrus and The Delhi Durbar-1911 | 60 |
| The Mahatma, The Maharaja and The Great War | 77 |
| Montagu and The Maharaja | 95 |
| At Home and Abroad 1919-1924 | 111 |
| The Maharaja and Sikh Politics | 132 |
| At the League fo Nations 1925 | 146 |
| The Chamber of Princes | 158 |
| Helping the Nizam | 174 |
| New Viceroy, New Chancellor: Irwin and MBS | 186 |
| The Indictment: A Close Shave | 209 |
| The Round Table Conference-1930 | 236 |
| Cricket, Ranji and Patiala | 259 |
| Alcohol and Protocol | 271 |
| Churchill and the Indian Princes | 289 |
| Bitter Quarrel with Lord Willingdon | 310 |
| The Silver Jubilee of King George V-1938 | 322 |
| Meeting Hitler | 332 |
| Ebb Tide and Death | 341 |
| Aftermath | 353 |
| Bibliography | 359 |
| Index | 363 |
Sample Pages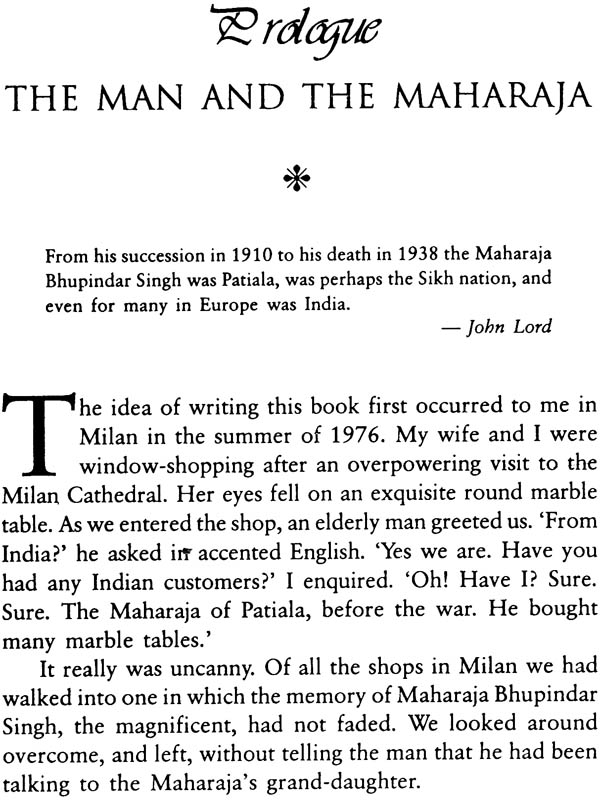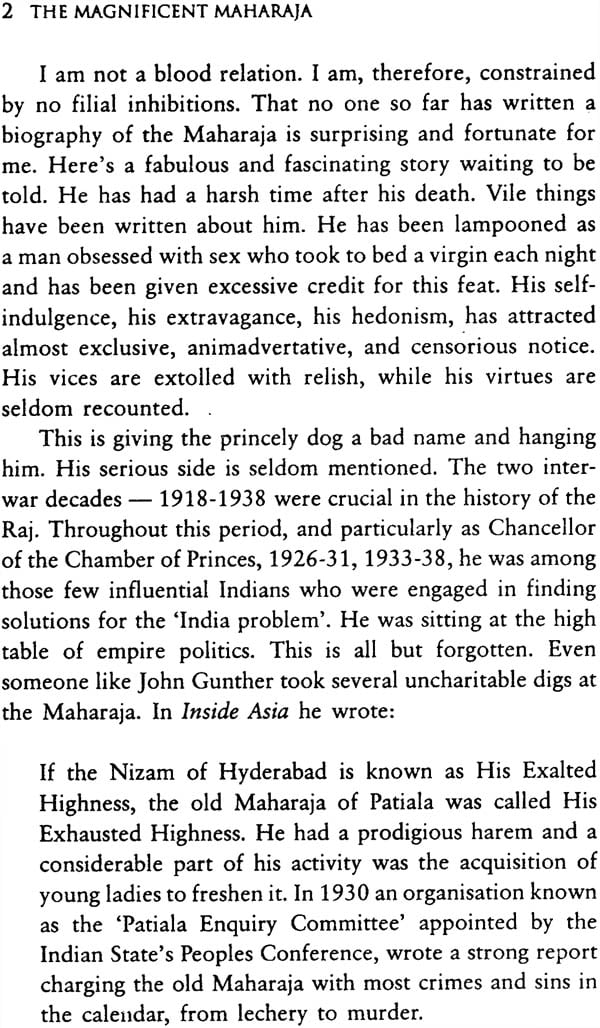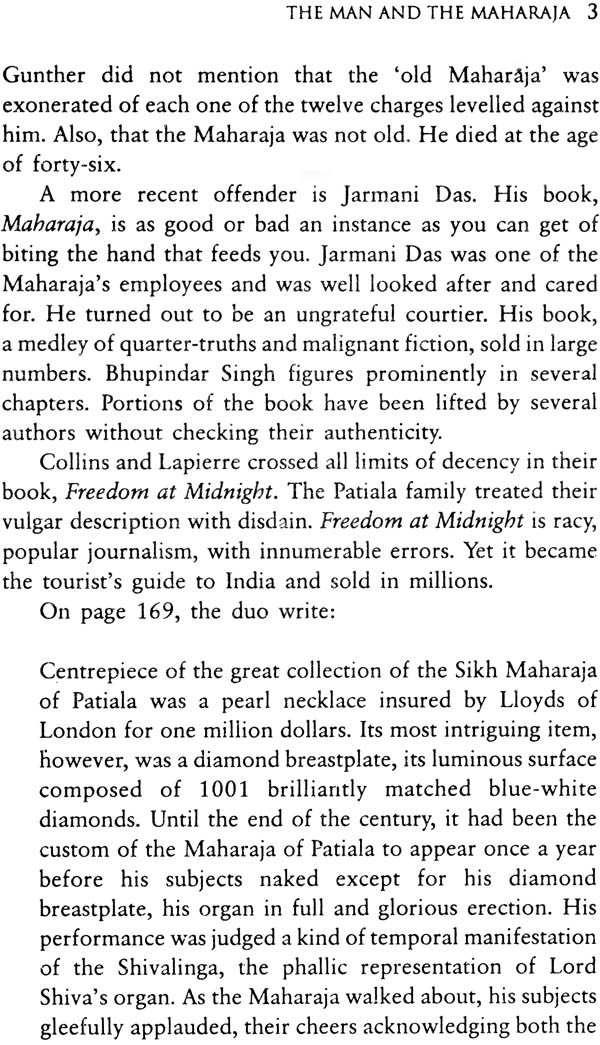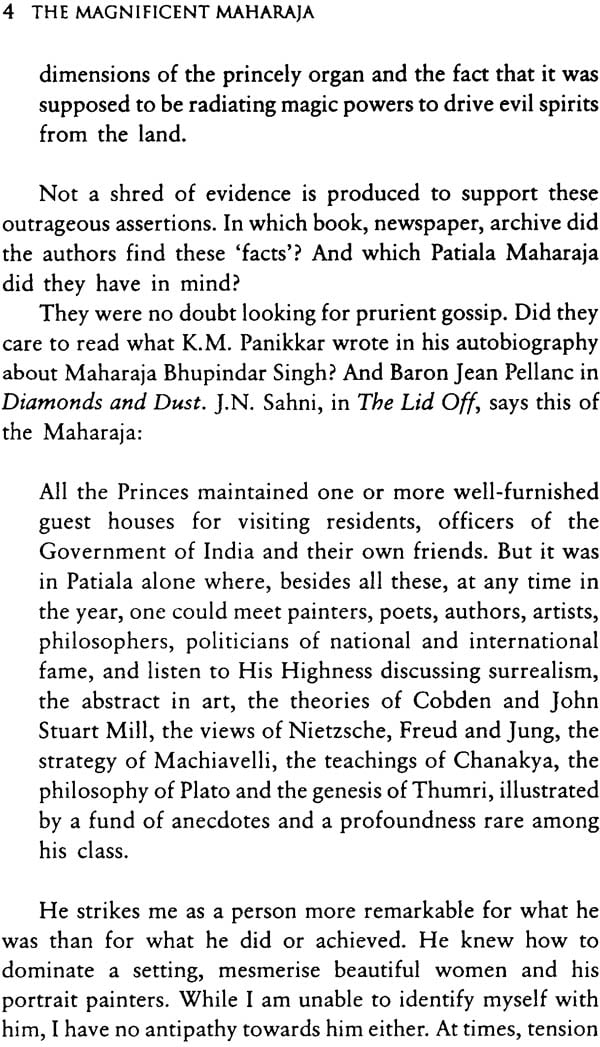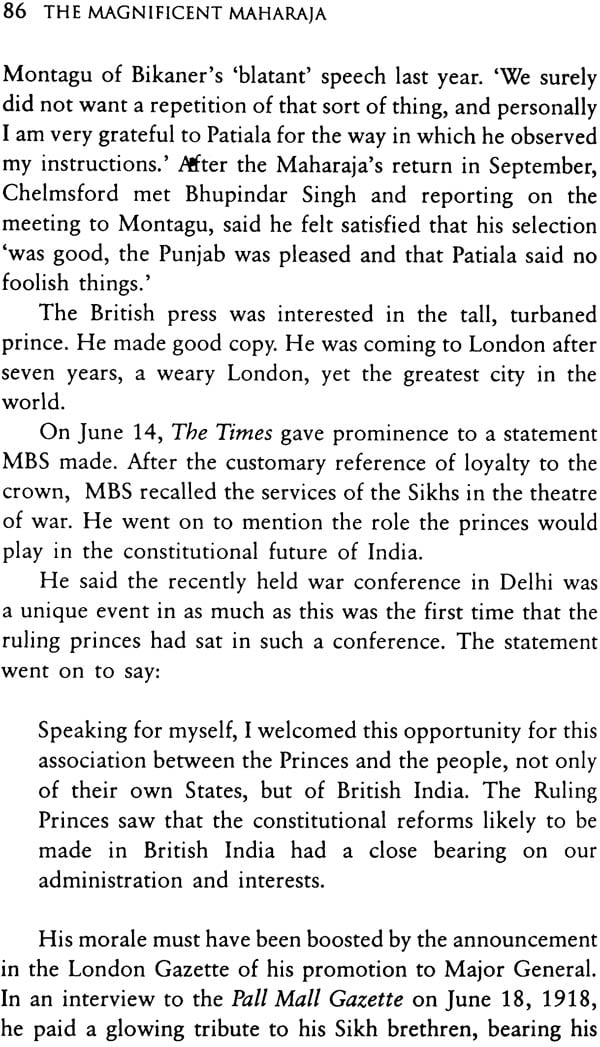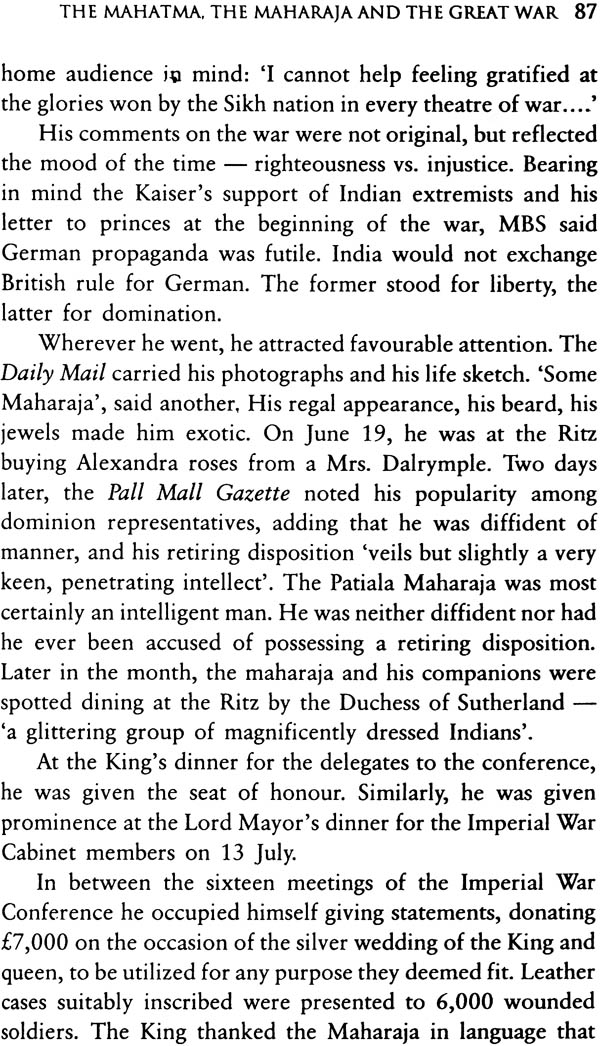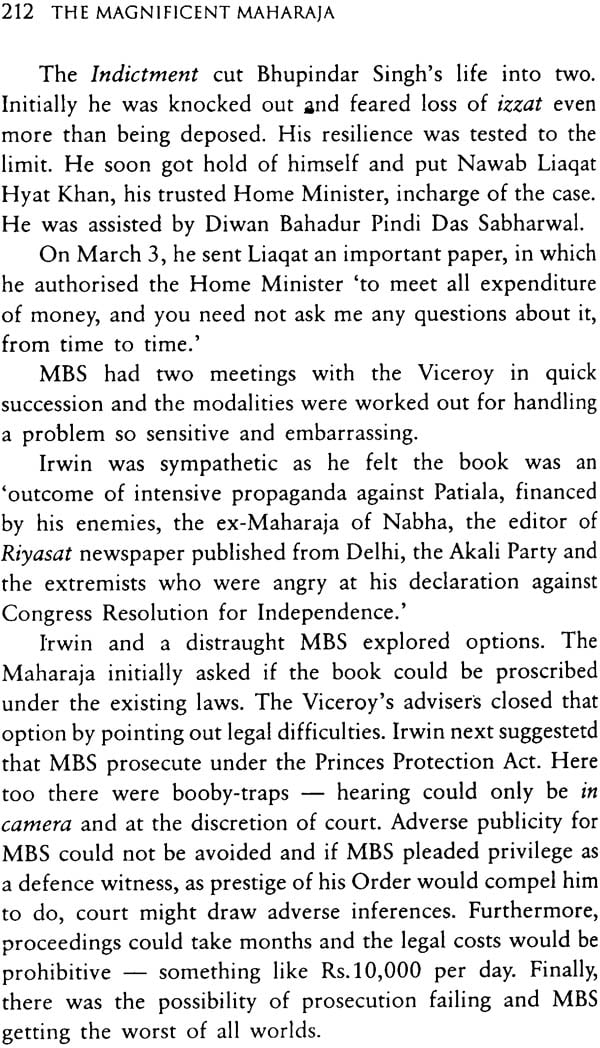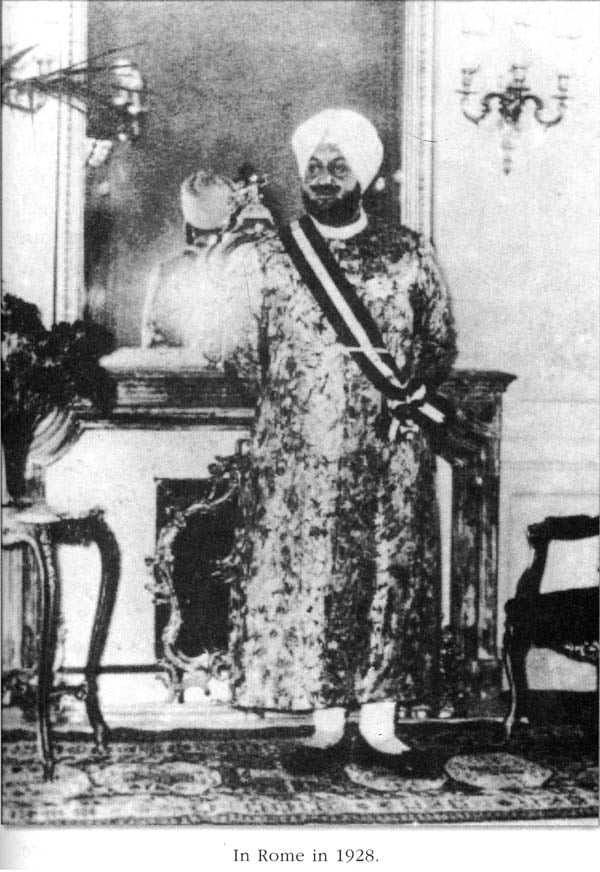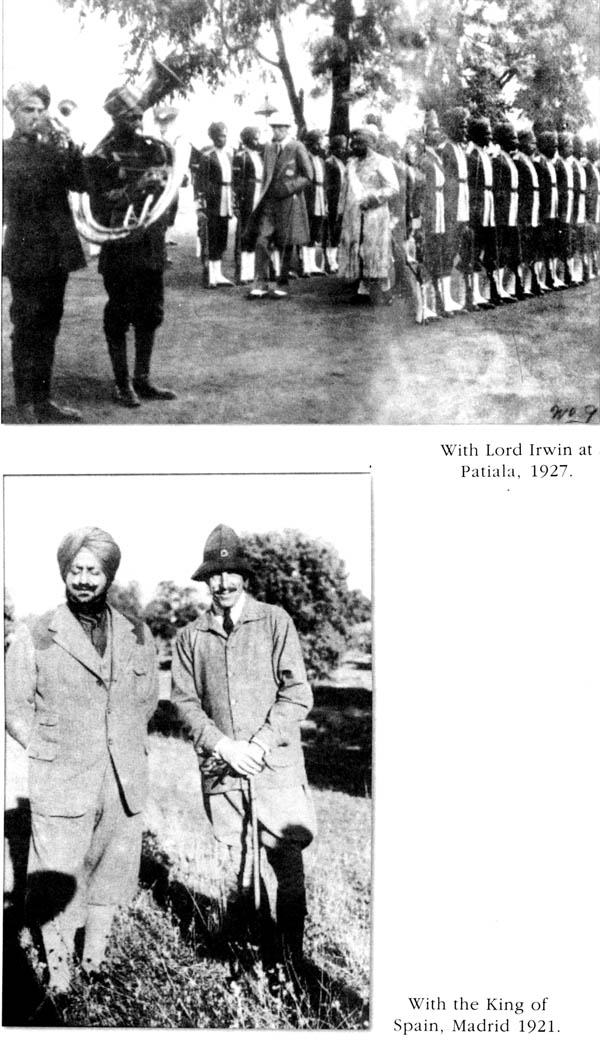 ---
We Also Recommend