Mahatma Gandhi in His Gujarati Writings
$2300

$23.00
Tax included.
Shipping
calculated at checkout.
---
---
Book Specification
| | |
| --- | --- |
| Item Code: | AZI002 |
| Author: | C. N. Patel |
| Publisher: | SAHITYA AKADEMI, DELHI |
| Language: | English |
| Edition: | 2019 |
| ISBN: | 9789388468749 |
| Pages: | 98 |
| Cover: | Paperback |
| Other Details | 8.50x5.50 inches |
| Weight | 148 gm |
Book Description
Back of The Book
Gandhiji's writing was done as part of his public service to which he had dedicated himself in a religious spirit. He never wrote anything for the pleasure of writing or of self expression, as pure literature. But though they had always a practical aim and purpose, most of Gandhiji's writing had the quality of true literature, a natural movement of thought, not arranged by logical intellect but guided by spontaneous feeling and progressing from the right beginning to the true end according to an inner logic.
Gandhiji's Gujarati writing bears no evident traces of literary influence. But though close to the idiom of daily speech, Gandhiji's Gujarati shows his imaginative receptivity as richly as, if not more than, his English. Whereas in his English writings Gandhiji appealed to the moral feeling of cultivated Englishmen, in his Gujarati writings he appealed to the moral feeling of the common people. Gandhiji's prose became an instrument of great power for stimulating and purifying moral sensibility and educating the people in collective, democratic thinking in all affairs and problems of life.
In this monograph Prof. C.N. Patel attempted to discover for the reader 'the inner Gandhiji through his own writings. The major events in the life of the Father of the Nation are interpreted with appropriate annotations from Gandhiji's own writings.
Preface
Though I was not connected with any Gandhian institution or movement, yet, even as a high school student, I felt strong attraction for Gandhi's presence which pervaded the country's atmosphere in the thirties. When, after lecturing on English literature for some years in the Government college at Ahmedabad, I was summoned in 1961 by Shri Morarji Desai to join The Collected Works of Mahatma Gandhi under the Ministry of Information and Broadcasting, Government of India, my feeling for Gandhiji's presence deepened and so grew on me that I have now come, 1 may claim, to recognize his voice in my imagination as a living reality, much as a regular student of Shakespeare's plays or Valmiki's Ramayana hears the voices of their characters. I find in him the same vibrant quality, the natural, spontaneous movement of thought and feeling which I find in the immortal heroes of Valmiki and Shakespeare, and something, too, of the tragic self-division of Hamlet and Shri Rama.
In this essay on Gandhiji's Gujarati writings, I have tried to interest the readers, as well as I could, in this human side of Gandhiji behind the political leader and social and moral reformer who has come to be vaguely honoured as the Father of the Nation. To some his politics was not free from errors, and his influence as moral and social reformer may seem to have worked itself out and be no longer a living force. But the miracle of his human presence has made him a legend which, I believe, will remain a permanent part of the Indian imagination for ages to come and continue to exercise an influence beyond rational analysis. It is in that faith that I offer this essay to readers who value human excellence in any form regardless of its practical impact on history.
The discovery of the inner Gandhiji has been to me a part of my own intellectual growth. Ideas and impressions from diverse sources English poets, the Bhagavad Gita, the Ramayana, the Mahabharata, Erikson's Gandhi's Truth, Abraham Maslow's humanist psychology and the thought provoking reading material in the American weekly Manas-coalesced to form a more or less coherent insight into the problems of moral striving and growth, as illustrated in Gandhiji's inner life. I am aware that these problems are related to the larger movements of social, economic and political history, and that Gandhiji's public work is as significant from that perspective as his personal life-story is from the point of view of individual growth. But that is an area of study beyond the scope of this essay.
It gives me the utmost pleasure to acknowledge my debt of gratitude to two professors of English who have been stimulating influences on my intellectual growth. Dr. S. S. Bhandarkar, as Professor of English at Gujarat College, Ahmedabad, awakened my imagination to the exciting adventure of studying English literature, and Prof. K. Swaminathan, as Chief Editor of "The Collected Works of Mahatma Gandhi", first directed my attention to the poetic element in Gandhiji's thinking and helped me, by constant discussion, to think for myself about Gandhiji.
I must not omit to thank the Sahitya Akademi, but for whose invitation to write this monograph I would never have thought of attempting anything of the kind in English. Dr. Umashankar Joshi, President of the Akademi, and Shri Yashwant Shukla, representative for Gujarati on the Executive Board of the Akademi, have taken special interest in the progress of the monograph and my sincere thanks are due to both.
I acknowledge with thanks the kind permission of Navajivan Trust, Ahmedabad, to quote from Gandhiji's writings published either by Navajivan Publishing House or in the volumes of the "Collected Works".
**Contents and Sample Pages**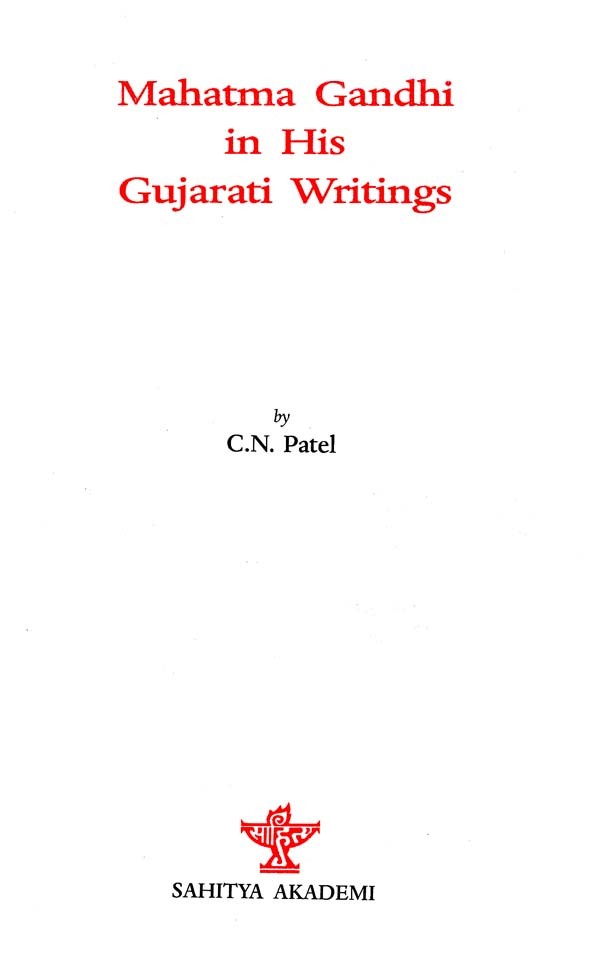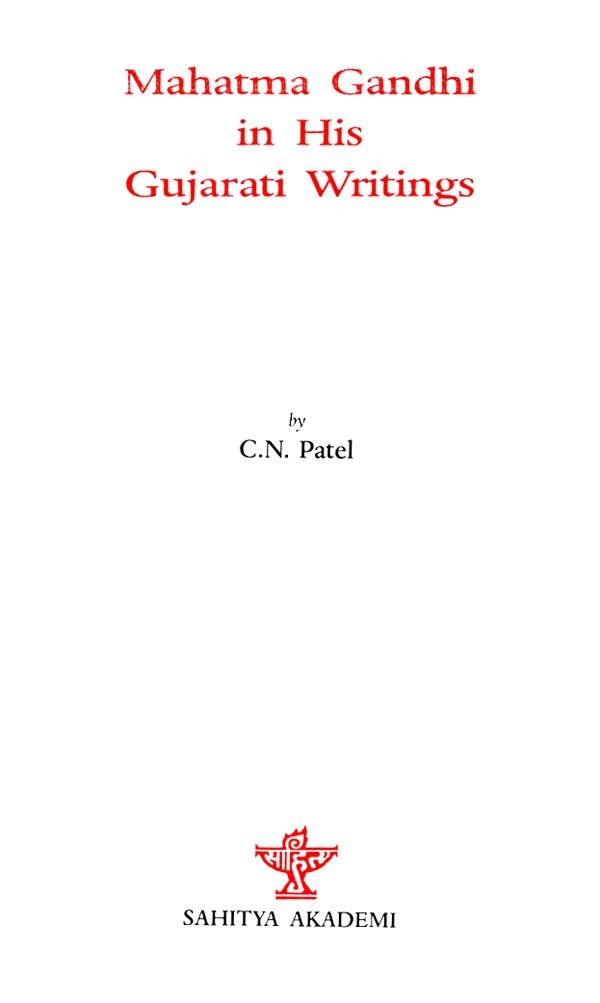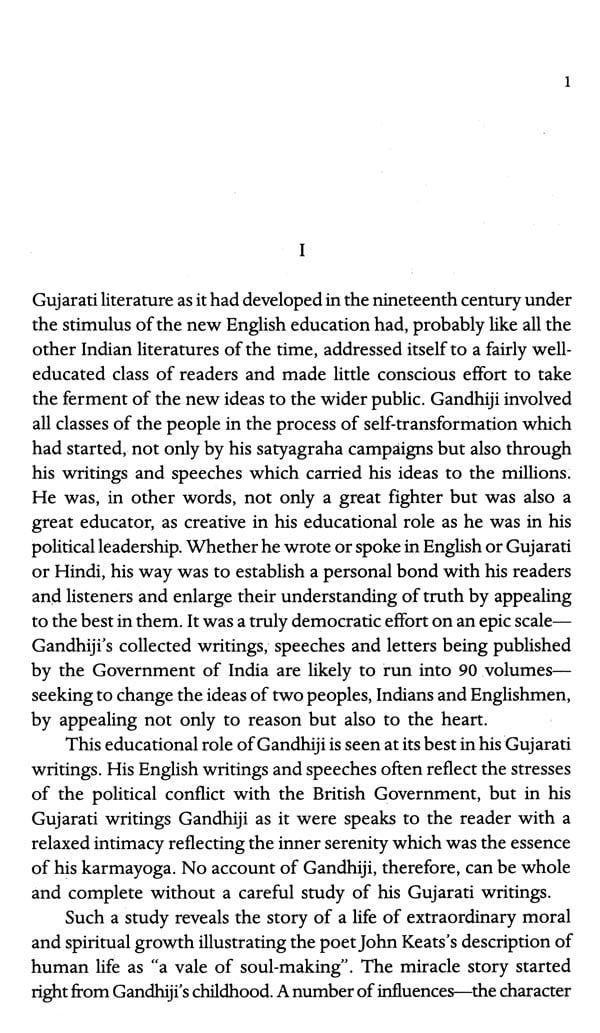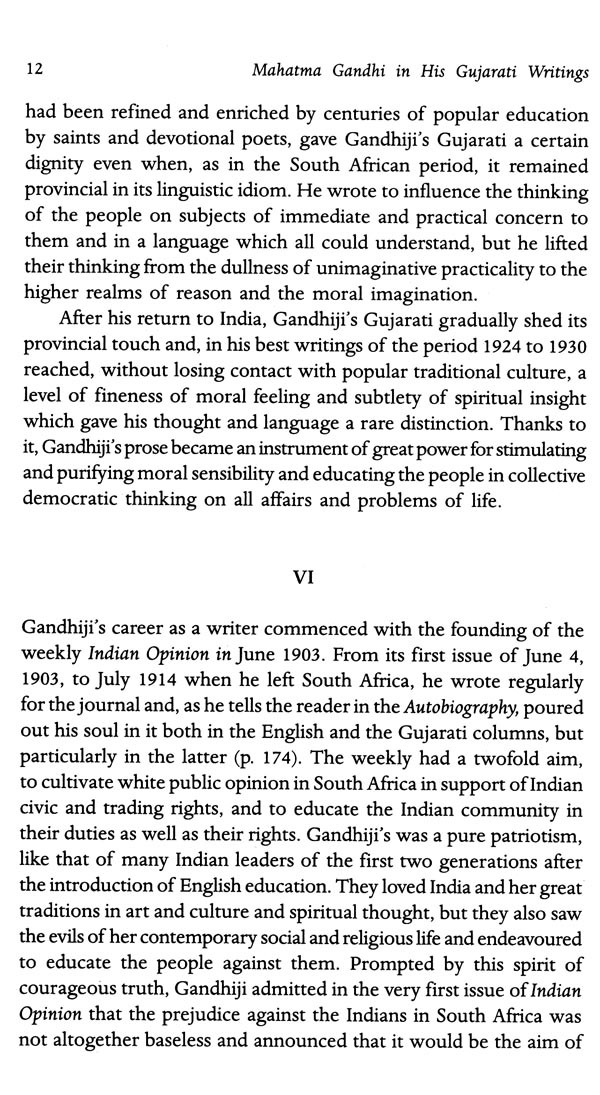 ---
We Also Recommend