Makers of Indian Literature Bilhana
$2000

$20.00
Tax included.
Shipping
calculated at checkout.
---
---
Book Specification
| | |
| --- | --- |
| Item Code: | NAU048 |
| Author: | P.N. Kawthekar |
| Publisher: | SAHITYA AKADEMI, DELHI |
| Language: | English |
| Edition: | 2019 |
| ISBN: | 9788172017798 |
| Pages: | 90 |
| Cover: | PAPERBACK |
| Other Details | 8.50 X 5.50 inch |
| Weight | 150 gm |
Book Description
About the Book
Bilhana, the author of Vikramankadeva Charita—a mahakavya, Karnasundari—a natika and Chaura Panchashika—a lyrical work; was born at Khonmusha (Present Khonmuch) in Kashmir in the eleventh century A.D. The harbinger of national unity, Bilhana's Vikramankadeva Charita evinces the historical facts and biographical data of the Chalukya dynasty and of King Vikrama-VI (Tribhuvanamalla). The Karnasundari in four acts, which presents the secret love- affair of the King Karna (A.D. 1064 A.D. 1074) with the princess Vidyadhari is a unique work of its kind. His Chaura Panchashika influenced and inspired other medieval Sanskrit poets to follow the panchashika style for amorous descriptions. In its six chapters, the monograph presents a fascinating and detailed account of the life and literary career of Bilhana.
About the Author
Prof. Narayan Kawthekar (1923-2015) arenowned scholar in Sanskrit, had an illustrious academic career, served as professor of Sanskrit in various government colleges from 1953-1981. He became the Vice-Chancellor of Vikram University, Ujjain in 1981 and also served as Director, 'Indian Tales of Wisdom'—a project of the Government of India, till retirement. Recipient of the President's Certificate of Honour, PN Kawthekar had more than ten publications and scores research papers to his credit. His major works include Sanskrit Vyakarana Deepika (1967), Mekhala (Short Stories, 1969) etc.
PREFACE
It is a focus on the great Sanskrit poet Bilhana for his literary achievements and contributions to enrich the cultural life in India. Even for the academic and informative purposes, a book entirely devoted to Bilhana was essentially felt necessary. The Sahitya Akademi also wanted to present a monograph on this illustrious poet of the 11th century a.p. This will be the single book perhaps on Bilhana. I extend my thanks to the Akademi for assigning this work to me. 'We can very well peep into the medieval age through Bilhana. However the contributions of Sanskrit poets are not limited to a particular age. With the literary appreciation of their works, we come to know how they have imbibed culture and enriched human mind through the ages.
Bilhana stands unique in giving the historical information in his mahakavya, the Vikramankadeva Charitam. The events mentioned _ by him are confirmed by history. While presenting this monograph, I remember the keen interest of my departed wife Mrs. Pramila Kawthekar in this work. She inspired me to devote my study on Bilhana. The works on the History of Sanskrit Literature and some editions of Bilhana's works were quite useful to me. I extend my thanks to all of the authors. A thing of beauty is a joy as well as an inspiration for ever. Bilhana richly deserves the attention and appreciation.
**Contents and Sample Pages**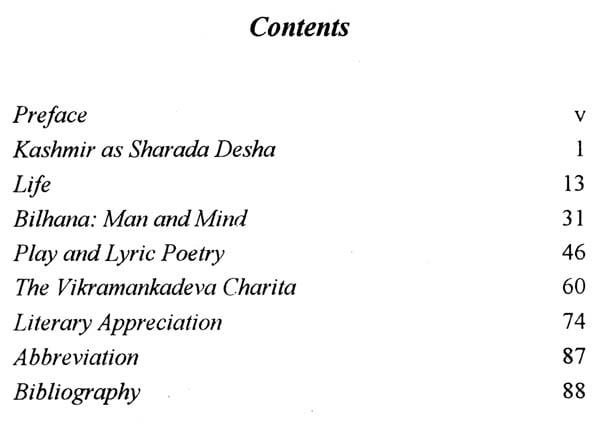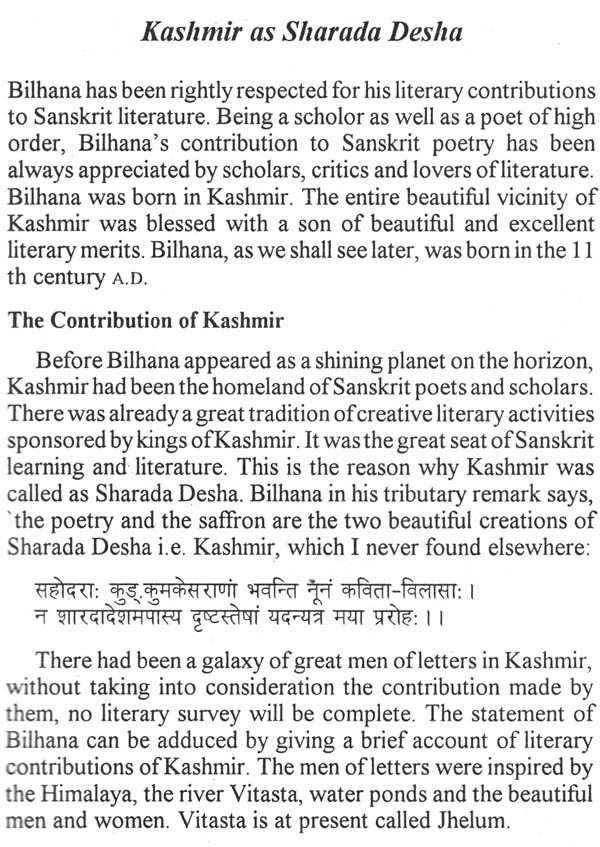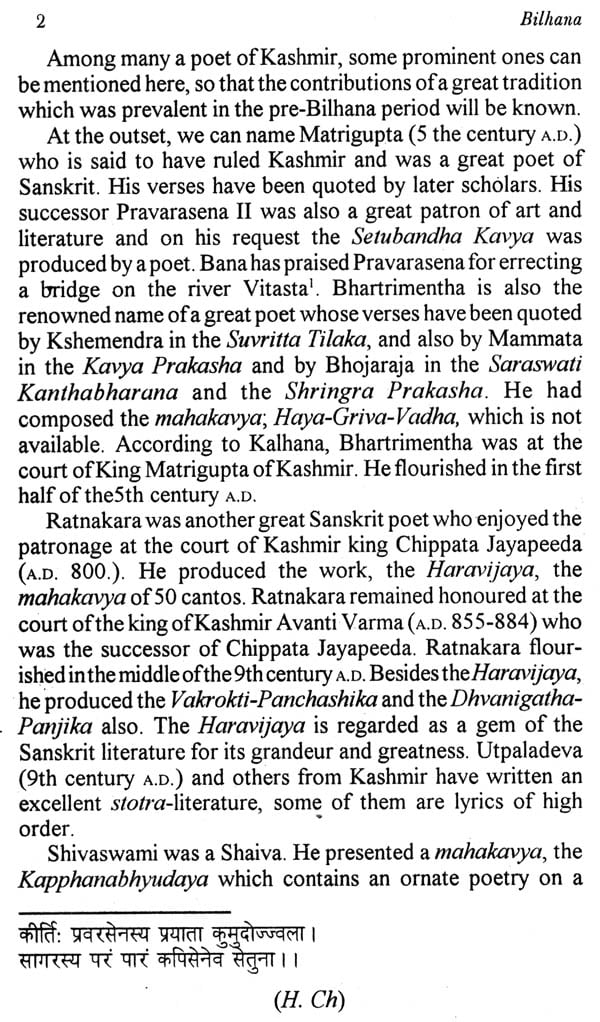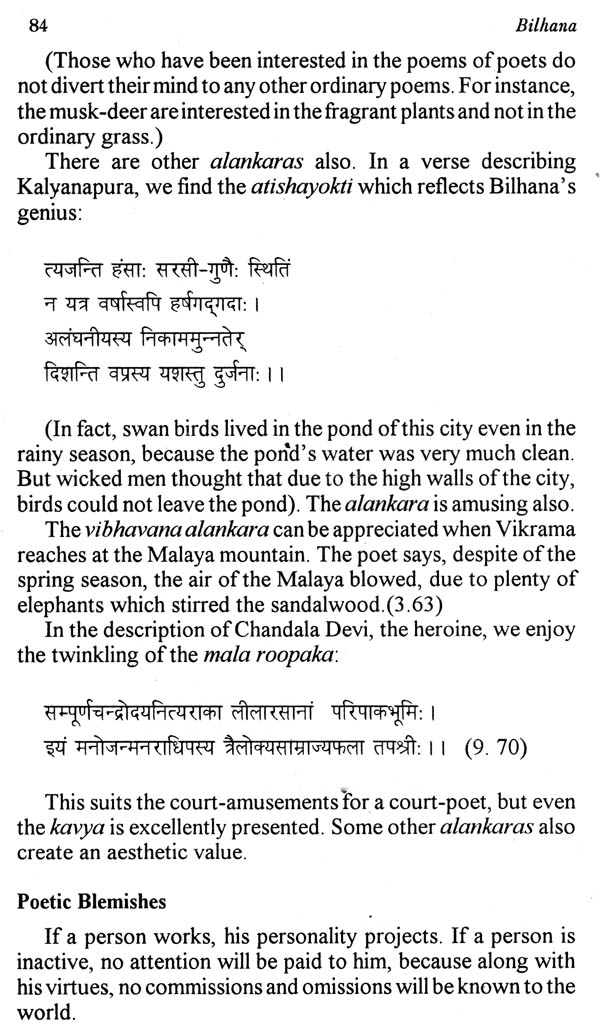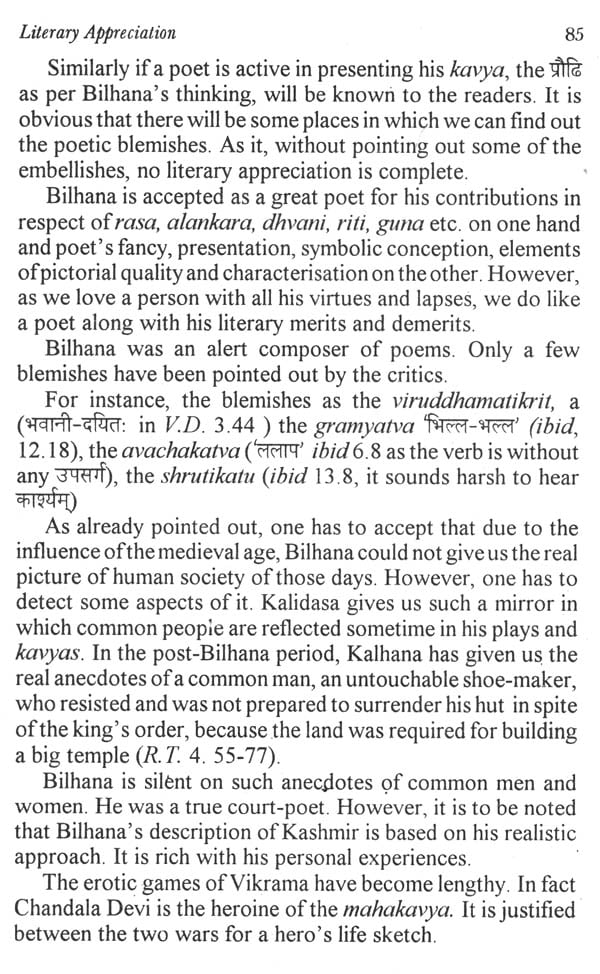 ---
We Also Recommend