Makers of Indian Literature- T. Janakiraman
$2100

$21.00
Tax included.
Shipping
calculated at checkout.
---
---
Book Specification
Book Description
About The Book
T. Janakiraman (1921-1982) was a well-known writer in Tamil. He was an excellent short story teller. He occupied a unique place in the world of Tamil novels. His characters are wonderful creations. His humanitarian ideals are praise-worthy. He was confident that we can conquer the universe with love. His writings deal with the rural life and the special features of Tanjore district in Tamil Nadu. It is no wonder that his readers are awe-struck by his beautiful delineations of his soil and its souls. His contributions to Tamil literature are valuable lessons of historical value for generations to come.
About the Author
Dr. M.A. Mohammad Hussain's has written a good number of books. He was a close friend of T. Janakiraman's associates, namely, Karichan Kunju, M.V. Venkataraman and Swaminatha Athreya. Their friendship was instrumental for him to get well acquainted with T. Janakiraman's personality. This is amply reflected in his monograph in Tamil on the versatile writer, T. Janakiraman.
Foreword
A few years ago, Sahitya Akademi approached me to write a book on "T. Janakiraman's life and literary contributions" for the series "Makers of Indian Literature". At that time, it was more than twenty years since I had researched his novels for my Ph.D. degree and hence I was hesitant. When I revisited the writings of TJ, I found even greater treasures in them than I ever had known. So, at Sahitya Akademi's insistence, I agreed to write this book.
I would like to thank TJ's friends Karichan Kunju, M.V. Venkataraman and Tanjai Prakash, who shared their wonderful memories of TJ. More recently, I had a conversation with Swaminatha Athreya, a close childhood friend of TJ, and I was surprised that we had similar views on TJ's works. While my research surfaced pearls of wisdom from TJ's writings, Athreya's close association with TJ brought out the diamonds.
**Contents and Sample Pages**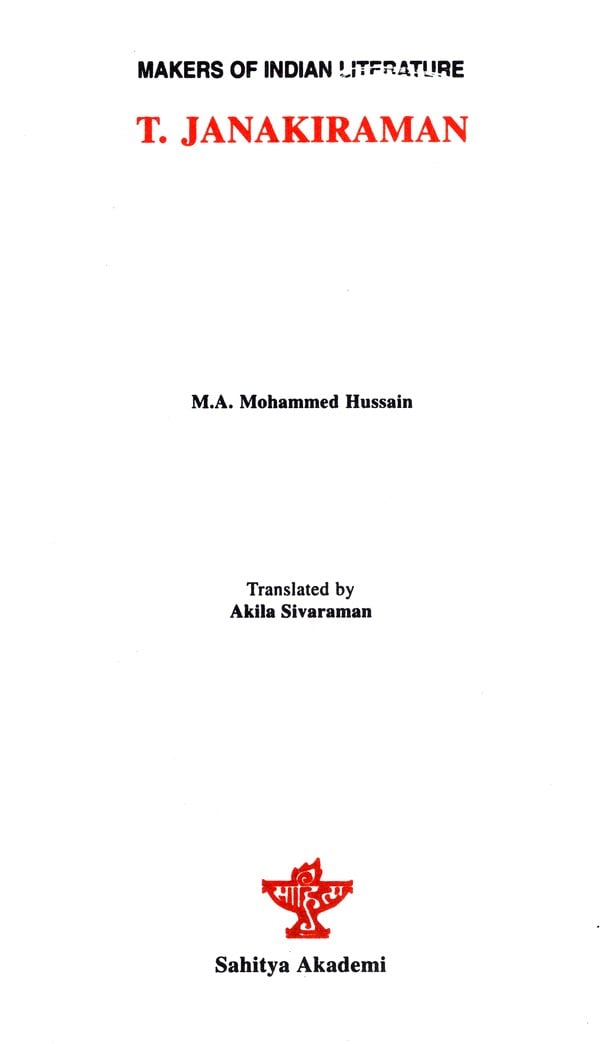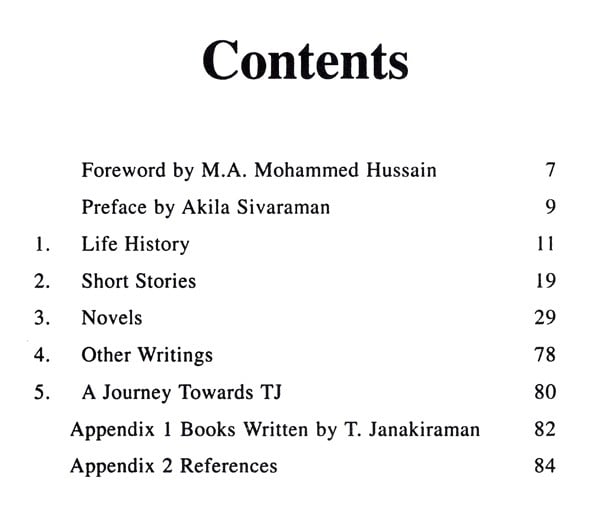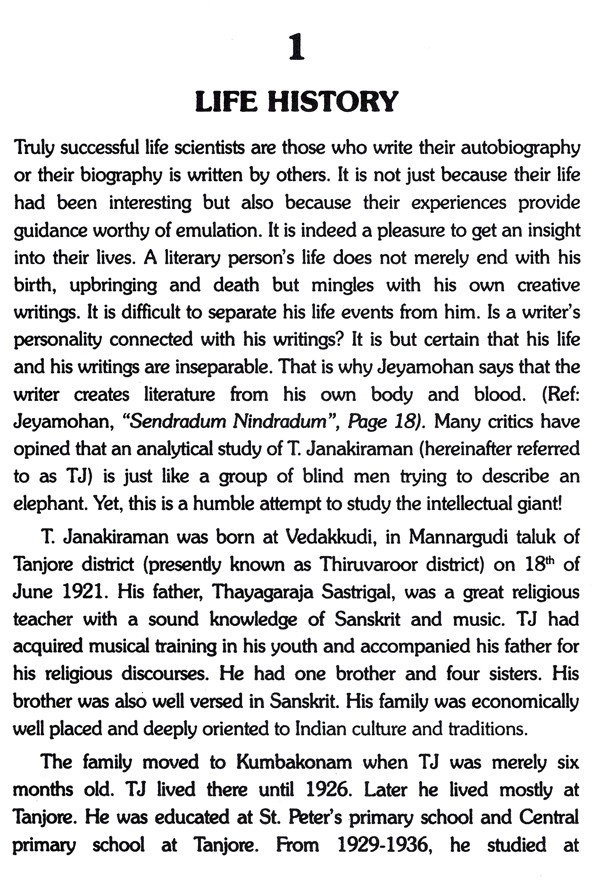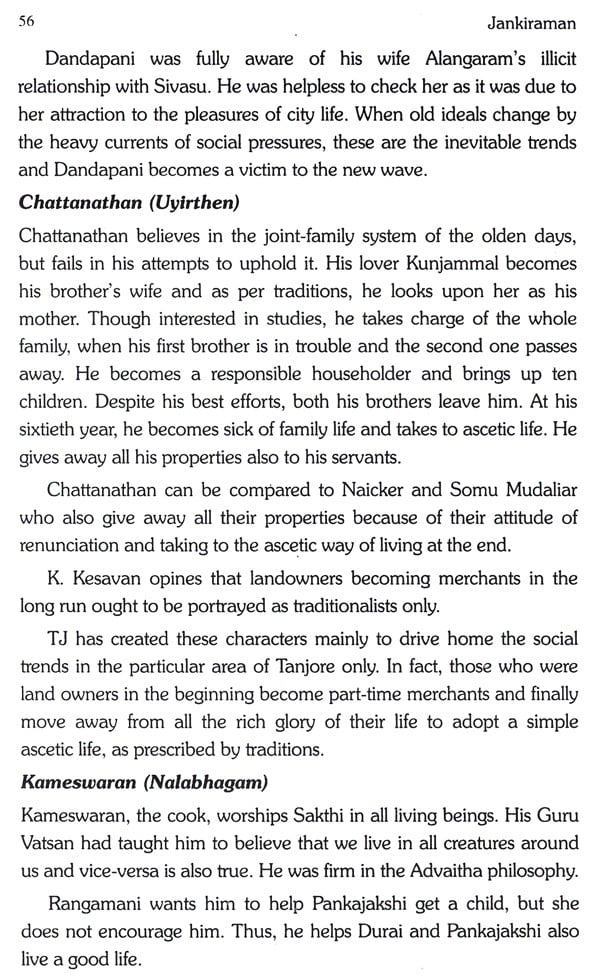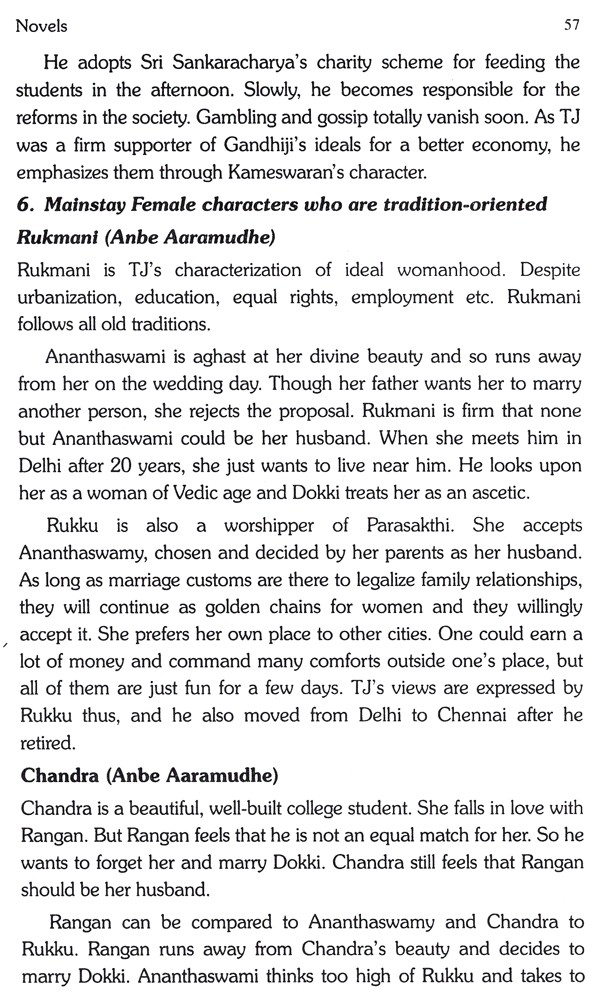 ---
We Also Recommend