Museum Documentation- A Potent Tool for Collection Management
$5440

$54.40
Tax included.
Shipping
calculated at checkout.
---
---
Book Specification
| | |
| --- | --- |
| Item Code: | AZG167 |
| Author: | Shilpi Roy |
| Publisher: | AGAM KALA PRAKASHAN, DELHI |
| Language: | ENGLISH |
| Edition: | 2019 |
| ISBN: | 9788173201837 |
| Pages: | 278 |
| Cover: | HARDCOVER |
| Other Details | 9.50x6.50 inch |
| Weight | 620 gm |
Book Description
About the Book
This book is intended for all who assemble and are of affectionate of items of artistic, historical, social, religious, and /or technological significance, as well as those who have great accountability of caring for public and private collections of such items. This book focuses on principles of documentation. It provides crucial skills and tools to analyze and adapt museum documentation systems to specific needs and equips museums with minimum documentation systems for their collections, in paper based system to digital version. Certain procedures are directed towards with equipment and personnel not within the means of private individuals. Nevertheless, these recommendations exemplify levels of best practice which one should endeavour to reach as far as possible.
About the Author
Shilpi Roy, B. Sc. Geography. University of Calcutta, Kolkata, M.Sc., PhD. Musicology, University of Calcutta, Kolkata. UGC NET-JRF, Musicology & Conservation. Certificate of Competence, ICOM CIDOC: Paris (International Committee for Documentation, International Council of Museums). Intern at M P Birla Planetarium, Kolkata. Project Associate at Indian Statistical Institute, Kolkata. Author of 'Museum Collection Management- A Practical Handbook' published by Books-N-Books, Kolkata (2013). Recent: Research Officer, Indira Gandhi National Centre for the Arts, Ministry of Culture, Government of India.
Foreword
When I first met Shilpi Roy, Ph.D., in the context of an ICOM-CIDOC museum documentation professional training summer school, I was struck by her earnest dedication to striving for excellence in museum documentation. I now know her as a kindred spirit, not only to me, but also to the thousands of curators, collection managers, registrars, information managers and others scattered around the globe who grapple on a daily basis to bring order and control, and thus meaning and value, to the billions of objects in thousands of museums of every kind imaginable.
Information is not the same as knowledge although it is an important factor in the generation and transmission of knowledge. Anyone who has ever worked in a museum, from the diminutive, volunteer-run local history museum to the vast "universal" museum with a staff of hundreds, can attest to the pitfalls of not having excellent documentation, or indeed in some cases having very little documentation at all. A work of art, a specimen, an arftifact, that cannot be found because its location was not documented is just as surely lost to utility as if it was stolen or destroyed. A database riddled with duplications and omissions is not an effective collections and information management tool. Cooperation in various forms, vital to museum work, is hampered by the lack of a standardized vocabulary, terminology and procedures. The public trust is eroded and the core mission of museums to collect, preserve, interpret and document is compromised.
In this significant book, Dr. Roy demonstrates how crucial information management, in the forum of documentation and documentation systems, is to the effective functioning of contemporary museums.
Introduction
The traditional role of museums in developing, interpreting and safeguarding shared reminiscence and creative diversity of people and environment through their collection, depending upon the size and scope, for edutainment for the future generations, remains as significant as ever. Collections are therefore cornerstones of muscum activities, and require to be documented in appropriate ways to meet the existing and emerging needs of the professional practices and the diverse users, making use of the scientific procedures and contemporary technologies of information and communication. Roberts (2004, p.31) denoted: "Accurate and accessible documentation is an essential resource for collections management, research and public services". The significance of documentation escaped many museum professionals in most countries until the end of the 1950s. With the passage of time and the development made by the museums in diverse spheres, the documentation methods have undergone substantial changes and have assumed greater importance. The necessity of easy access to museum collections by the staff, researchers as well as visitors made it imperative to ameliorate the documentation procedure. The situations were varied from country to country in accordance with the objectivity of the governing body, museum policy, availability of resources and so on.
This study addresses the question of how museums can standardize their documentation system ensuring smooth and efficient functioning.
**Contents and Sample Pages**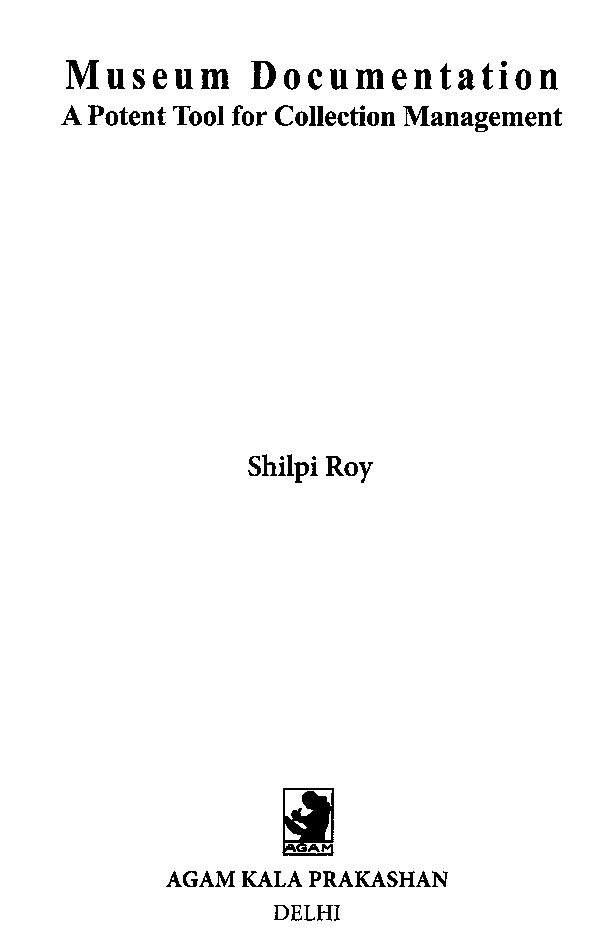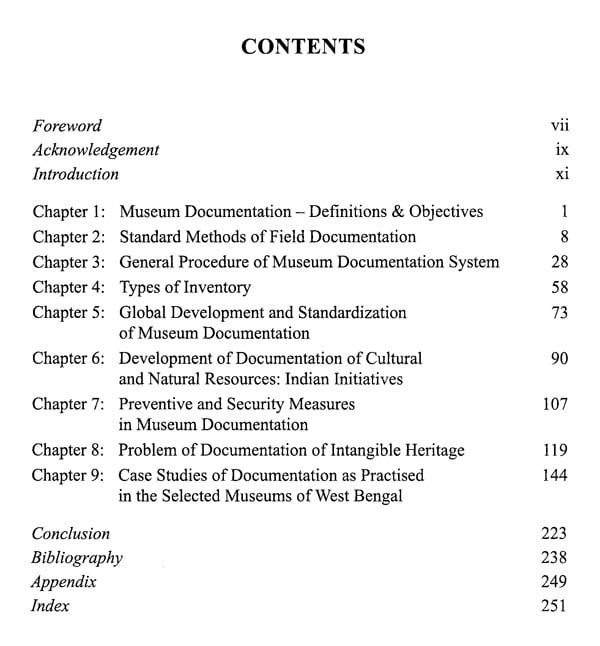 ---
We Also Recommend