Muslim Separatism (Causes and Consequences)
$2300

$23.00
Tax included.
Shipping
calculated at checkout.
---
---
Book Specification
Book Description
About the Author
Born in 1921, Sita Ram Goel took his M.A. in History in 1944, from the University of Delhi. He won scholarships and distinctions in school as well as college.
Well-versed in several languages, he has studied the literature, philosophy, religion, history and sociology of several cultures-ancient, medieval and modern. For his judgements and evaluations, however, he draws his inspiration from the Mahabharata the Suttapitaka, Plato and Sri Aurobindo.
He has written several documented studies on Communism, Soviet Russia, Red China, Christianity and Islam. Author of eight novels, he has translated into Hindi quite a few books from English, including some dialogues of Plato and a biography of Shivaji. His other works include compilations from the Mahabharata and the Suttapitaka.
Having become a convinced Communist by the time he came out of college, he turned against this criminal ideology in 1949 when he came to know what was happening inside Soviet Russia. From 1950 onwards he participated in a movement for informing the Indian people about the theory as well as the practice of Communism is Stalin's Russia and Mao's China. The numerous studies published by the movement in the fifties exist in cold print in many libraries and can be consulted for finding out how the movement anticipated by many years the recent revelations about Communist regimes.
Contents
| | | |
| --- | --- | --- |
| 1 | The Two Behaviour Patterns | 1 |
| | Stale Studies of Partition | 1 |
| | A Breath of Fresh Breeze | 3 |
| | The Muslim Behaviour Pattern | 3 |
| | The National Behaviour Pattern | 5 |
| | No Warning Voices | 6 |
| 2 | The National Territorial Tradition | 8 |
| | Bharatavarsha Becomes a "Multitude of Different Countries" | 9 |
| | Cultural Unity versus Political Unity | 9 |
| | The Character of Political Unity | 12 |
| | Defence of the North-Western Frontier | 13 |
| | Surrender of a Vital Principle | 14 |
| 3 | The National Historical Tradition | 16 |
| | Paralysis at the Time of Partition | 16 |
| | Degeneration Due to Distored Vision | 17 |
| | The National Version of Indian Vision | 18 |
| | Hindus Remembered Only their Own Heroes | 19 |
| | The Western Version of Indian History | 20 |
| 4 | The Business of Bleming the British | 24 |
| | Islam and Hindu Society | 24 |
| | A Slogan Borrowed from the British | 26 |
| | The Same Slogan is Still Current | 26 |
| | A Welcome Departure | 27 |
| | Failure of British Policy on all Other Fronts | 28 |
| | Faulty Perceptions of National Leadership | 28 |
| 5 | The Frustration of Islam in India | 30 |
| | Hindu and Muslim 'Revivalism' | 32 |
| | Two Versions of Medieval Indian History | 32 |
| | The Prison-House of Islamic Theology | 33 |
| | The Piety of Islam | 34 |
| | The 'Spiritual Mission' of Islam | 36 |
| 6 | Islamic Atavism Renamed Muslim Revivalism | 38 |
| | Walliulah's Recipe for Re-establishing Islam | 38 |
| | Atavism is not Revivalism | 40 |
| | An Outline of Islamic Crusadein India | 42 |
| | Common Characteristics of Islamic Theologians | 44 |
| | Most Sufis were Hard-Hearted Fanatics | 45 |
| | Appendix | 47 |
| 7 | Journey from Jihad to Jee-Huzuri | 57 |
| | The Double-Faced Deceiver | 57 |
| | Anti-British Jihad Always Ended as Anti-Hindu | 58 |
| | Islamic Theologians do a Right-About Turn | 64 |
| 8 | National Resurgence Reviled as Hindu Revivalism | 67 |
| | Message of Maharshi Dayananda | 68 |
| | Bankim Chandra Chatterjee | 69 |
| | Swami Vivekananda | 70 |
| | Sri Aurobindo | 71 |
| | The National Vision Gets Vitiated | 72 |
| | The Terminological Swindle | 73 |
| | The Blind Alley | 73 |
| | The Transvalution of Values | 75 |
| | The Only Way Out | 75 |
| 9 | Loss of Privileges Portrayed as Privation | 76 |
| | The New Posture of Islamic Imperialism | 76 |
| | Muslims Insist on Cow-Slaughter | 77 |
| | No Music Before the Mosque | 78 |
| | Uproar over Urdu | 79 |
| | Urdu had Remained a Foreign Language | 81 |
| | Yet Urdu Won a Victory | 82 |
| 10 | The Separatist Sewer Pollutes the National Mainstream | 84 |
| | There was No New Breeze among Muslims | 84 |
| | Causes of Muslim Bitterness Against the British | 85 |
| | Muslim Stage an Anti-Climax | 87 |
| | National Leadership Walks into the Trap | 89 |
| | A New Stage in the National Movement | 89 |
| 11 | The Behaviour Pattern Patented by Islam | 93 |
| | Rabindranath on Hindu-Muslim Unity | 96 |
| | Lala Lajpat Rai on the Same Theme | 96 |
| | Sarat Chandra Sums up the Subject | 97 |
| | Hindu Failure to Understand Islam | 97 |
| | It is Islam That Separates the Muslims from the Hindus | 98 |
| | The Essence of Islam | 99 |
| 12 | Plea for a Historical Perspective | 101 |
| | The Basic and the Big Mistake | 101 |
| | The Foreign Fraternity | 102 |
| | Hindus could have Wiped out Islam Residues Islamic Imperialism in Different Roles | 104 |
| | The Tragedy of National Leadership | 106 |
| | Voice of Warning | 107 |
| | Secularism: The New Smoke-screen | 108 |
| | The Only Way Out: An Awakwned Hindu Society | 109 |
| | Appendix | |
| | Islamic Manifesto for India | 111 |
| | Index | 120 |
Sample Pages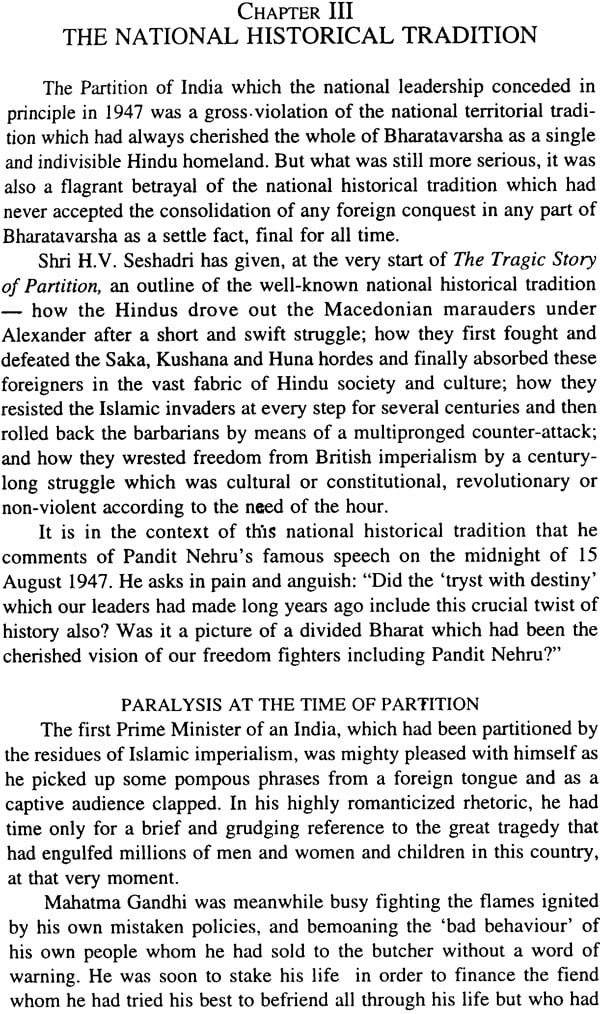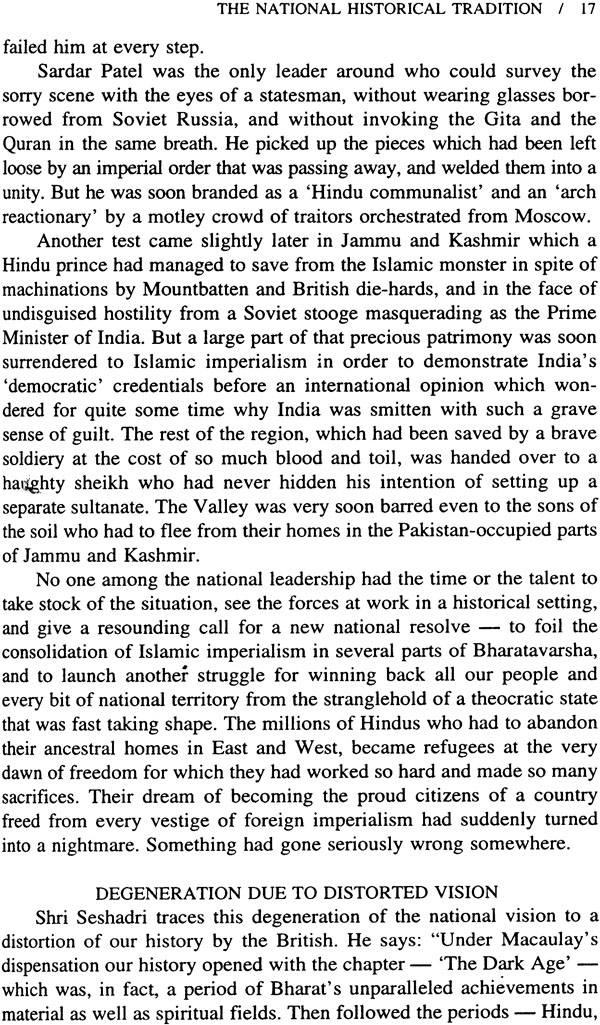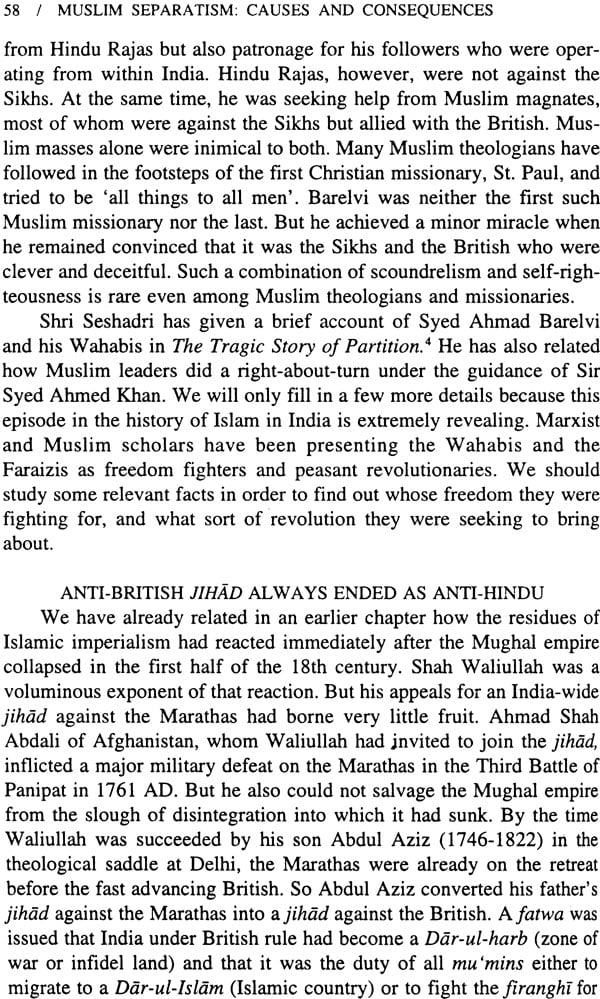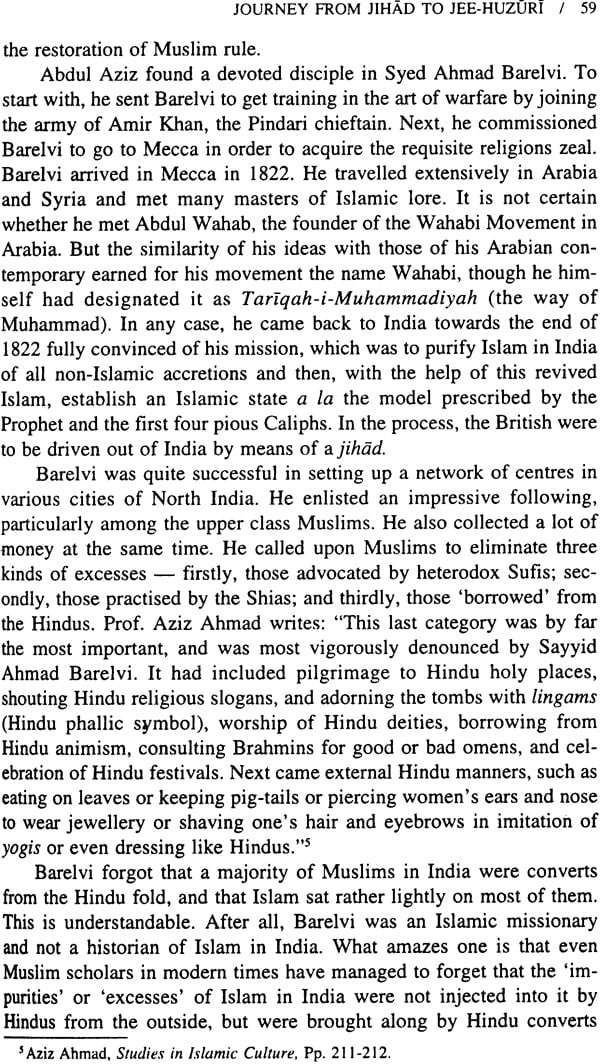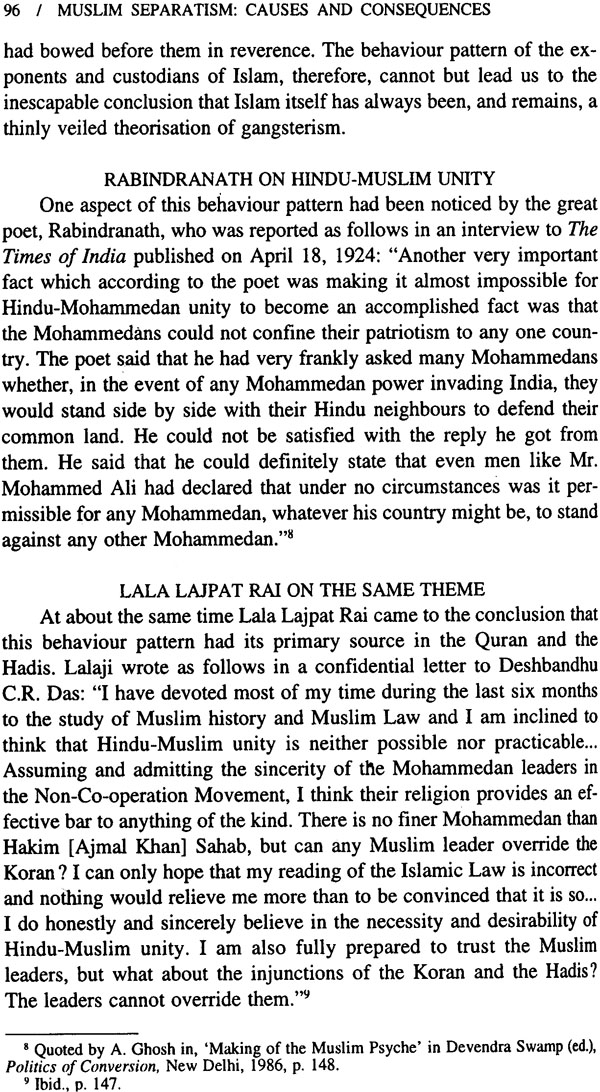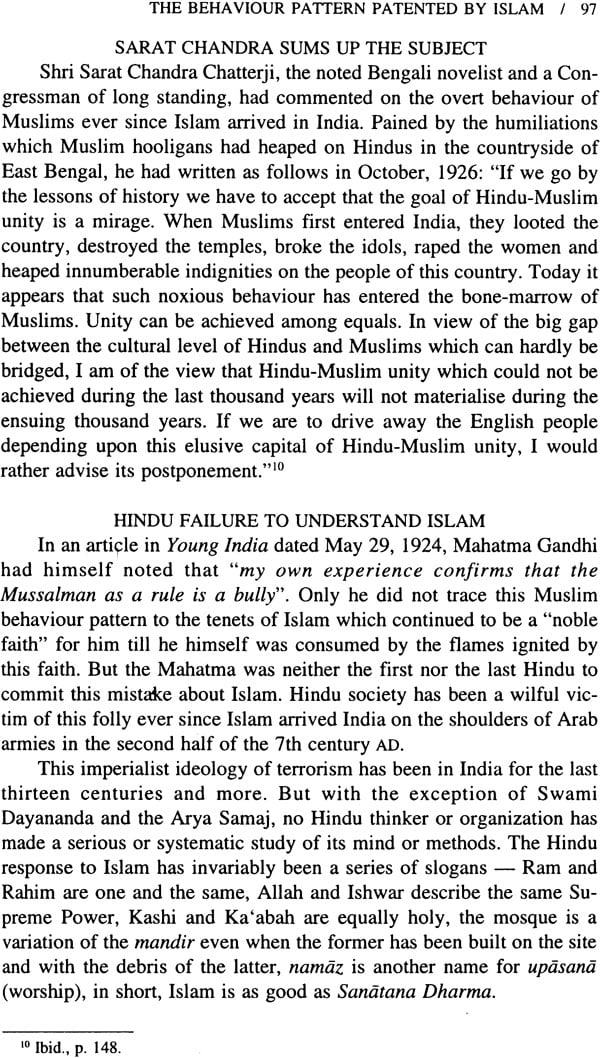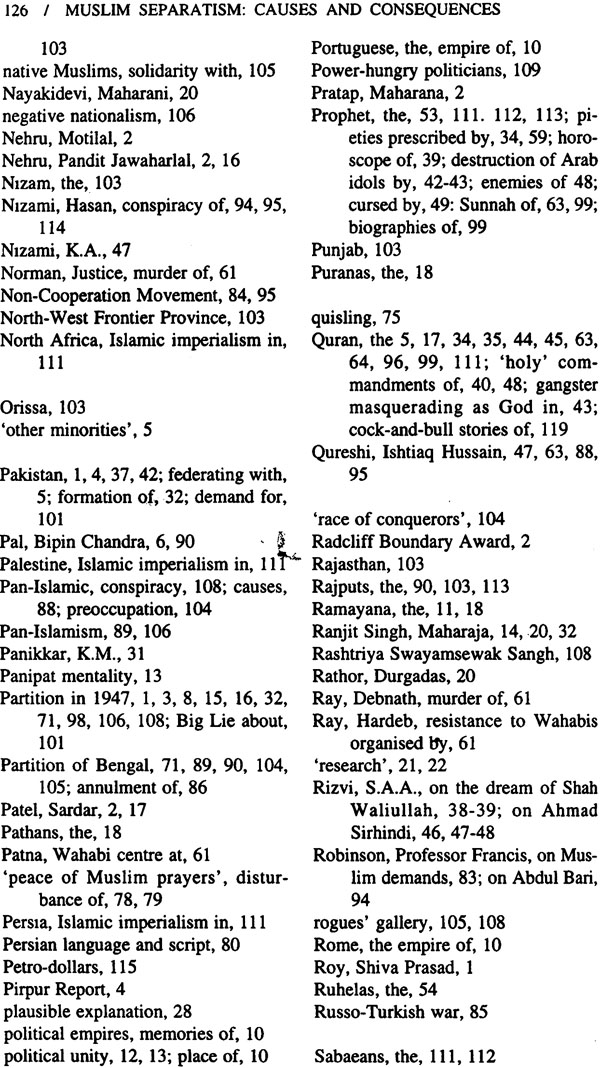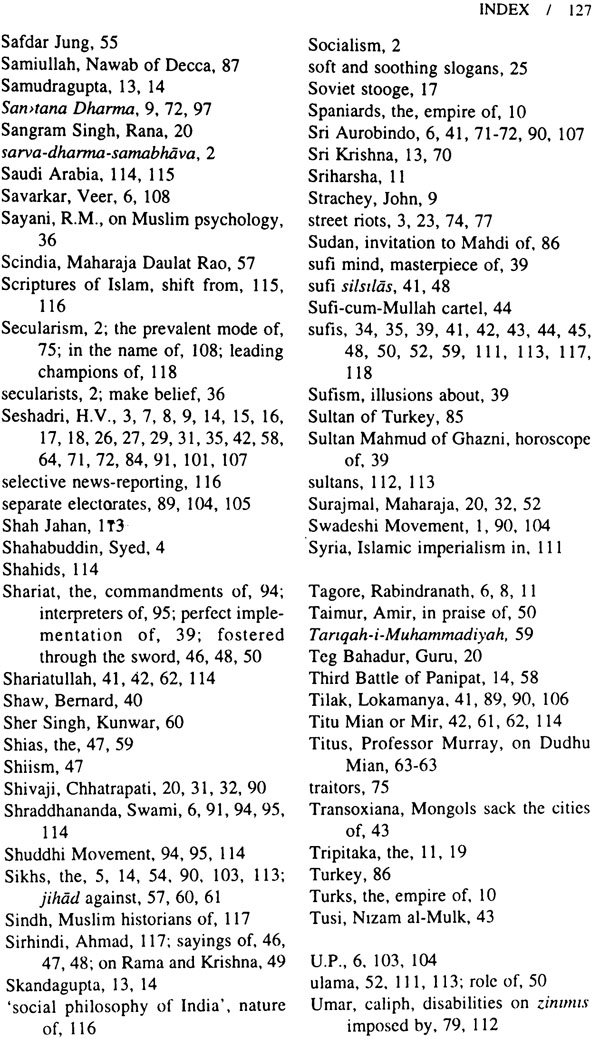 ---
We Also Recommend