Muslims and India
$3760

$37.60
Tax included.
Shipping
calculated at checkout.
---
---
Book Specification
Book Description
About the Book
This work is written by Shri Asghar Ali Engineer, an eminent and established author of Islamic Literature in India. The author has painfully gathered all the authentic and factual information from various sources and has convincingly enumerated the hard facts in the book-an extremely critical subject viz. Muslims and India. He has narrated the facts not only about Indian Muslims and mosques and other important issues in India at the same time equally and justiceably stated about temples and Hindus in India.
This critical and complicated subject has been dealt in seven major chapters viz. Historical Backdrop, Socio-Political context, Muslim Women and Modern Society. Contemporary Politics, Secularises and Riots. Gajarat Imbroglio and Legal Framework.
Under Historical Backdrop, the author delineates inter-faith relations in Medieval India, Archaeological Excavations and temple, role of Ulema in Freedom Struggle, Ambedkar Muslims, Hindutva and Miritics. Under Socio-Political context the study discusses Tribal Muslims Dialogue, Dain Muslim Dialogue, Education, Secularism and Human Values, Religion Democracy, Religion and Law, Religion and Communalism.
The chapter on Muslim Women and Modern Society forcefully and factually illustrates Indian Muslims. Identity and modernity. Religion in Secular Society, Police and Minorities. Fundamentalism and Terrorism etc. Contemporary Politics delves upon BJP's 25 Years, and Communalization of Indian Polity, Communal Riots,2004, India Shining, Indian Muslims and Lok Sabha Elections, India under BJP, Ayodhya's Voice, State Elections Results-Victory of BJP or Communalism.
Chapter on Secularism and Riots states 2002 Riots, Defeat of NDA, BIP back on Aggressive Hindutva, BJP and Politics of Religion extremism Future of secularism in India, Reservations for Muslims etc. The chapter Gujarat Imbroglio and Legal Frame work discuss elaborately and factually the incidents in Gujarat Godhra Train Burning, Gujarat Carnage, BIP and Gujarat elections etc. Judiciary and communal violence. Triple Divorce, Need for Change, Law on Communal Riots, Uniform Civil Code, Indian Muslims and Personal Law Board.
The book is a valuable document for students of Politics, Sociologists, Politicians, law enforcement authorities and of course historians.
About the Author
Dr. Asghar Ali Engineer, director of Institute of Islamic Studies, Bombay, is an internationally reputed scholar of Islam. He is renowned as votary of peace and inter-faith harmony. He has written extensively on Islam. He has several books on Islam at his credit which include Liberation Theology in Islam, The Origin and Development of Islam, Rights of Women in Islam, Rethinking Issues in Islam and others.
Dr. Engineer is not only a leading theologian of Islam he is known for his extensive research and original thinking on Islamic issues. He has also been advocating reform and change in world Islamic community.
Preface
The minority question has been quite controversial in India. The secular forces and parties of course not only acknowledge minority question but also want to treat them fairly and give them equal status in matters of social, cultural, political and economic rights. The freedom fighters and national leaders like Mahatma Gandhi, Jawaharlal Nehru and others duly recognised existence of minorities and championed their cause. It was because of their efforts that the constitution makers gave equal political rights to them and also recognised their distinct social, cultural, religious and economic status. The Constitution of India protected their religious and cultural rights under Articles 25 to 30.
However, those who espouse communal ideology are even today refusing to recognise the minority status and their distinct socio-cultural status. The RSS, VHP and BJP leaders continue to question status of religious minorities like Christians and Muslims. Sometimes they accuse secular parties of 'appeasement of minorities' and sometimes they question their loyalty to the country and sometimes they are described as ones who came from outside and hence alien to India and Indian culture.
The Sangh Parivar and votaries of Hindutva have always described Muslims as 'Babar ki aulad (i.e., children of Babar) and used to raise slogans "Babar ki aulad, jao Pakistan ya qabrastan" (i.e., children of Babar go to Pakistan or to cemetery).
Introduction
Indian Muslims have been at the centre of controversy ever since the beginning of the British rule either because of their own behaviour or because of the policy of divide and rule pursued by the British or because of communal forces in both the communities. Even long after partition and independence of India the controversies do not die down; they are being intensified in the present situation.
Whenever I have the occasion to speak on Indian Muslims or communalism or secularism I am asked certain questions invariably, whatever the nature of gathering, i.e., of intellectuals, of social activists or teachers or police officers. Certain myths about Indian Muslims are being propagated today especially by communal forces. It is, therefore, necessary to discuss some of these controversies and throw light on reality. Those who spread such myths are serious obstacles to the process of nation building and are bent upon destroying not only secular character of this country but also peace and harmony. However, this article is not addressed to these forces as they do so not out of lack of information but out of their own political agenda. This essay is addressed to those who become victims of this propaganda.
Before we throw light on these controversies it is necessary to throw some light on the concept of majority and minority. Some people keep on arguing that one should do away with this concept as all citizens have equal rights in Indian Constitution. irrespective of religion, caste and creed. There is no place for the concept of 'religious minority' and 'religious majority' in Indian democracy.
**Contents and Sample Pages**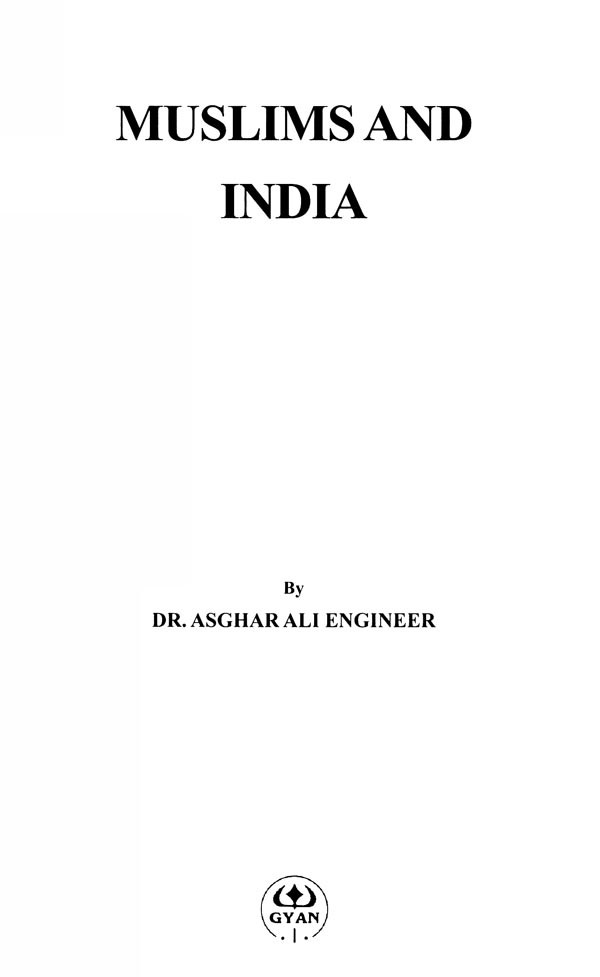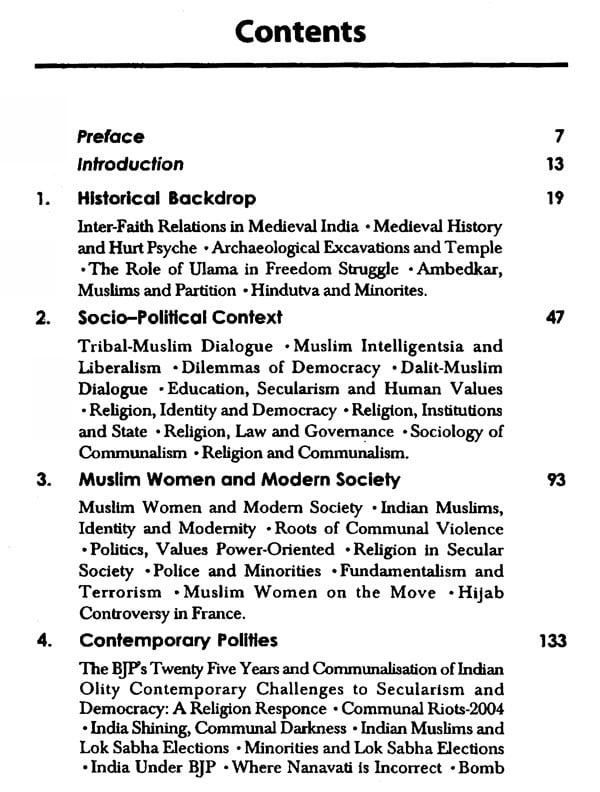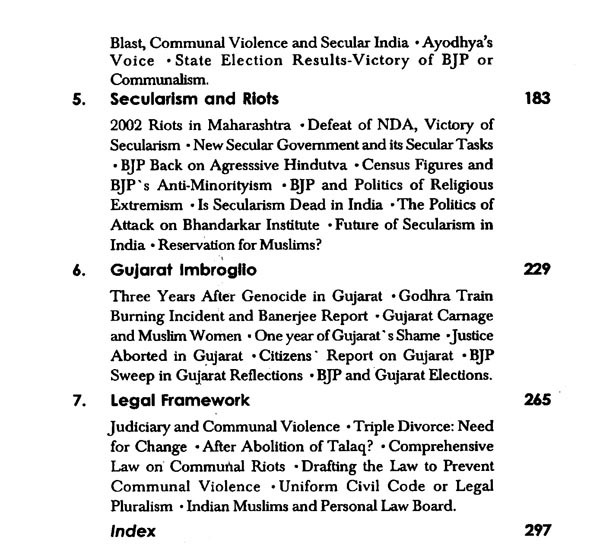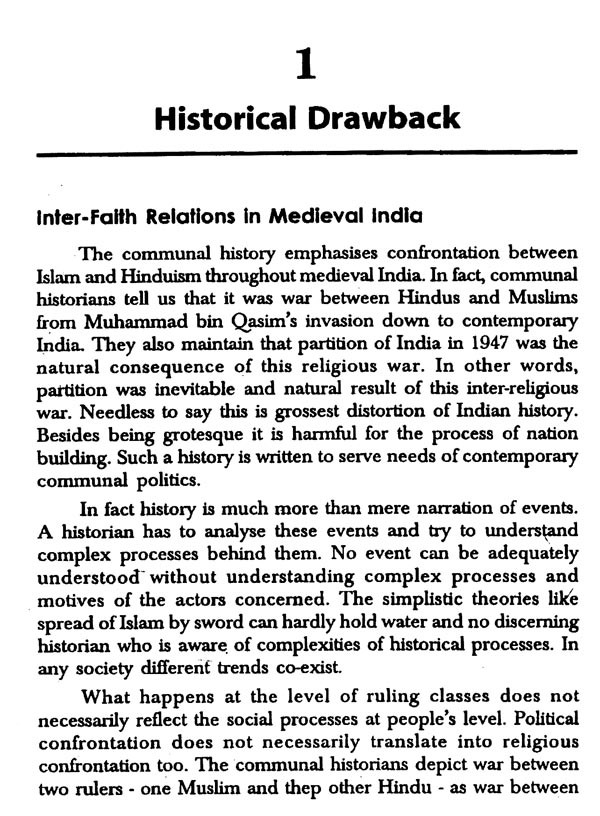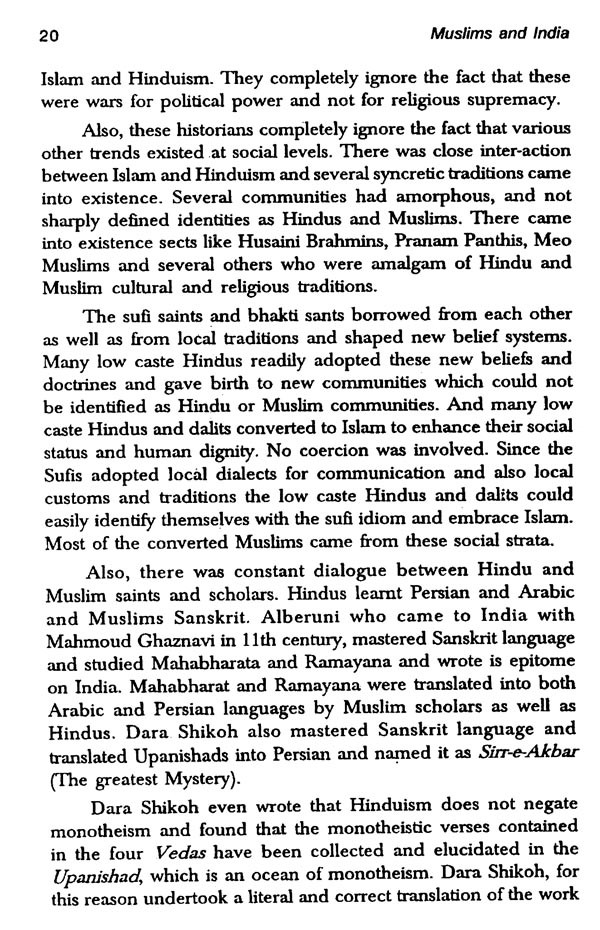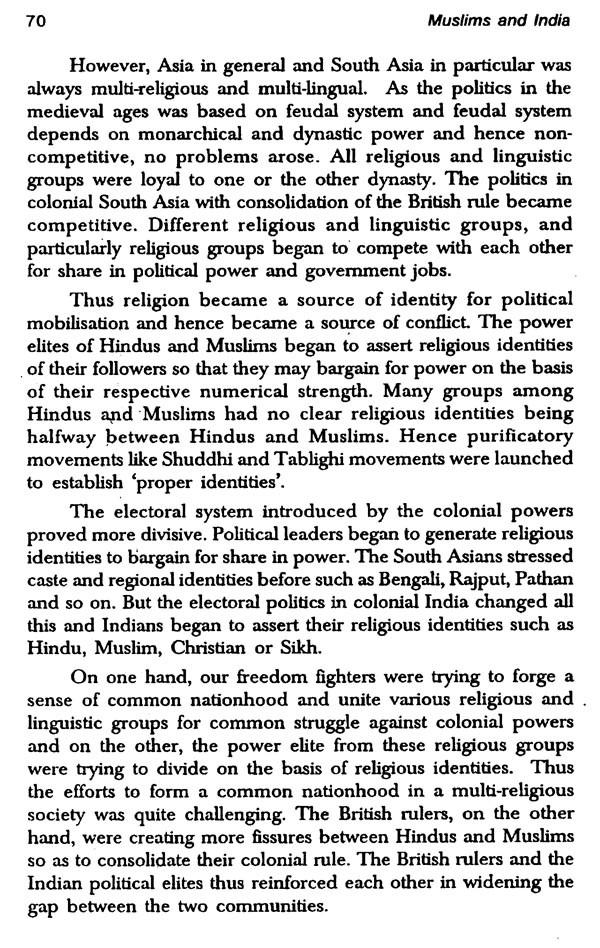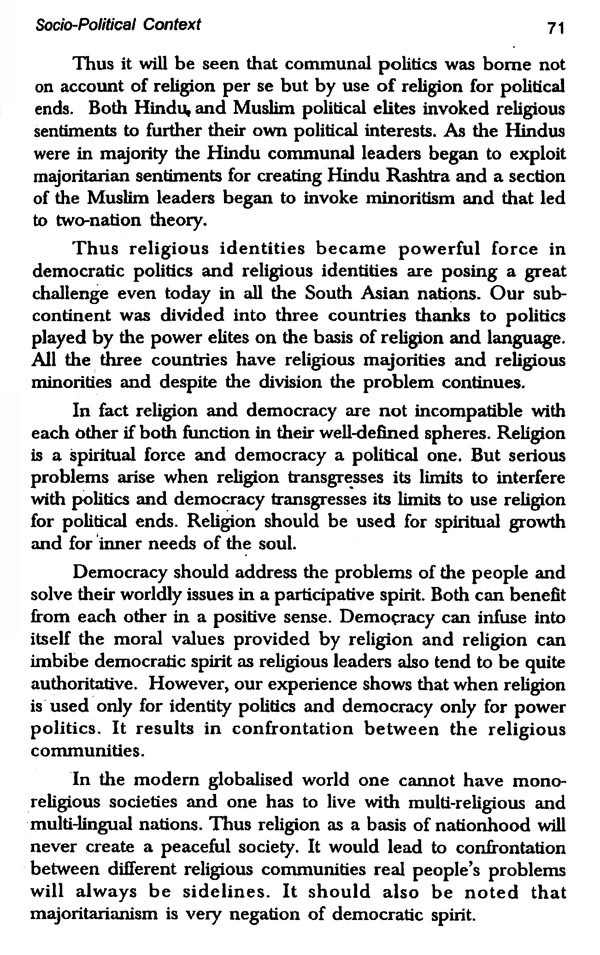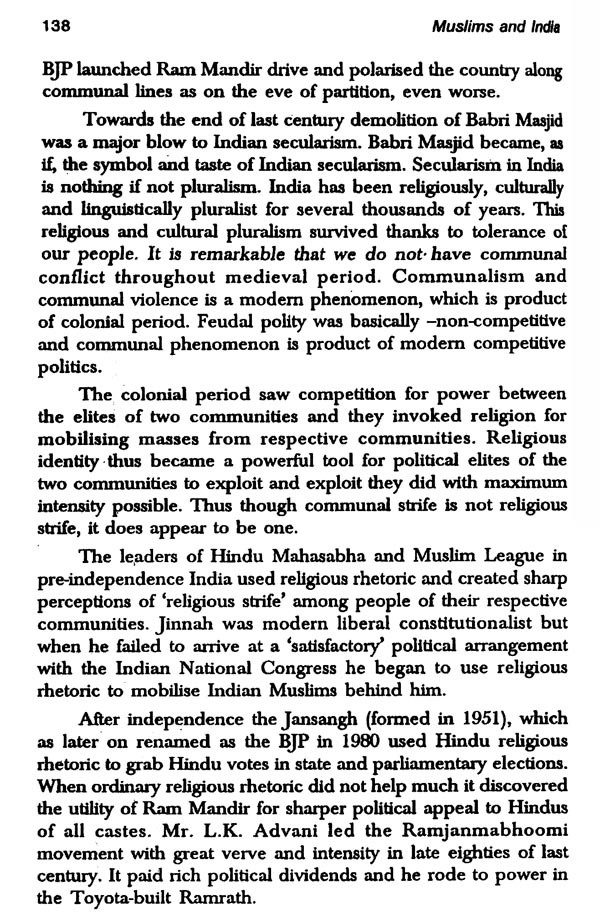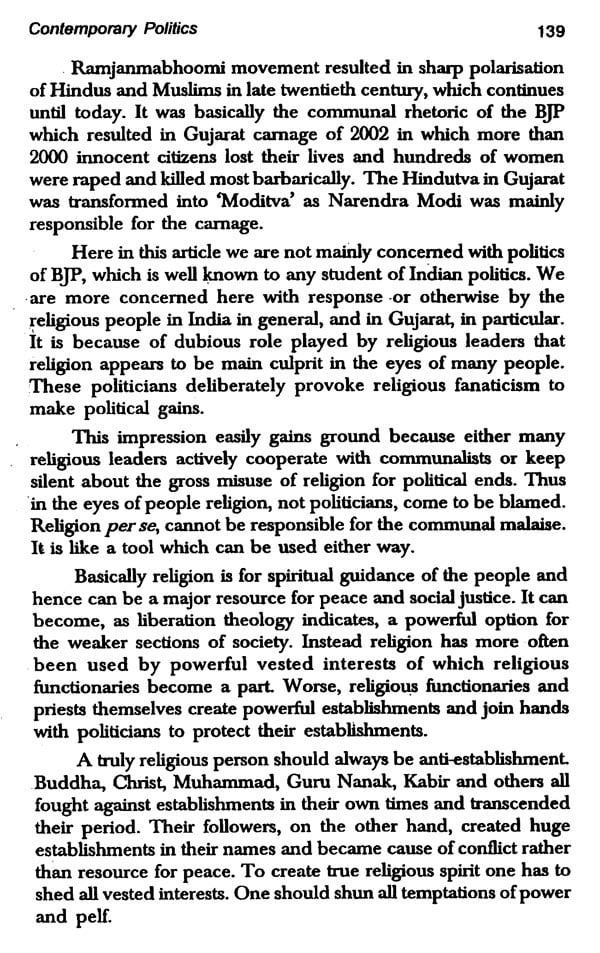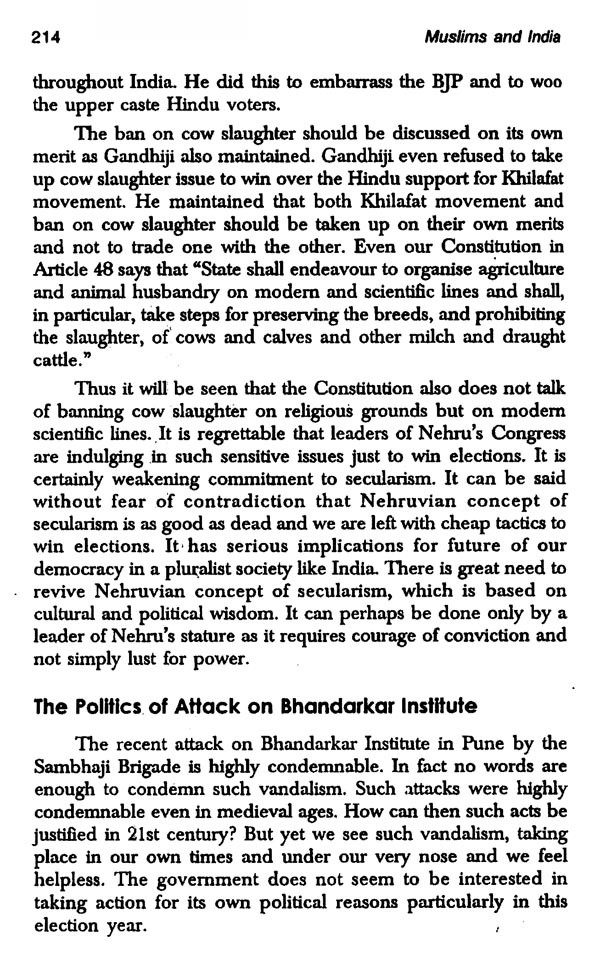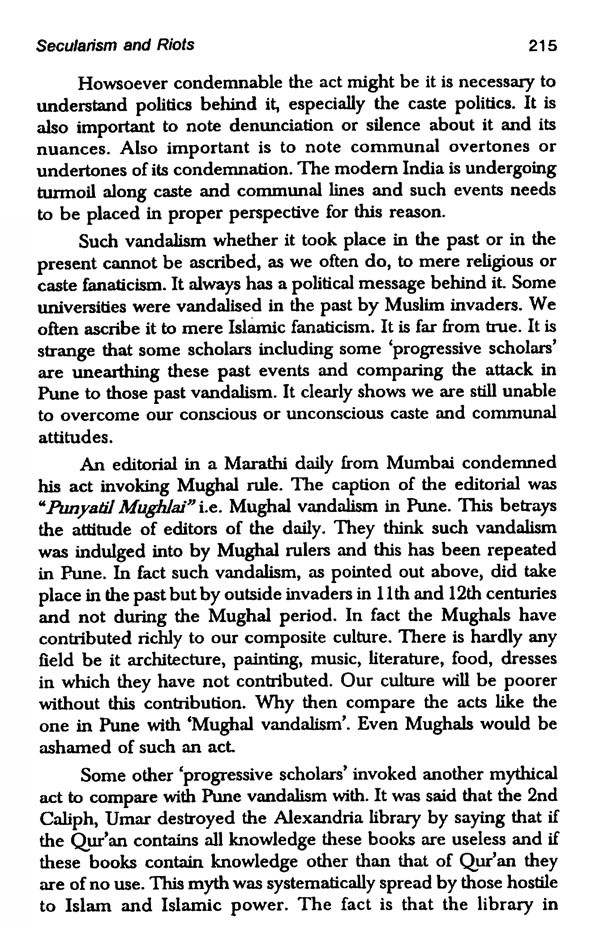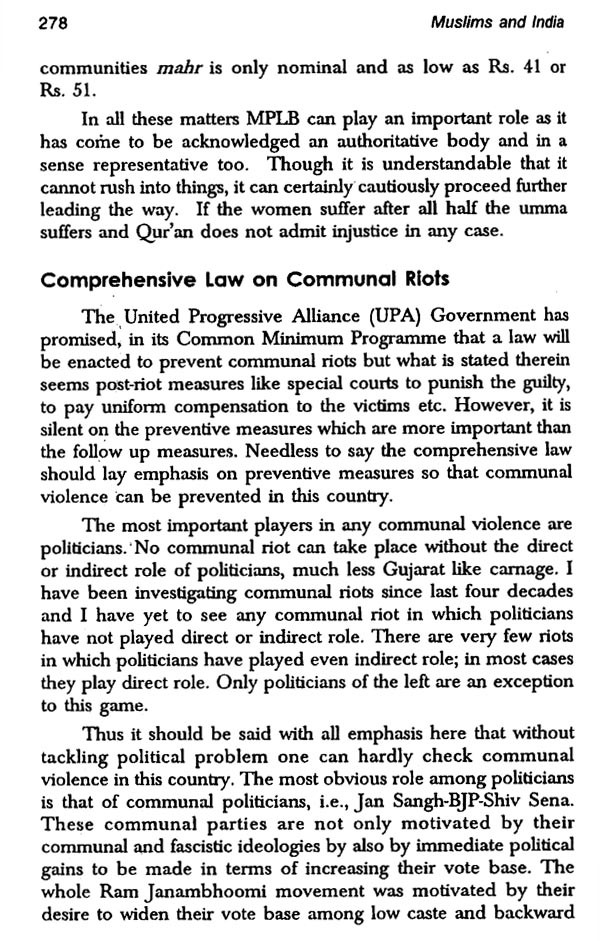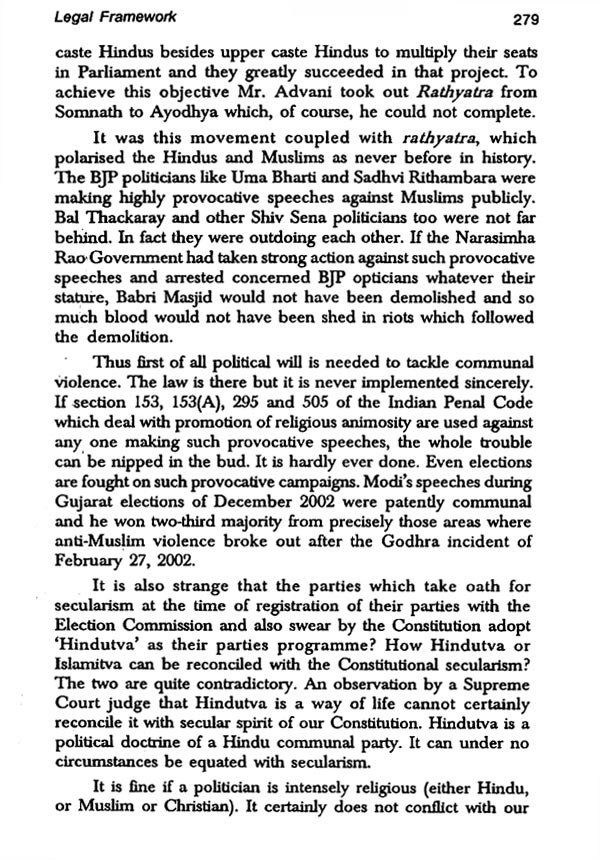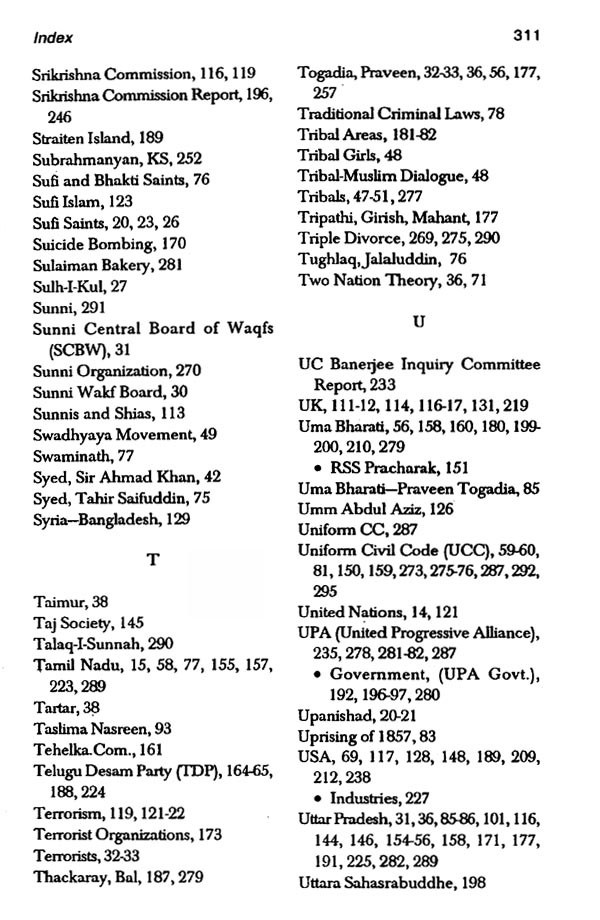 ---
We Also Recommend