Night Life of Indian Tribes
$3120

$31.20
Tax included.
Shipping
calculated at checkout.
---
---
Book Specification
| | |
| --- | --- |
| Item Code: | UAM329 |
| Author: | S. S. Shashi |
| Publisher: | Agam Kala Prakashan, Delhi |
| Language: | English |
| Edition: | 2018 |
| ISBN: | 9788193845769 |
| Pages: | 119 (13 B/W Illustrations) |
| Cover: | HARDCOVER |
| Other Details | 9.50 X 6.00 inch |
| Weight | 340 gm |
Book Description
About The Book
This is the first detailed and authentic study of the dormitories of Indian tribes, written by a scholar of social anthropology who had been in the difficult and inaccessible valleys of hill areas observed the tribal dormitories closely. Sexual urge a primary physiological phenomenon as hunger, thirst, sleep and respiration. It has no bindings in certain tribes and is like a game among Garos, a place for love-making among Murias, a carefree home among Oraons and training centre among other tribes. This book gives a full picture of the night life of young boys and girls, who sing together, dance together and ultimately sleep together.
About the Author
Author of 30 books in English and Hindi on various subjects viz. social anthropology, defence, literature etc. Dr. Shashi Has toured tribal belts extensively. He is a prolific writer and contributed articles on these subjects to a number of leading news papers, and periodicals, Times of India, Sunday Standard, Hindustan Times, Tribune, Search light, Tribe, Vanyajati, Folklore etc.
He received a national award on his writing in 1970. A few of his standard works in English are Himachal nature's Peaceful Paradise, Nomads of the Himalayas, the Gaddis, and Defenders of India etc. Dr. Shashi Holds a doctoral degree in Social Anthropology.
Preface
While working in Ashok Ashram, Kalsi, Dehra Dun (affiliated with Bhartiya Adim Jati Sewak Sangh Delhi) in 1955-56, I came across a number of social workers belonging to various tribes of India. This contact led me to evince interest about the tribal mode of living, particularly their institutions, customs, folkways etc. mores, and, hence, I could collect a lot of material about the tribal life.
Though a few studies have been made with a passing reference to the dormitories notably by such eminent anthropologists as Verrier Elwin on Ghotul, I too tried to venture to explore the field to find out if there was any major difference in sex-training leading to the marriage institutions between the tribals and the so-called permissive society in the East and the West. The readers may find the applied aspects of these bechelor homes in the context of modern educational institutions and recreational clubs.
My data is based on observations/interviews apart from the references to the authoritative sources. I may be pardoned for my poetic expression because of my nature and instinct. Any suggestions to improve the book would always be welcome.
**Contents and Sample Pages**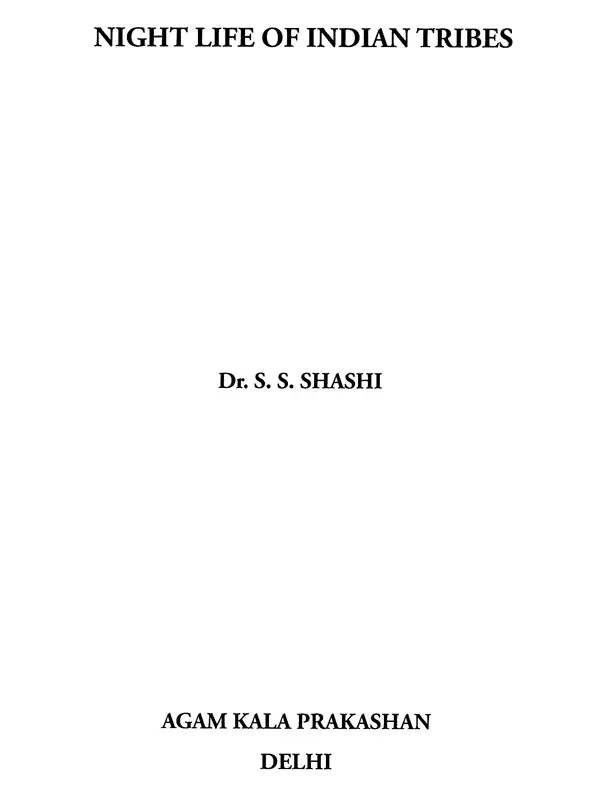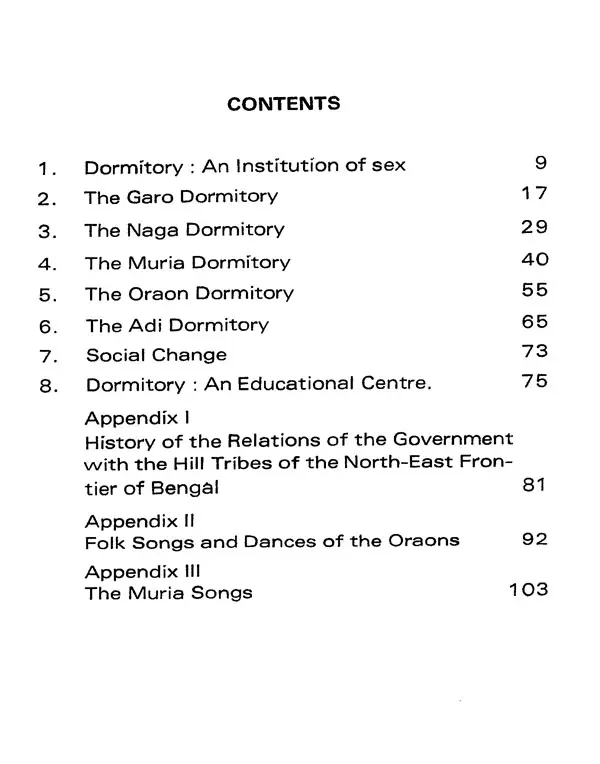 ---
We Also Recommend