Papers in Dravidian Linguistics
$3500

$35.00
Tax included.
Shipping
calculated at checkout.
---
---
Book Specification
Book Description
About the Author
Professor Bhadriraju Kishnamurti has been an Honorary Member, Linguistic Society of America, since 1985. He was elected in 2004 a Fellow of the Sahitya Akademi (The National Academy of Arts), New Delhi, and also a Corresponding Fellow of The Royal Society of Edinburgh (Corr. FRSE). He was Professor of "Linguistics, Osmania University, Hyderabad (1962-88) and Vice- Chancellor of the University of Hyderabad (1986-93). He has a held many prestigious fellowships including Membership at the Institute of Advanced Study, Princeton (1999-2000), and has Behavioral Sciences, Stanford (1975-76, 2000-01). He was President of the Linguistic Society of India (1970) and of the Dvidian Linguistics Association (1980). He has been a Visiting Professor at several universities including Cornell, Michigan Arbor), Hlinois (Urbana), Pennsylvania, Hawaii, Texas (USA), a ANU, La Trobe (Australia), and Tokyo (Japan). He has been a member of the Editorial Advisory Committees of several linguistics journals and publication series. Krishnamurti is a leading linguist in India and one of the world's renowned historical and comparative Linguists, specializing in the Dravidian family of languages. He has published twenty-five books and over one hundred forty research papers in English and Telugu. His books include Telugu Verbal Bases: a Comparative and Descriptive Study (California, 1961), Kook or Kibi, a Telugu (with J. P.L. Gwynn, Oxford india, 1985), Language, Education and Society (Sage, 1998), The Dravidian Languages (Cambridge, 2003); Mapdlikavrittipadakatam (A Telugu Dialect Dictionary of Occupational Vocabularies), Vol. wyawasdyam (Agriculture, 1962, repr. 1974), Vol. I ceneta (Handloom, 1971),telugubhastcaritra (1974, 1979, reprinted eight times).
Foreword
That the foundations of Indian culture were deeply embedded in Dravidian culture is now an incontro-vertible fact. Dravidian culture is one of the most ancient cultures of the world. Those cultures, slightly contemporaneous to one another, slowly started fading out. However, the primordial Dravidian culture continues to thrive without losing its quintessence despite the apparent changes in systems of dress and address.
Dravidian University was established in 1997 to mirror the real and rich picture of Dravidian culture not only in its linguistic, literary, cultural and philosophical facets but in science and technological angles also.
The main objectives of Dravidian University are to augment the common weal and social well-being of the communities of marginal languages and to build bridges among the Southern states. While working on each language separately in varied areas, it aims at a synthesis and a discovery of the common heritage through Comparative Studies.
The Centre for Publications and Extension Services is most significant wing of the University because of its several on-going progressive activities.
The Studies on Comparative Dravidian Linguistics have many dimensions and viewpoints. When one attempts to write a history of Comparative Dravidian Linguistics, it is essential to have the forewords, reviews and addresses made by the leading personalities in the field. in this direction, the present volume Papers in Dravidian Linguistics by Prof. Bh. Krishnamurti will be useful to the students and researchers and it gives me immense pleasure to write this foreword. These papers were written in a span of forty years as reviews and articles written on different occasions and they present a fair idea of the development of Dravidian Linguistic Studies. This collection contains, apart from other scholarly papers, reminiscenes of the gians of Comparative Dravidian Linguistics Prof. M.B. Emeneau and Prof. T. Burrow. These sixteen papers by Prof. Bh. Krishnamurti reflect his vast experience of teaching and insights of Dravidian Linguistics. The Dravidian University is delighted to bring out this volume and grateful to Prof. Bh. Krishnamurti for permitting us to publish these invaluable papers.
Preface
The Oxford University Press, U.K., published in 2001 a collection of twenty-one of my major papers on comparative Dravidian under the title Comparative Dravidian Linguistics: Current Perspectives. The publishers decided that they would exclude my reviews and encyclopedia articles in that collection. So I am now putting together a new collection of papers on Dravidian, which include the reviews and encyclopedia articles and several new ones that I have published since 2000.
The present collection has sixteen Chapters (Papers), of which Nos. 1-8 were published in the last century; Papers 9-14 have been published between 2000 and 2009. The papers are not chronologically ordered and no attempt has been made to change the original format of the articles (transcription, citations, bibliographical references, etc.), except that I added the chapter number before the serial number.of figures, tables in all chapters and lexical entries in Chapter 4. I added Papers 15 and 16 of the last century because of their thematic importance. Ch.16 is an obituary of Professor Thomas Burrow and Ch.15 deals with my remarks to linguists before reading my presidential address at the annual conference of DLA of 1980 in Delhi. I felt sorry that [ had to write the obituaries of the two most eminent Dravidian linguists of the last century, viz. Prof. Thomas Burrow (1909-1986) and Prof. M. B. Emeneau (1904—2005).
I must express my gratitude to Professor G Lakshminarayana, former Vice-Chancellor of the Dravidian University (2005-2008) for offering to bring out the collection as a university publication, when I was planning to compile it in 2007. I am also beholden to him for closely associating me with the academic events of the Dravidian University and for many acts of kindness, during the period he was in office. Prof. C. Ramanaiah who succeeded him renewed the offer, and I thank him for this gesture. I am sorry that the book was not ready for release before his term expired. I am indebted to the In-Charge Vice-Chancellor, Sri M.G. Gopal, I.A.S. for contributing a foreword to this book. I thank Prof. G. Umamaheswara Rao of the University of Hyderabad (my former student and colleague) for getting the manuscript of this volume computerized. J thank Sri P. V. S. R Murthy, who is on the staff of Prof. G. U. Rao, for efficiently rendering the difficult task of feeding this collection of papers with many diacritics into a computer. I also thank Shri Suresh Kolichala, a software engineer from Atlanta, USA, who, out of his love for Dravidian, has kindly prepared the general index of the book.
I also appreciate the help of Shri T. Venkata Swamy, Assistant Editor and Chief DTP operator at the Prasaaraanga (Centre for Publications) of the Dravidian University, who has done the final book, correcting several proofs. My thanks are also due to the Director of Publications, Dr. D.V. Sravan Kumar of the Dravidian University for his cooperation.
I am indebted to the Central Sahitya Akademi for sanctioning me a Resident Fellowship for the period 2009-11, which has facilitated my research and publication of two books during the last two years.
I hope these essays will stimulate the thinking of future research scholars in comparative Dravidian linguistics.
**Contents and Sample Pages**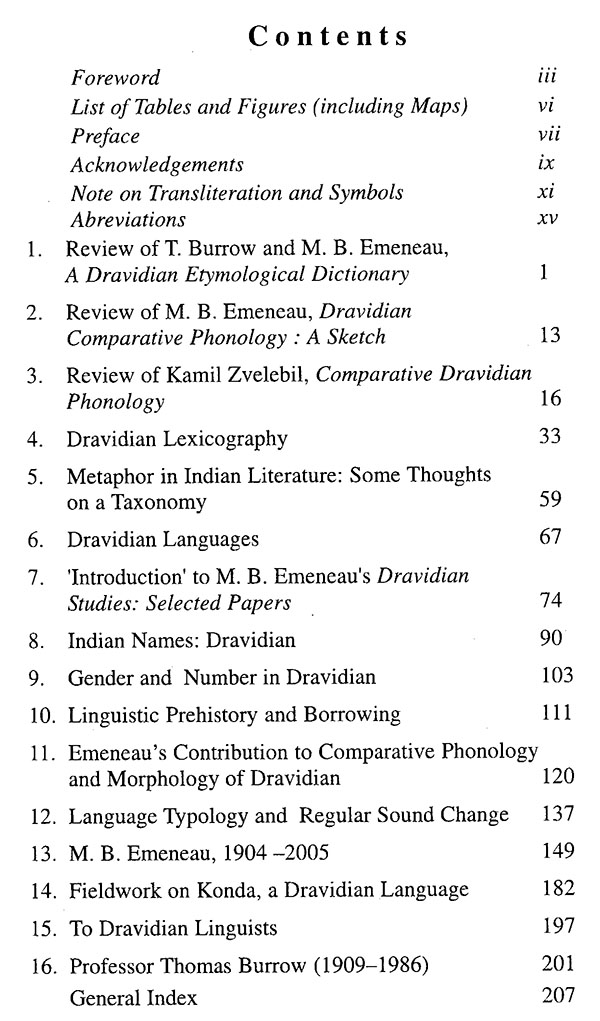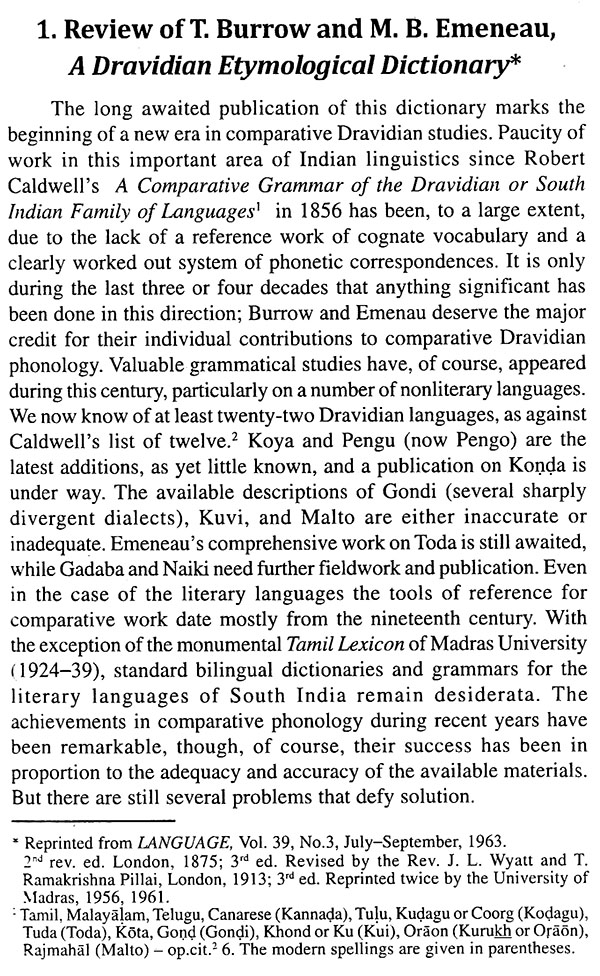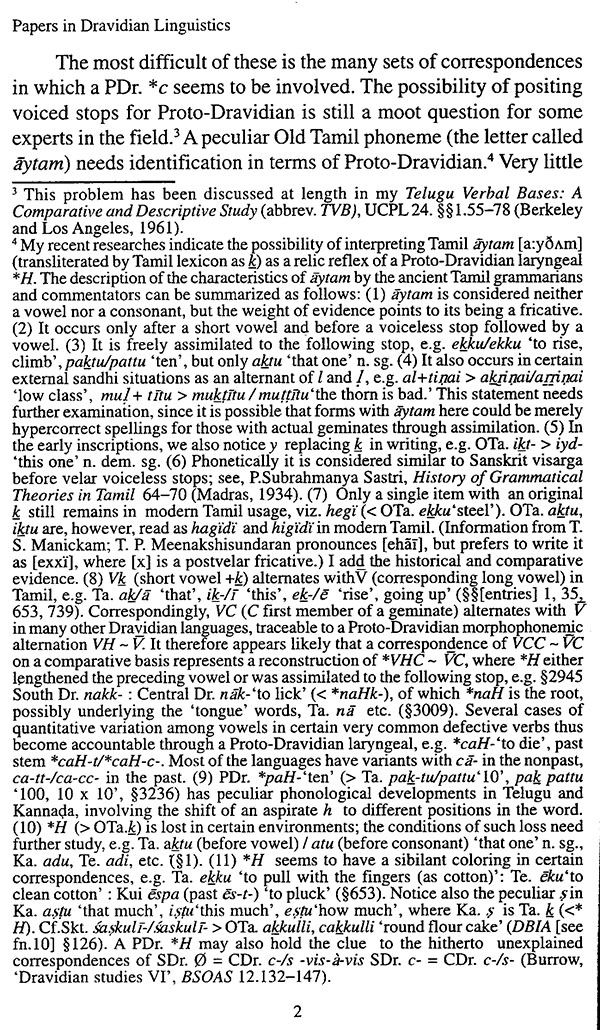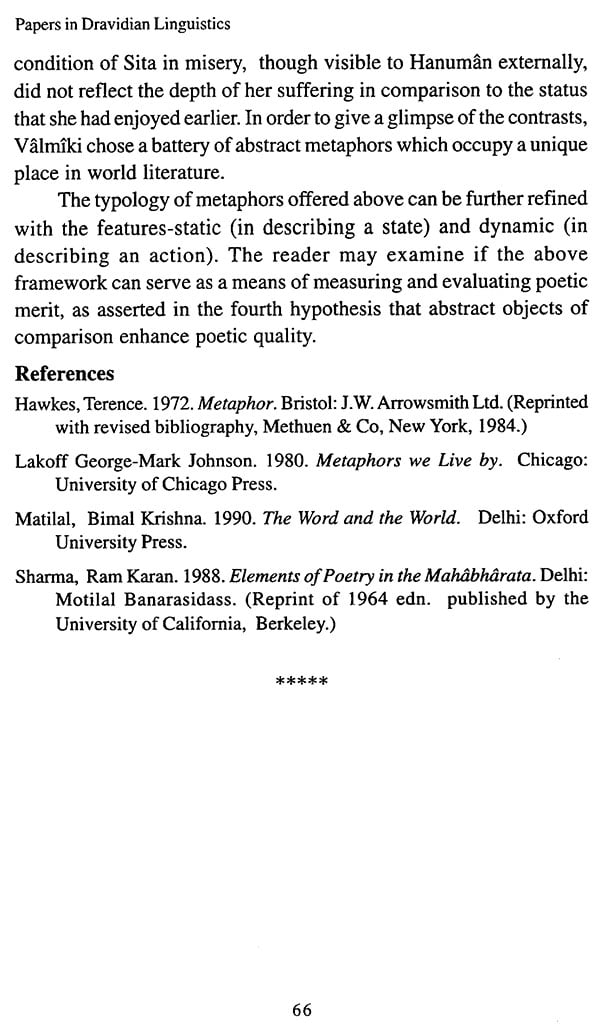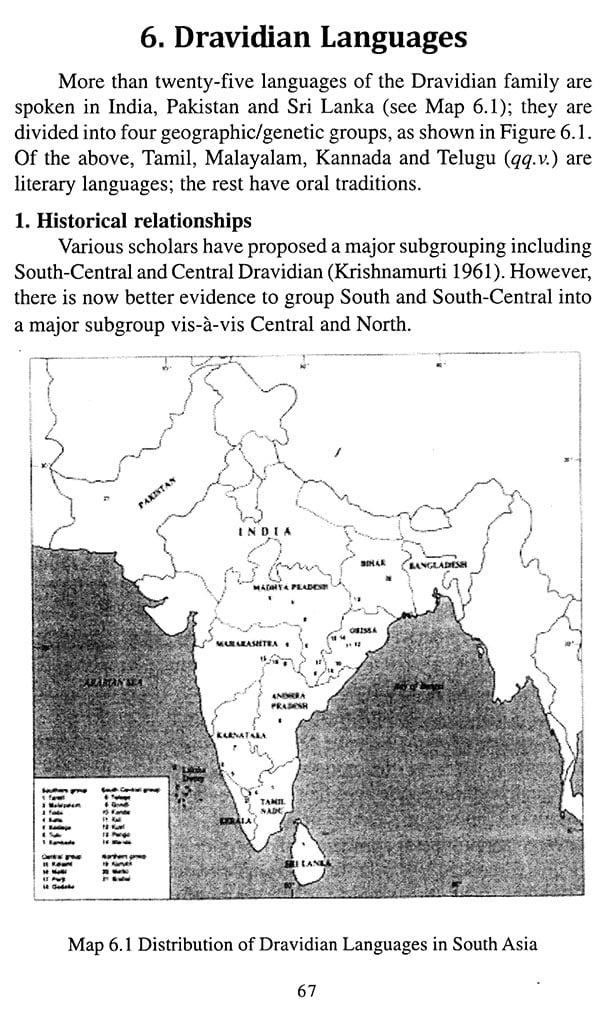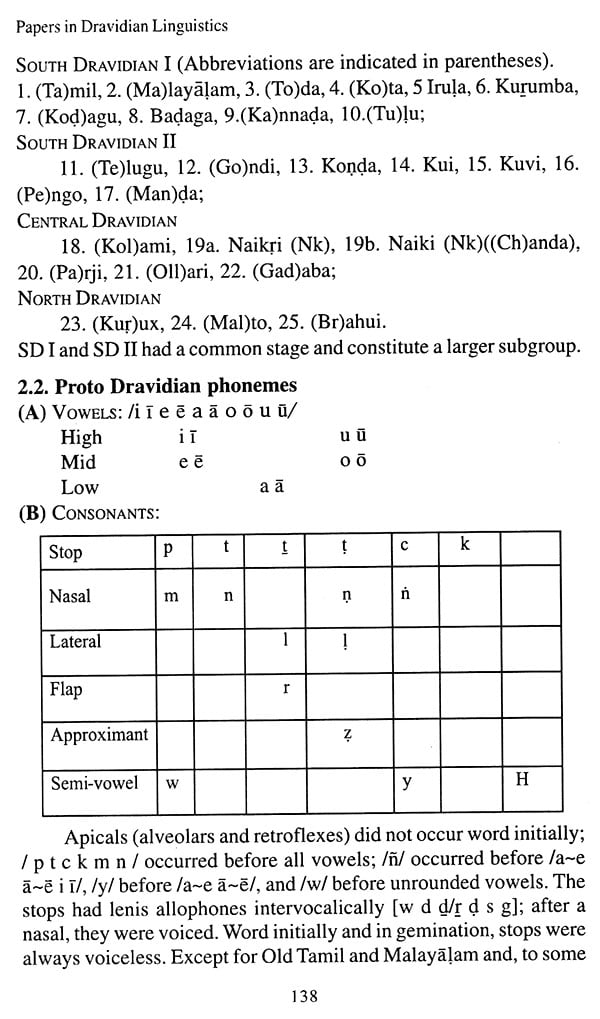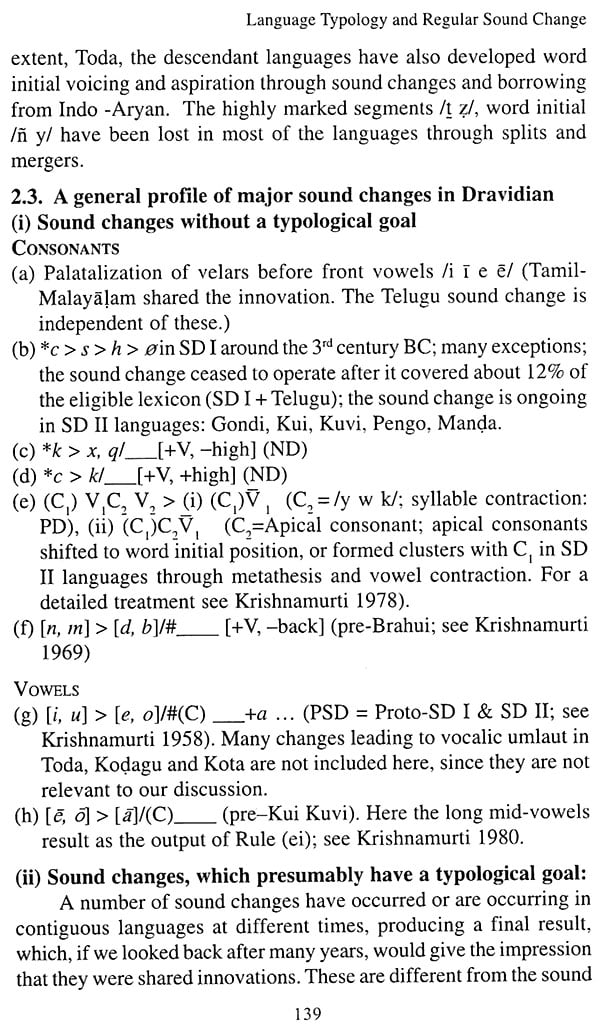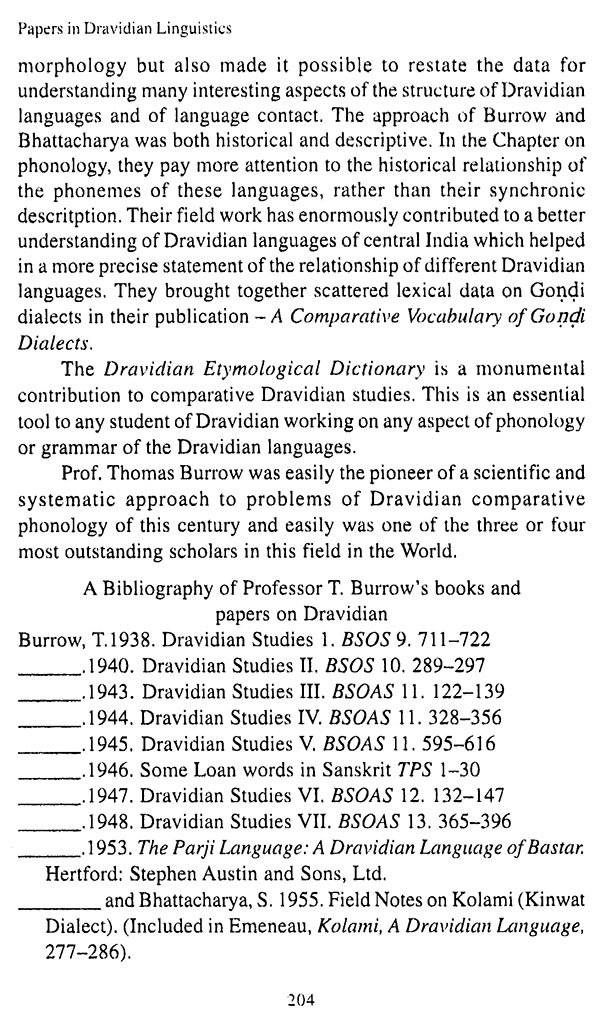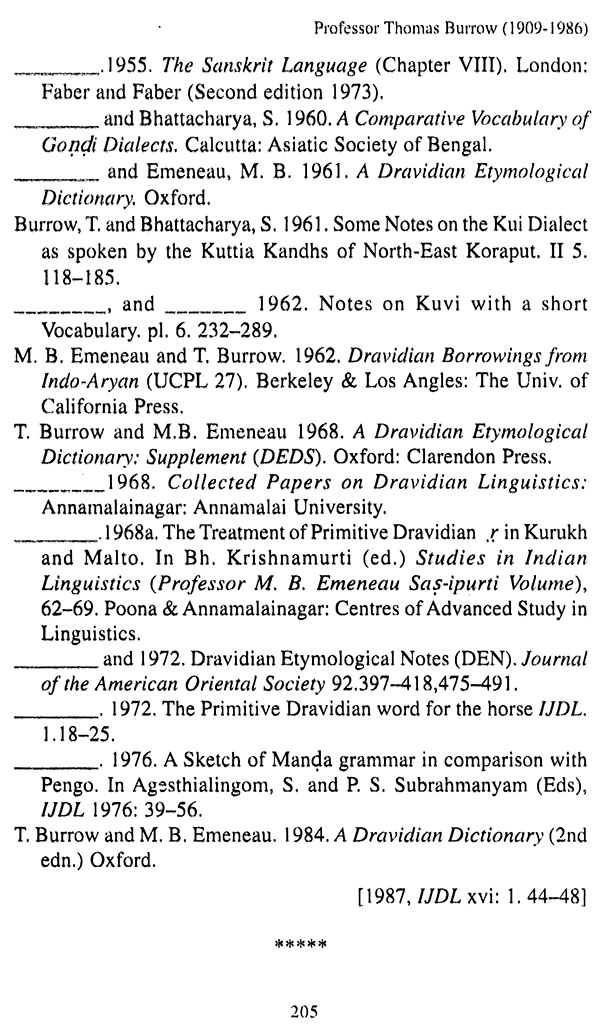 ---
We Also Recommend