Poets and Thinkers: Kabir, Mirabai, Ekanath, Soordas, Narayana Guru (A Collection of Comics)
$2400

$24.00
Tax included.
Shipping
calculated at checkout.
---
---
Book Specification
| | |
| --- | --- |
| Item Code: | NAF094 |
| Author: | Anant Pai |
| Publisher: | Amar Chitra Katha |
| Language: | English |
| Edition: | 2011 |
| ISBN: | 9788184823844 |
| Pages: | 164 (Throughout Color Illustrations ) |
| Cover: | Hardcover |
| Other Details | 10.0 inch x 7.0 inch |
Book Description
About the Comic
"Be not slaves of tradition, fear not to walk upon new paths, if these bring you nearer to God, who is the truth." So said Kabir - mystic, teacher and poet.
There have been many like Kabir who walked alone in their belief. This Amar Chitra Katha tells his story and the stories of others who dared to break the mould.
Mirabai, whose love for Krishna was the only truth in her life.
Ekanath, who spread the message of equality despite tremendous odds.
Soordos, who faced rejection because he was blind but wrote poetry about Krishna with the detail and devotion of one who saw him closely. And Narayana Guru, who fought relentlessly against the caste system and its degradation of the human soul.
About the Stories
Kabir
He rebelled against the established institution of religion. He spoke strongly against blind faith and ritualism. Kabir who belonged to neither Hindu god nor Muslim wrote his couplets urging people to rise against orthodox thought. Kabir's words can still iron out religious differences between communities and destroy paintless pried. Everyone he said is equal and all gods are one. So difficult was this for the people of his time to understand that some of them resolved to be rid of him.
Mirabai
She was only a child of five and he a mere image of the Lord Krishna but little Mira loved him with all her heart. So strong was her devotion that it rendered even irate kings and murderous relatives powerfulness. Mirabai became a queen but she continued to serenade her Lord through the ups and downs of her eventful life. Her hymns to Krishna which are sung to this day left even the great mughal emperor Akbar spellbound.
Ekanath
A little boy was sitting outside a Shiva temple one day when he heard a voice telling him to leave his family ad go seek a guru in distent Deogarh. Obediently he left his family and went.
The boy would grow up to become Ekanath. He was known for his stand against untouchability and its view that all people were equal. At a time when the priestly class held a monopoly over Sanskrit scripture Ekanath wrote treatises explaining the scripture in Marathi so that ordinary people could red them and discuss them. Ekanath is also known for his devotional song or abhangs many of which are still sung today.
Soordas
Just because the boy was blind he became the butt of every unkind prank. Little did his family realize that Soordas could often see more than anyone else. He could direct a shepherd lost goat and a father to his missing son. He could describe exactly how the idol of his beloved Lord Krishna was dressed in the temple each day. The Mughal emperor Akbar personally come to invite him to his court. The poet Tulsidas visited him. The powerful the wise and the ordinary flocked to him for his all seeing wisdom and his soul stirring songs of devotion.
Narayana Guru
It was a time when the evils of the caste system cast a malevolent shadow over Kerala. The avarnas as the low castes were called lived on the fringes of a society that found their very shadow polluting. It was at such a time that Narayana was born. As a child he shocked his elders by questioning the system. As a Guru he strove to educate people in the oneness of God and the human race.
Sample Pages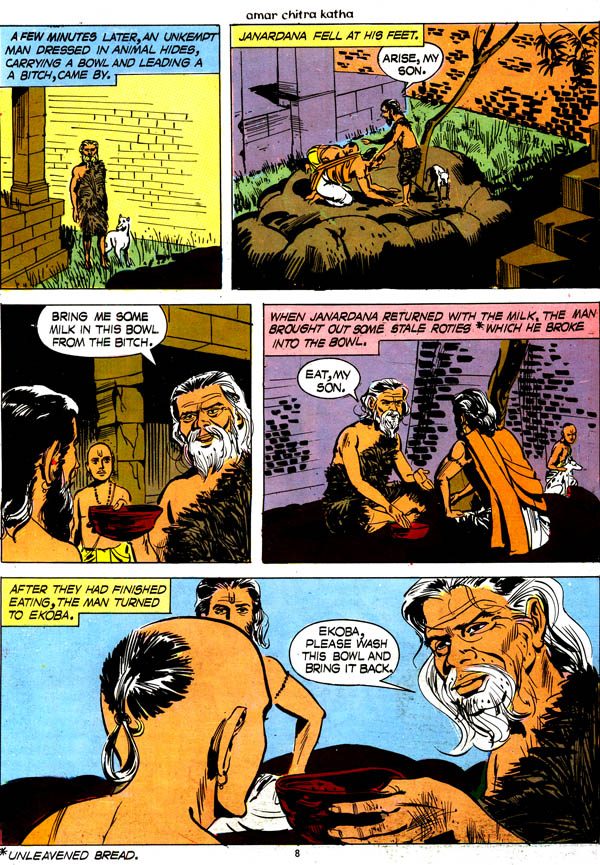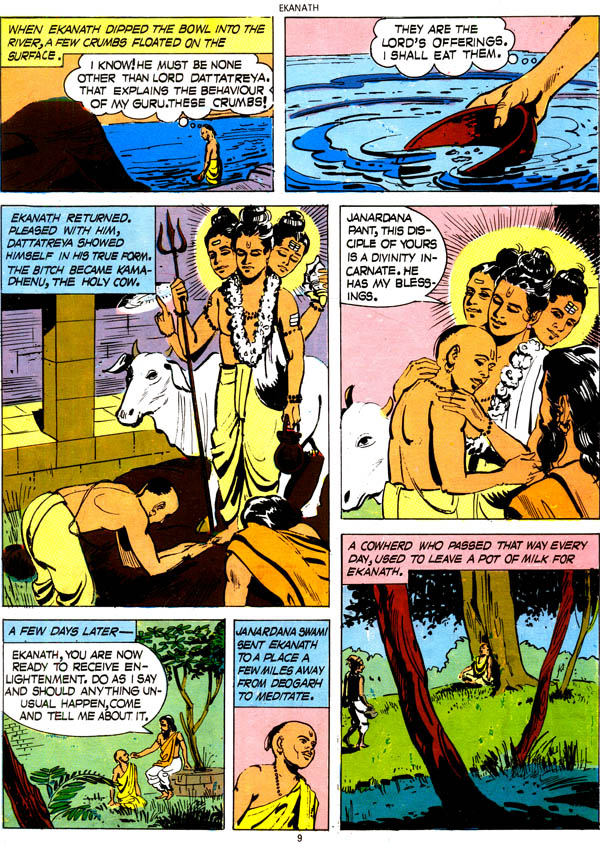 ---
We Also Recommend