Pratika- Sri: Studies in Indian Art Symbols
$4600

$46.00
Tax included.
Shipping
calculated at checkout.
---
---
Book Specification
Book Description
About the Author
Dr. A. L. Srivastava, a student of the Lucknow University and a retired Professor of the Allahabad University, has been a good researcher in the field of ancient Indian art and culture. He has contributed more than hundred fifty papers on Indian art, sculpture, iconography and numismatics; and even more papers, almost twice in number, to the leading Hindi and English periodicals in the country.
More than twenty books on Indian art and symbols to his credit include Life in Sanchi Sculpture (1983), Srivatsa : An Auspicious Symbol (1983), Bharatiya Kala (1988), Bharatiya Kala-Pratika (1989), Silpa-Sri: Studies in Indian Art & Culture (1990), Nandyavarta: An Auspicious Symbol in Indian Art (1991), Pracina Bharatiya Deva-Mürtiyan (1998), Mangalika Pratika (1999), Bharatiya Kala-Sampada (2001), Paschala ka Mürti-Silpa (2002), Bharatiya Saskyti aur Silpa (2003), Uma Maheśvara: Iconographic Study (2004), Svastika (2005) and Savatsa Gau (2006) Indian Iconography : Musing in Some Unique and Unusual Sculptures (2011). Three of his books, Srivatsa, Bharatiya Kala-Pratika and Panchala ka Mürti-Silpa have been awarded by Rajabhaşa Vibhaga of the Bihar Government (1984-85), U.P. Hindi Samsthana, Lucknow (1991) and the same institute (2006) respectively.
Dr. Srivastava's special field of study has been the auspicious art symbols. He has not only published his several papers but also delivered series of lectures on these symbols in many reputed art centers and institutions. His keen interest enabled him to be invited by the Canadian Asian Studies Association, Carleton University, Ottawa to present his paper on Nandyavarta to the annual session held in June, 1985 in the University of Montreal, which later published in their journal South Asian Horizons, Vol. 4, 1986.
Dr. Srivastava has been contributing regularly his research papers to the annual sessions of many academic bodies and seminars. Besides being the Life Member of Indian Art History Congress, Guwahati, Numismatic Society of India, B.H.U., Varanasi and Panchala Research Institute, Kanpur, Dr. Srivastava has been the founder editor of Kala (Journal of IAHC) and also edited Panchala (Journal of Panchala Research Institute, Kanpur),
Preface
Symbol, in a literal sense, is a picture, shape or design that has a particular or multi-faceted meaning and represents an idea relating to religious, ethical or philosophical aspects. Communication of ideas is a human instinct, which is responsible for the origin of human language. But the communication s possible only between those who know the same language. People knowing different languages can not exchange their ideas. This shortcoming of language was removed by pictorial art representing the physical world. Ideas, thus translated into form and figure, were well within the grasp of each and every person irrespective of his tongue and time. But this communication was limited to only natural objects seen every where. For the expression of the abstract ideas related to a religion, its myths, morals, faiths, beliefs, traditions, ethical and metaphysical tenets, etc., certain pictorial symbols were invented. These symbols are the vehicles of thoughts and ideas reflecting the culture of a country. Indian culture is thoroughly expressed in art through the alphabet of these symbols.
We came across these symbols for the first time about forty year ago while working on Sanchi sculpture for the Ph.D. thesis. These were Triratna, Srivatsa, Cakra, Mina-mithuna, Mala, Darpana, Parasu, Khadga, etc. Bodhiurksa, Asana and Stüpa were also depicted frequently on panels of the gateways (toranas) and railings (vedikis) of the stúpas there. Some of them were given reverential position being enthroned and worshipped by men and women with flowers and festoons; sometimes enshrined under decorated umbrellas and also attended by some semi-divine beings like hovering Kinnaras. Their parallels were also noticed in Buddhist and Jaina art of other places like Bharhut, Bodhgaya, Amaravati, Nagarjunakonda, Mathura, Udayagiri-Khandagiri, etc. While tracing out their meaning and origin, it was revealed that most of them have common association with all the sectarian arts. Futher investigation showed that primarily these auspicious symbols were popular among the masses without any consideration of caste, colour and creed, and subsequently, some of them were utilized by Buddhist, Jaina and Brahmanical pantheons according to their needs. It is the reason why all the symbols found in the art of a particular sect do not have necessarily their direct and exclusive relation to that sect. Instead, they convey the common popularity among all the sects, even some of them do not have any sectarian character save auspiciousness viz. mala, parasu, khadga, darpana, mina-mithuna, etc. We discussed these art symbols in Sarichi art in a separate chapter of the Ph.D. thesis and that was especially appreciated.
Inspired by the appreciation we continued our research in the origin, development, forms and inherent meanings of these symbols. During the course of our study we found that the outer form and the inner meaning of these symbols are intermingled and require a sprit of dedication for their proper understanding. Till then, no symbol was discussed properly and in detail and more so in reference to its representations in various art media of our country. Therefore, we first. concentrated on certain less known symbols like srivatsa, nandyavarta, pancangularika, savatsa go and misconceptions about the left-handed form of svastika. Encouraged with the publication of a paper on Srivatsa in East and West (Vol. 79, 1979), an internationally reputed journal of Rome (Italy), we published a number of papers and articles on different symbols in various research journals, special volumes, reports, proceedings of seminars and periodicals. Some of them have been included. in the present volume.
Our humble effort in the study of art symbols seems to be well received by art. lovers and critics as a result of which we were invited to deliver lecture series in some well established and prestigious institutions like B.J. Institute of Learning and Research, Ahmedabad; Jnana-Praváha: Centre of Cultural Studies & Research, Varanasi; Vrindavan Research Institute, Vrindavan; Allahabad Museum, Patna Museum, State Museum, Lucknow, etc.
It would be perhaps necessary to inform to our readers that for details of a particular symbol they may consult separate monographs by the author namely Srivatsa: Bharatiya kala ka eka Maigalika Pratika, Svastika: Bharatiya Jivan Ka eka Apratima Pratika, Nandyavarta: An Auspicious Symbol in Indian Art, Savatsa Go athva Savatsa Dhenu, Bharatiya Kala-Pratika and Mangalika Pratika.
The present title Pratika-Sri: Studies in Indian Art symbols discusses on the symbols of svastika, śrivatsa, nandyavarta, nandipada, tri-ratna, taurine, pancangulanka, salabhanjika, savatsa go, mithuna and kinnara-kinnari. Specifically, the subject matter of the present study includes the concept, origin and misconceptions about stastika; origin, development and plastic representations of srivatsa and nandyavarta; triratna, nandipada and nandyavarta are one and the same in their form as well as meaning taurine on stone discs, its quadruple design and significance: popular use of pancangulanka from birth to death in our life and the reason of its auspiciousness; salabhanjika, the symbol of feminine beauty, prosperity, happiness and joyous youth; savatsa-go, the backbone of our sustenance and well being mithuna, the sacred source of progeny (creation) and emblem of pleasant life and kinnara-kinnari, a kind of mithuna with similar sense of symbolism. Besides, Buddhist symbols and Jaina aştamangalas and their collective representation on various objects are also therein showing their significant role.
One thing deserves mention here. Three chapters on Nandyavarta (No.6), Quadruple design of taurines and tridents (No.7) and Taurine symbol on stone discs (No.8) are quite different in their main subjects, yet the nomenclature and origin of three terms (Nandyavarta, Nandipada and Triratna) discussed in Ch.6 were repeated in Ch. 7 and 8. Previously, these were published separately in different journals, and as such there was no question of repetition. Here, being published together, the repetition is obvious. But it is quite unavoidable in order to make the subjects of these three chapters complete and meaningful.
Why this volume? Indian and foreign journals, proceedings of seminars held at different places and special volumes (felicitation, commemoration, centenary volumes, etc.) published from time to time are not easily available to every research scholar or art lover. Considering this defficulty, the collection of papers on various symbols was deemed necessary. The production of the present volume containing papers of the auther published between 1974 and 2008 A.D. is the outcome of that necessity.
**Contents and Sample Pages**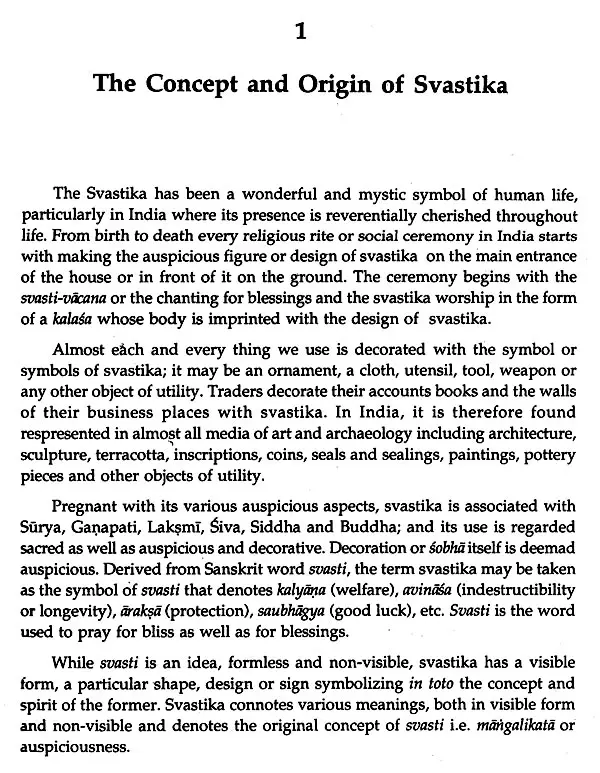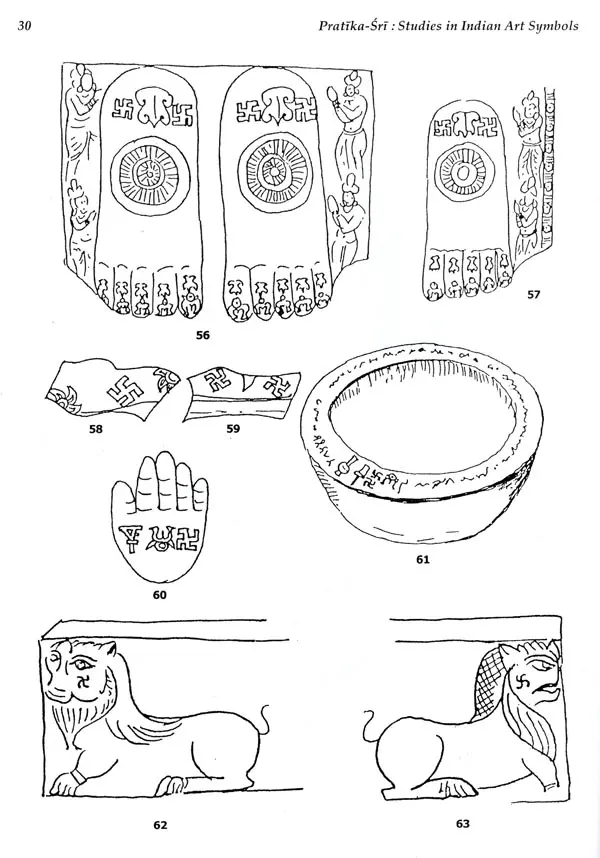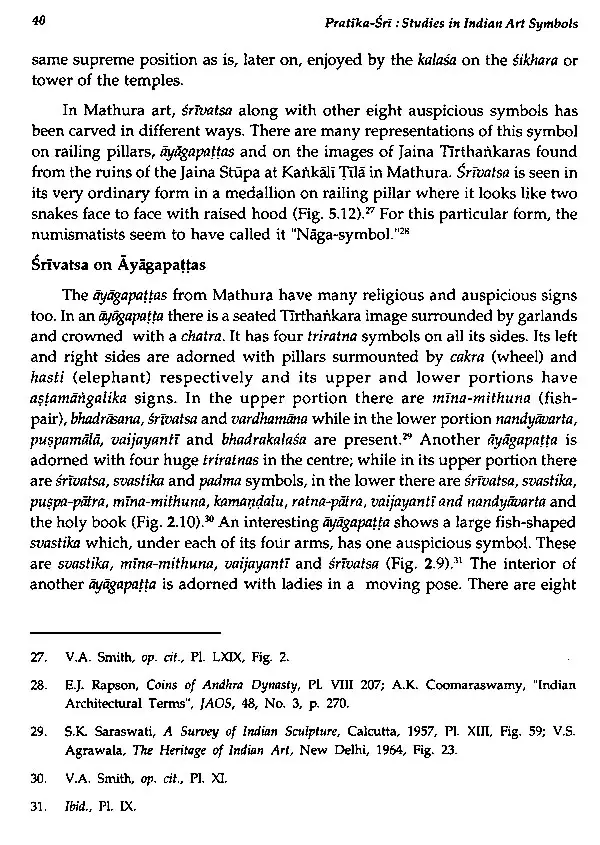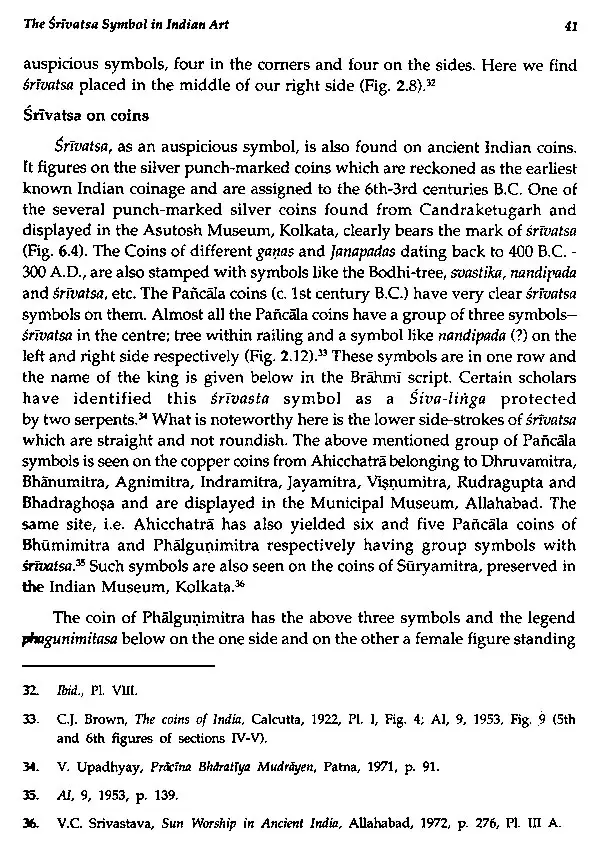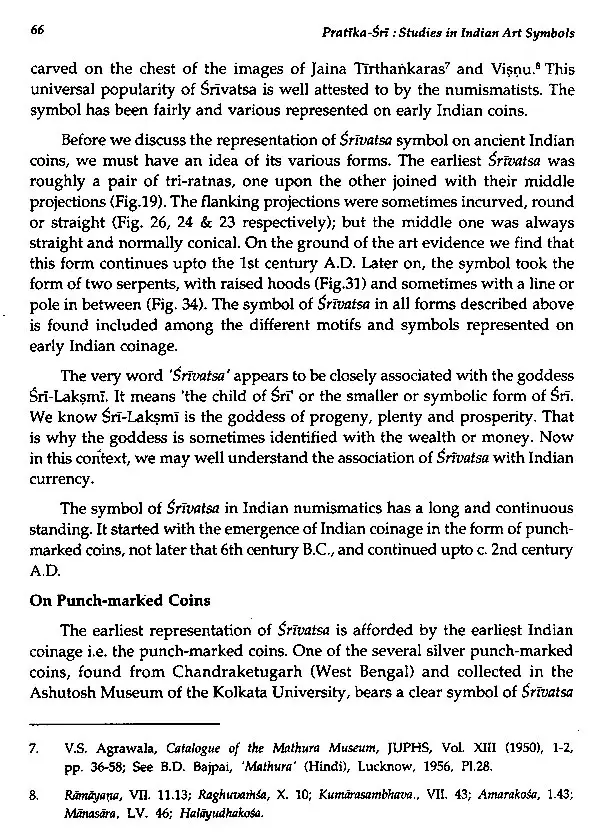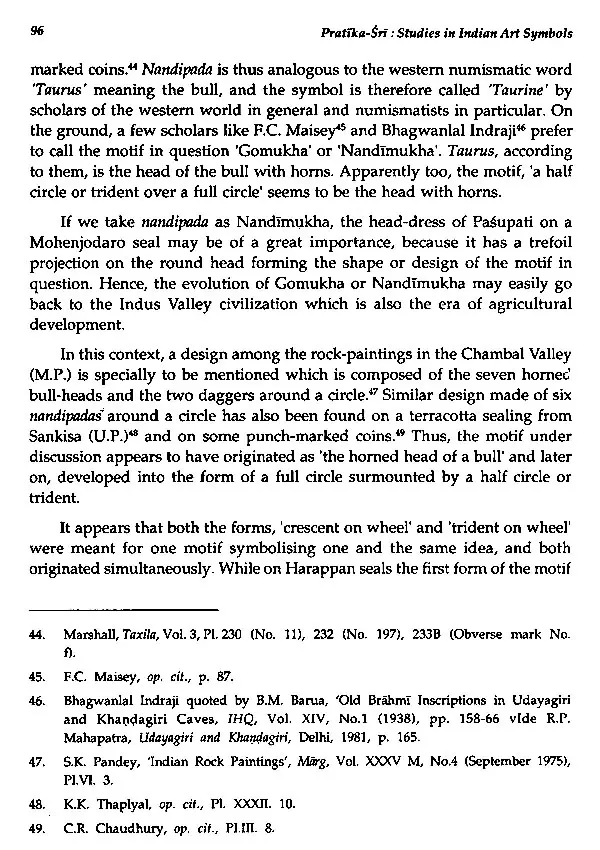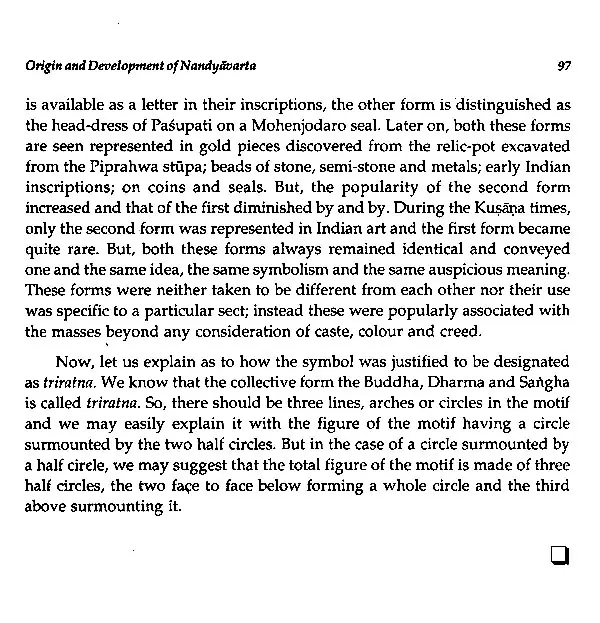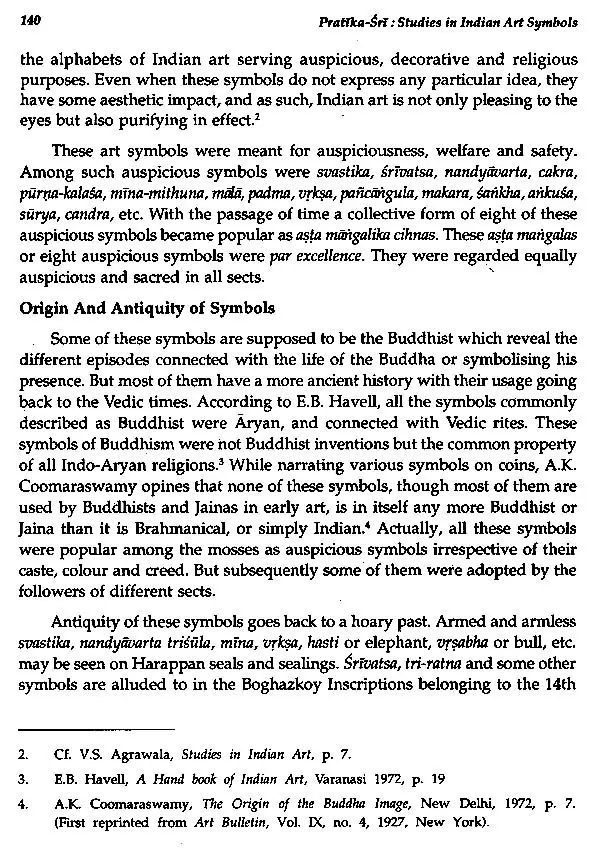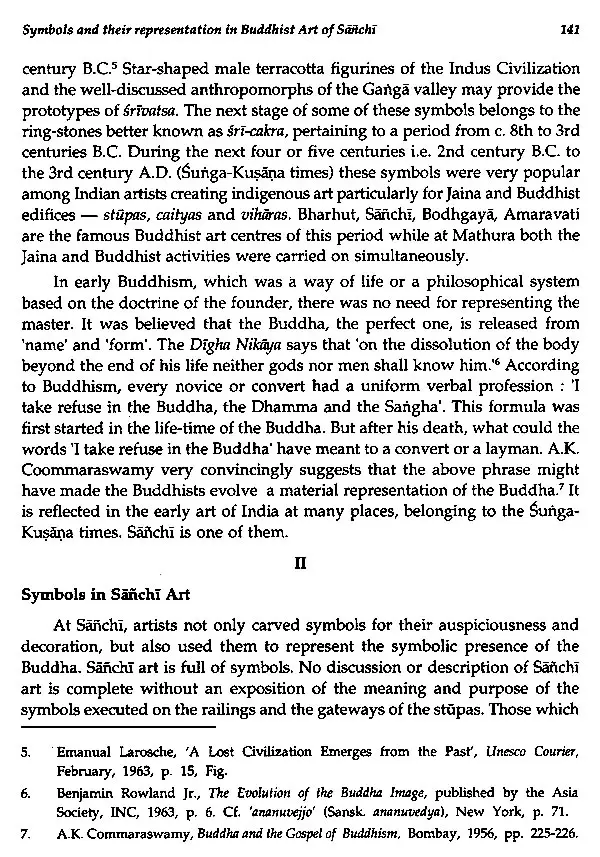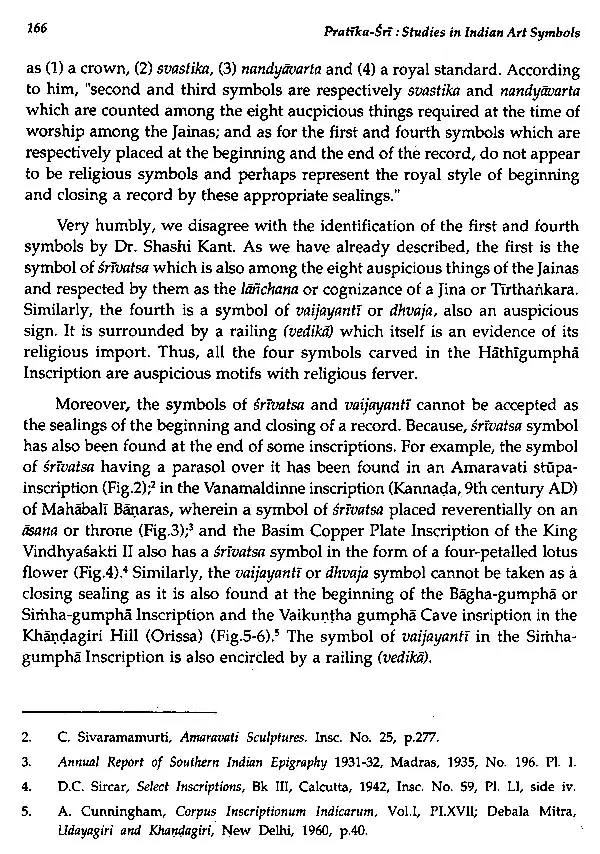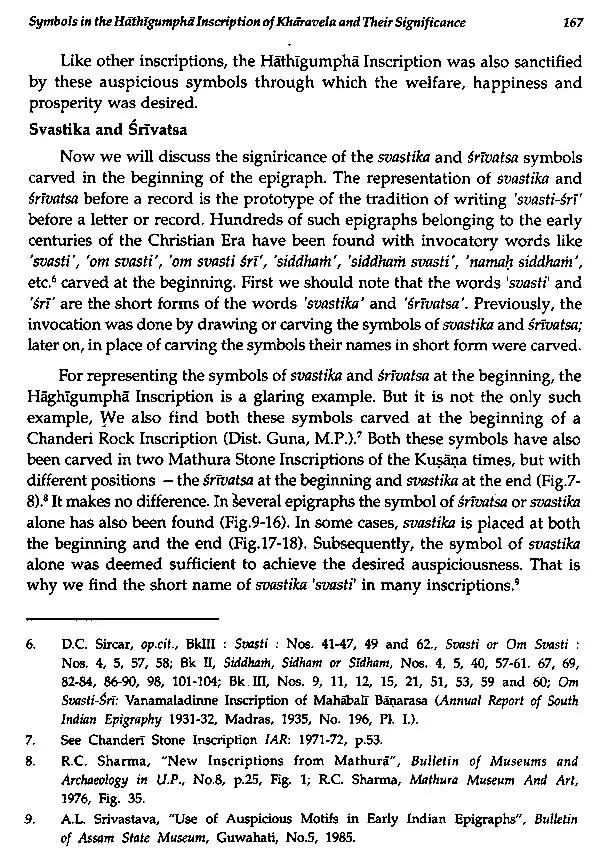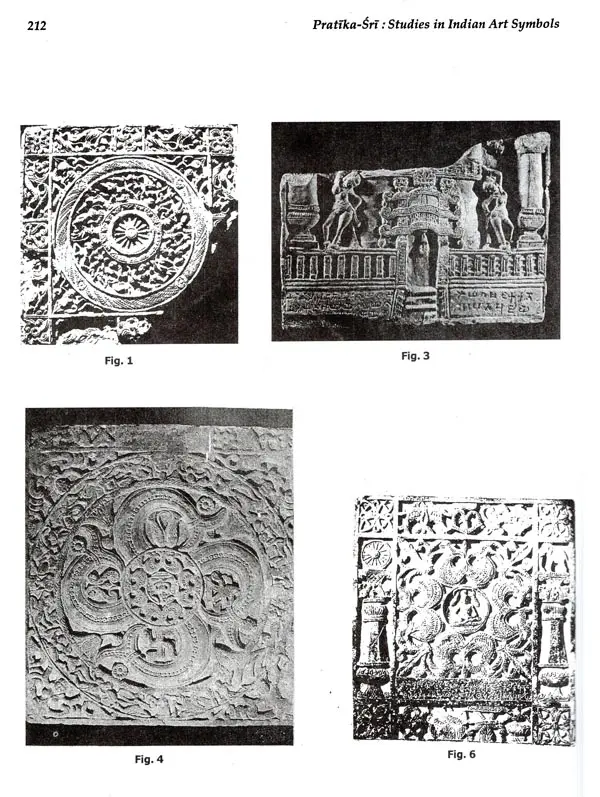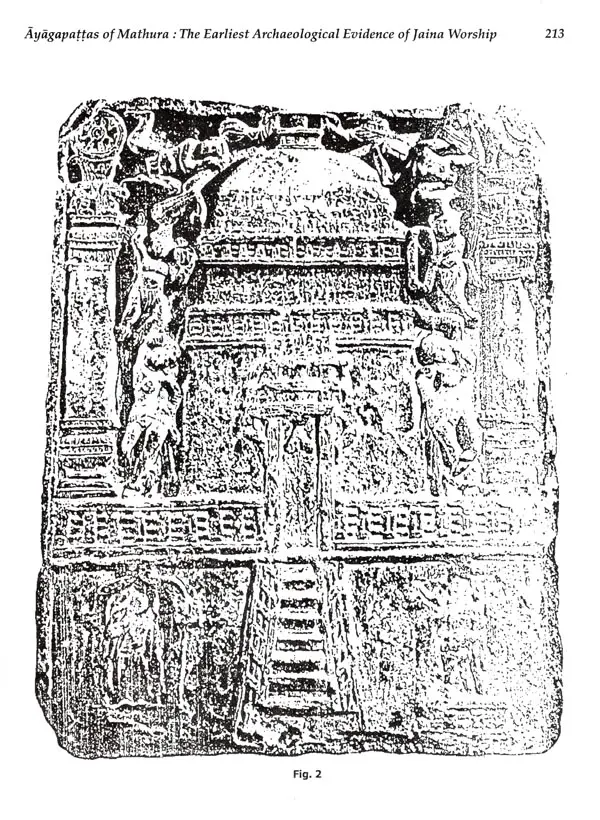 ---
We Also Recommend