The Pursuit of Power and Freedom (Katha Upanished)
$2260

$22.60
Tax included.
Shipping
calculated at checkout.
---
---
Book Specification
| | |
| --- | --- |
| Item Code: | NAI266 |
| Author: | Pandit Rajmani Tigunait |
| Publisher: | Himalayan Institute |
| Language: | Sanskrit Text With Transliteration and Translation |
| Edition: | 2008 |
| ISBN: | 9780893892746 |
| Pages: | 153 |
| Cover: | Paperback |
| Other Details | 8.9 inch x 5.9 inch |
| Weight | 250 gm |
Book Description
About the Book
There is nothing in this world similar to the Self. No one can see it through his eyes. With both mind and heart in place, a person with right thinking can experience this truth, and upon experiencing it, is no longer subject to death, decay, and destruction.
If there is a single text that represents the complete range of yoga, meditation, spirituality, philosophy, and the esoteric sciences of the East, it is the Katha Upanished, recast here as The Pursuit of Power and Freedom. It is an ageless book, for it contains timeless wisdom pertaining to acquiring health, wealth, peace, and happiness without sacrificing the higher purpose and meaning of life.
This new translation features an extensive introductory commentary revealing the Katha Upanishad's enduring vision of personal development as a prerequisite for addressing global problems: What is worth having? What is the nature of reality? Is there anything more to life? What happens after we die? Inspiring and practical, this text is a gateway to deeper personal knowledge of the body, breath, and the inner dimensions of life.
About the Author
Pandit Rajmani Tigunait, PhD, is the spiritual head of the Himalayan Institute. Family tradition gave him access to a vast range of spiritual wisdom preserved in both the written and oral traditions. As a young man, he lived and studied with renowned adepts before meeting his spiritual master, Sri Swami Rama of the Himalayas, Pandit Tigunait is fluent in both Vedic and Classical Sanskrit and has an encyclopaedic knowledge of the scriptures. He holds a doctorate in Sanskrit from the University of Allahabad, and another in Oriental Studies from the University of Pennsylvania. He has written more than a dozen books, running the gamut from scholarly analysis and scripture translation to spiritual biographies and practical advice on applying yogic concepts to the problems of daily life. In addition to lecturing and teaching world-wide for more than thirty years, Pandit Tigunait is the Inspiration for the Institute's rural empowerment projects and the motive force behind the Himalayan Institute Community Centres taking root in Asia and Africa.
Preface
If there is a single text that represents the complete range of yoga, meditation, spirituality, philosophy, and esoteric sciences of the East, it is the Katha Upanishad, recast here as The Pursuit of Power and Freedom. It is an ageless book, for it contains timeless wisdom. It represents us with fully mature knowledge pertaining to acquiring health, wealth, peace, and happiness without sacrificing the higher purpose and meaning of life. If all books and the information contained in them happened to vanish from the face of the earth, the wisdom of the Katha Upanishad, tucked away in the remotest corners of the human mind, would find its way to germinate, blossom, and reintroduce all the tools and means that a human race needs to build a civil society. The Katha Upanishad is the most precious gift that the sages of India gave to mankind.
I am a living testimony to this fact. Almost seven generations ago in my family lineage, a young boy died on the first day of his schooling. From that day a superstition took root that formal education for male boys in our family who went to school would die on the first day, and so began a family tradition of illiteracy. Six generations later, my father dared to learn how to read and write, in spite of the displeasure of every member of the family. He did not go to school; some schoolteachers came to our home and taught him unofficially. Seeing that he was still alive in young adulthood, people began to remark, "Perhaps the time of misfortune that had befallen our family is over." I was the first person in my family who was officially enrolled in school.
My grandfather, who loved me very much, was no longer afraid of losing me, but he wished to play with me all the time. He always found excuses to divert my attention from studying. I followed him every chance I could. I would join him collecting mangos, milking cows, harvesting sugarcane, making raw sugar, spinning cotton, and making "sacred thread."
One day, when he was very old and we knew that he might die soon, I asked him, "Baba [a loving term for grandfather], what can I do that would make you happy forever?"
After a long pause, he said," Tell me the story of Jamraj [Yamaraja], the Lord of Death, and what and how he told his student about heaven and tell, and attaining freedom from the cycle of birth and death."
I told him many stories pertaining to heaven and hell as described in Hindustan, but he kept saying, "No, no—not that one."
When I asked, "Then which story are you referring to?" he responded, "I do not know the whole story but I do know that there was a young boy who left his mother and father, went to the palace of the Lord of Death, and sat there at the gate for three days and three nights without eating or drinking. Then the Lord of Death came and gave him three boons. And I have heard that by listening to that story, one is freed from the jaws of death. I want to hear that story."
Until then, I had neither read nor heard this story anywhere. I tried my best to find the source, but was unsuccessful. One day I saw that my grandfather was on his deathbed. I was sad that I could not fulfil his desire. In the evening, in the course of conversation, I told him that I had not yet found that story. He responded, "Whenever you learn the story, tell me. You can tell me that story even when I'm sleeping, or even when I'm dead. A person who knows that story brings deliverance to seven generations before and seven generations after him. It is through that story you will deliver your love to me, and it is through that story we will talk to each other in the courtyard of our souls."
Not knowing what tomorrow would have in store, that night I lay in bed with my grandfather. In the early morning, upon awakening, I realized the warmth of his body was no longer there. He was dead. While people busied themselves with the after-death rituals, I kept trying to find the story my grandfather wanted to hear as his last wish. Mu intense desire to learn about that story took the tears away from my eyes—I had no will to contemplate on death. My family thought that I had gone into shock, for I showed no emotions. My mother and aunt feared that I might lose my mind. They tried to give me extra attention, but I found their love and attention annoying, for I was voraciously reading all the books in my father's library.
Finally, my eyes fell upon the Katha Upanishad. There was the story of Yamaraja, the Lord of Death, and his student, Nachiketa, who waited at the door of his master for three days and three nights. In return, the master, the Lord of Death, granted his student three boons. With the first boon, the student, Nachiketa, was able to infuse the minds and hearts of his father and other family members with the complete understanding of life, and the resolution of all conflicts, leading to lasting peace.
I could not read beyond this point, for now the tears began to roll down my cheeks because my grandfather had been cremated. After hours of crying and feelings of regret, I went under the tree where three clay pots filled with water hung on a branch—a traditional way of performing ancestral rites for thirteen days after death. It is in these pots that the soul is believed to stay during the transition period while loved ones come and bid their farewell. I sat next to those clay pots and recited the entire Katha Upanishad. I hardly understood the depth of the next, but I was filled with the conviction that my grandfather, along with all of my ancestors, heard the story I recited. That was enough to make me happy.
Since then, I have read this scripture more than a thousand times. Each reading continues to add to the maturity of my understanding. And deep in my heart, I know that the remaining layers of ignorance will melt away once I read this scripture a few more times.
With this conviction, I offer the translation of the Katha Upanishad and my personal understanding of it to you. And I pray that this scripture casts its magic on those who read it, just as it did to me.
Contents
| | |
| --- | --- |
| Preface | ix |
| At the Crossroads of Power and Progress | 1 |
| The Day of Awakening | 13 |
| Paradise of a Yogi | 25 |
| Agni Vidya: The Science of Fire | 33 |
| Living with Purpose: The Highest Blessing | 47 |
| Katha Upanishad : Text in English | 59 |
| Katha Upanishad : Text in Sanskrit with | 81 |
| Transliteration and Translation | |
Sample Pages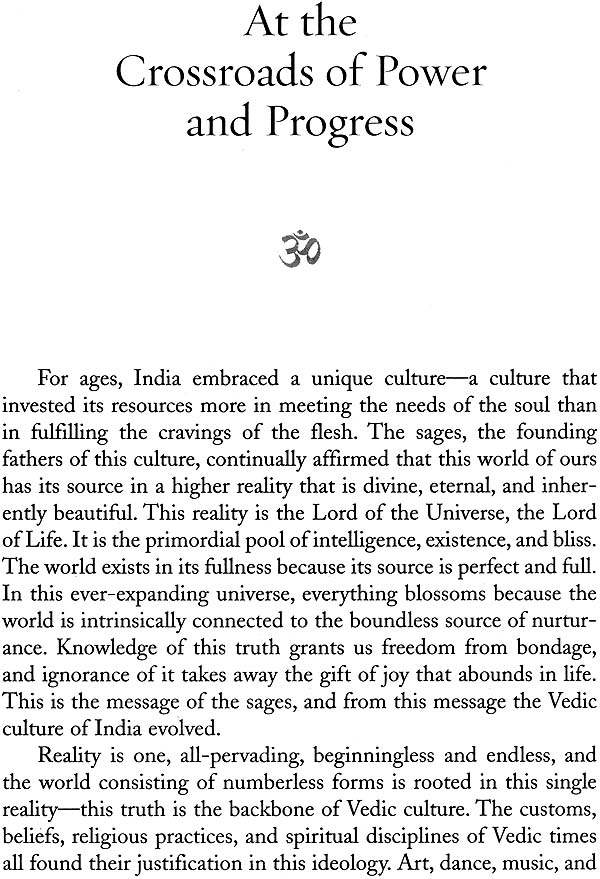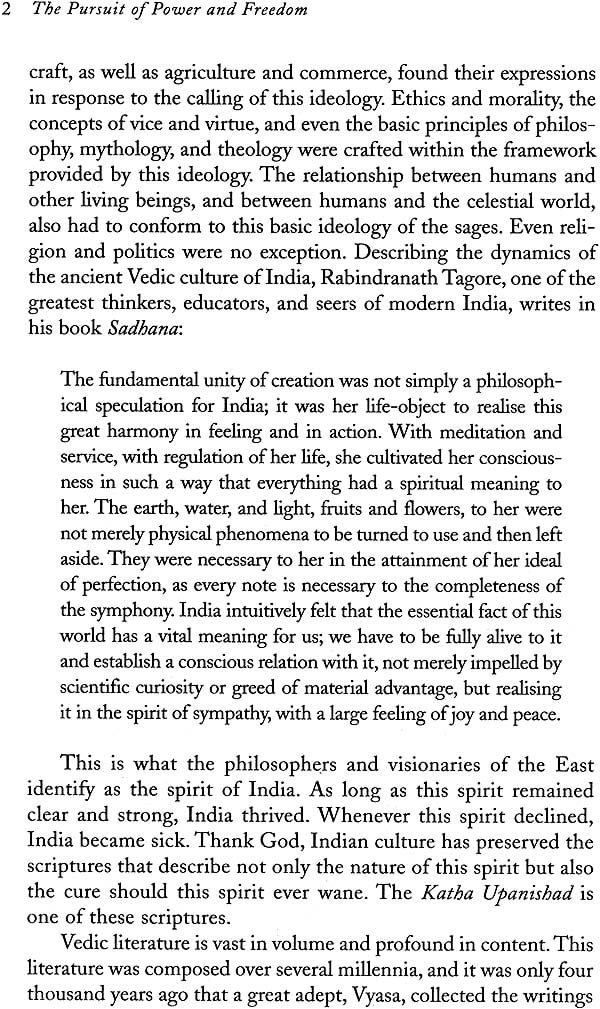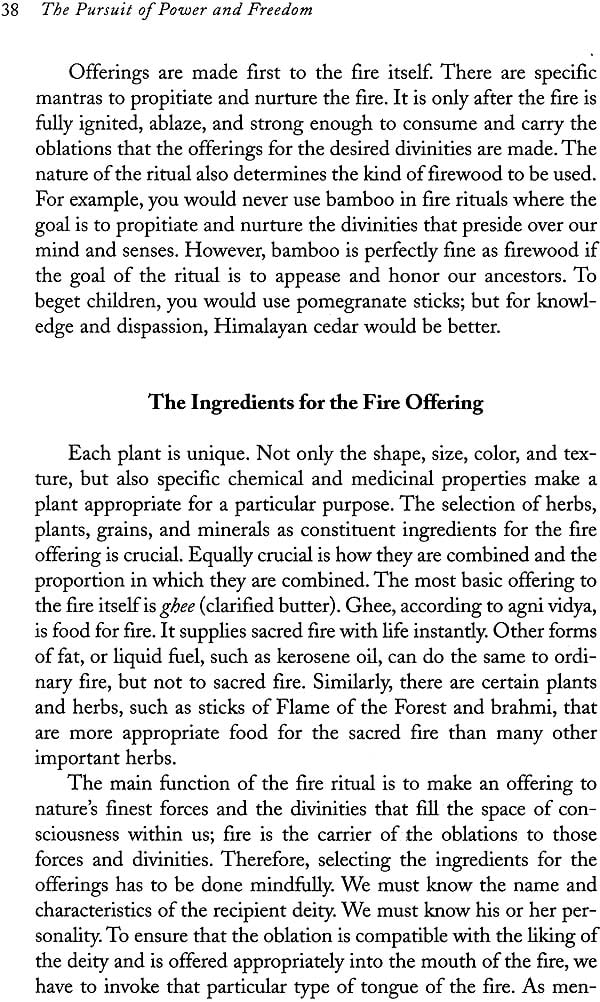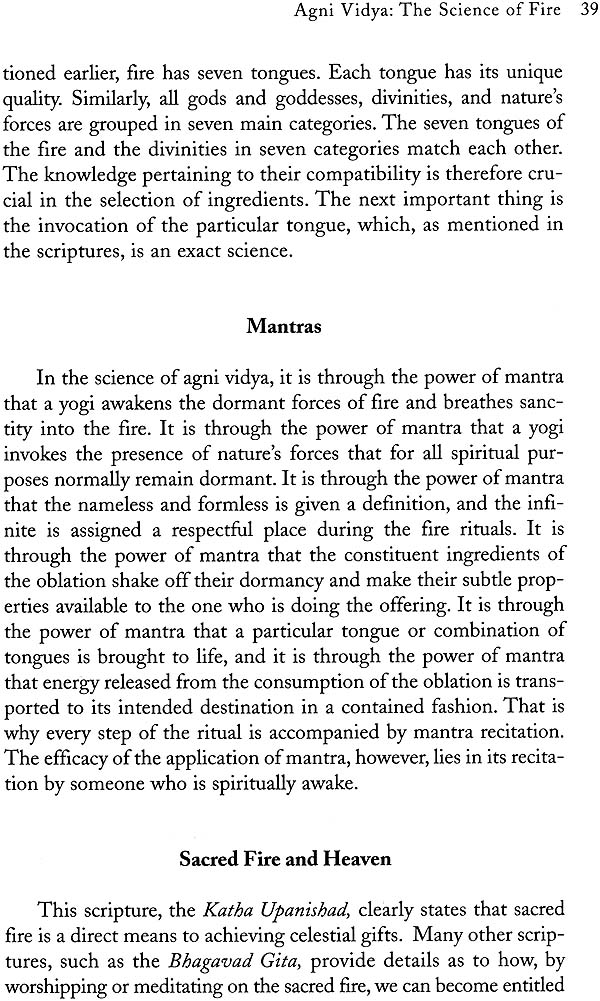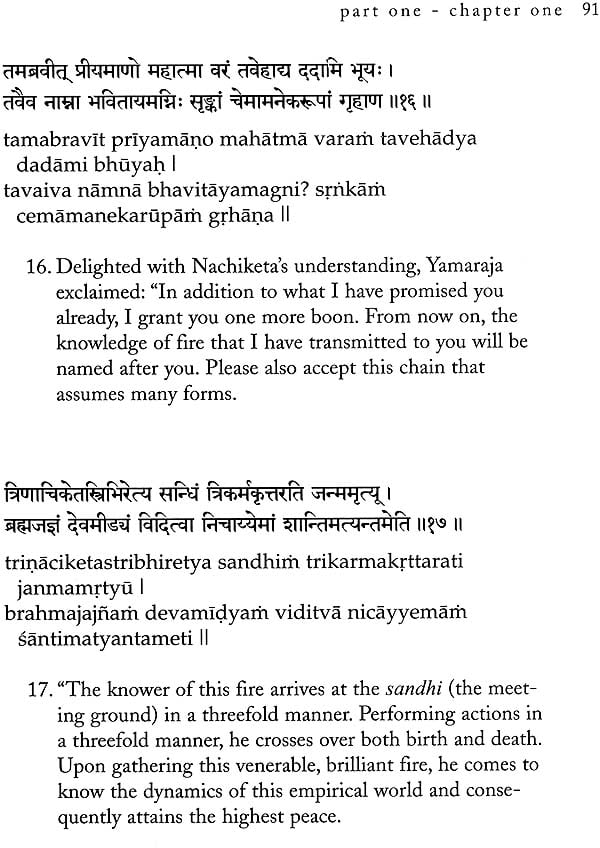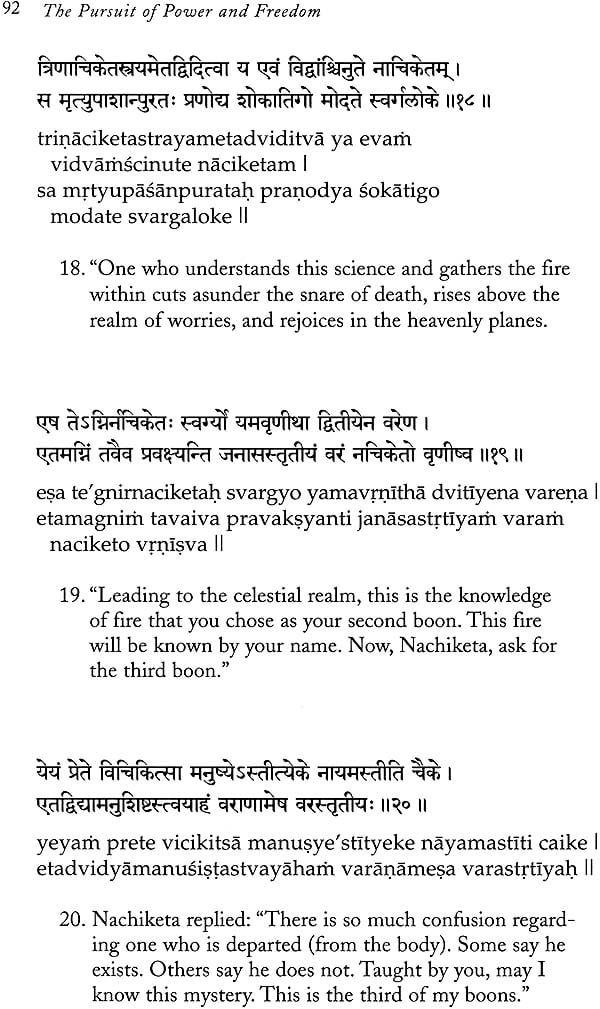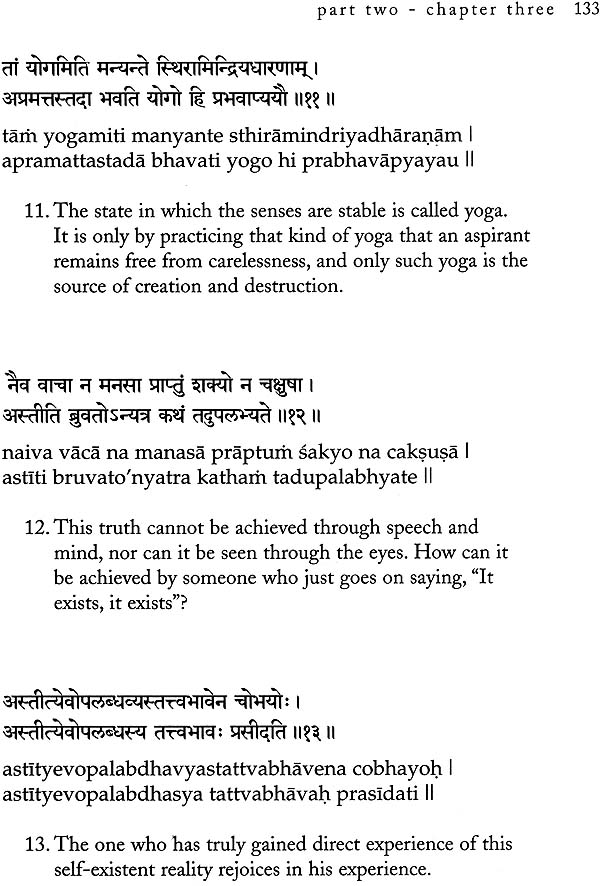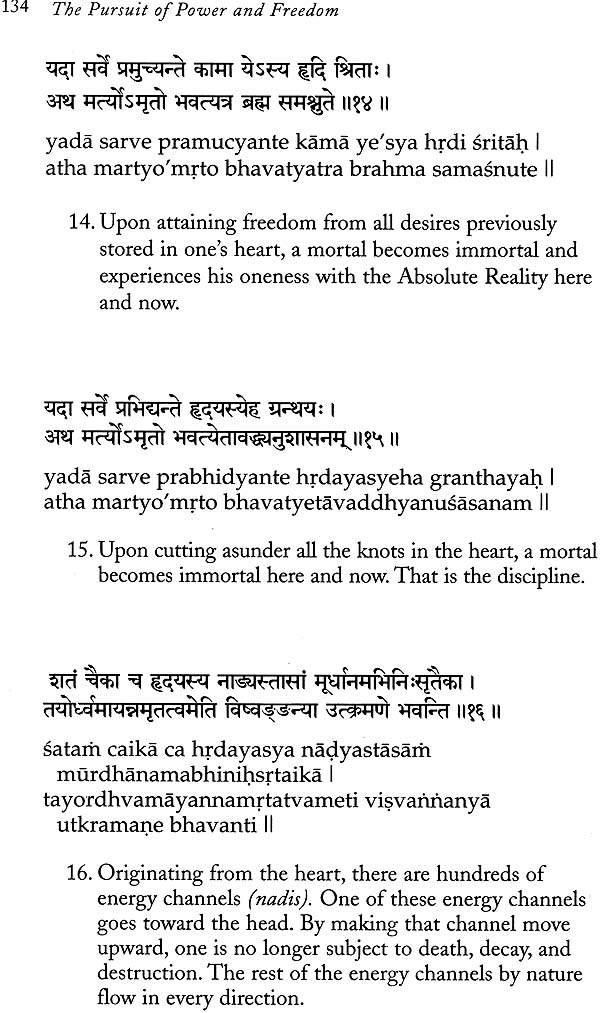 ---
We Also Recommend