Radha Thiagarajan
$5200

$52.00
Tax included.
Shipping
calculated at checkout.
---
---
Book Specification
Book Description
About The Book
Dr. Radha Thiagarajan's life story is as moving as it is inspiring. Her journey from God's own country, Kerala, where she grew up, to the temple city of Madurai after her marriage to the pre-eminent industrialist, educationalist and Tamil scholar Karumuttu Thiagarajan Chettiar brought about momentous changes that helped her evolve intellectually and spiritually. She mastered Tamil, which was a new language to her, and immersed herself in its literature and in Salva Siddhantham. She devoted her life to education, spirituality, philanthropy, Tamil and social causes, always focusing on doing something worthwhile and meaningful that would benefit society.
Over the years, she blossomed into an erudite scholar, writer and orator who championed the cause of women and the weaker sections of society. Apart from being involved in the management of the Thiagarajar group of institutions, she was also the Chairman of the Board of Trustees of the Palani Devasthanam, and later, the first Vice Chancellor of Alagappa University.
Her life exemplified the concept of service with total dedication, selflessness and compassion. While she was a strict disciplinarian, people remember her best as a caring mother figure (she was universally known as 'Amma') and her generosity and hospitality were legendary.
Amma's biography, Radha Thiagarajan Remembered, by her daughter-in-law Dr.Uma Kannan, is a rich, balanced portrait, which celebrates this extraordinary visionary and her multifarious accomplishments. Anecdotes, photographs, contributions from family, friends and close associates, a selection of Amma's own speeches and writings, as well as a synopsis of her books and doctoral thesis give the reader more insights into Amma's vibrant personality and ideals, and unravel why she shone as a charismatic role model, particularly for women.
Preface
When she was just a little girl, her father had begun to teach her Sanskrit, and she could recite numerous slokas by the age of ten. Her eloquent speech while still in high school had impressed even the Diwan of Travancore; and she had been awarded a prize by the Travancore Maharaja for her talented portrayal of her role in a school play. Later, her passion for the fine arts earned her the title of Kalai Annai (Mother of the Arts); and the projects she initiated for uplifting the weaker sections changed innumerable lives. She was humane, she was compassionate, she was an intellectual with a spiritual bent of mind. She was none other than Dr. Radha Thiagarajan, a true woman of substance who made her presence felt in many fields.
A multi-lingual scholar and writer, she followed in the footsteps of her illustrious husband Karumuttu Thiagarajan Chettiar, and devoted her life to education, spirituality, Tamil, and social causes. She was widely respected for her expertise and administrative experience in the educational field, in which she was involved for fifty years. During the long span of her career, she was closely associated with the many institutions founded by Karumuttu Ayya and had been the President Emeritus of Thiagarajar College of Engineering and Thigarajar College. She had served as Chairman of the Board of Trustees of the Dhandayudhapani Swamy temple in Palani, and was the first Vice Chancellor of Alagappa University in Karaikudi. A patron of Tamil and Saivite literature and a learned exponent of Saiva Siddhantham, she published many books and papers both in English and Tamil and took part in several Saiva Siddhantham conferences. On a more personal note, her interests ranged from astrology and religion to ayurveda, homeopathy, mathematics and, believe it or not, even cars.
People still recollect what a strict disciplinarian she was, yet it was her compassion and generosity as well as her legendary hospitality that left a lasting impression on others. She was a caring mother figure fondly known as 'Amma' and a gracious hostess who kept an open house. How enthusiastically she pampered and cosseted her visitors! Whoever dropped in for however brief a visit was offered a large silver tumbler of milk or fresh juice-she spared no one!
Amma believed that leading by example was the most effective way of transforming society. Her life was her message for she exemplified the concept of service with total commitment and selflessness. Despite her conventional upbringing, she had the courage to follow her dreams and articulate progressive ideas, which are relevant even today. Admirably balancing her personal and public life, she shone as a dynamic role model for women, showing them that they need to take responsibility for living complete and meaningful lives. Amma was far ahead of her time, so her actions were all the more commendable as it needed exceptional courage and force of character to choose the path less trodden and live a life of purpose.
**Contents and Sample Pages**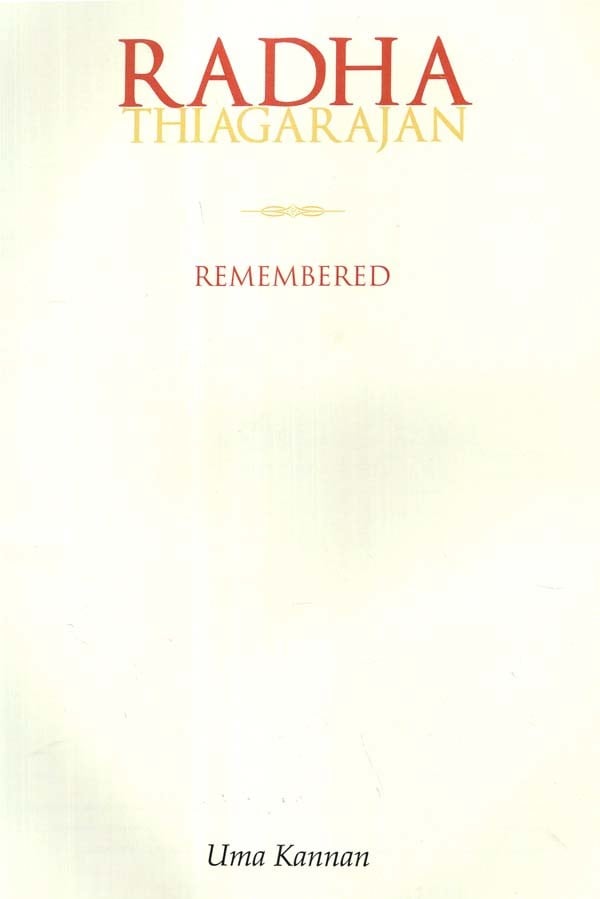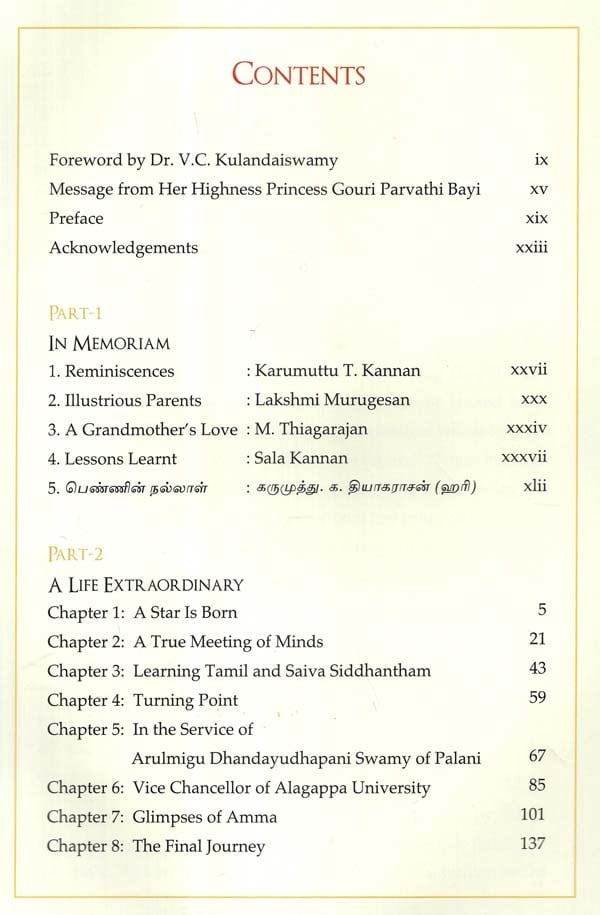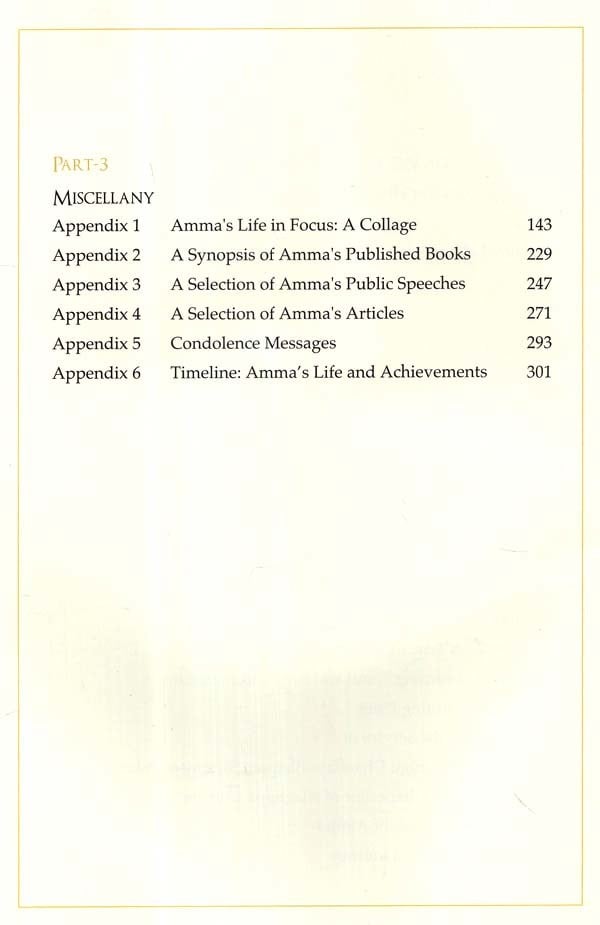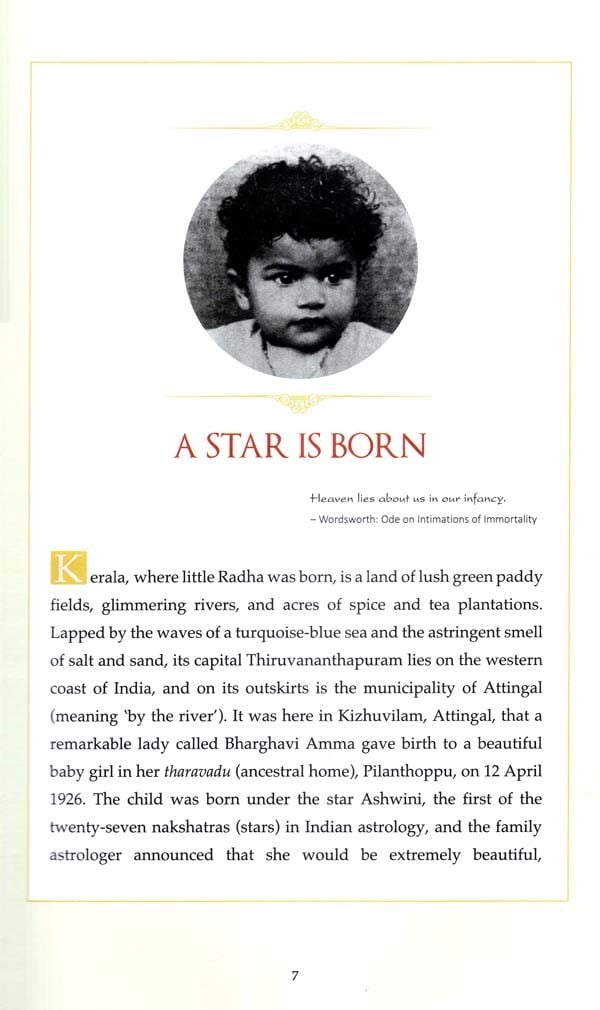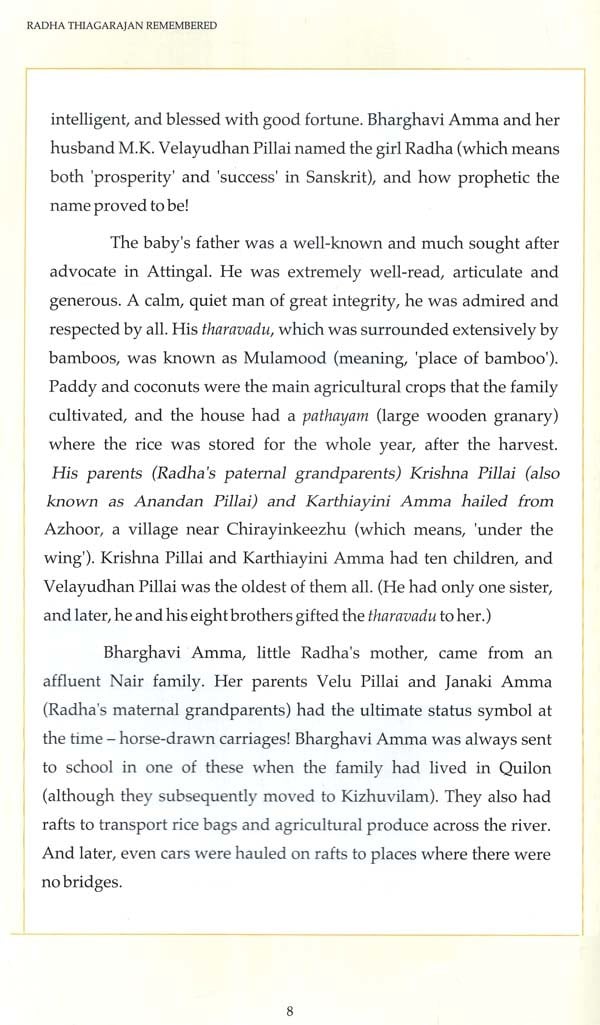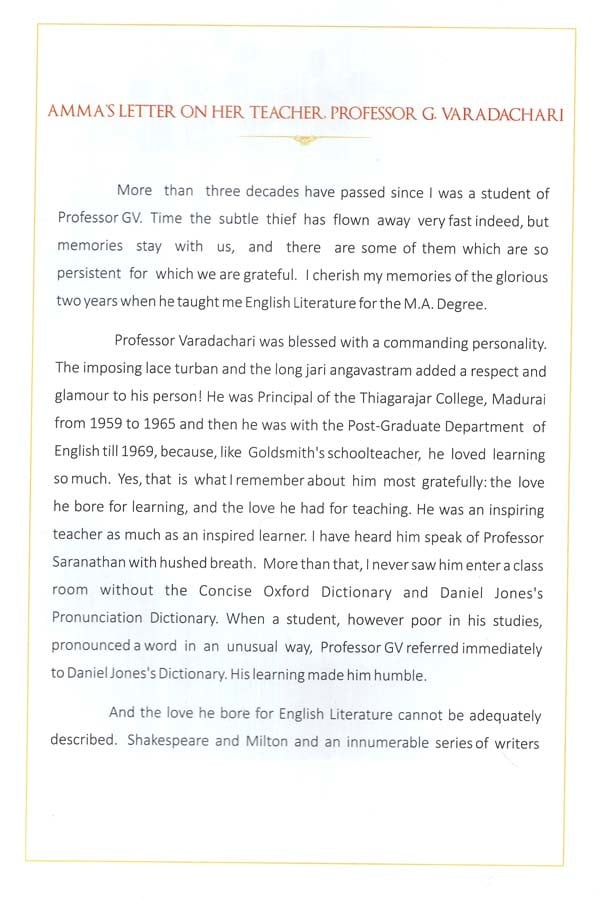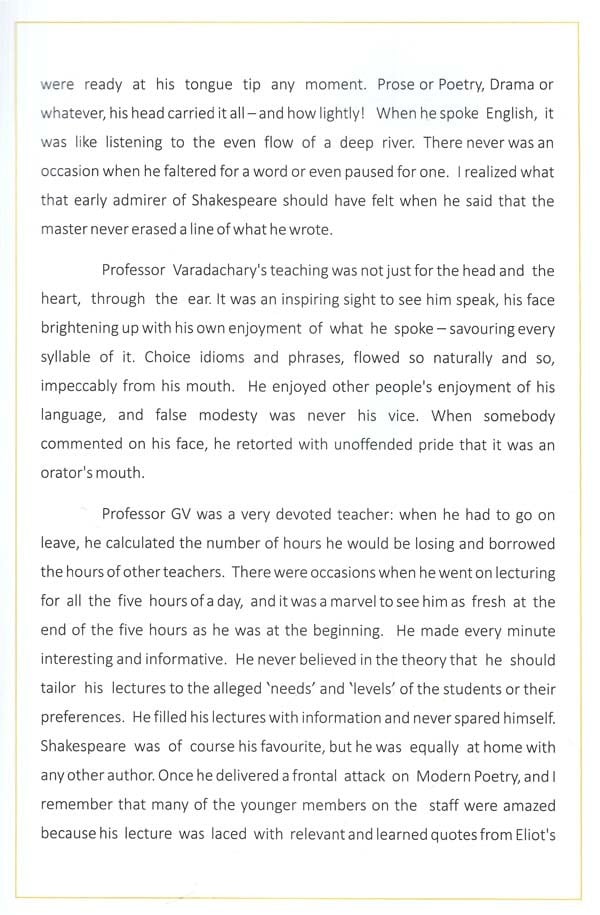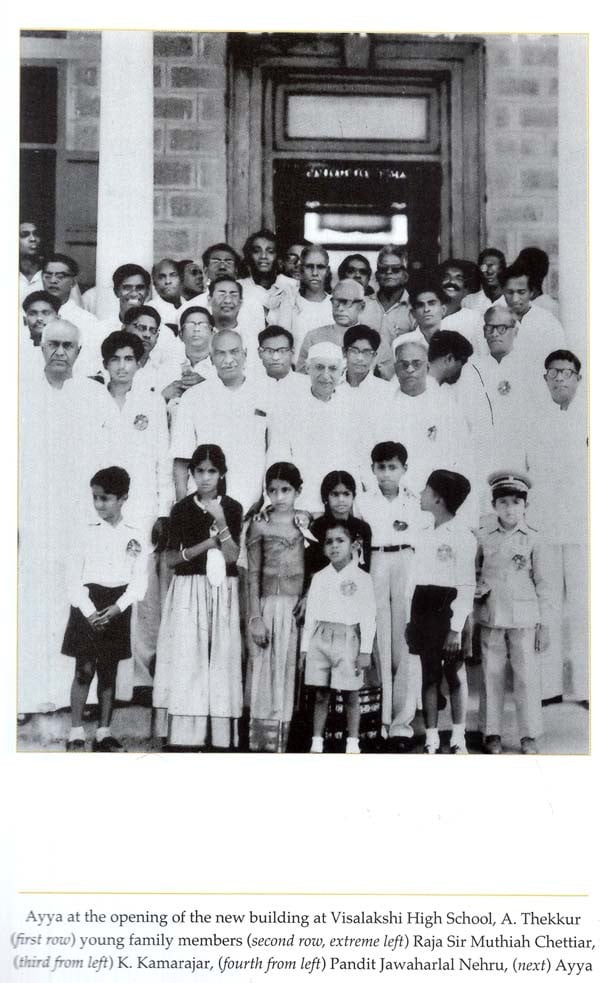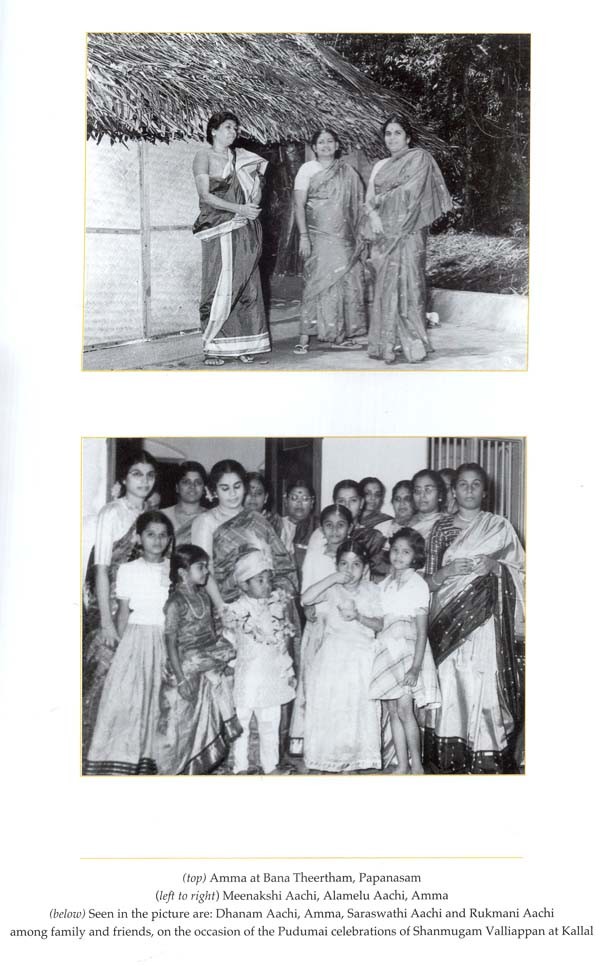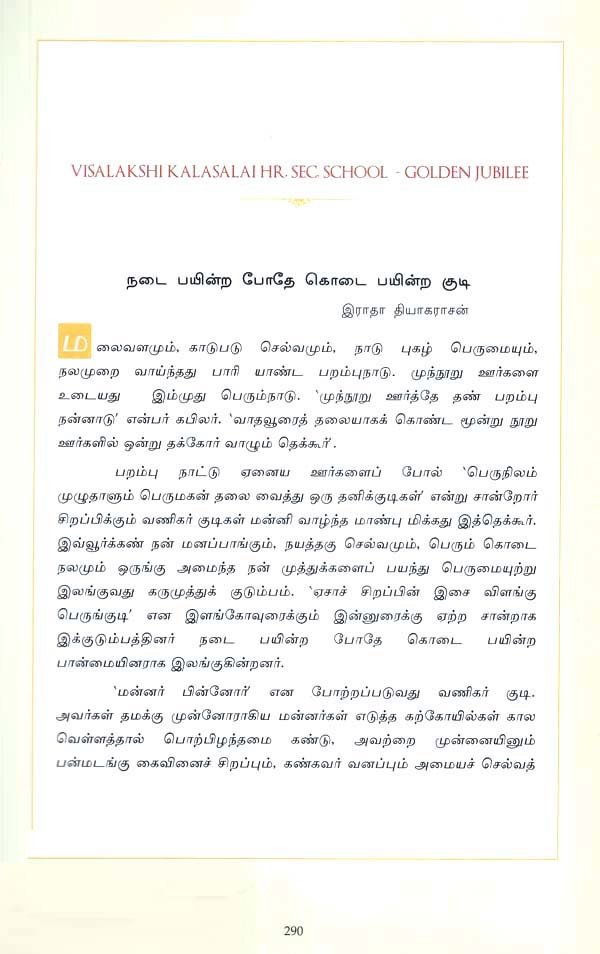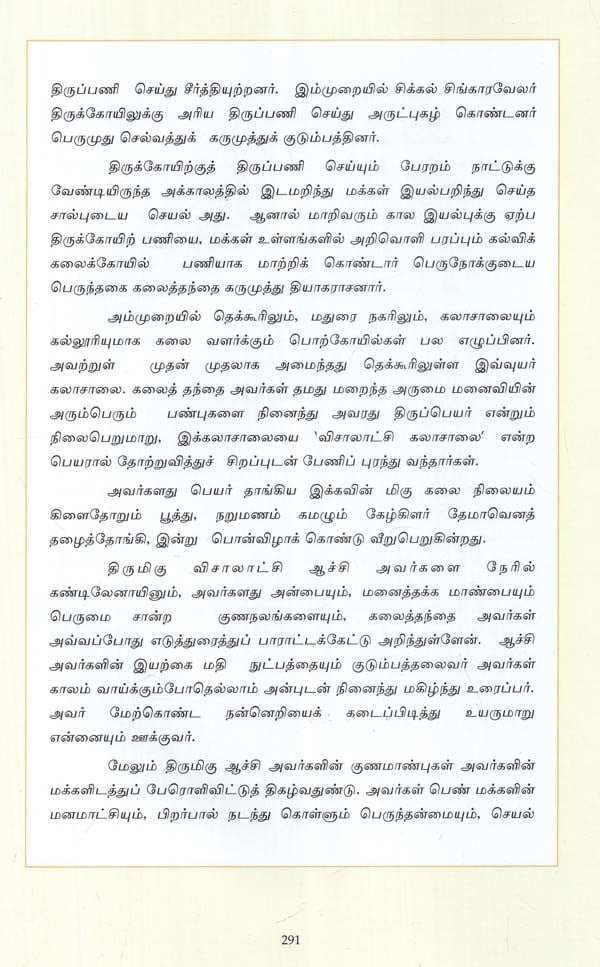 ---
We Also Recommend