Raghunath Vishnu Pandit: Makers of Indian Literature
$2000

$20.00
Tax included.
Shipping
calculated at checkout.
---
---
Book Specification
| | |
| --- | --- |
| Item Code: | AZI008 |
| Author: | S. M. Tadkodkar |
| Publisher: | SAHITYA AKADEMI, DELHI |
| Language: | English |
| Edition: | 2011 |
| ISBN: | 9788126031184 |
| Pages: | 82 |
| Cover: | Paperback |
| Other Details | 8.50x5.50 inches |
| Weight | 130 gm |
Book Description
About The Book
Raghunath Vishnu Pandit's (1917-1990) writing career spans from 1952 to 1990 His literary potential has an uncompromising native flavour and it transformed the nature and rhythm of the modern Konkani poetic compositions. It will not be out of place if it is said that rustic Goa comes alive in his poetry. A recipient of many prestigious awards including the Sahitya Akademi Award, Raghunath Vishnu Pandit is undoubtedly among those who brought dignity to the Konkani language.
About the Author
S. M. Tadkodkar (1953-) is Professor and Head of the Department of Postgraduate Instruction and Research in Marathi at Goa University. He writes in Konkani, English and Marathi as well, and has written poetry, short stories and plays. He has 14 books to his credit, besides some research treatises.
The references and poems cited in this monograph have been translated into English by Tadkodkar himself.
Preface
Konkani language, since centuries, has been enriched with pioneering literary and intellectual contributions from personalities who are kwon for their outstanding potentialities outside the realm of their mother tongue. Besides the local literary greats, the outsider viz. Padre Tomas Estevam (1549-1619), Padre Diogo Rebeiro (1560-1633), Padre Antonio De Saldanha (1598-1663), Padre Joao de Pedroza (1616-1672) and others who had come to Goa, on their religious mission, from various countries, also contributed to the language of Goa, The first printing press in the Asian continent started its functioning on the land of Goa from 1556 onwards. This press contributed, a lot, towards the publication of outstanding contribution of the Konkani writing. And thereafter, Bruno de Souza (1836-1905), Joaquim Antonio Fernandes (1889-1975) and other eminent writers also continued with this tradition of writing in the Konkani language.
Waman Raghunath Shennoi Varde Valaulikar alias Shennoi Goembab (June 23, 1877 April 09, 1946) was a towering personality, whose work can be compared with that of Frederic Mistral (September 08, 1830 March 25, 1914), a French writer and lexicographer of the Occitan language and the founder of the Provencal Renaissance in France.
Shennoi Goembab had foreseen that the Konkani language would get that status on the basis of its achievement only. He wrote short stories and plays. He translated, into the Konkani language, some of the celebrated European playwrights. Shennoi Goembabad had started writing in Konkani at the time when he was working in Bombay. His wife was illiterate but had a very good knowledge of Konkani language and folklore. He made her recite the tales and proverbs and put them in writing which were published later.
"Goemkaaraanchee Goyaanbhaayalee Vosnook" (Goan Migrants outside Goa) is a book which incorporates the series of lectures (on an account of Goans, who settled down outside the realm of Goa for various reasons) given by Shennoi Goembab at the Saraswat Brahman Samaaj, Bombay, in 1927.
Another book, a landmark in the research arena, he wrote was "Albuquerquaan Goem Koshem Jikhalem" (How Albuquerque conquered Goa).
"Mhajee Baa Khaim Gelee?" is regarded as the first modern. Konkani short-story. This and other stories written by Shennoi Goembab are included in the first volume titled "Gomantopnishat". The second volume of "Gomantopnishat" contains a story titled "Sounvsaar Buddttee" (Dooms Day). It is the story of the GREAT INUNDATION to discuss various philosophies and includes parts from various religious works such as the Upanishads, Old Testament of the Bible, Qur'an and Talmud.
He believed that the Konkani language was awaiting a revolution and it could only be brought about by each and every youth of the Konkan region. This was revealed in his essays "Amrutaacho Paavs" (Nectar Shower) and "Konkani Vidyaarthyaank" (For the Students of Konkani Language)
Goembab's major contribution towards children's literature is "Bhurgyaanchem Vyaakarann (Grammar for Children). It is written in the form of a series of questions and answers. "Bhurgyaanlo Ishtt" is a collection of short stories for children.
He also translated many other works into Konkani, the chief among them being Moliere's Le Medecin Malgre Lui, which he titled as "Mogaachem Logn" (Marriage of Mogaa) and Shakespeare's Othello, Hamlet and King Lear.
**Contents and Sample Pages**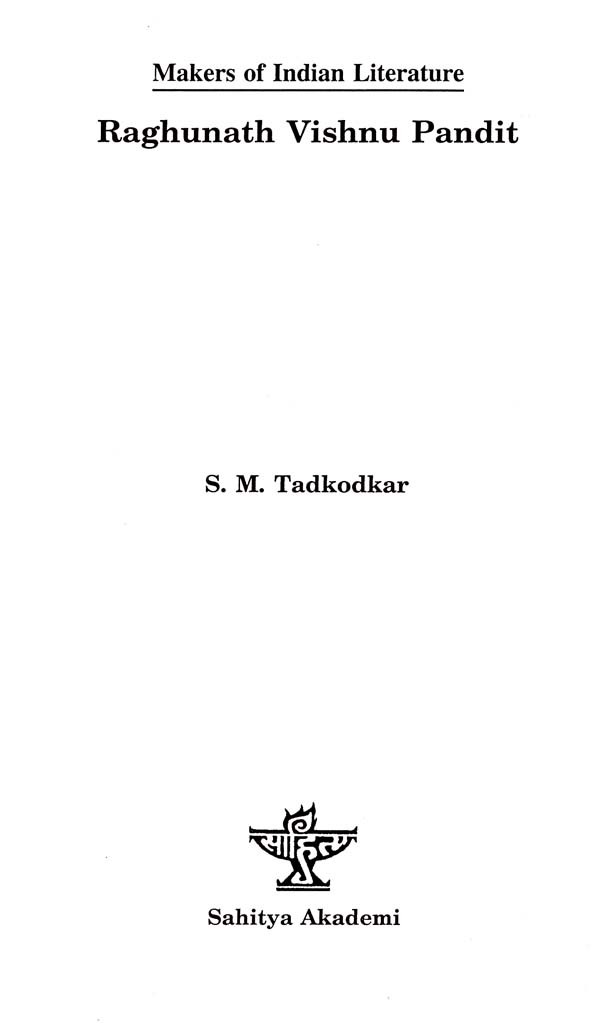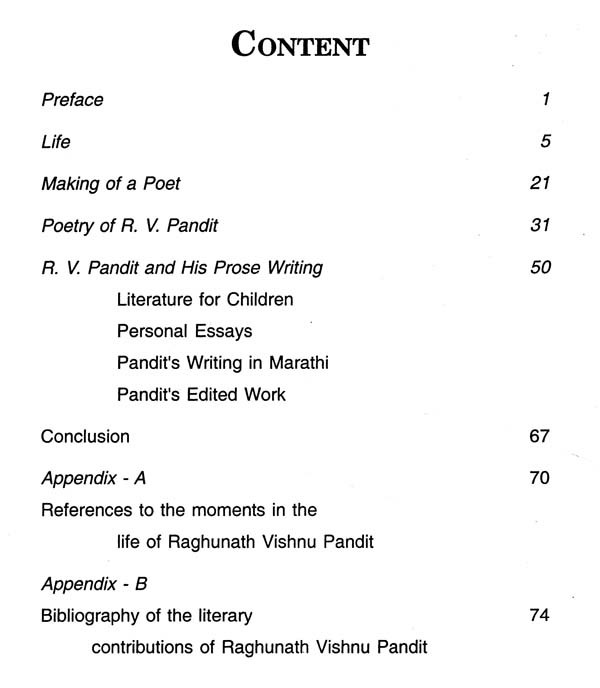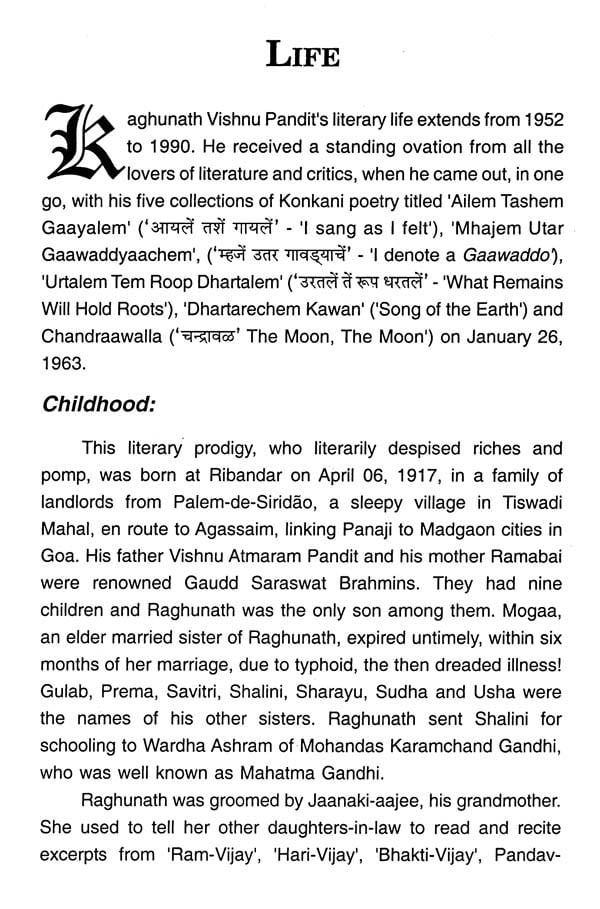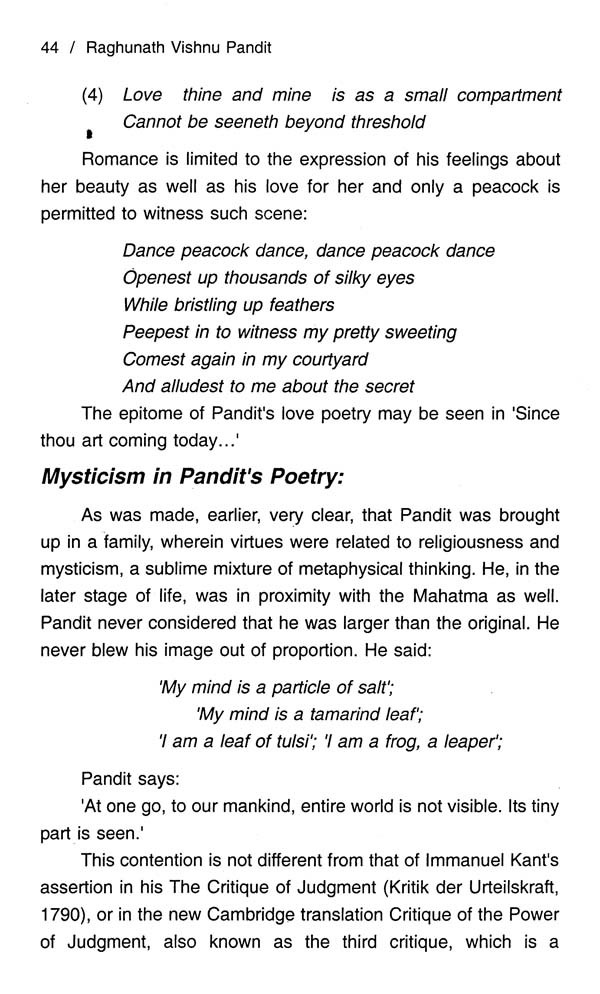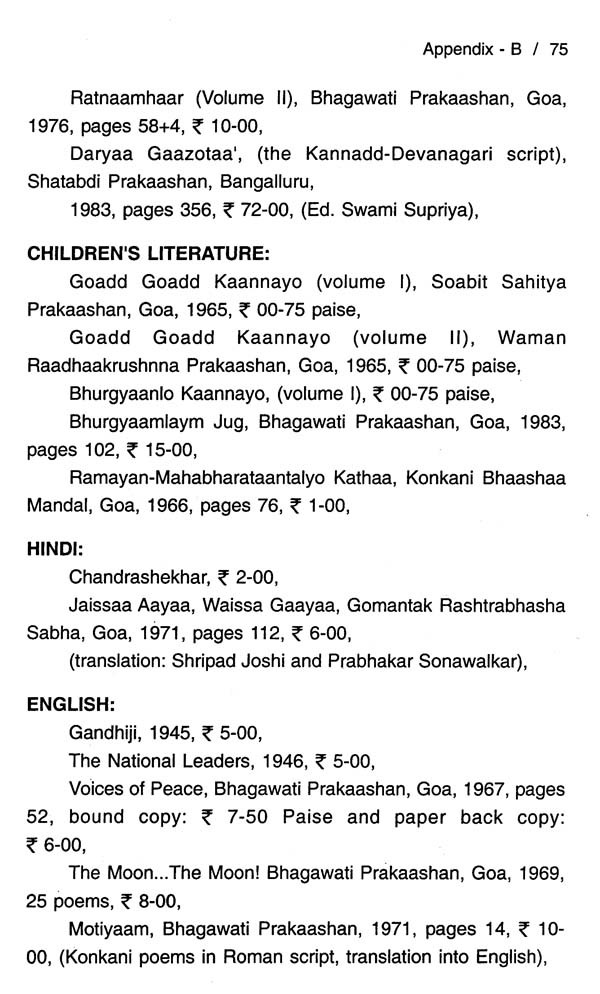 ---
We Also Recommend