Religious Systems in Ancient India
$3600

$36.00
Tax included.
Shipping
calculated at checkout.
---
---
Book Specification
Book Description
About The Book
Religion has played an important rôle in man's life, since times immemorial. A number of religious systems had their origin in ancient India, and she played host to a number of religious systems, which had their origins in other countries. The present work begins with religious life, beliefs, and philosophy, of the Harappan and vedic peoples, and goes on to deal with the heterodox sects-Jainism, Buddhism, Ājīvikism, and the doctrines of some other heretical teachers, and epic-puranic sects-Vaishṇavism, Śaivism, Śāktism, and other sects and religious denominations.
The last four chapters are dedicated to religious systems, from 'across the borders' of India-Zoroastrianism, Greek religion, Christianity, and Islam, which have been discussed, in some detail. The numismatic evidence, for the worship of certain Roman and Alexandrian deities, and Oriental deities, has been briefly presented, under two separate appendices. These are usually missing in books, dealing with religious history in ancient India, although they were, very much, a part of the religious life of ancient Indians.
About the Author
Dr Prashant Srivastava (BA Honours, MA, PhD, DLitt) is Professor, and former Head, Department of Ancient Indian History and Archaeology, University of Lucknow, Lucknow. He has been awarded four gold medals (BA Honours-one; MA-two; DLitt-one). He is the author of 15 books, including Joint Coin-types of Ancient India (Varanasi, 1990); Aspects of Ancient Indian Numismatics (Delhi, 1996); Coins of Ancient India (Lucknow, 1997, jointly with Professor KK Thaplyal); Art Motifs on Ancient Indian Coins (New Delhi, 2004); The Apracharajas (Delhi, 2007); Gleanings in Ancient Indian Numismatics (Delhi, 2014); and Successors of the Mauryas (Delhi, 2017). He is one of the editors of History and Heritage: Essays in Honour of Professor K K Thaplyal (3 volumes, Delhi, 2007); A Bouquet of Indian Heritage: Research and Management (2 volumes, Delhi, 2015); and Indian Culture and Art: Continuity and Change (2 volumes, Delhi, 2015). He served as an assistant editor of Aitihya, a research journal of Ancient History and Culture (Delhi). He has also contributed over 70 research papers. in reputed journals, and about two dozen popular articles on ancient Indian history in magazines and newspapers. In 2006, he was awarded a major research project by the University Grants Commission, New Delhi, for a period of three years, and his Encyclopaedia of Indian Coins (Ancient Coins of Northern India, up to circa 650 AD) (2 volumes, Delhi, 2012), has evolved out of the same project report submitted to the University Grants Commission.
Preface
Religion is as unifying a force in society, as it is a divisive one. It brings out the noblest virtues in man; it exposes the basest vices of man. No wonder, a number of books and monographs have been written and published on the subject, over the centuries. There is a plethora of works on the religions of ancient India, by scholars of the calibre of V S Agrawala, J N Banerjea, A Barth, RG Bhandarkar, Sukumari Bhattacharji, Jan Gonda, S R Goyal, HD Griswold, E W Hopkins, A B Keith, Stella Kramrisch, A A Macdonell, F Max Muller, Wendy Doniger O'Flaherty, D C Sircar, J Ph Vogel, and Heinrich Zimmer.
However, with the exception of, perhaps, S R Goyal alone, none of these scholars has dealt with the religions, which came to India, from across her borders, in ancient times-Zoroastrianism, Greek religion, Christianity, and Islam. Hence, the present envdeavour, to present as comprehensive a picture of the religious systems, prevalent in ancient India, as possible, within the framework of a textbook, meant for use by undergraduate and postgraduate students, of Indian history in general, and ancient Indian history in particular. The last four chapters of the book are devoted to Zoroastrianism, Greek religion, Christianity, and Islam, respectively.
Some Roman, Alexandrian, and Oriental deities make their appearance on the coins of ancient India, mostly notably on Kushana coins. It is generally believed that issuers of coins depicted only those deities on monetary issues, to whom, worship wax offered by the issuers, or by the people, among whom the coins were meant to be in circulation. As a student of ancient Indian numismatics, I was unable to resist the temptation of presenting a brief survey of these deities, under two indendent appendices.
The present work, being meant, primarily to serve as a textbook for undergraduate and postgraduate students, has not been burdened with references and notes. The Bibliography, at the end, is meant as a pointer to further reading.
As always, my guru, Professor K K Thaplyal, has been the guiding force behind the preparation of this book. I am unable to find words, to adequately express by gratitude to him, for always being there for me.
The works of earlier writers on the subject have made my task easier, but none was as helpful as the two volumes of A Religious History of Ancient India, by S R Goyal (Meerut. 1984, 1986).
Thanks are also due to my wife, and my two daughters, Pratichi and Purvi, for their co-operation and support. And a special thank you to Prateek. I miss the advice of my late father, Shri Priyonath Srivastava, who was always the first reader and critic of my writings and ramblings. While this book was under preparation, I lost my mother, Smt Pushplata Srivastava, who had been a constant source of inspiration for me. I dedicate this book to her fond memory.
Last, but not the least, a big thankyou to Shri Agam Prasad, of Agam Kala Prakash, Delhi, and his staff, especially Shri Ashok Kumar Pandey, for taking an interest in the publication of this book, and seeing it through the press, in record time.
Introduction
Indian religions have been influenced by a number of peoples indigenous as well as foreigners. The religious beliefs of even those foreigners, who came to this country with their religions of the book-Zoroastrians, Christians, and Muslims, have contributed in this sphere of Indian life, to one extent or the other.
Among the prehistoric peoples, the Negritos gave the Indians, the cult of the ficus tree, and, perhaps, also the notion of the totems of the fish, the animals, and the plants.
The mana, the divine essence', which permeates all the objects of the universe, animate and inanimate, of the Austric peoples-the nishadas, sabaras, pulindas, kols, and bhillas, might have given the Indians, the ideas of brahman and brahmanda, the cosmic egg, as also the concepts of samsara or transmigration of soul, and of avatara or the theory of incarnation.
Certain ideas and concepts of the Tantrika cults have their origin among the original religious beliefs of the Mongoloids, or the kiratas of the Yajurveda, the Atharvaveda, and post-vedic literature. There is also a suggestion that the worship of the mother goddess in eastern and northeastern India, in general, and of Kamakhya in Assam, in particular, might have had its origin among the kiratas.
**Contents and Sample Pages**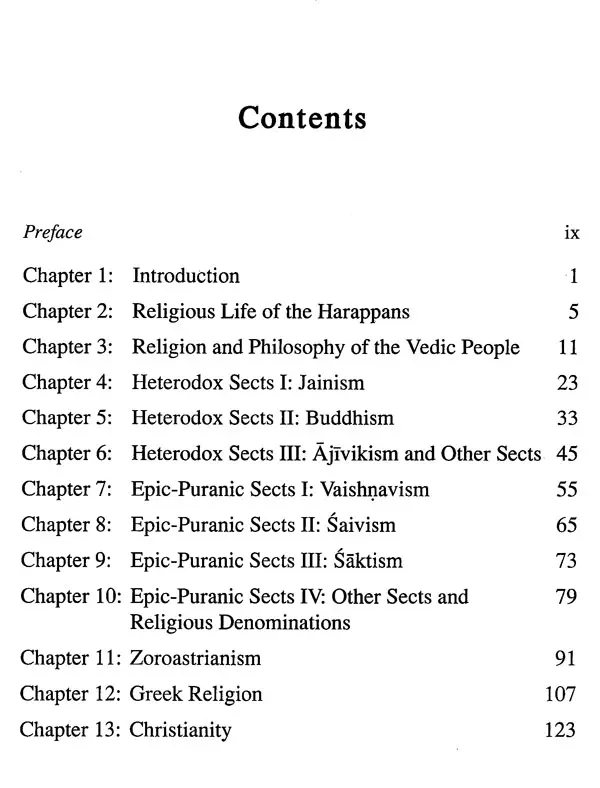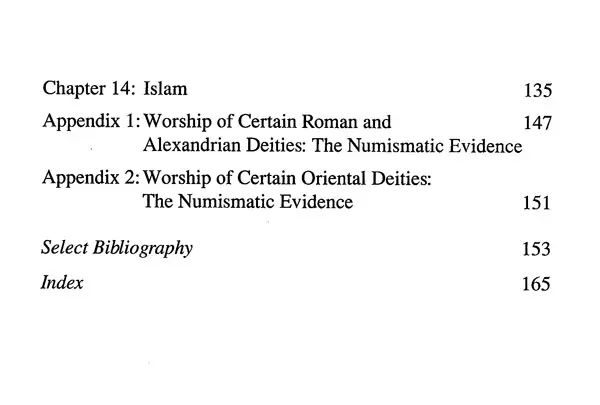 ---
We Also Recommend