Rotations of Unending Time-Selected Poems of Sitakant Mahapatra
$2300

$23.00
Tax included.
Shipping
calculated at checkout.
---
---
Book Specification
Book Description
About The Book
Rotations of Unending Time is a collection of 42 poems of Sitakant Mahapatra, leading poet in Odia. Selected from anthologies published between 1963 and 2011 these have been translated by Sura P. Rath and Mark Halperin.
Sitakant Mahapatra is a poet of rare excellence. The dominant theme of his poetry is Destiny, intertwined with another corollary theme: Time. Passage of time is portrayed in images of either irretrievable history or resurrective mythology, but in neither case is time associated with loss and pain, or nostalgia and melancholy. Ultimately, for Mahapatra, poetry is the voice of union: it brings us echoes of an "Other" where the "I" seems to be all-pervasive; it merges the "Other" and "I" in one intimate relationship where the two seem. irreconcilable. Mahapatra links Odia poetry with the grand tradition and lays anchor in the safety of his contemporary haven, and in the process brings the contemporary close to the modern.
Sitakant Mahapatra (b.1937) is a well Known Indian poet and literary critic in Odia as well as English. He has served in the Indian Administrative Service (IAS) since 1961 until retiring in 1995 and was former Chairman of National Book Trust, New Delhi.
He has published over 15 collections of poetry, 5 collections of essays, a travelogue, over 30 contemplative works, apart from numerous translations.
He was awarded the Sahitya Akademi Award in Odia in 1974 for his poetry collection Sabdar Akash (The Sky of Words), Jnanpith Award in 1993, Padma Bhushan in 2002 and the Padma Bibhushan in 2011. the Soviet Land Nehru Award, Kabeer Samman and several other prestigious awards. He was nominated Fellow of Sahitya Akademi in 2013.
About the Author
Sara P. Rath teaches English at the University of North Texas, Dallas. Educated at Ravenshaw College, Utkal University, Tulane University and Texas, A&M University, he has also taught at Louisiana State University and at Central Washington University. He has edited and co-edited several books of essays. including Sitakant Mahapatra: The Mythography of Time and UR. Anantha Murthy's Samskara: A Critical Reader and Dialogics of Cultural Encounters: National and Nationalities in Periods of Conflict.
Mark Halperin taught in the English Department of Central Washington University, USA for 34 years. He is the author of five books of poetry including Backroads, A Place Made Fast and Falling Through the Music. He has also translated extensively from contem porary Russian fiction, poetry and essays. He is the recipient of the American Award of the International Poetry Forum, and also Emily Clark Balech Prize (shared with Dinava Georgeolism) for his translation of V. Pyetsukh's Me and the Sea and also Pushcart Prize for his translation (co translator Dinane Georgeoham) of A. Kushaar's The Master of Deaft.
Preface
Sitakant Mahapatra is a familiar literary figure in India. His poems have appeared in print since 1961, and he now has published more than twenty-five volumes of poetry in Odia. In addition, he has transcribed and published ten volumes of tribal poetry, fifteen volumes of poetry in English translation, and fourteen volumes of essays and travelogue. His poetry has been translated into Arabic, Chinese, Danish, French, German, Hebrew, Macedonian, Norwegian, Persian, Romanian, Russian, Spanish, Swedish, and Turkish, and he has given readings of his poetry in the USA, UK, Canada, the former USSR, France, Germany, Yugoslavia, Thailand, Sweden, Mexico, and Japan. Mahapatra's poetry has been published in every major magazine and newspaper in India. In the United States, it has appeared in Poetry (Chicago) and other highly selective journals. Most recently, three of the poems included here have appeared in the American Poetry Review (November-December 2010).
Introduction
In 1947, after nearly two and a half centuries of British rule, of this a century of mass education in English literature and of acceptance of English as a curricular medium in schools and colleges, educated readers and writers in independent India had embraced the poetic idioms and forms of English poetry as the models to express the modern themes in the literature in their vernacular languages. Though the pressing social and cultural issues in India were far different from those that haunted the West, Eliot, Yeats, and Pound seemed to have captured the images that best described the Indian angst. The creative writers had two options: they could either use the alien figures and tropes of Western, specifically English, literature in giving shape to their native themes and ideas; or disown them as residual intellectual chains of a colonial power, inadequate or inappropriate to the needs of the post-colonial situation. In the latter case, the writers had to search within their own national literary history for a medium appropriate to the message they needed to communicate. However, because of India's peculiar geopolitical history, no such monolithic literary history was readily available to the nationalistic creative mind. For about two centuries before the British entrenched their position, the Moguls had consolidated power in the northern part of the country, leaving hundreds of small princely states in the south to be ruled by independent dynasties of kings either as fiefdoms paying annual tithe or as political entities too weak or too poor to present a threat to the imperial power. The Moguls, as well as the rulers in the independent states, patronized art and literature, and, as a result, in different parts of the country highly specialized languages developed, giving rise to bodies of literature which, by the time of the national independence in 1947, had established separate but equal regional identities. Most of these languages were derived from Sanskrit, but Sanskrit was a dead language by that time and the scripts for the individual languages were different, and in spite of the cognates that identified them as members of a family their vocabularies were sufficiently developed to warrant consideration as separate languages. In the evolving field of Indian poetry, where the challenge to flesh out an indigenous identity for the creative consciousness in the national and various local languages and cultures has been enormous in the last fifty years since independence, "modernism" has often meant a rediscovery of the past poetic forms in the poets' particular languages to fit their contemporary themes.
**Contents and Sample Pages**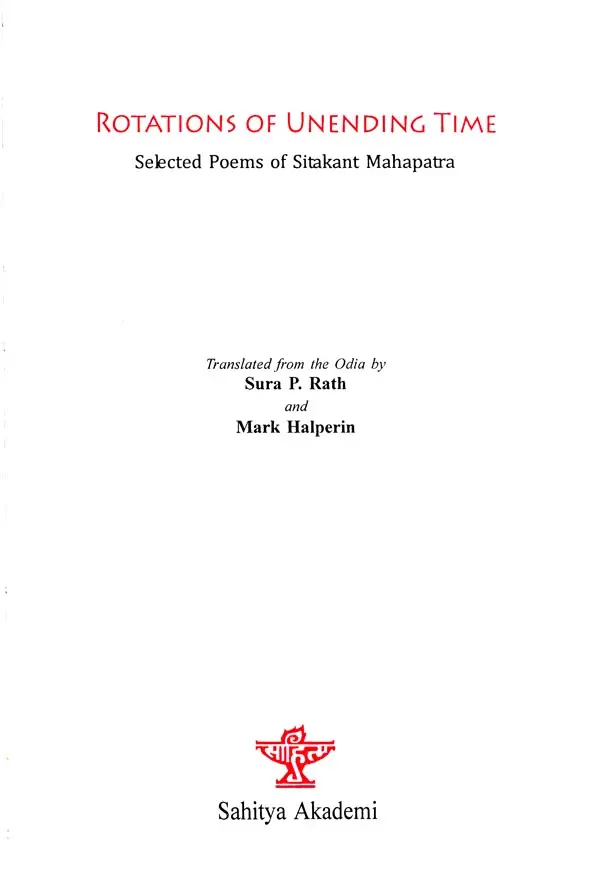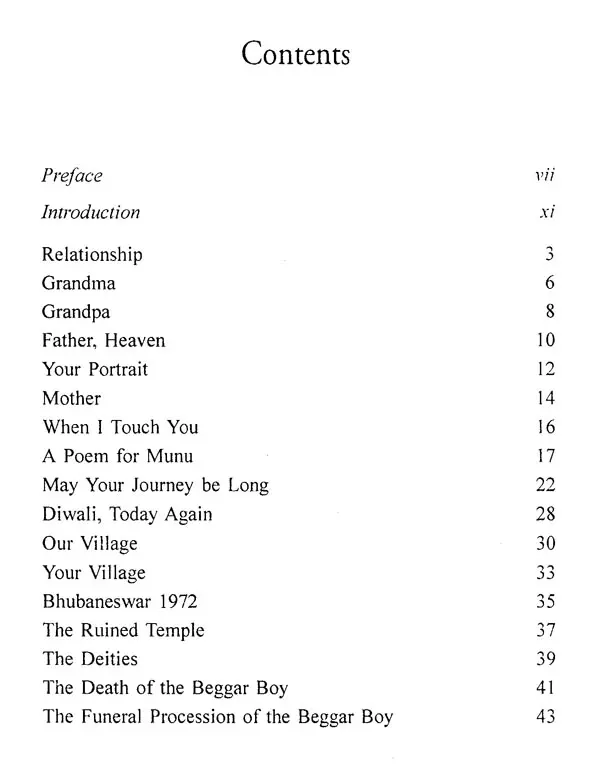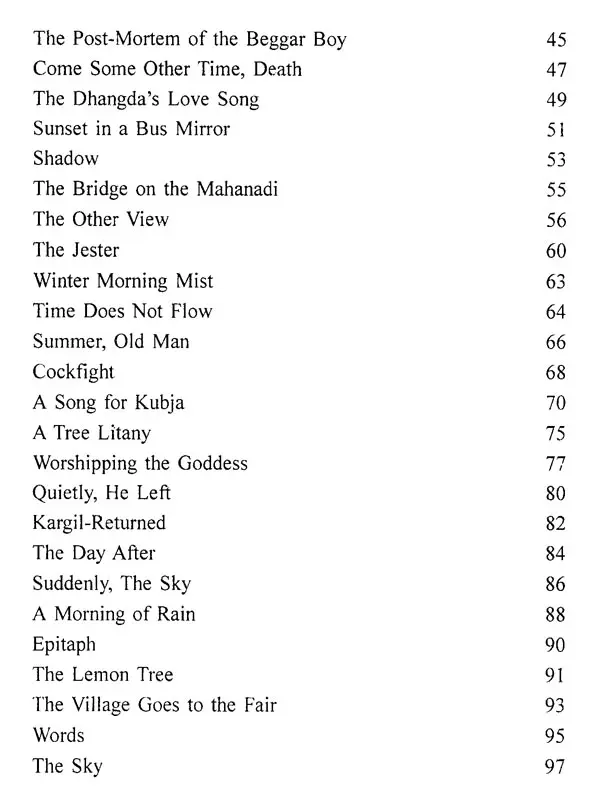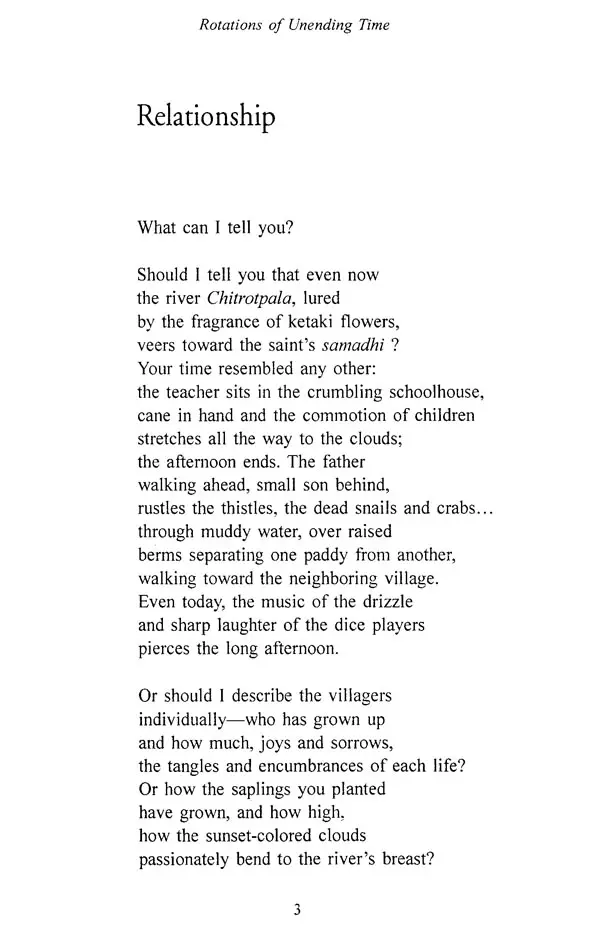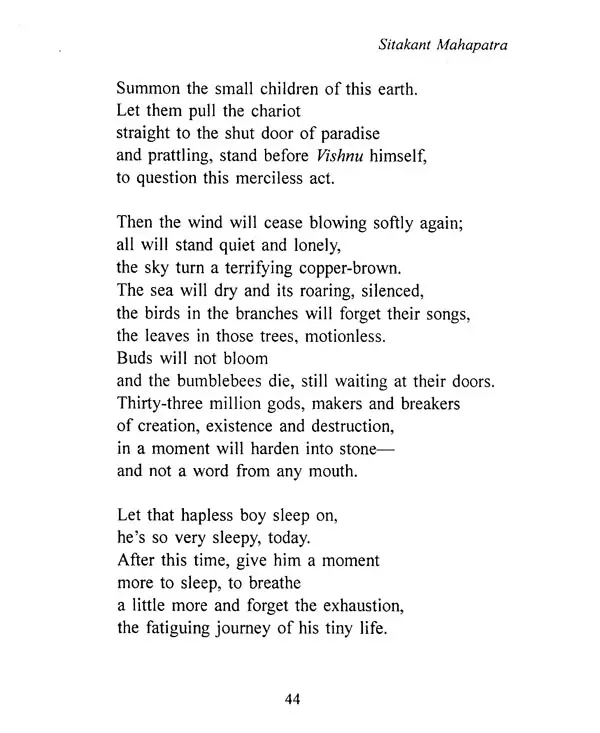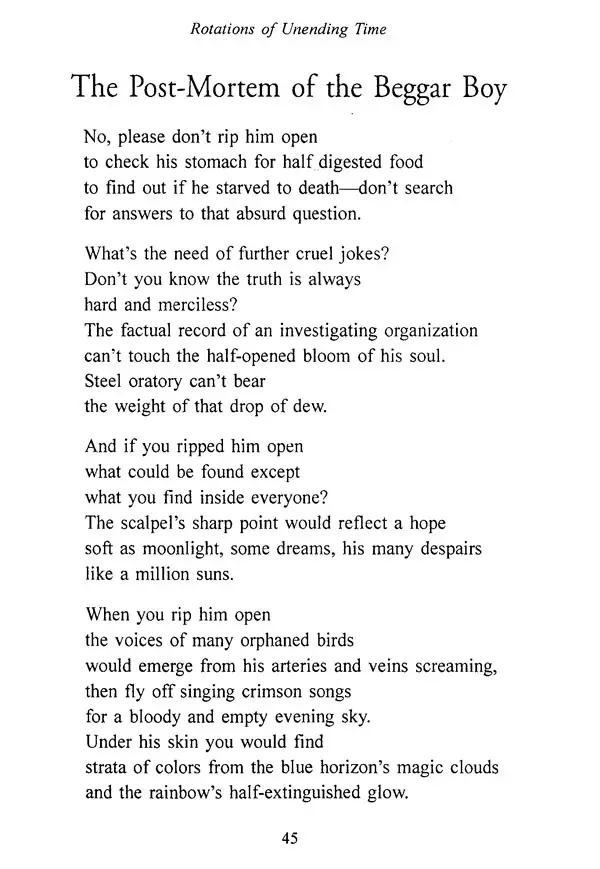 ---
We Also Recommend