Rural Livelihood Development in Tripura- An Mgnregs Experience
$4100

$41.00
Tax included.
Shipping
calculated at checkout.
---
---
Book Specification
| | |
| --- | --- |
| Item Code: | AZG363 |
| Author: | Various Authors |
| Publisher: | Kaveri Books |
| Language: | ENGLISH |
| Edition: | 2022 |
| ISBN: | 9788195549306 |
| Pages: | 166 (Throughout B/w Illustrations) |
| Cover: | HARDCOVER |
| Other Details | 9.00x6.00 inch |
| Weight | 400 gm |
Book Description
About the Book
The book Rural Livelihood Development of Tripura: An MGNREGS Experience captures the pace and quantum development work done through MGNREGS across the state of Tripura. An evidence-based research assessment of livelihood development through asset creation under MGNREGS is the book's primary objective. This book is an outcome of two-year-long dedicated and rigorous work of the research team, who had even braved the fears of the COVID 19 pandemic and visited every nook and corner of the state to fetch relevant data to help the administration in effective policy-making for the welfare of the people of the state.
This book aims to develop further theory and practice of people-centered development processes, particularly on rural livelihood approaches. The book is designed to encourage academicians, researchers, rural development administrators, NGOs, voluntary organizations, and personnel engaged in rural development. The development practitioner interested in researching rural livelihood development using composite z-score and multivariate regression to measure the direction of variables for making a sound judgment, this book will surely provide necessary guidance to them.
About the Authors
Prof. Debarshi Mukherjee is an alumnus of Visva Bharati, Santiniketan, and Banasthali Vidyapith, Rajasthan. Currently, he is a Professor and Head of the Department of Business Management, Tripura University.
Dr. Rajesh Chatterjee (b. 1973) is a Rural Development professional and achieved M.A. & PhD in Rural Development from the Department of Rural Reconstruction & Development from Visva-Bharati. Presently he is working as Assistant Professor, Tribal Studies (CSSEIP), Tripura University, Tripura.
Sudakhina Mitra is a Research Scholar in the Department of Business Management, Tripura. University, and faculty in the Administrative Training Institute of the State of Tripura, commonly known as the State Institute of Public Administration and Rural Development (SIPARD). She is an M.Phil in Health Economics from Jadavpur University, Kolkata, West Bengal. She has worked as a project fellow in the Planning & Development Unit of the Department of Economics, Jadavpur University.
Foreword
Livelihood Development of Tripura: MGNRES Experience published Kaveri Books, Delhi, jointly authored Prof. Debarshi Mukherjee and Dr. Rajesh Chatterjee, the teachers of Tripura University Ms. Sudakhina Mitra, research scholar the Department Business Management, Tripura University. also heartening know the outcome of two-year long research project funded the Indian Council Social Science Research (ICSSR), New Delhi, under its Impactful Policy Research Scheme (IMPRESS).
While glancing through pages, found book evidence-based research work that captures data from the field drawn from district state. The book elaborates the impact MGNREGS activities enhancing rural livelihood Tripura and also compares spread such activities with North-Eastern states. Future researchers in the same domain may seek definite guidance from study findings for policymaking academic discourse. have hesitation stating that book highly contextual and tune with demand of time and space. hope this will address the pressing concerns the rural livelihood, wage employment, economic development, growth of employment, social justice. quite confident; would provide further impetus more incisive research in relevant areas national flagship programmes like PMEGP, Mahatma Gandhi National Rural Employment Scheme, members team who painstakingly trudged through this difficult time and braved the fear COVID-19 pandemic complete the study.
them warm greetings and wish them success all future endeavours.
**Contents and Sample Pages**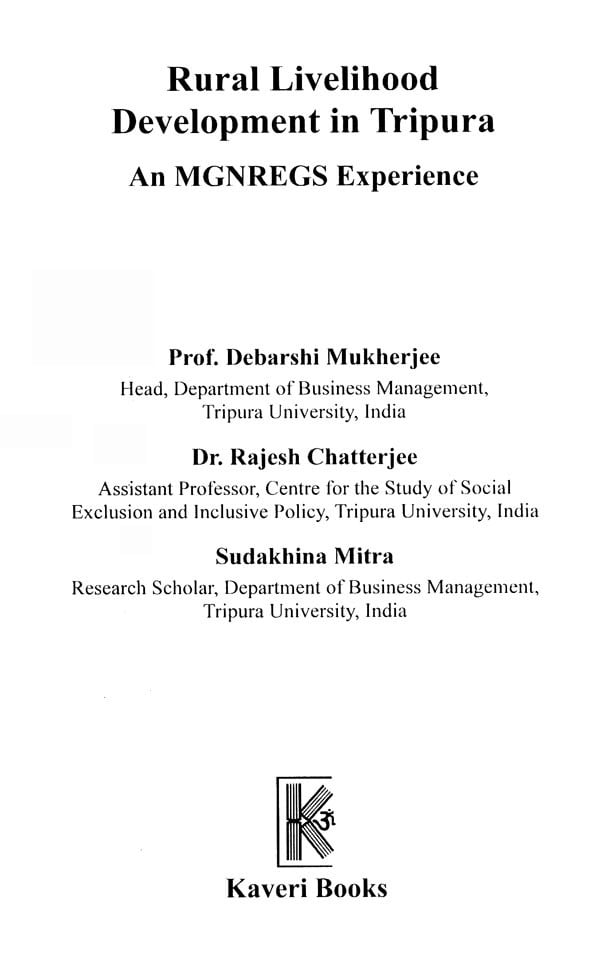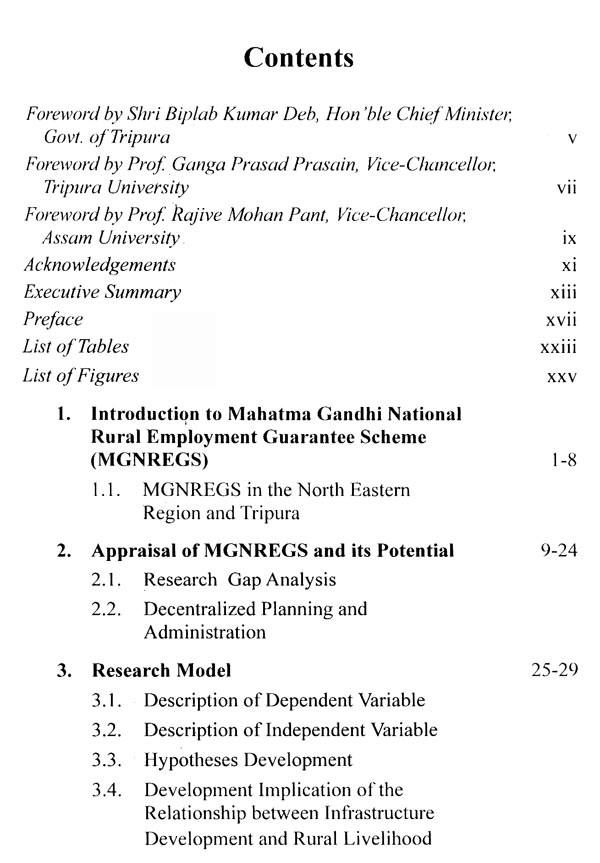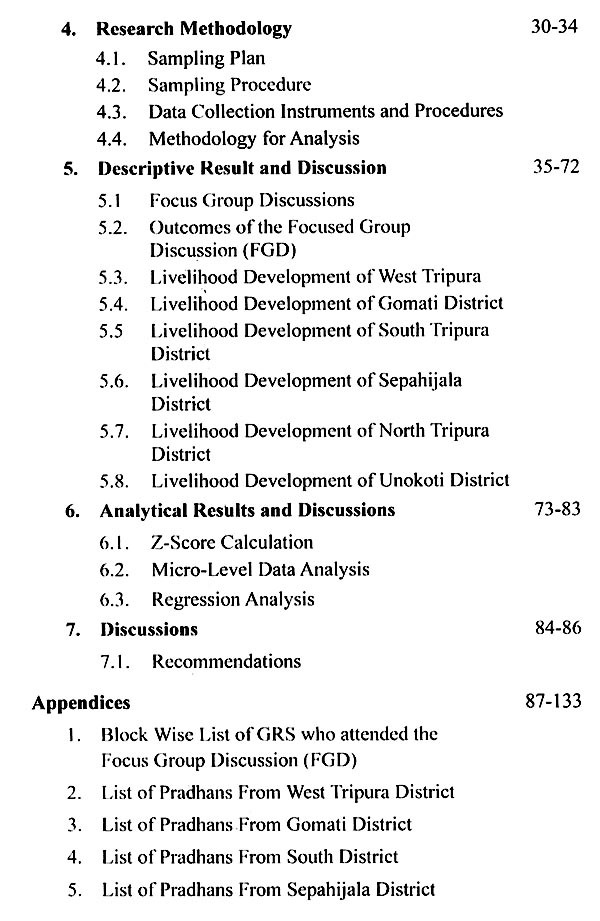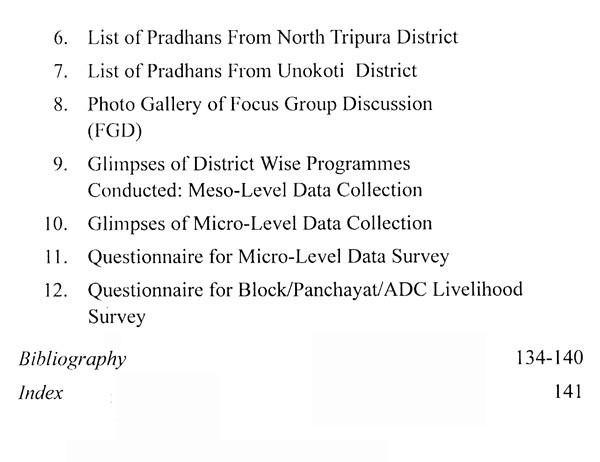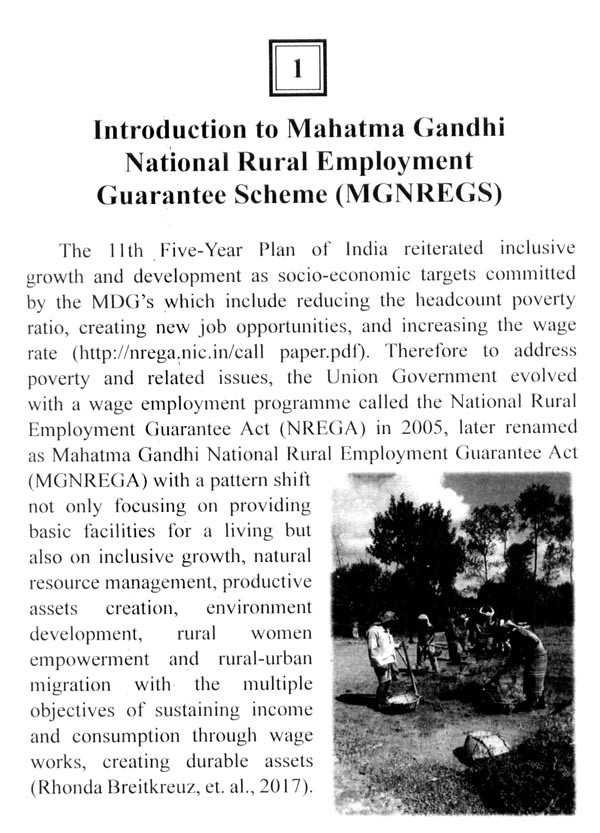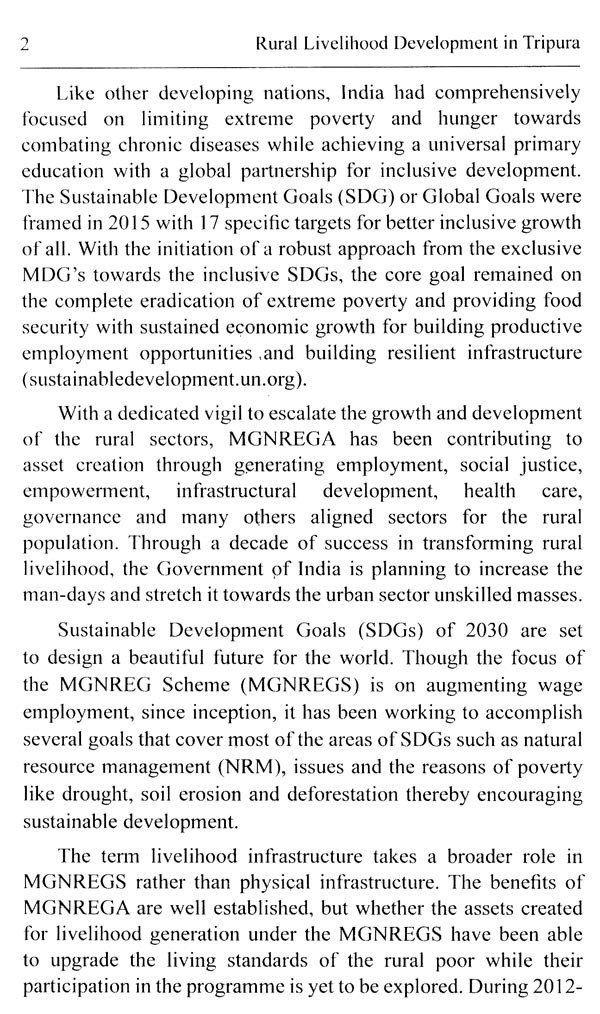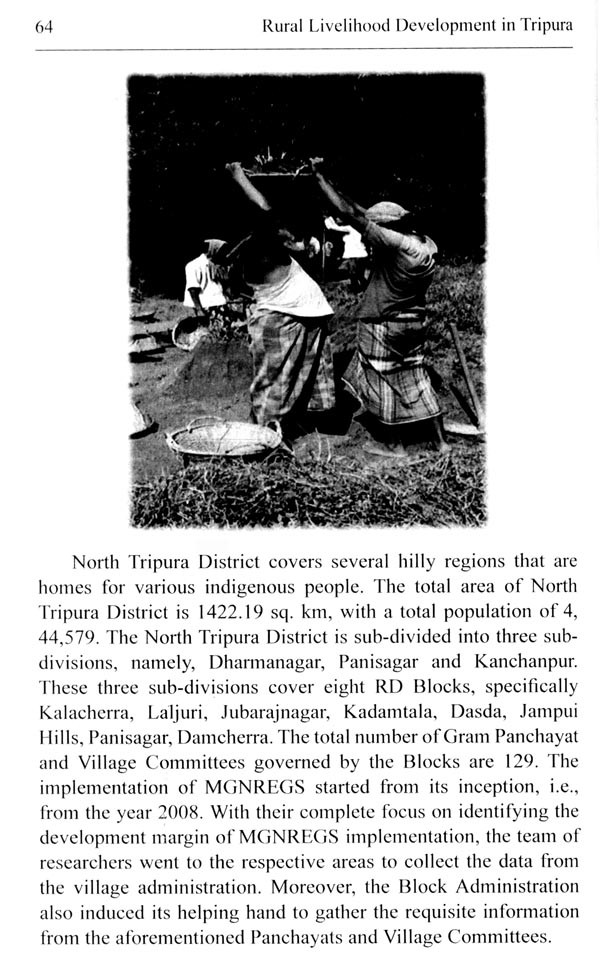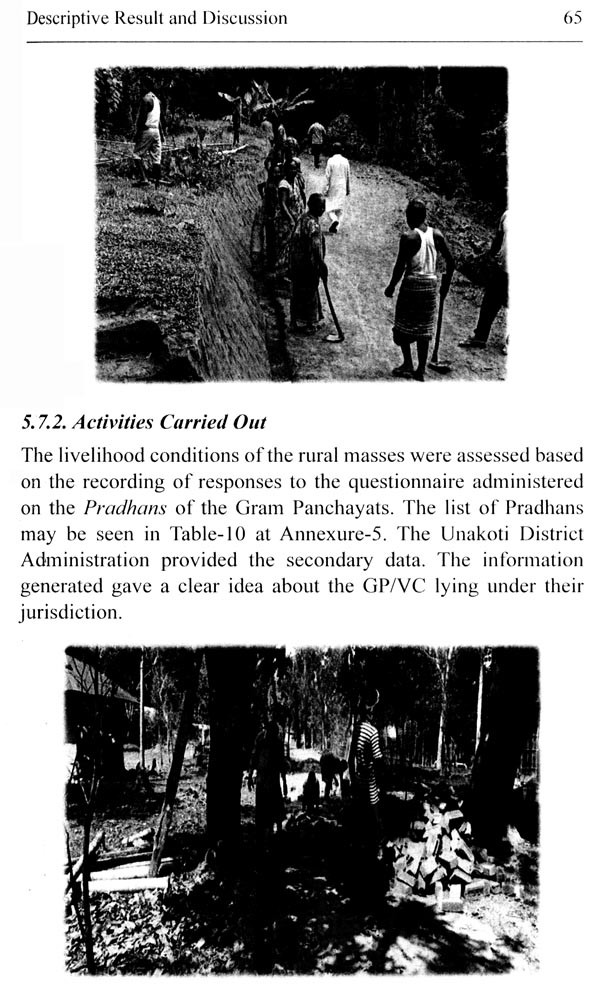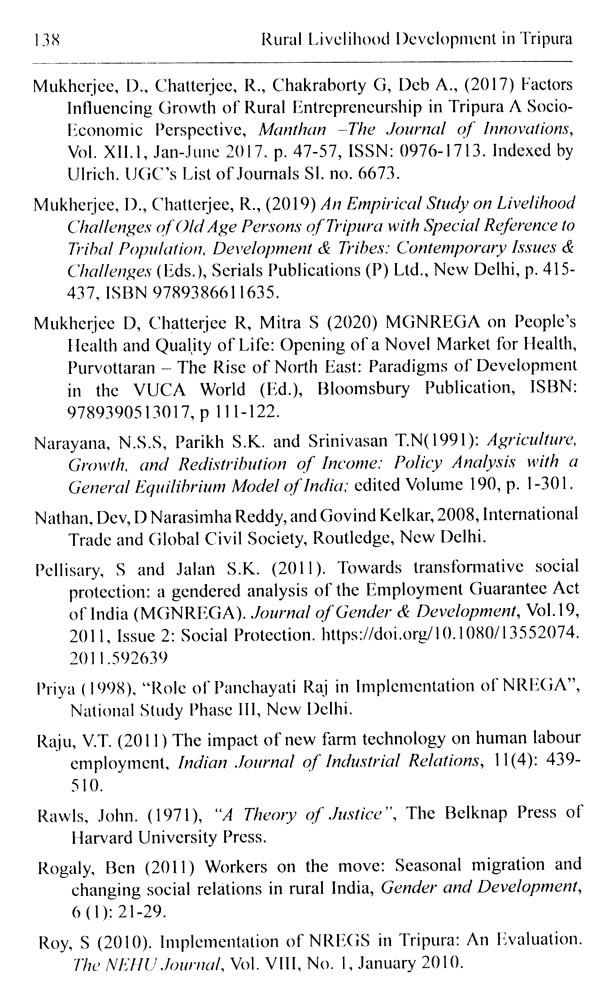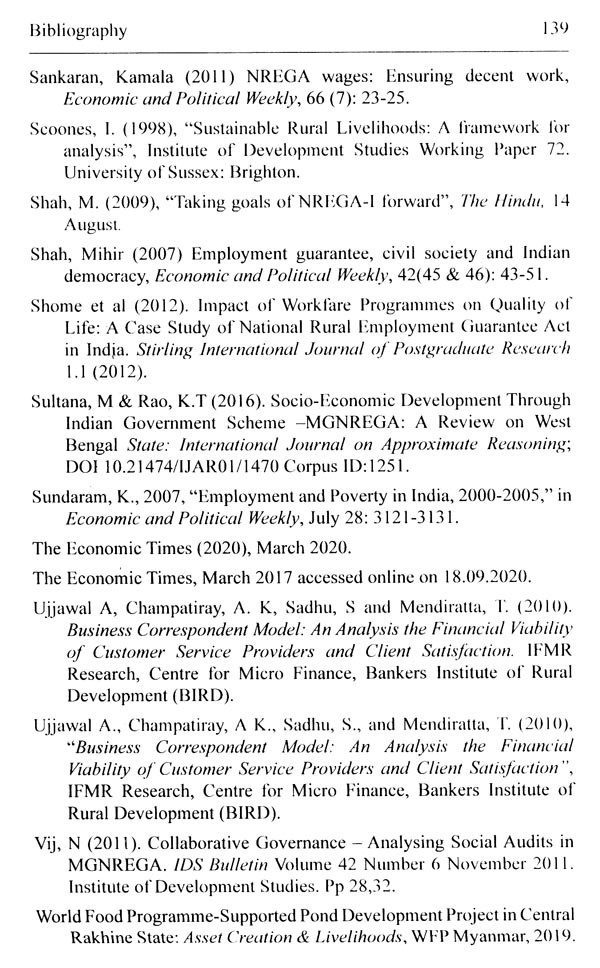 ---
We Also Recommend