Sampoorna Mudra Vigyan (A Complete Guide to Mudras)
$3600

$36.00
Tax included.
Shipping
calculated at checkout.
---
---
Book Specification
Book Description
About the Author
Sri. Dharanipragada Prakash Rao
is a renowned "Yoga Acharya" since more than 2 decades now. Since a few years he has also been sharing his knowledge on Mudras and became well known as "Mudra Prakash". Many channels in YouTube and TV have been presenting his knowledge through a number of Episodes. He also started his own YouTube channel and a Website, both in the name of Sri. Prakash Rao was born in Kovvuru, West Godavari Dist. to Jayanthi Vedavathi and Dharanipragada Veera Rama Sharma on 12 March 1951. His association with Bharatiya Yoga Sansthan (Regd.) started during the late 90s. He learnt many techniques under the guidance of Yoga Guruji Late Sri.Jathanand Mangalaani who relocated to Hyderabad from Nainital and settled here. As a voluntary Yoga Teacher, he rendered free services by establishing and maintaining more than 50 centers in twin cities by spending a minimum of 2 months in each center, creating awareness and interest in the citizens of surrounding colonies, training and grooming some of them as yoga teachers. They further helped in propagating yoga. For around 10 years he conducted Yoga Kriyas like Sankha Prakshalana and Mud bath. Thousands of participants benefitted under his guidance. Apart from the twin cities, he also established many yoga centers in Vijayawada Visakhapatnam and Orissa.
He received a number of accolades and awards through many felicitations. The most prestigious ones are: "Best Yoga Teacher Award" and the "Kapila Maharshi Jeevana Saphalya Award" by KMRR Institute.
Dharanipragada Deepthi
was born in Vizag to Dharanipragada Prakash Rao and Neelamani and brought up in Hyderabad along with a younger brother Nikhil Sharma. After 20 years in the software industry, she resigned as Associate Vice President to serve the society at large through health. Currently she is practicing the techniques related to yoga, yoga mudras, pranayamas and kriyas from her father Sri. D.Prakash Rao and helping him with various related activities such as conducting on online classes for Sarala Yoga, Mudra Therapy, creating and managing own YouTube channel and website related to "YogaMudras".
Along with Sri.D. Prakash Rao, she Co-Authored the enhanced Book on Mudras named: "Sampooma Mudra Vignan" in English, it being her first book. The Telugu and Hindi Versions of the book are in progress.
Introduction
Mudra is a combination of Asana, Pranayama, Pratyahara (restraining of the senses from external objects) and Dhaarana (with steady mind). Mantra (a religious formula), Yantra (religious instruments) and Tantra (rituals) will help us to perform Dhyana (Meditate). Mudra is a part of Yoga or Tantra. Mudras help us to concentrate and to control our mind. Mudra is a sign.
The word "Mudra" originated from Sanskrit word "Mudh" meaning "Happiness" and "Dra" meaning "absorb" or "receive". Mudras help us to concentrate through Dhyana, helping our body to get aligned with mind, resulting in happiness.
By practicing Asanas, Pranayamas and Mudras the Kundalini (Cosmic) energy will flow through the Sushumna Naadi. Mudras and Bandhaas are nothing but Vayu Dhaaranas. Mental stability can be gained through regular practice of Mudras. They help in treating all the ailments and by enhancing the Jataragni (digestive enzymes).
Mudras can be devotional or spiritual too. They depict the relationship between Prana shakti (energy in our body) and Viswa shakti (universal/ cosmic energy).
Once the complete enlightenment of Pancha Bhootas are attained, one could even win over the Mrityu (Death).
**Contents and Sample Pages**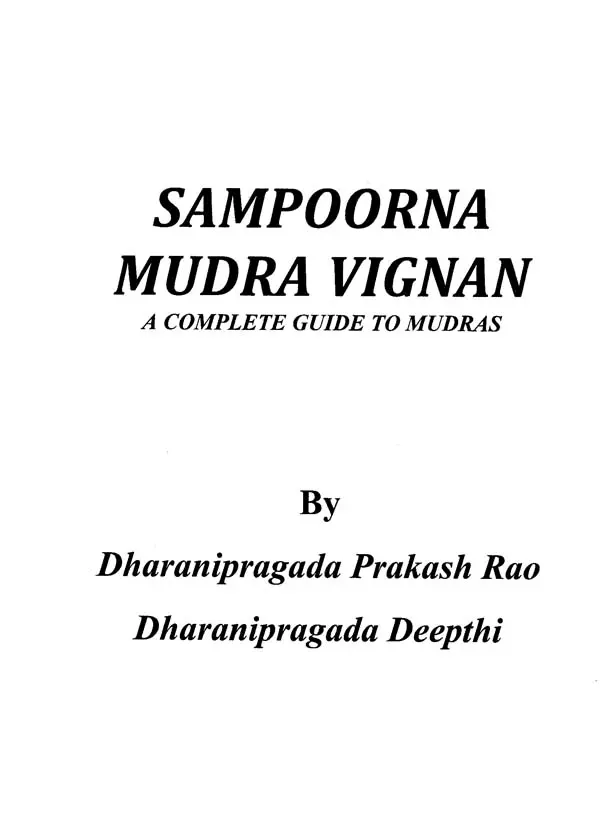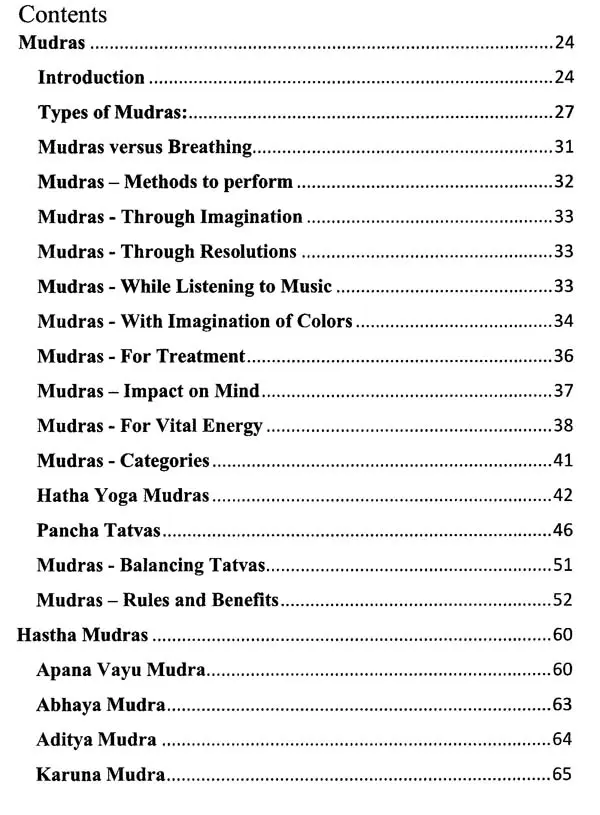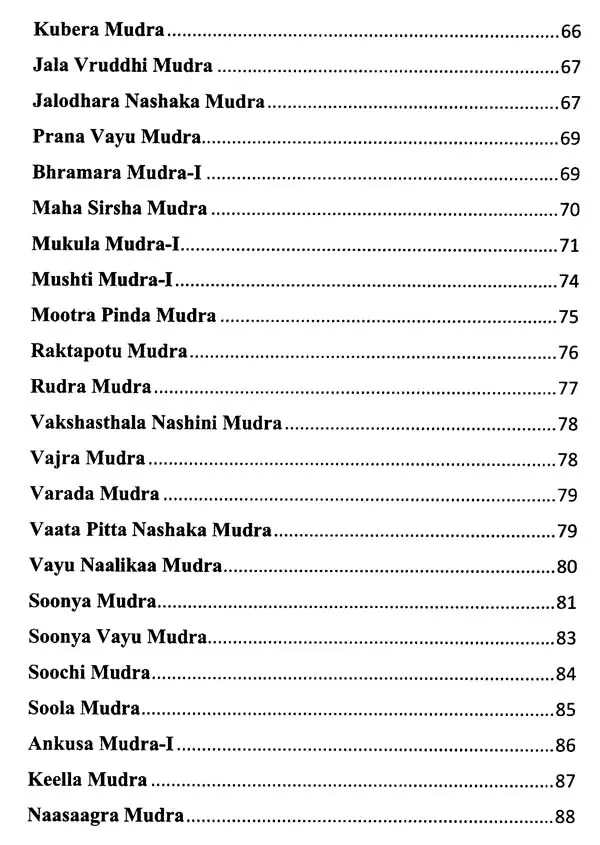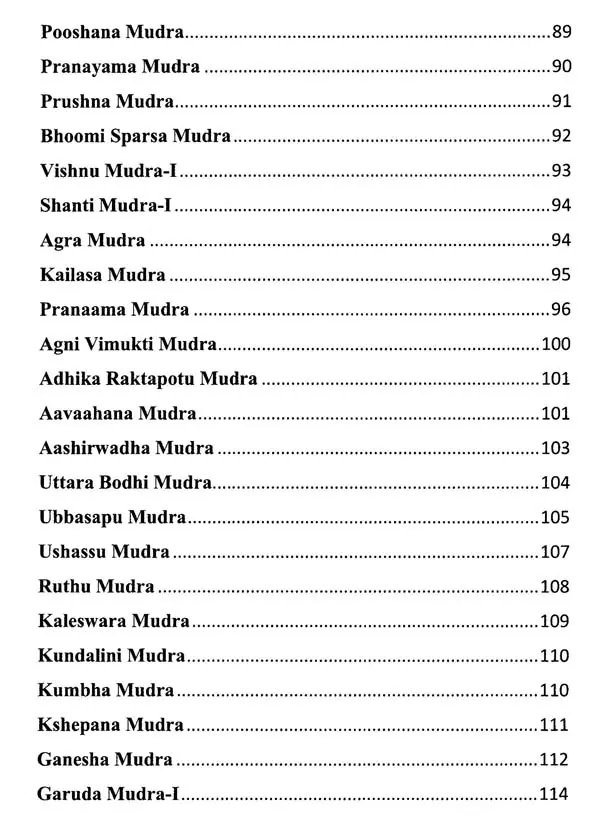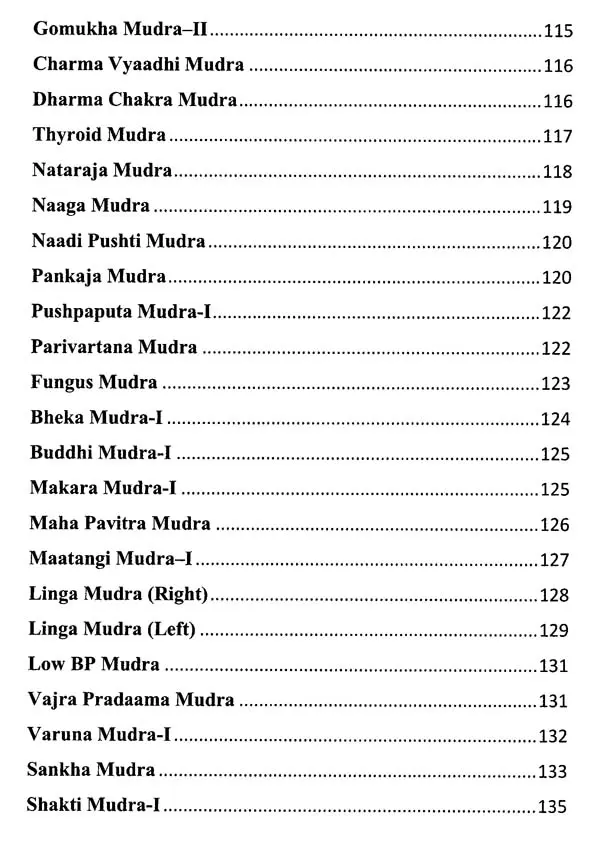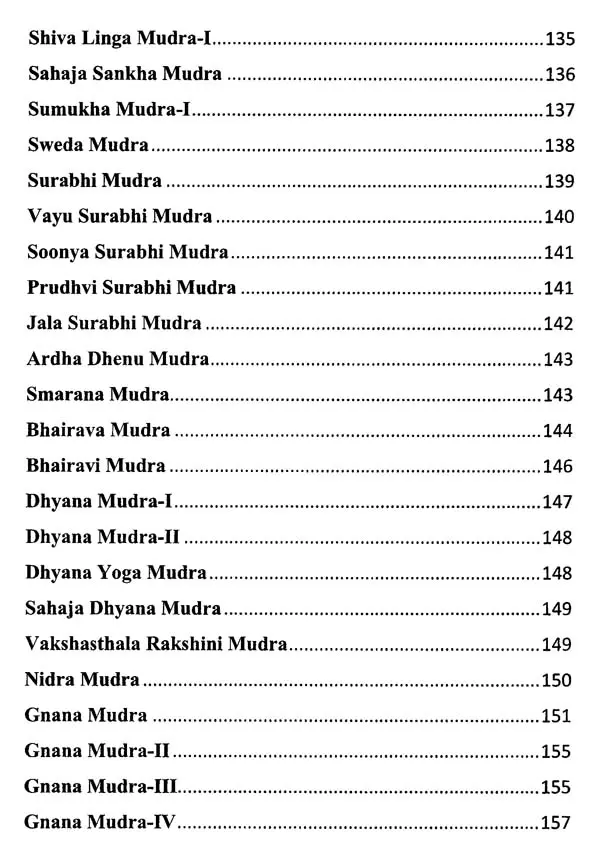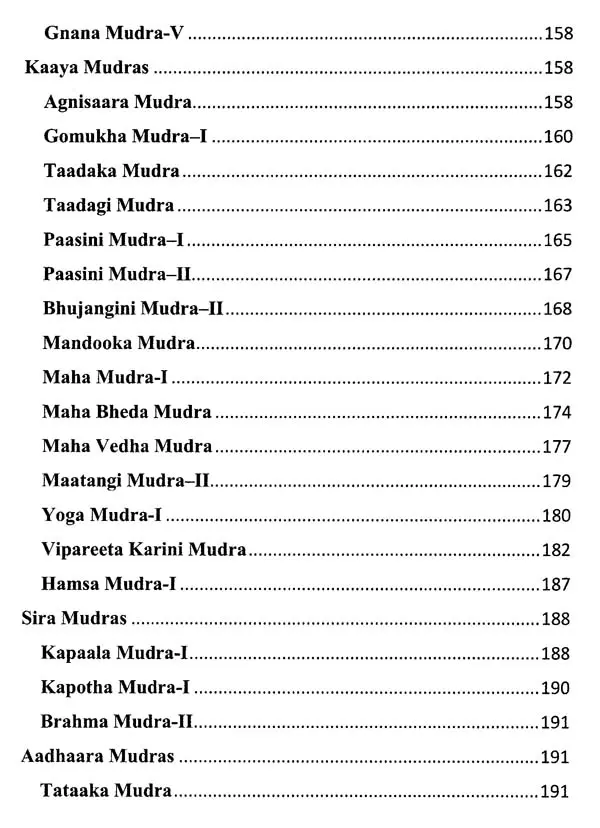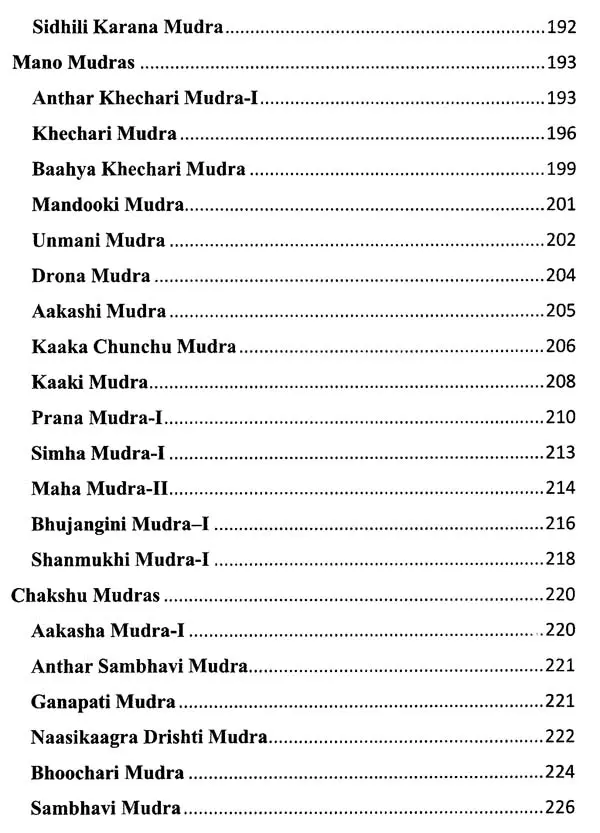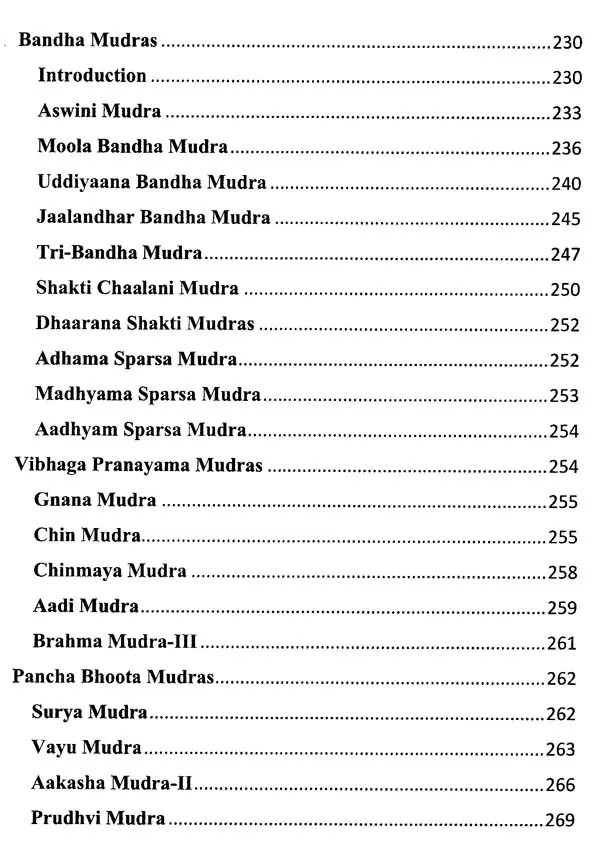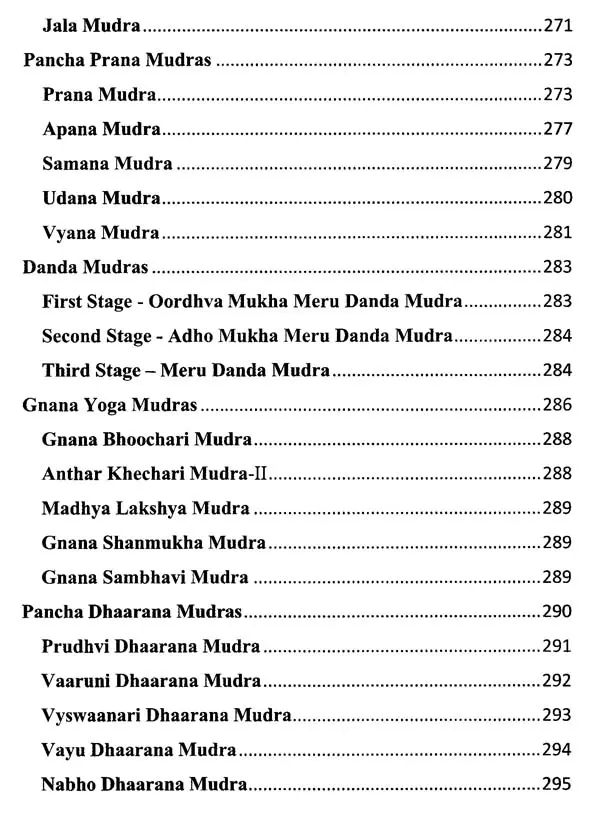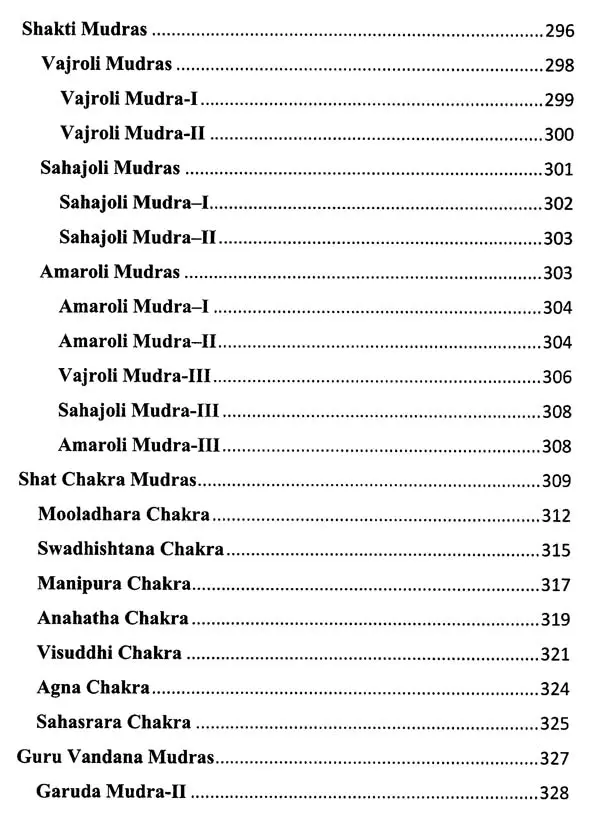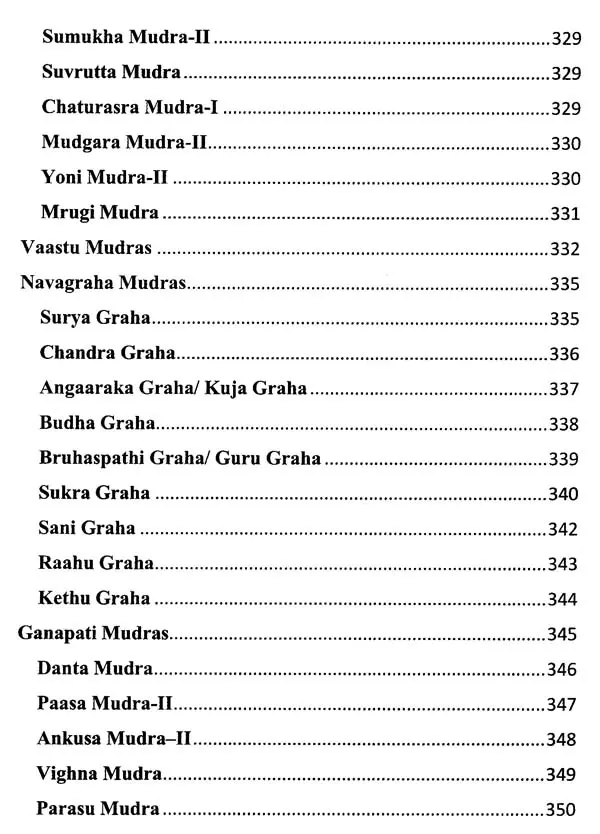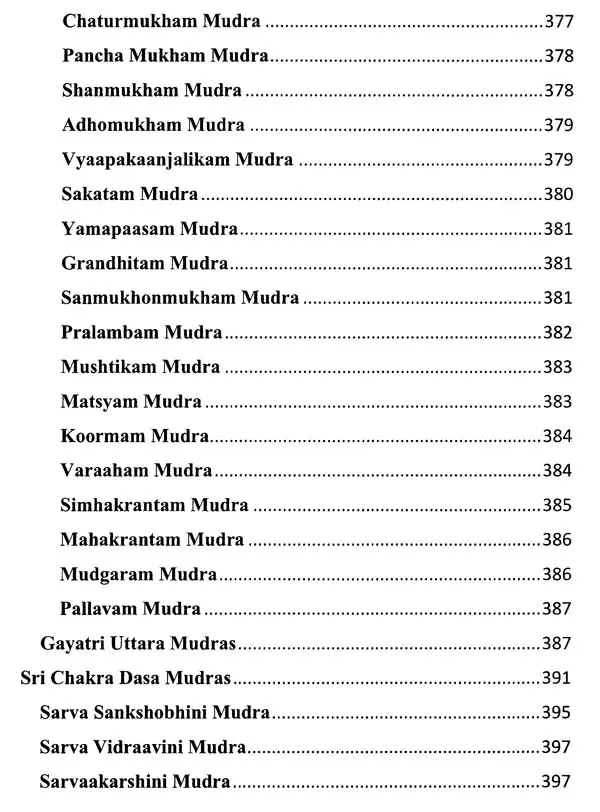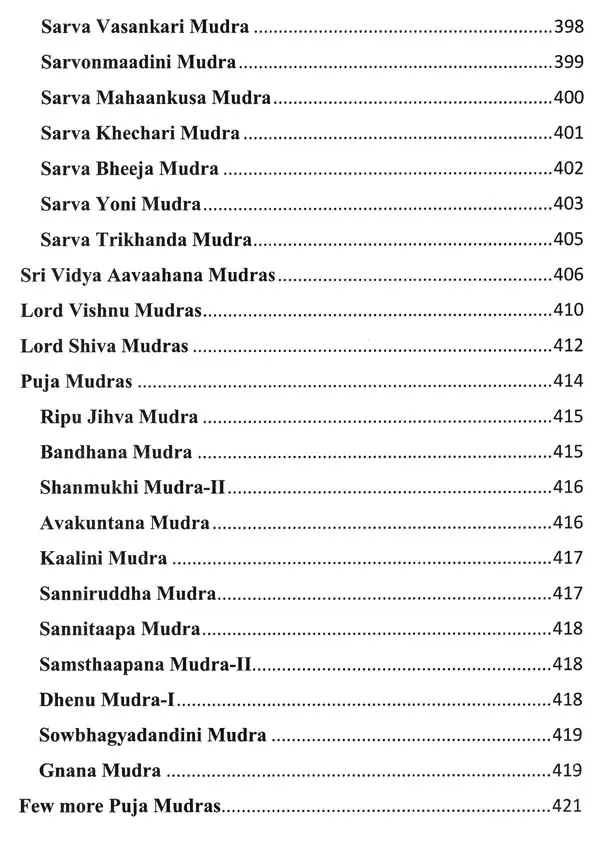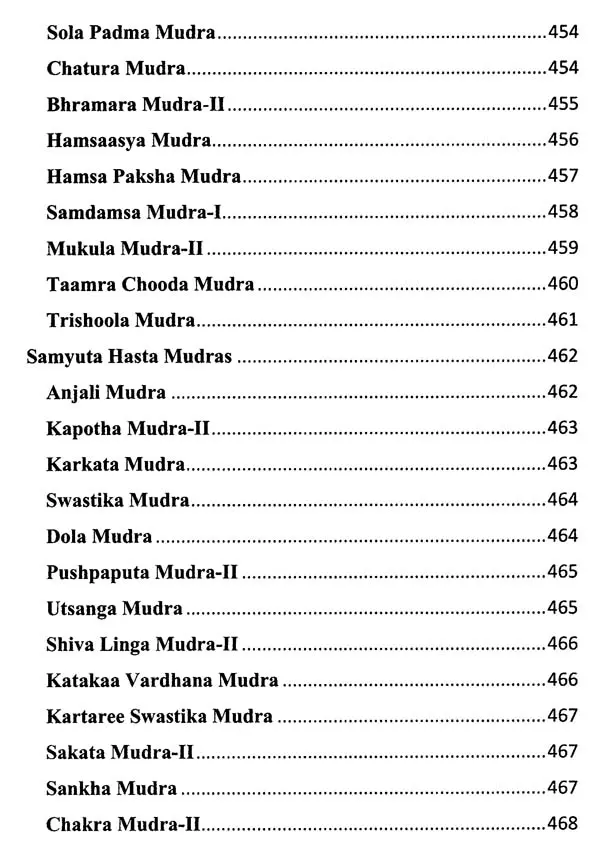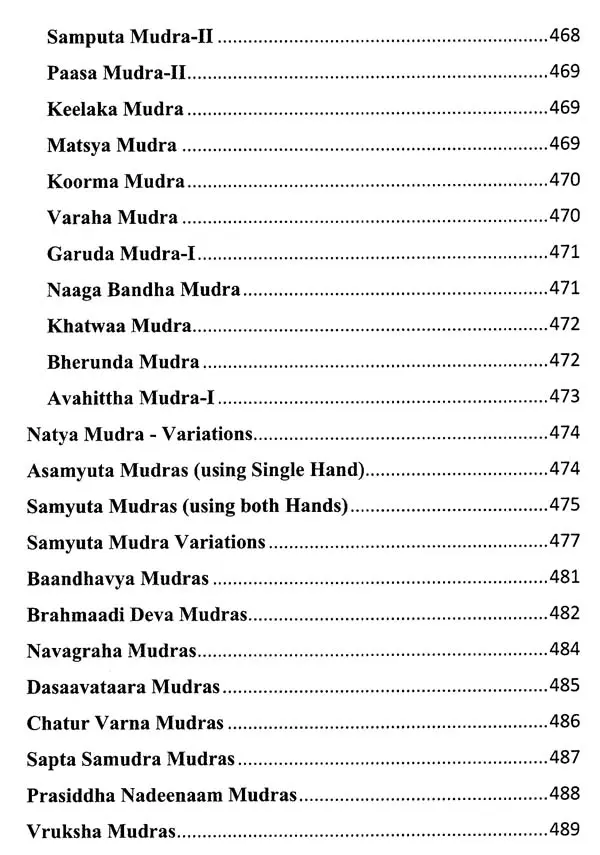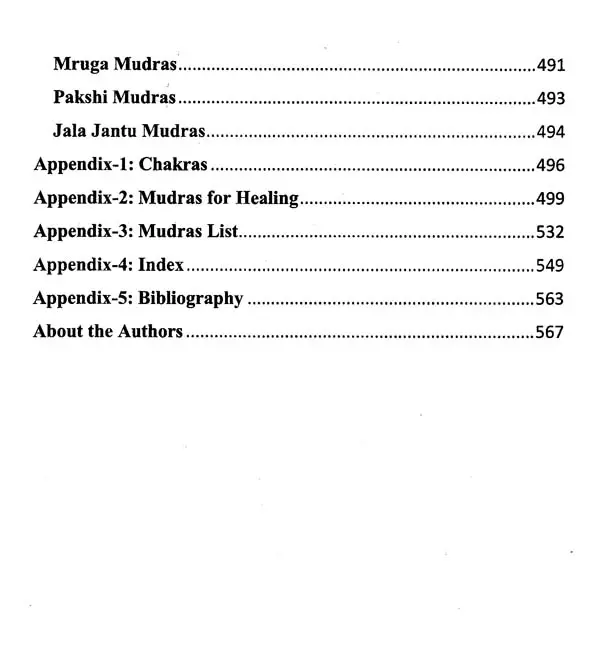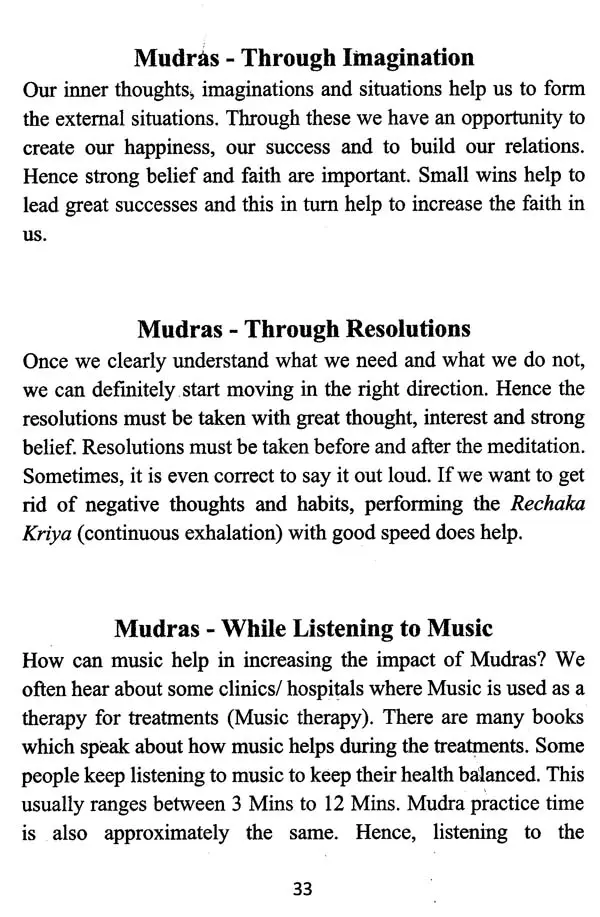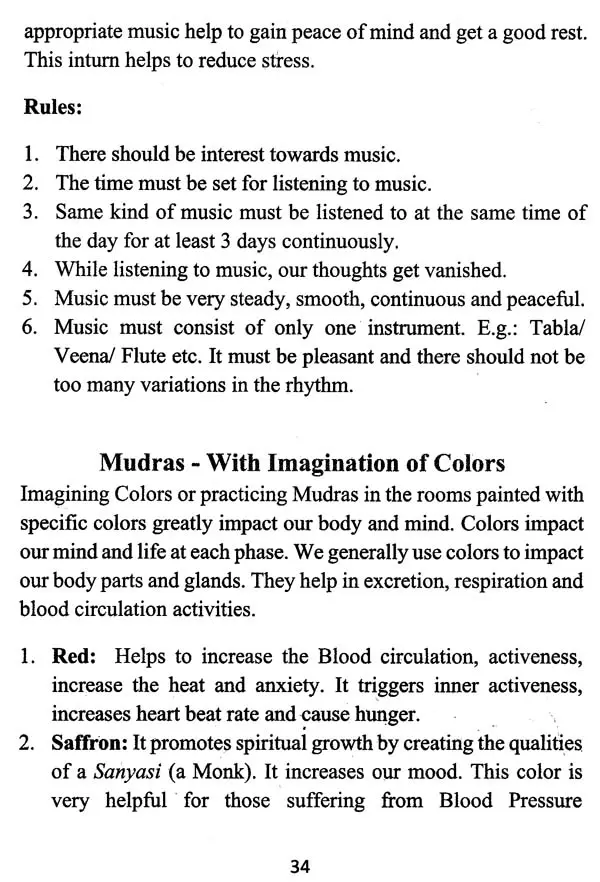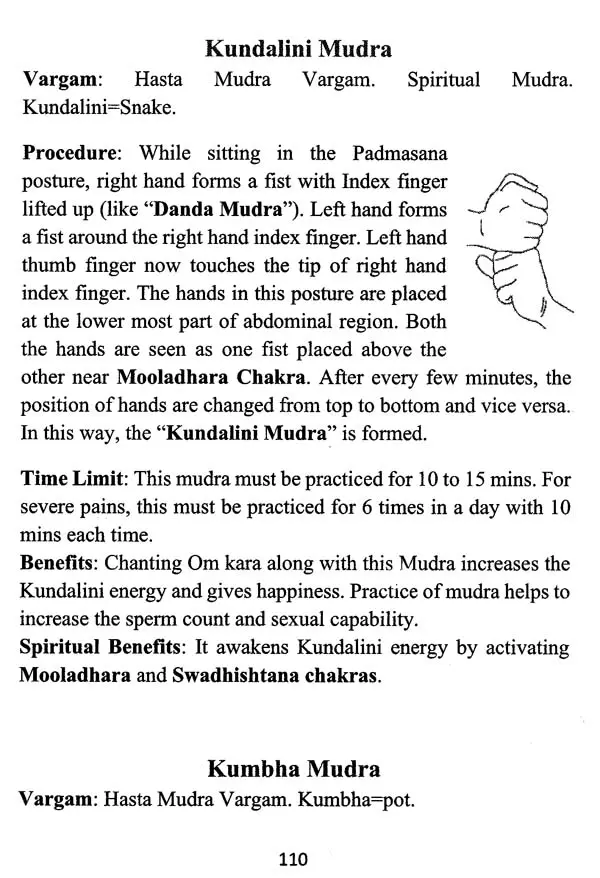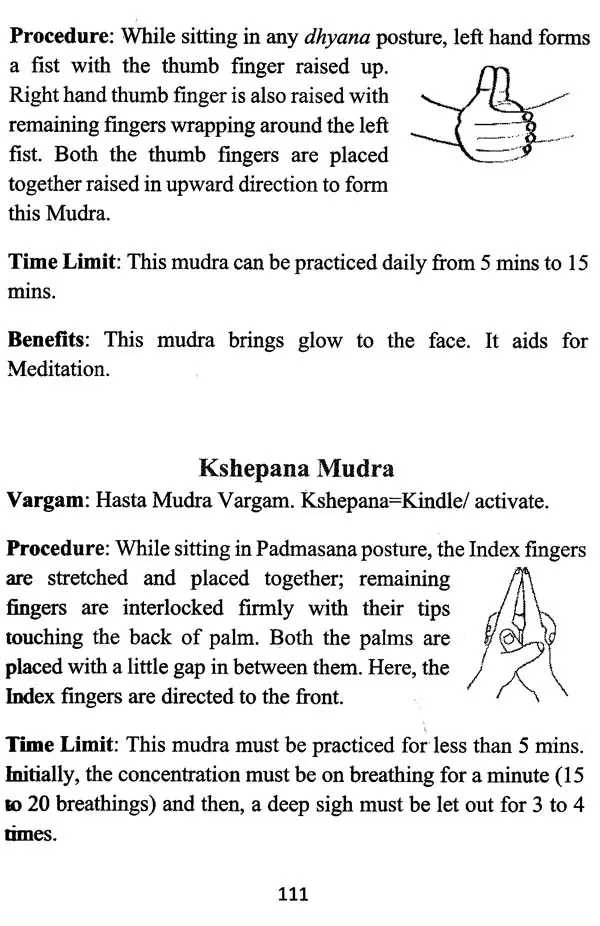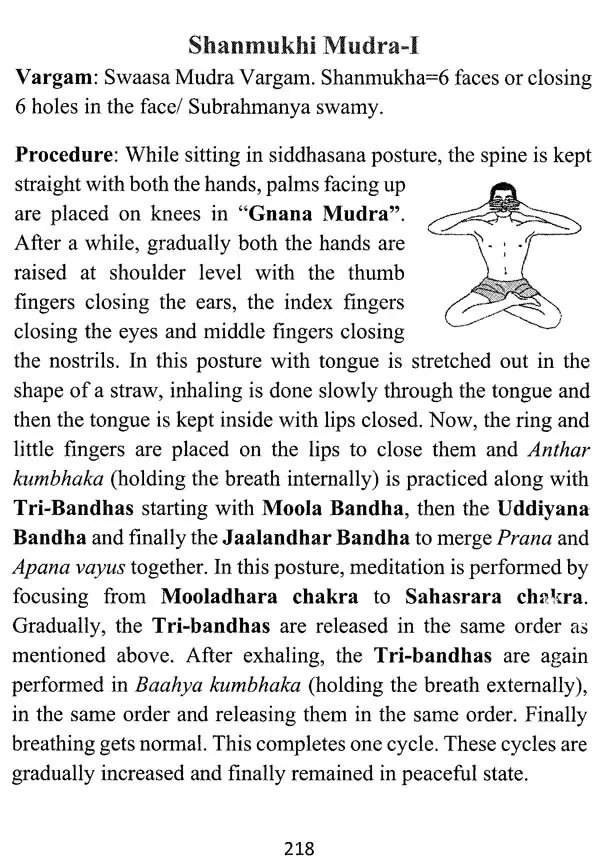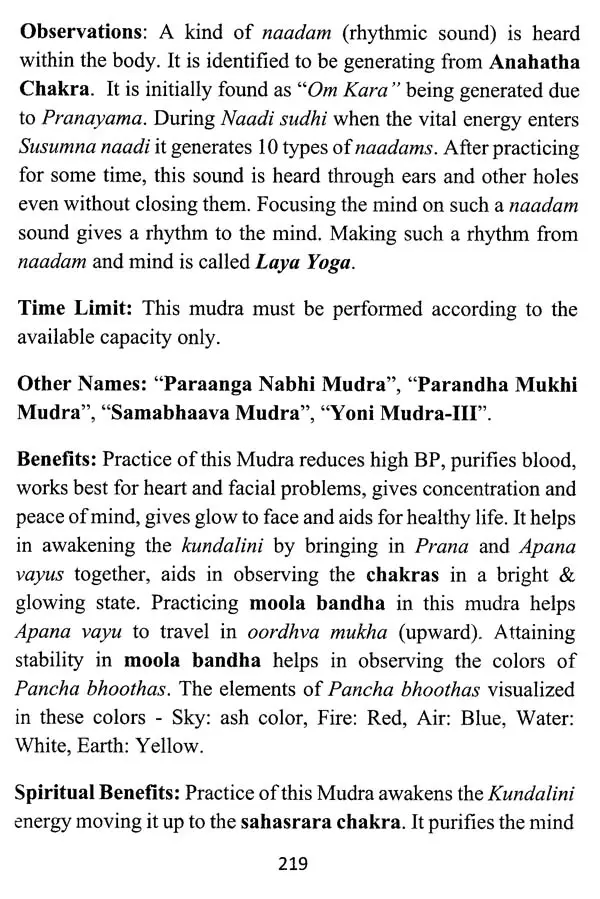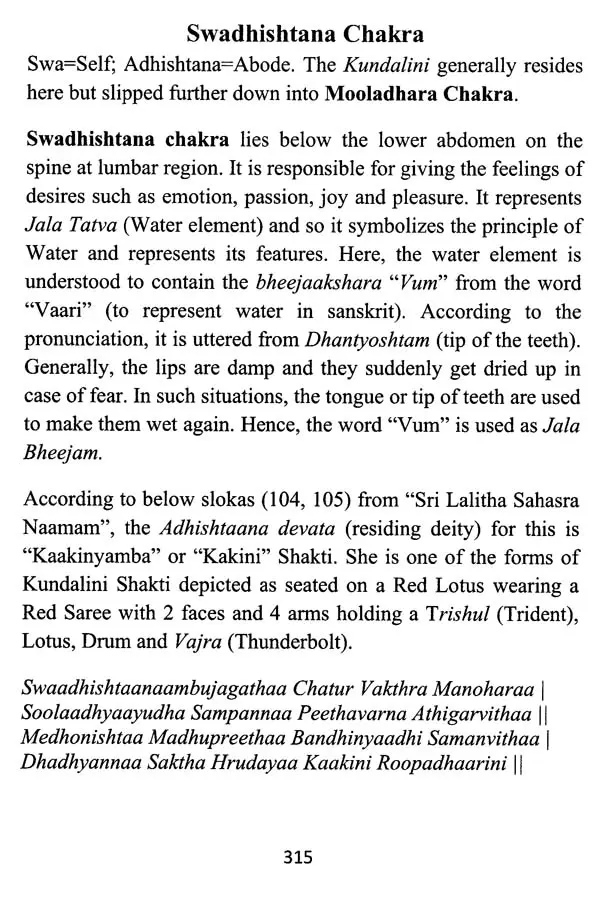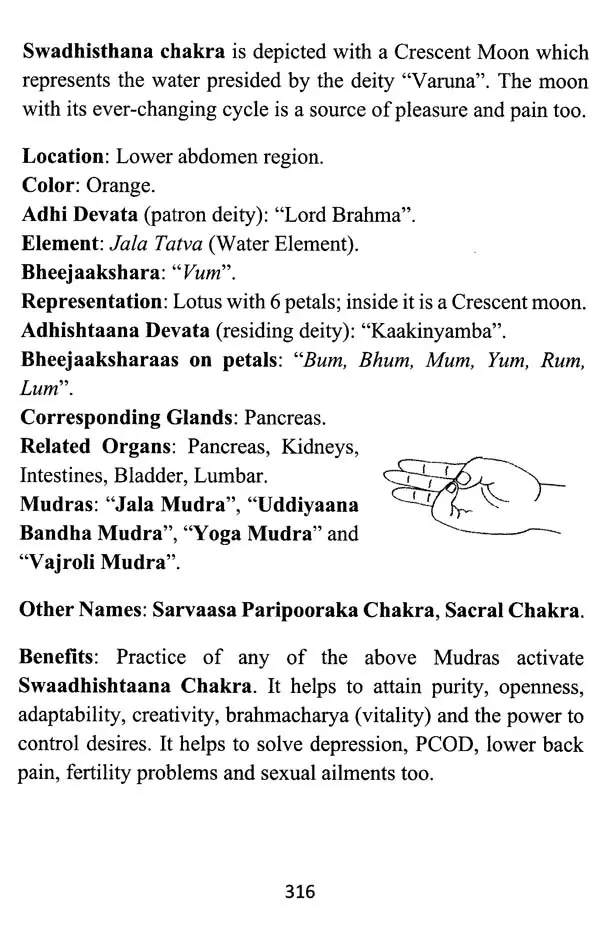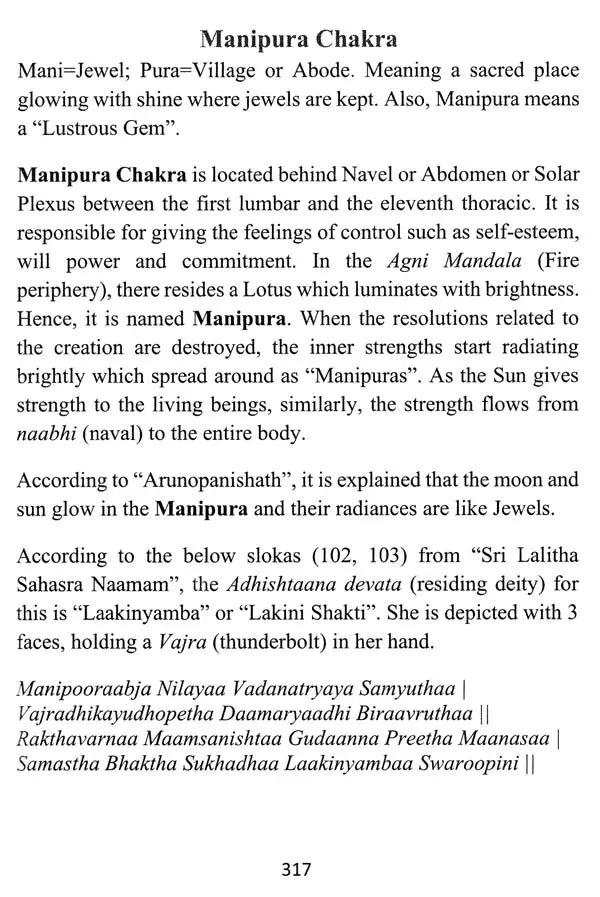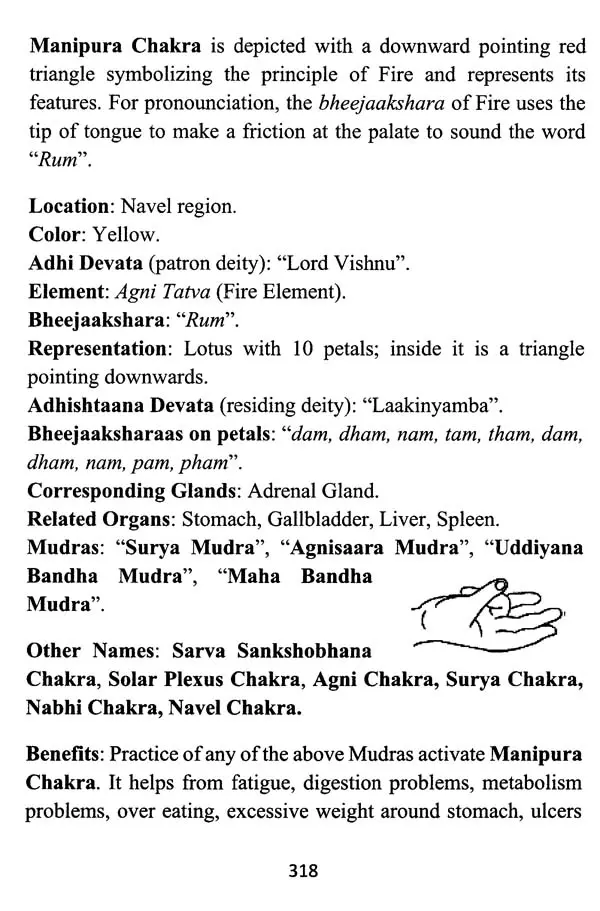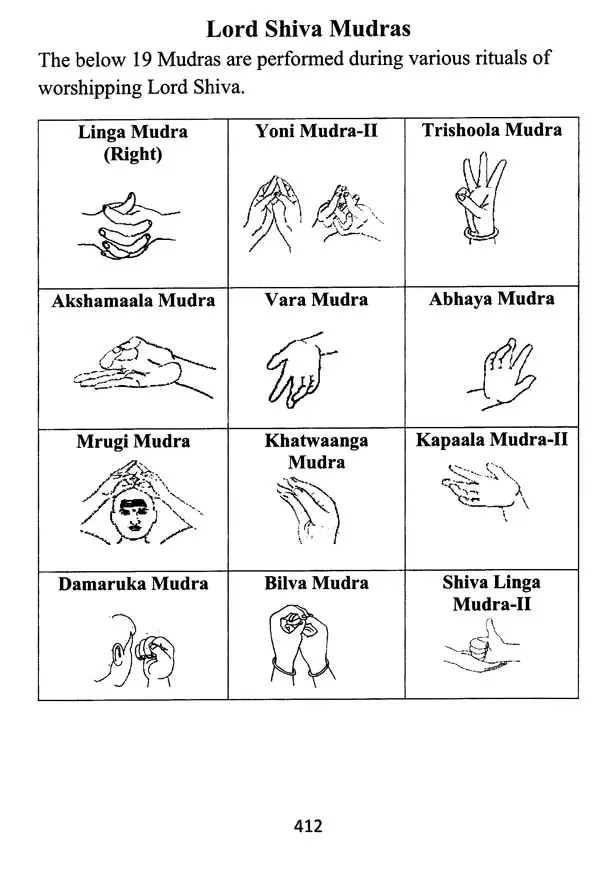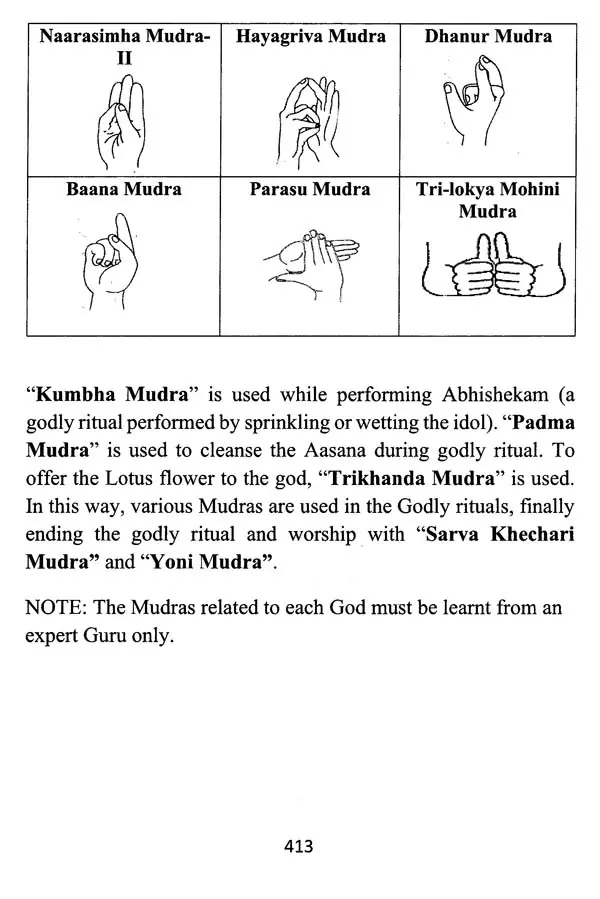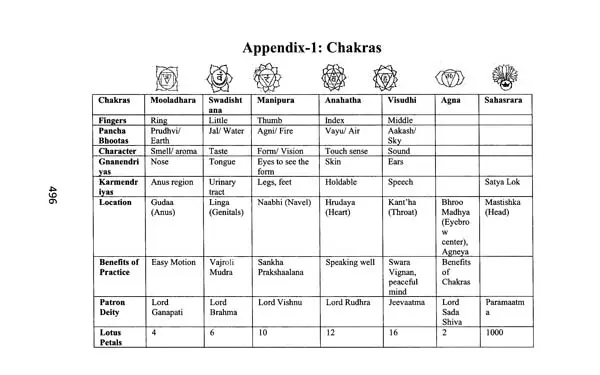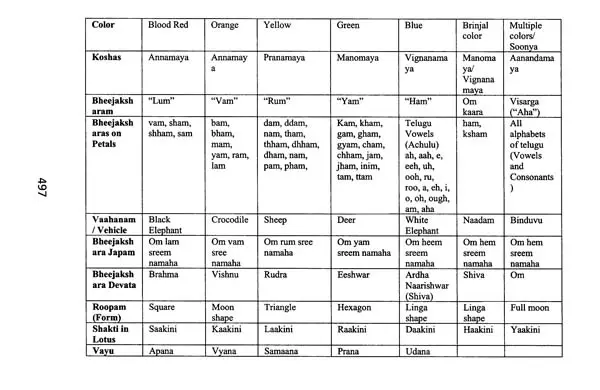 ---
We Also Recommend