Sankarambadi Sunarachari
$1730

$17.30
Tax included.
Shipping
calculated at checkout.
---
---
Book Specification
Book Description
About the Author
Dr. Ananta Padmanabha Rao , Revuru is a prolific writer with 90 books in English and Telugu to his credit. His works include Novels, Criticism, Free verse poetry, Poetry, Translations, Biographies, Epic commentaries etc. 5 scholars from 4 different universities of Andhra Pradesh did research on his works and got Mphil/ Ph. Ds.
Ananta Padmanabha Rao got Central Sahitya Academy award for his translation of Amitav Ghosh's "Shadow Lines" into Telugu, in 2000. He got best translation award from P S Telugu University, Hyderabad for translation of Mulk Raj Anand's Morning Face into Telugu in 1983. Dr Padmanabharao after his post graduation in M A Telugu from S.V. University in 1967,with Gold Medal worked in the Department of Telugu at the Govt Degree college, Kandukur. His Ph. D Thesis on Kandukuru Rudrakavi was published in 1977.
Dr Padmanabharao served Prasarabharati for 30 years (1975- 2005) in different capacities and retired as Additional Director General Doordarsan, Delhi. After retirement he served Tirumala Tirupati Devastanams and SVBC for 5 years (2005-10).
Foreword
Dravidian Culture is one of the most ancient cultures of the world. Those cultures, slightly contemporaneous to one another, slowly started fading out. However, the primordial Dravidian culture continues to thrive without losing its quintessence despite the apparent changes in systems of dress and address.
Dravidian University was established in 1997 to mirror the real and rich picture of Dravidian culture not only in its linguistic, literary, cultural and philosophical facets but in science and technological angles also.
The Government of Andhra Pradesh took a step ahead and started Dravidian University, with the cooperation of the sister states, to research and reflect on the inherent oneness of the cultures of the four states whose languages number up to 27. Its endeavour is to promote unity and amity in the family of several langauges.
Dravidian University since its inception is striving hard to spread the language and culture of all the four Dravidian languages besides other faculties. Publications Division of the University over the years has brought out several research works of eminent personalities.
Sankarmbadi Sundarachari came into lime light during the first World Telugu Conference in 1975 with his eternal song in Telugu Maa Telugu talliki malle poo danda. His life is full of struggles.
He worked at several places of Chittoor district in the education department. He chose to compose Ramayana and Mahabharata in Tetageeti prosody for the benefit of young children. He was acclaimed as a great poet by the contemparory scholars like Sarvasree Kavisamrat Viswanadha Satyanarayana, Rayaprolu Subba Rao, Rallapalli Ananta Krishna Sarma, Gadiyaram Venkata Sesha Sarma and others. He was honoured by the then Vice-chancellor of Sri Venkateswara University Sri P. Vamana Rao. As a glowing tribute to Sundarachari, Dravidian University brings out this monograph, first of its kind in English written by Dr. R. Ananta Padmanabha Rao. I congratulate Dr. Padmanabharao for his excellent presentation of Sundarachari's works to the readers.
**Contents and Sample Pages**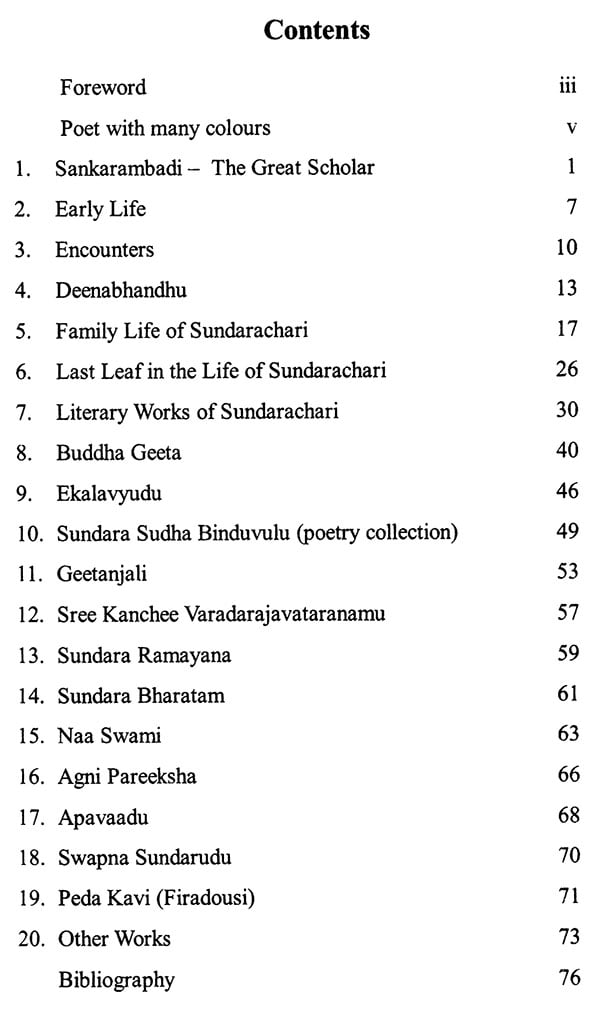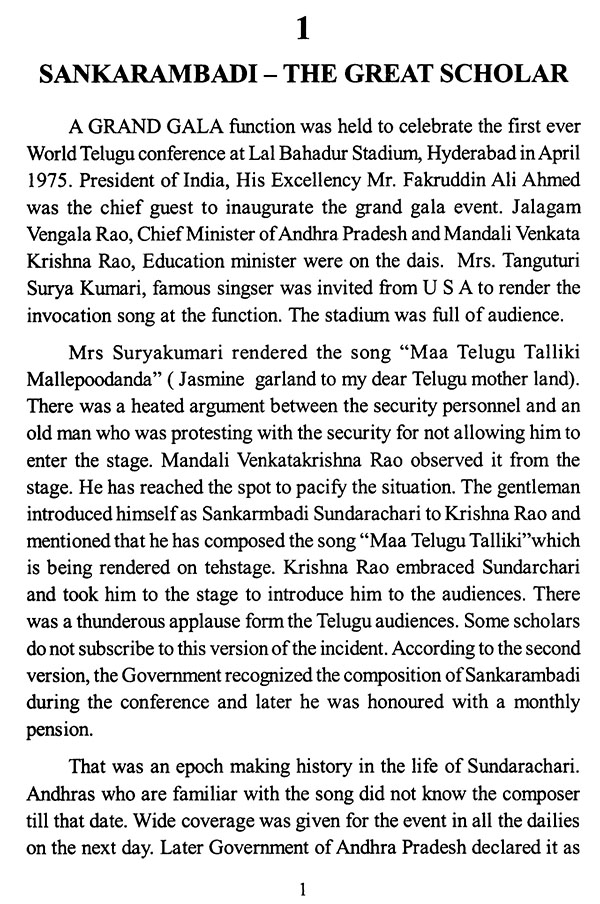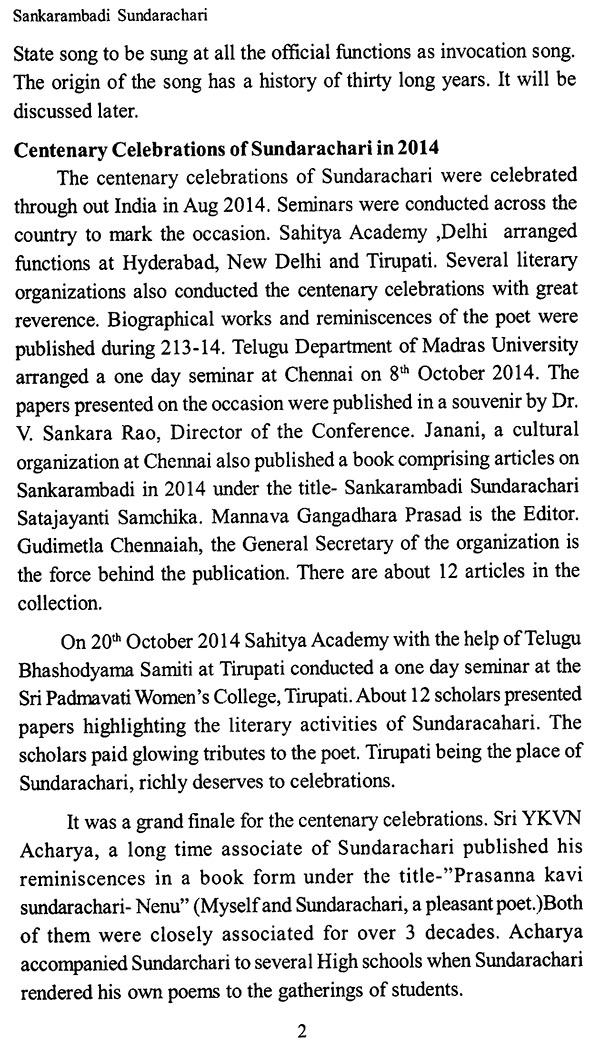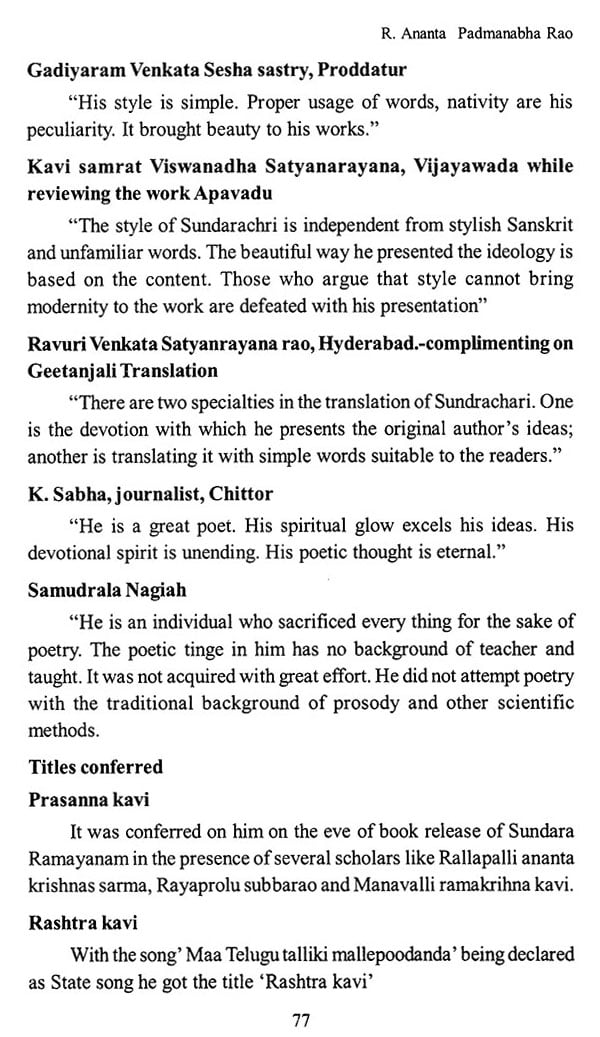 ---
We Also Recommend