Sanskrit Literature in Andhra Pradesh (Post Independence Era)
$3900

$39.00
Tax included.
Shipping
calculated at checkout.
---
---
Book Specification
Book Description
About The Book
Since very ancient period Andhra Pradesh has been the place for Sanskrit learning. During the post independence period also "Andhra Pradesh" has shown its enormous potentiality in contributing the development of Sanskrit literature. Scholars of Andhra have started their contribution from Sütra period. This. book is divided in two sections. The first section includes the district wise contribution of Andhra Pradesh and the second section covers the contribution of some individual scholars of Andhra Pradesh. In fact both sections deal with the contribution of Sanskrit scholars of Andhra Pradesh to Post Independence Sanskrit Literature. Readers can discover that the authors of the articles have explained their profound ideas on Telugu contribution to Sanskrit literature during the post independence period.
About The Author
Dr. D. Ramakrishna, Head, Deparment of Sanskrit, Maris Stella College, Vijayawada, started his teaching career at Andhra Loyola College, Vijayawada during the year 1987-88. He received his Ph.D in "Srimad Bhagavate Advaita mata Pratistha" from Centre of Advanced Study in Sanskrit, University of Pune under the guidance of world renowned scholar Prof. V.N, Jha and had his traditional learning in Nyaya and Advaita Vedanta from 'Mahamahopadhyaya' Sri. M. Manikya Sastri of Vijayawada and H.H Sri Jayendra Saraswathi Swami, Sankaracharya of Kanchi Kamakoti peetham. He created a landmark in the traditional textual study of Indian Epigraphy by his great research work "A study of Sanskrit Inscriptions in Andhra Pradesh" published by Sri Venkateswara Vedic University, Tirupathi.
Foreword
A survey of the available Sanskrit Literature reveals that the entire literature produced during the past 60 years in Andhra Pradesh can be divided broadly into two sections published and the unpublished. The published include Original Works and Translations. The first category includes poetry, prose, campu, drāmas, commentaries. Translations appeared in almost all the departments.
**Contents and Sample Pages**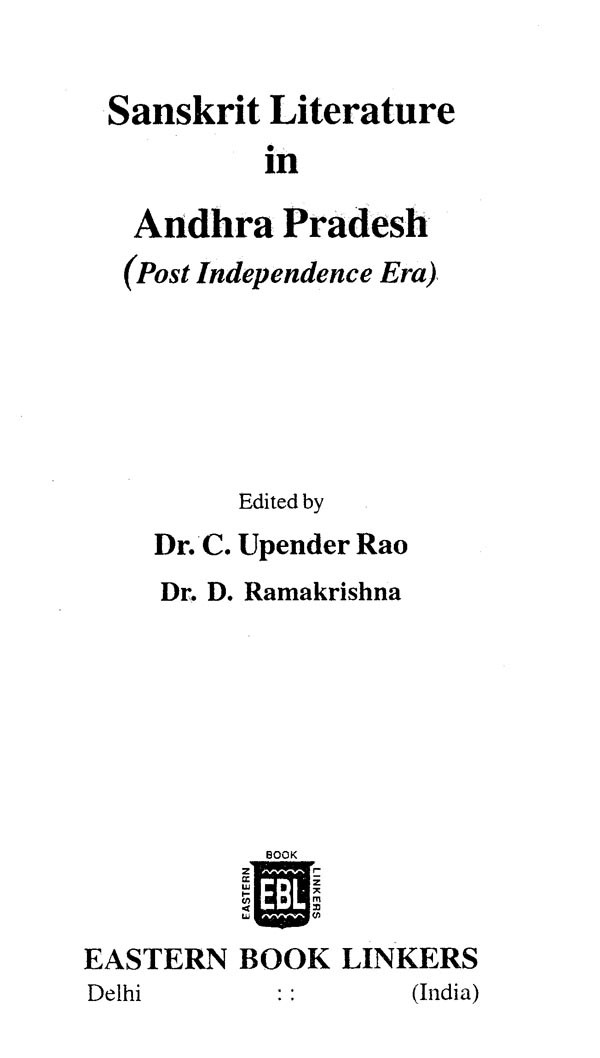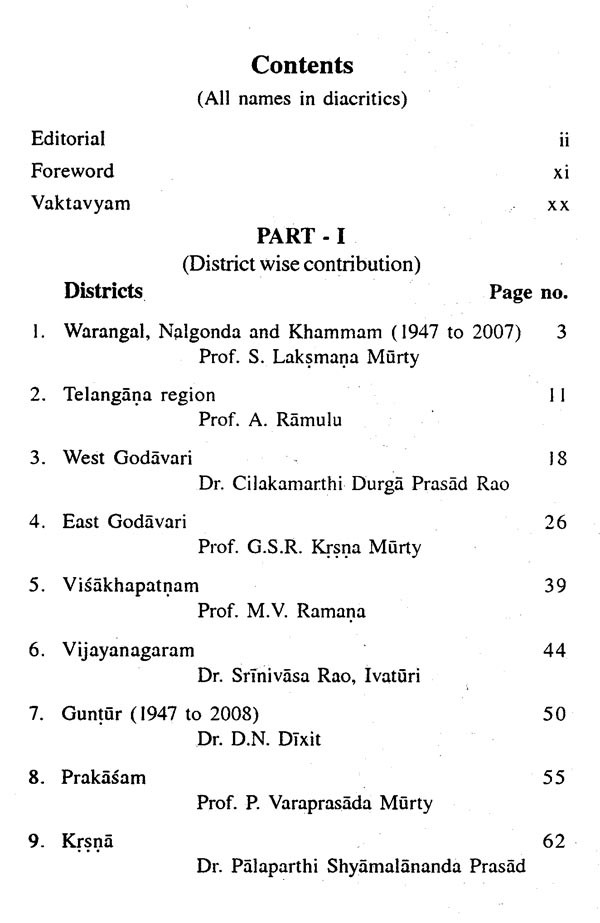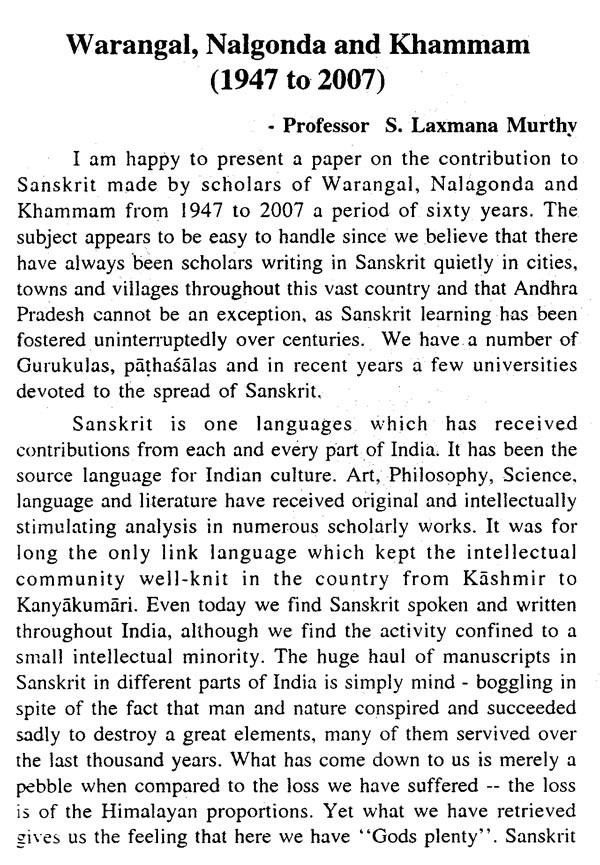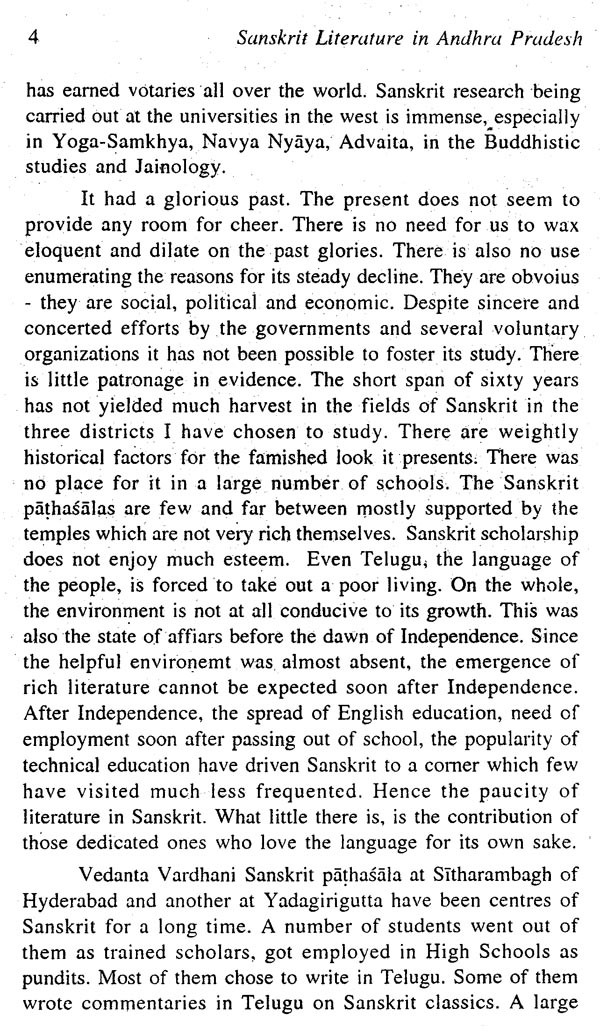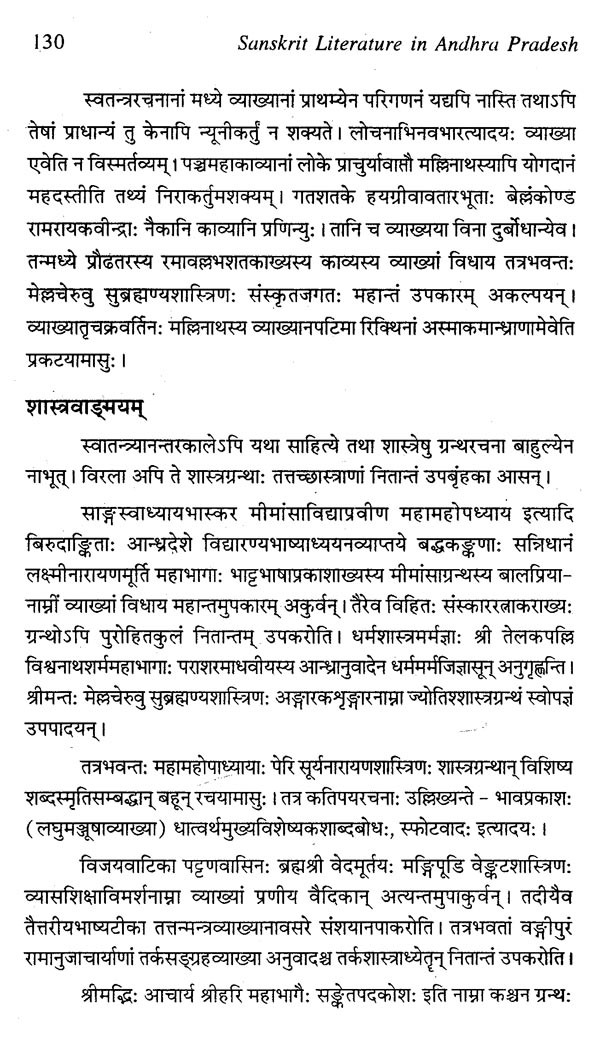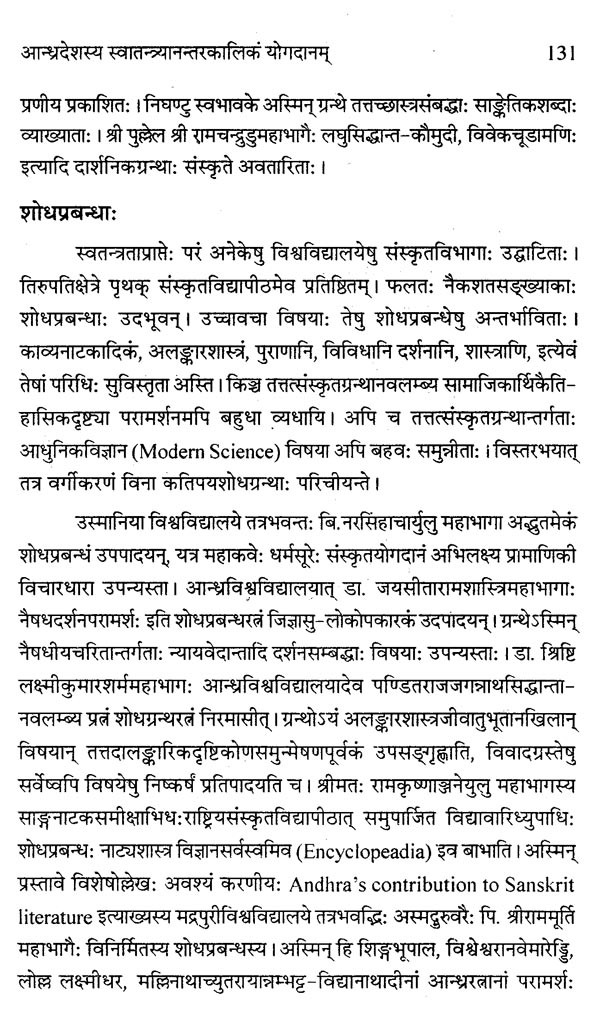 ---
We Also Recommend