Satya Vrat Shastri- Glimpses of His Writings
$3300

$33.00
Tax included.
Shipping
calculated at checkout.
---
---
Book Specification
| | |
| --- | --- |
| Item Code: | UAI255 |
| Author: | Satya Vrat Verma |
| Publisher: | Eastern Book Linkers |
| Language: | English |
| Edition: | 2018 |
| ISBN: | 9788178543536 |
| Pages: | 154 |
| Cover: | HARDCOVER |
| Other Details | 9.00 X 6.00 inch |
| Weight | 280 gm |
Book Description
Back of the Book
Born on 29th September 1930, Prof. Satya Vrat Shastri had his early education under his father, Prof. Charu Deva Shastri. He was consistently top rank holder up to Post-Graduation and won University Medals. After doing his Ph.D. at the Banaras Hindu University he joined the University of Delhi where during the forty years of his teaching career he held important positions of the Head of the Department of Sanskrit and Dean of the Faculty of Arts. He was also the Vice-Chancellor of Shri Jagannath Sanskrit University, Puri, and Orissa. He is the first recipient of the Jnanpith Award in Sanskrit, 2009 and the Padma Bhushan Award, 2010 He has the distinction of having been Visiting Professor in five Universities on three Continents. Among his many foreign students the most prominent is Her Royal Highness Maha Chakri Sirindhorn, the Princess of Thailand. He has attended and chaired a number of national and international conferences and seminars and delivered more than a hundred lectures in Universities and institutions of higher learning in Europe, North America, Southeast Asia and the Far East. Both a creative writer and a literary critic, Prof. Satya Vrat Shastri has to his credit three Sanskrit Mahakavyas of about a thousand stanzas each, a Prabandhakavya, a Patrakavya (in two volumes), three Khanclakavyas, the first ever diary in Sanskrit Dine Yati Madiyafivitam and the first ever autobiography in Sanskrit Bhavitavyanath Dvarani Bhavanti Sarvatra. The well-acclaimed critical work, The Ramayana-A Linguistic study which is the first ever linguistic appraisal of not only the Valmiki-Ramayana but of any extant Sanskrit work, Kalidasa Studies in two volumes, two studies on Thailand, Sanskrit and Indian Culture in Thailand and Thaidega ke Brahmana, Discovery of Sanskrit Treasures (in seven volumes), Sanskrit Studies-New Perspectives and Sanskrit Writings of European Scholars, more than a century and a half of research articles and Forewords to a hundred and thirty books are his contributions as a critic. He has enormous experience in translation work. He has translated A.A MacDonnell's A Vedic Grammar for Students in Hindi, Siramacaritabdhiratnam of Nityananda Shastri in English, the thousand Subhasitas, wise sayings, the Subhasitasahasri in Hindi and English, the Carjakyaniti in Hindi and English, and the select poems in different languages of poet laureates of Europe in Sanskrit. He is the subject matter of seventeen theses for the degrees of M.Phil., Ph.D. and D. Litt. in Indian Universities. He is the recipient of one hundred and five honors and awards, national and international, including Padma Shri, Padma Bhushan, President of Indian Certificate of Honor, Thai Royal Decoration "The Most Admirable Order of Direk Gunabhom", the Honor "Authority Academics Italian Strainer", the Civil and Academic Authority for Foreigners from the Govt. of Italy, the Medallion of Honor from the Catholic University, Leuven, Belgium, the Golden Prize from CESMEO, the International Institute of Advanced Asian Studies, Torino, Italy and five Honorary Doctorates from Indian and foreign Universities. In the Citation for the Honorary Doctorate at the Silpakom University, Bangkok, he was described as "a living legend in the field of Sanskrit."
About the Book
The literary output of Dr. Satya Vrat Shastri comprising a wide spectrum of creative and critical writings forms by itself a literature of sorts. While the wisdom it embodies is irresistible, its bulk is simply deterring. Even the most courageous reader would venture to wade through it with quite some caution. The monograph, its slimness apart, is addressed to bring the whole gamut of Dr. Shastri's writings within the reach of the inquisitive reader so that he may imbibe their summum bonum without undergoing the exercise of rushing through the whole mass of them. Written in a vibrant language and lively style, the monograph is sure to provide the reader winsome glimpses of Dr. Shastri's writings of all hues.
About the Author
Widely known for his writings over the last fifty years, Dr. Satya Vrat Varma got the Ph.D. degree from the University of Rajasthan, Jaipur on his comprehensive dissertation on the Jaina Sanskrit Mahakavyas. The zenith of his academic career came with the conferment on him of the D. Litt. degree by the Kumauni University, Neonatal. The conferment of Honorary Professorship on him by the Vishveshvaranand Vedic Research Institute, Hoshiarpur was another feather in his cap. Dr. Varma is well-equipped in English, Sanskrit and Hindi. He writes in all the three languages with equal felicity and ease. His rich contributions to the various branches of Sanskrit learning including the Jaina Belles Letters have brought him name and fame. He has authored till date thirty books which include the ten translated into English from Sanskrit. Of his original works Satyasudha : A Critical Evaluation of Dr. Satya Vrat Shastri's Creative Works, Glimpses of Jaina Sanskrit Mahakavyas, Mandana and His Works : An Appraisal, Panorama of Sanskrit Literature, Sathskrta-godha-parijata, Thus Spoke Emperor Ashoka have evoked wide interest. His translation of the voluminous Mahli su-bheisitasaMgraha (Vol. VIII-IX), Nagarasar-vasvam, Hanumaddutam (Nitya Nand Shastri), Bhakteimarastotram, Navodhavilasam, Nitidhanadagatakam among others, has established him as a talented translator. He has moreover contributed over two hundred research papers and articles to prestigious journals and magazines. There is hardly any journal of note to which he has not contributed over the years. Though a Sanskrit's, his interests stretch to such diverse disciplines as Ancient Indian History, Numismatics and Iconography. Dr. Varma's zeal for writing is matched by his administrative competence. He retired as P.G. Principal from the Rajasthan Education Service. Even after his retirement from service, seventeen years ago, he is pursuing his literary activities with unabated vigor. Dr. Satya Vrat is recipient of a number of Awards and Honors including the prestigious President of India Certificate of Honor, Govt. of Rajasthan Award, Rajasthan Sanskrit Academy Award and Sanskrit Seva Parisad (Jaipur) Award.
Preface
Widely acclaimed as 'a living legend' and 'a unique phenomenon', Dr. Satya Vrat Shastri represents in fact a mix of fascinating contradictions, tending to be occasionally an enigma of sorts. Basically a grammarian, he flowered into an outstanding poet of the contemporary era, standing far above. his compeers for the excellence of his muse. And setting at naught the oft-repeated charge that the poets do not make good critics he has emerged over the years as a critic of great eminence spanning in his mighty sweep the vast domain of literature, both sacred and profane. He rather symbolizes a happy synthesis of saka and vyutpatti. It is this blend of creative genius and critical acumen that has turned him into a virtual patriarch-Bhisma-pitamaha- of the present day Sanskrit world. While the corpus of his creative writings including three Mahakavyas, four khandakavyas, two considerable volumes of versified letters, besides a bunch of shorter works, all composed of as many as six thousand verses, and the three sizable prose works, as delectable as poems, owe themselves to his prolific saka, his vyutpatti finds powerful expression in an array of critical writings, with the masterly dissertation on Valmiki's language, The Ramayana: A Linguistic Study, stealing march over them all.
Dr. Shastri has the proud distinction of imparting new horizons to the Sanskrit literature otherwise conditioned by time-worn parameters. His flair for innovation manifests itself in his writings in an abundant measure. His comprehensive poems make bold to defy the theory on counts more than one. The Bodhisattvacaritam has virtually thrown the tradition overboard by opting for a disjointed theme with all the oddities inherent in it. The Ramakirtimahakavya goes a step further and makes bold to draft for it an alien-Thai- version of the Rama story, though notwithstanding the daring departures it makes from the known story, it turns out to be an epoch-making poem of the contemporary era. His penchant for udbhaoana, innovation, is perceptible in his pronounced predilection for the historical themes, which form the warp and woof of, besides the Indiragandhicaritam, the delectable khandakavyas, the Thadesaoilasam and the Srigurugooindasimhacaritam, which combine to impart a winsome flavor to the historical writings in Sanskrit, as a whole. The Brhaitaram Bharata, a verbal replica of the glory of Greater India, Southeast Asia, also serves in its own way to strengthen the author's commitment to the historical narratives.
Apart from lending a new aura to the known literary forms through the gamut of innovations imaginatively introduced therein, Dr. Shastri has been instrumental in introducing some such literary forms themselves as were hitherto fore unknown to the Sanskrit literature. With him thus rests the credit for investing the banal practice of letter- writing with, literary overtones through the corpus of his versified letters some of which are as good as mini-kavas. It is again to him that we owe the first diary, Dine Yati Maiyajivitam, and autobiography Bhavitavyanarh Dudrani Bhavanti Sarvatra, ever written in Sanskrit which, with their engaging contents, and diction, has the credentials of a gadya-kavya. To him again goes the credit for putting the travelogue literature in Sanskrit on a firm footing.
Book's Contents and Sample Pages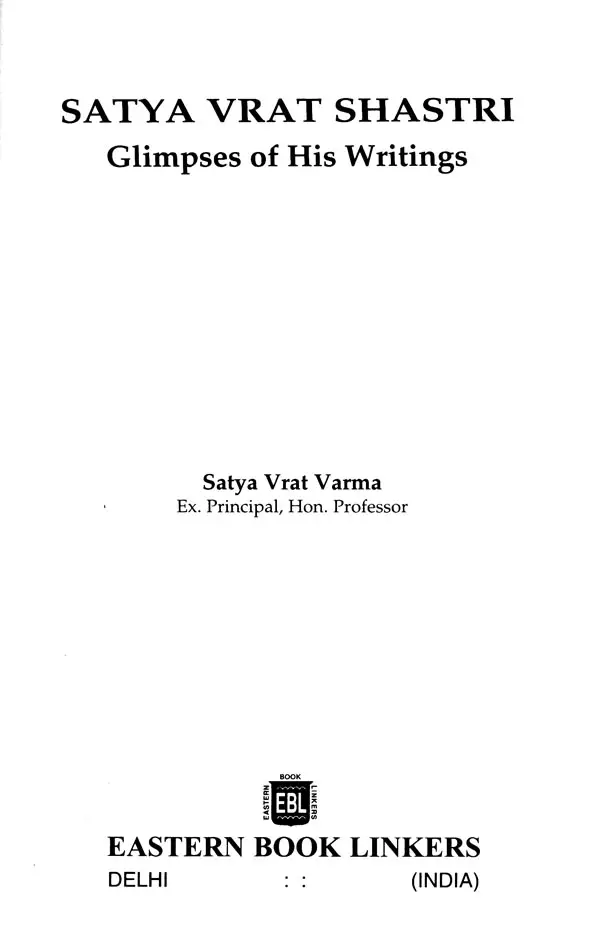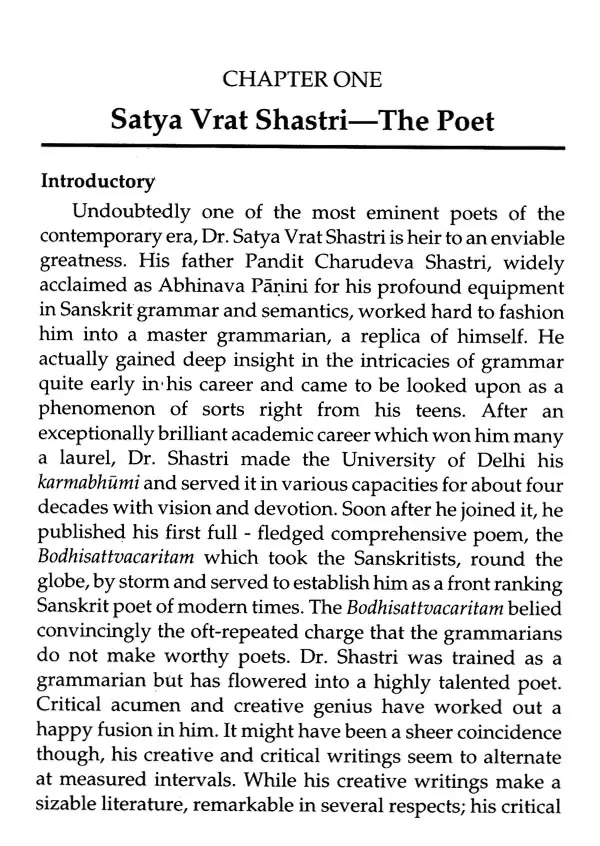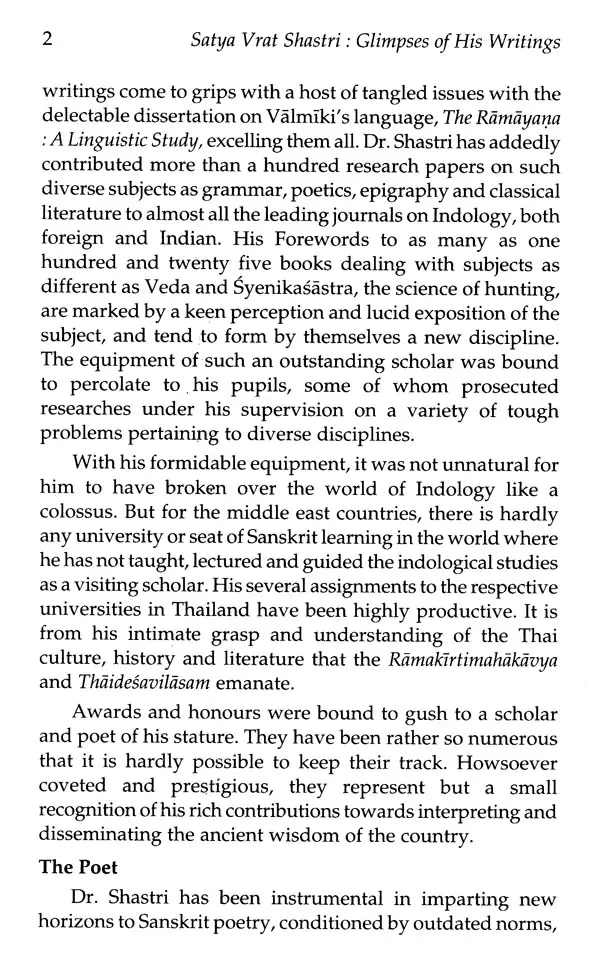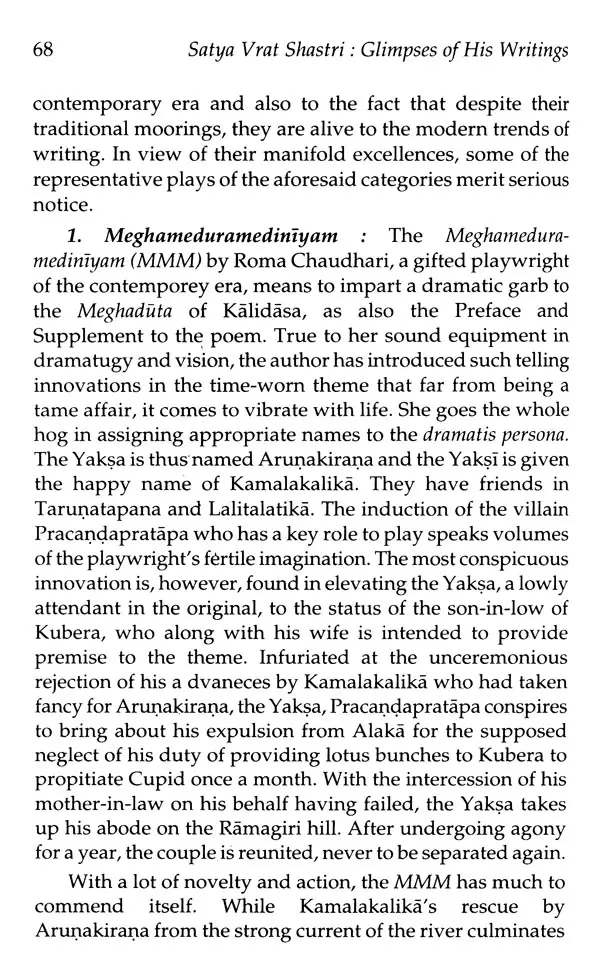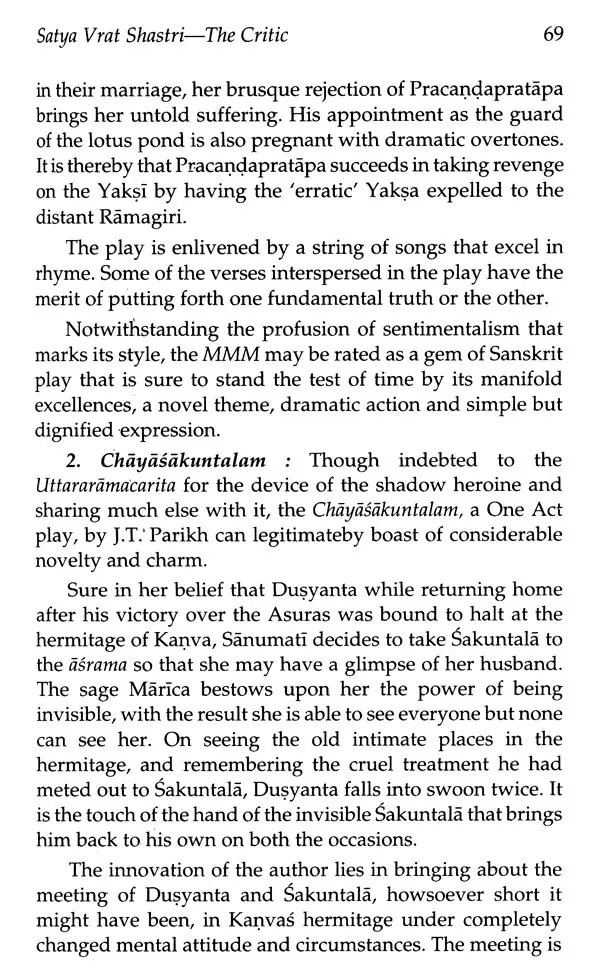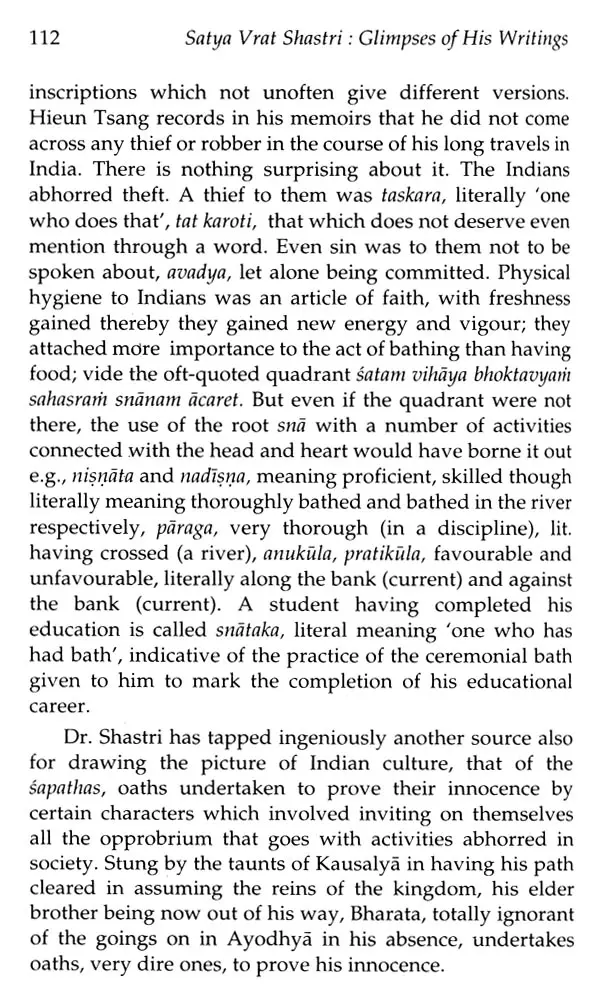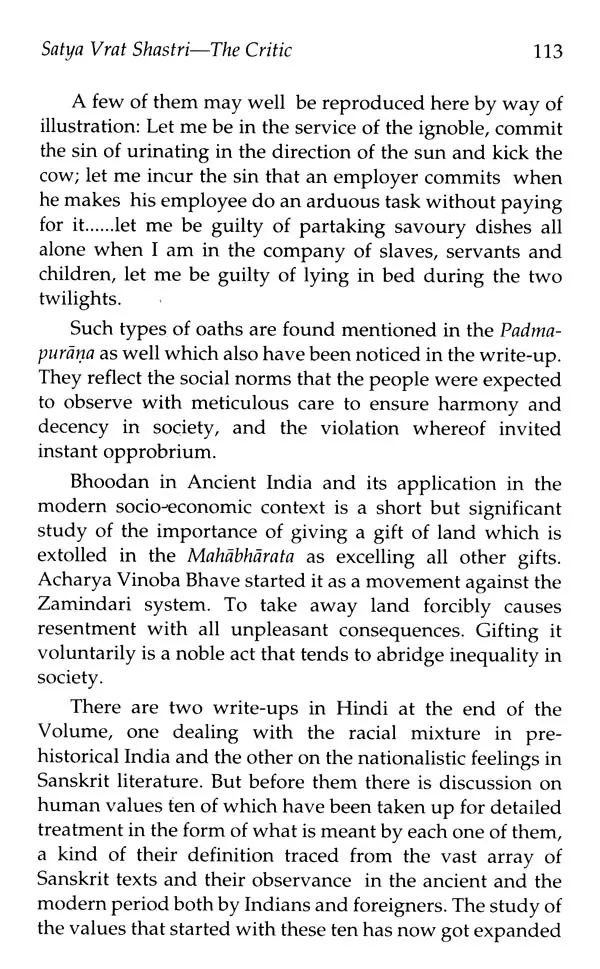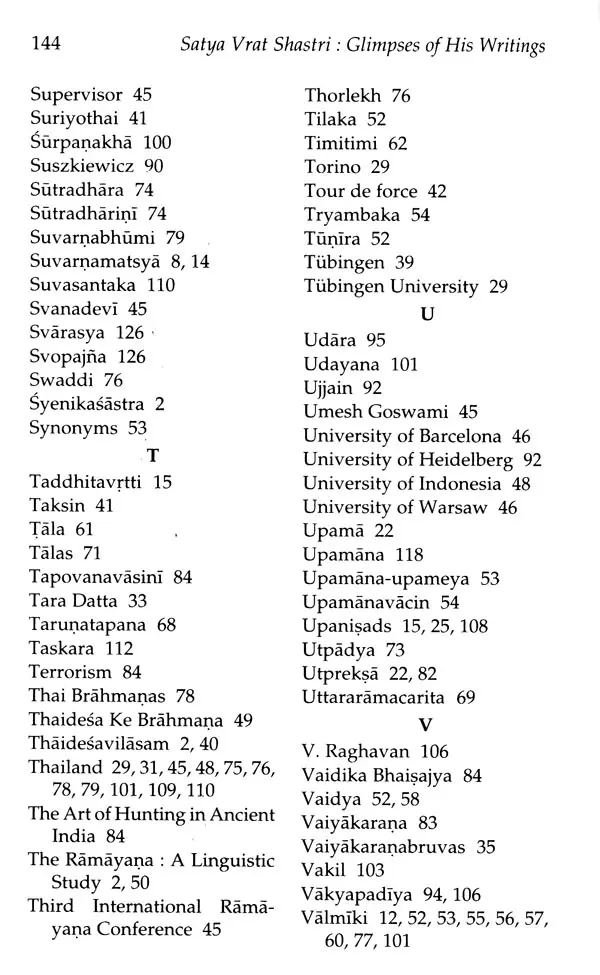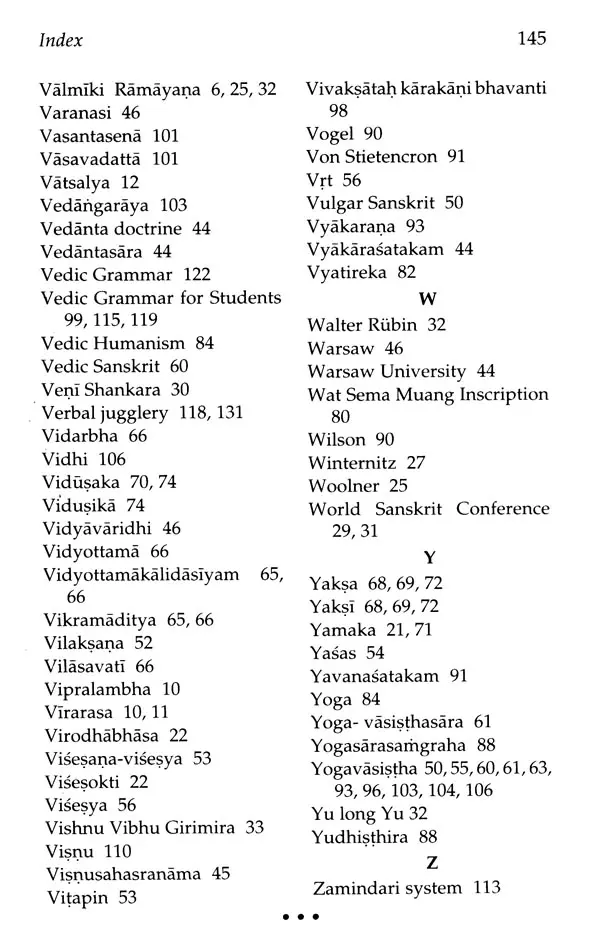 ---
We Also Recommend