Siksa Samuccaya (A Compendium of Buddhist Doctrine)
$3200

$32.00
Tax included.
Shipping
calculated at checkout.
---
---
Book Specification
Book Description
About the Book:
This is the first Indian edition of the English translation of Siksasamuccaya - a Mahayana Buddhist treatise edited by Dr. Bendall from a single Nepalese manuscript for the Russian Bibliotheca Buddhica.
The book is a compendium of Buddhist Doctrine preserved in the schools of the Great Vehicle - Mahayana. It presents as its subject matter, the code of righteous conduct for the enlightenment of the aspirant. It embodies instructions for the accumulation of six Perfections, viz. Liberality, Morality, Patience, Manliness, Meditation, and Wisdom.
The book is divided into nineteen chapters. The first eight chapters emphasize the avoidance of Evil and Self-purification. Chapters IX-XV deal with the Perfection of Patience, Strength, Contemplation and Religious Actions. Chapters XVI-XIX read a lesson in the increase of Good Conduct, Holiness, Recollection of three Jewels and the Praise of Worship.
The translation is authentic and authoritative. The Book is interesting and instructive. There is also an alphabetical index of quoted works and a general index.
CONTENTS
CHAPTER
SALUTATION TO ALL BUDDHAS AND BODHISATVAS
THE DUTY OF SELF-PRESERVATION
AVOIDANCE OF EVIL
AVOIDANCE OF EVIL
AVOIDANCE OF EVIL
PRESERVATION OF THE PERSON
CARE OF ENJOYMENTS
PURIFICATION FROM SIN
THE PERFECTION OF PATIENCE
THE PERFECTION OF STRENGTH
PRAISE OF THE FOREST SECLUSION
PREPARATION OF THE THOUGHT
SUBJECTS OF INTENT CONTEMPLATION
SELF-PURIFICATION
PURITY IN ENJOYMENT AND RELIGIOUS ACTION
THE INCREASE OF GOOD CONDUCT
THE CRAISE OF WORSHIP
RECOLLECTION OF THE THREE JEWELS
INCREASE OF HOLINESS
Sample Page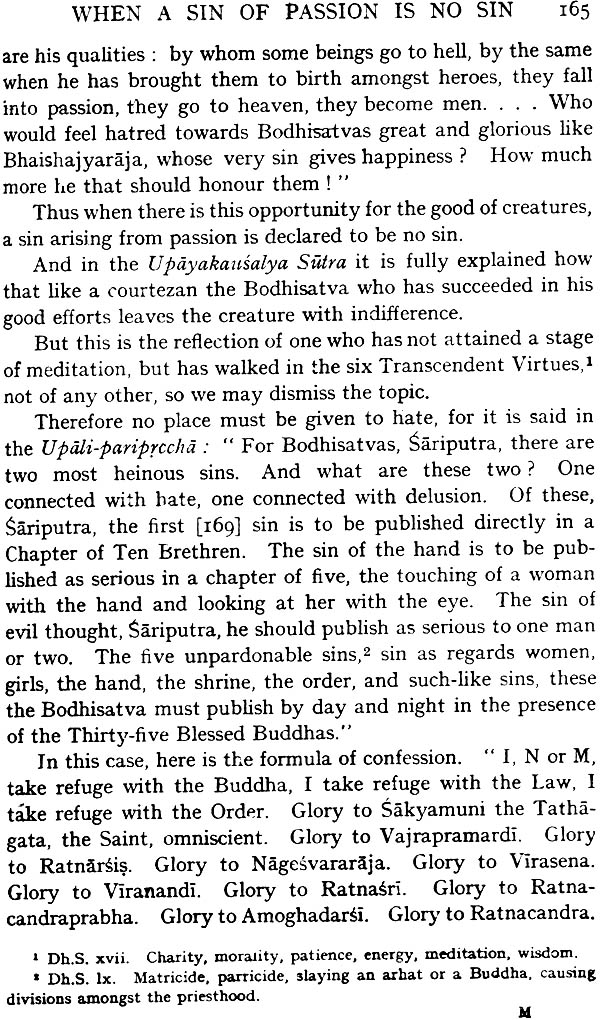 ---
We Also Recommend