Sri Dasam Granth Sahib (Set of 5 Volumes)
$41900

$419.00
Tax included.
Shipping
calculated at checkout.
---
---
Book Specification
| | |
| --- | --- |
| Item Code: | AZH374 |
| Author: | Gurbachan Singh Makin |
| Publisher: | Lahore Book Shop, Ludhiana |
| Language: | Punjabi Text with Transliteration and English Translation |
| ISBN: | 9788176473996 |
| Pages: | 6975 |
| Cover: | HARDCOVER |
| Other Details | 10.00x7.50 inches |
| Weight | 11.18 kg |
Book Description
Preface
This publication had been delayed for a number of years due to various reasons; but now the original text has been included in Roman version also for the benefit of non punjabi readers. This has resulted in the book taking a voluminous form, keeping the total number of five books only in a set of the Dasam Granth.
a) 'Jaap Sahib' is given the first prominent position in all the versions of the Granth. Just as Guru Nanak had praised the seen and unseen presence of Lord through Japji, Guru Gobind Singh has done it in Jaap Sahib by hailing the Lord with various qualities and functions. "Just as in the end, the Guru exclaims dukhalang pranasi, "dayaling saroopai sada ang sanghai, abhangang bebhootai."
b) Akal-Ustat: It is a version of prayers to The Lord in a beautiful manner. It follows the Brij version of language, with the use of Persian and Arabic vocabulary at places.
c) Bachittar Natak: Some of the other texts like Chandi Charitar, Choubis Avtar (Brahma and Rudar Avtar) are a part of Bachittar Natak only. The language used is Brij mainly, alongwith Arabic and Rajasthani at places. d) Chandi Charitar I & II: After the details of Bachittar Natak dealing with his own life etc. Chandi Charitar in two episodes is based on Markandai Puran.
It includes 233 Chhands and seven chapters; with nine Chhands dealing with the victory of 'gods' followed by the praise of goddess Durga; and the author's prayers for the attainment of unity with Lord-Sublime. In the first Chapter, 12 Chhands were used for praising the Lord, the valour and praises of the goddess is stressed. This whole episode is explained briefly in the Ist Chapter of 40 chhands dealingwith the battle and destruction of 'Mehkhasur', who had defeated the gods. Durga then promised them (gods) help finally killing Mehkhasur and giving the kingdom to god Inder; which compares well with 82nd+ 83rd Chapters of Markandai Puran.
The 3rd Chapter deals with the battle against demons shumbh and Nishumbh. Detailing the beauty of goddess Durga, despatching of demon Dhrunlochan for battle against the goddess, and his final death, with the appearance of 'Kali goddess, making the battle as horrible. Chandi Charitar deals with the whole episode, including details of demons Chand and Mund (as per chapters 84, 85, 86 of the Markandai Puran), briefly but beautifully. In the 6th Chapter, after the death of demon Rakatbeej, the demons Shumbh and Nishumb came forward with a huge force but finally they were defeated and killed.
In the last chapter of nine Chhands, the gods praise the goddess. According to poet kosal this poetic description is a great expression of poetic beauty. In the IInd Chandi Charitar there are 262 Chhands, with 8 Chapters. This is supposed to be based on Devi Bhagwat Puran and Markandai Puran as per some scholars.
Foreword
Bhai Gurbachan Singh is a well known scholar who has written an exegesis of the entire Sri Guru Granth Sahib in Scholastic English with great dedication and devotion. He spent ten long years to accomplish this remarkable task. Besides, he has written a book in Punjabi.
'Amrit Boond Suhaavani' Which contains meanings and explanation of all the 'Pause Verses' in the Sikh scripture.
Three years ago, another idea came into his mind that he should prepare an English annotation of the 'banis' of Sri Guru Gobind Singh Ji, which is not available in the market. In this series, the first volume prepared by him is in your hands. It contains the original text in Panjabi and Roman transliteration (on the left) page followed by their translation into English (on the right). It will prove to be very useful to the English knowing readers.
A Gursikh reads or recites five "Nitnem banis' in the morning and two in the evening without fail. These include three 'banis' (compositions) of the Tenth Guru Sahib: 1. Jaap Sahib, 2. Swaiyyas Patshahi Dasvin 3. Kabio Vach Benati Choupaice(Patshahi Dasvin). In the present time, some misguided and mistaken scholars create misconceptions about these 'banis' (compositions). While administering 'amrit', a sikh is instructed to read/recite these 'banis' (compositions) regularly. The command of the 'Panj Piaras' (Five Beloved ones) is the Guru's command, which we must obey humbly; controversy about them is uncalled for. The entire 'Jaap Sahib' composition is uttersd in praise of the Timeless Lord. In the very first stanza Guru Sahib says:
That Lord is immovable or eternal Being. He has neither any mark nor sign, not form, nor complexion, nor caste, nor clan. He is self illumined and this glory is very intense and powerful. His name is indescribable.
Introduction
The original granth, called Vidya Sagar, weighing about nine maunds, including the poetry of Guru Gobind Sing Ji and other learned poets, seems to have been destroyed in the devastating currents of Sarsa Reviulet while the Guru abandoned the fort of Anandpur Sahib in 1704 and headed for Chamkaur Sahib alongwith 40 Sikhs only.
Then the first attempt to collect and combine the various remnants of different poetic versions of the Guru remaining safe with certain Sikh followers was made by Bhai Mani Singh the first Sikh Granthi of Darbar Sahib, Amritsar in the form of a Pothi about 50 years later on Bhai Deep Singh, Bhai Sukha Singh and some others made similar attempts to publish a version of Dasam Granth. Out of all these versions the most important are Bhai Mani Singh Beer, Topkhana Patiala Wali Beer (Moti Bagh Gurdwara) and Sri Patna Sahib Wali Beer. All these versions differ briefly in their contents due to various reasons. In 1897 Gurmat Pracharak Sabha Amritsar collected about 32 versions of this Granth. The various Banis (Poetic versions) constitute the Dasam Granth as follows:
i)Jaap, ii) Akal Ustat, iii) Bachittar Natak, iv) Chandi Charitar-I, v) Chandi Charita'r-II, vi) Vaar Sri Bhagouti Ji Ki (Vaar Durga), vii) Gyan Prabodh, viii) Choubis Avtar, ix) other Avtars (Brahma, Rudar), x) Shabad Hazarai, xi) Swaiyyas, xii) Khalsa Mehma, xiii) Shastra Naam Mala, xiv) Charitar Pakhiyan and xv) Zafar Nama & (Haqaitan). In this report Giani Sardul Singh had clarified all the doubts about its authenticity. Then in 1902 Bhai Bishan Singh (of Sangrur) confirmed its author as Guru Gobind Singh based on certain facts and reasoning. Then in 1950 Dr. Trilochan Singh also confirmed 'Dasam Granth' as authored by the Guru himself.
**Contents and Sample Pages**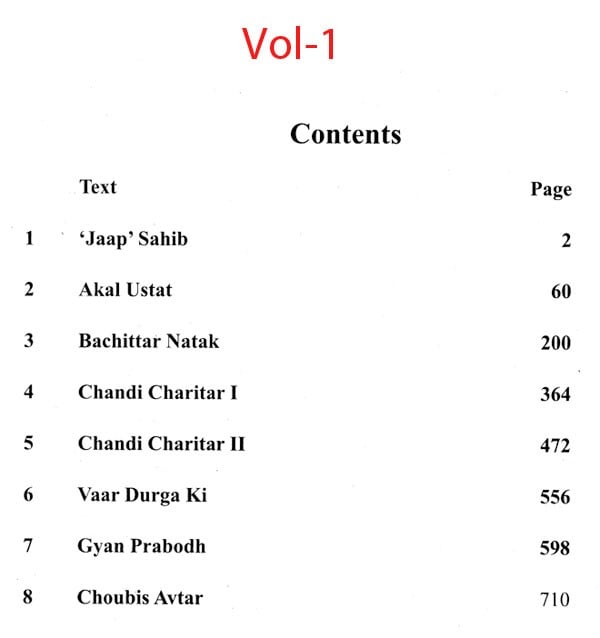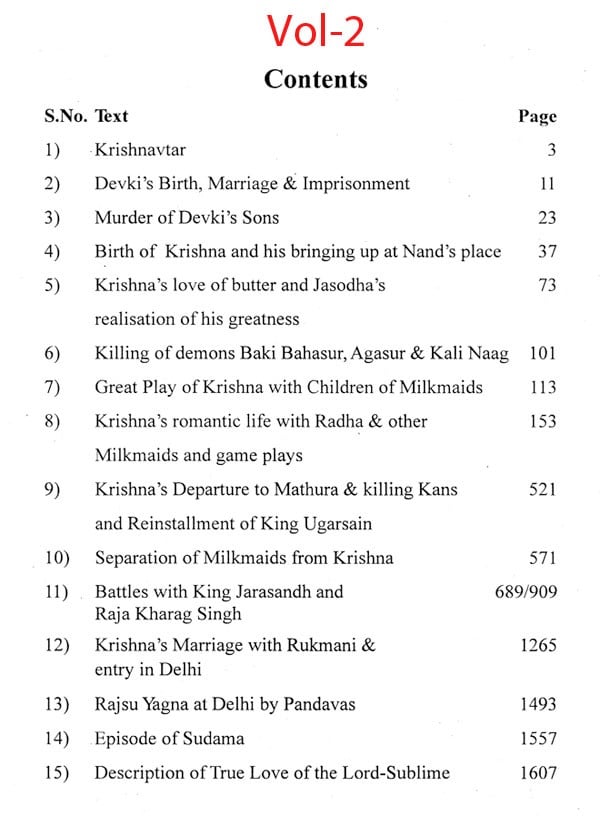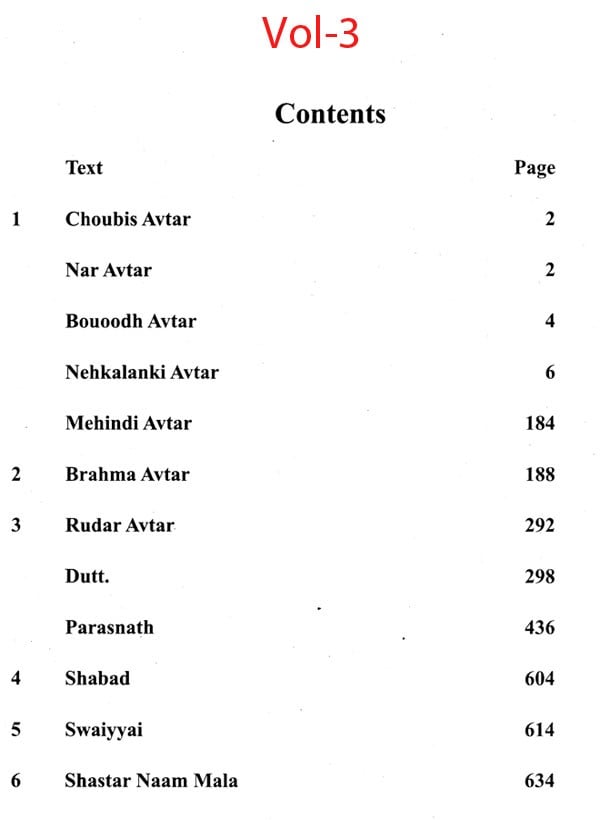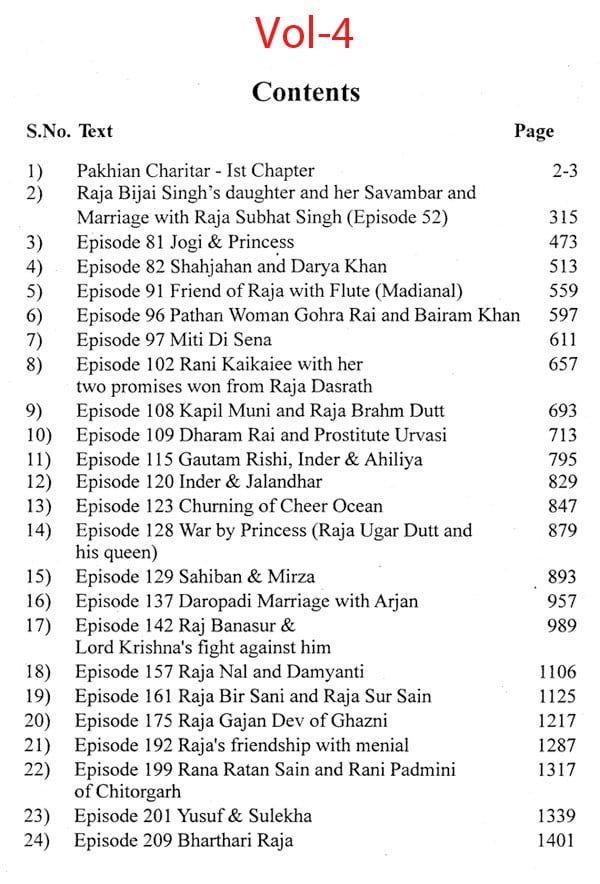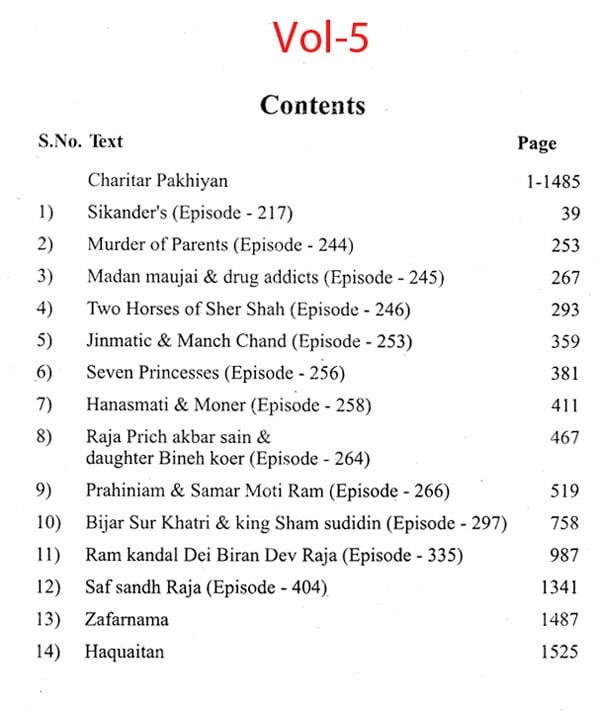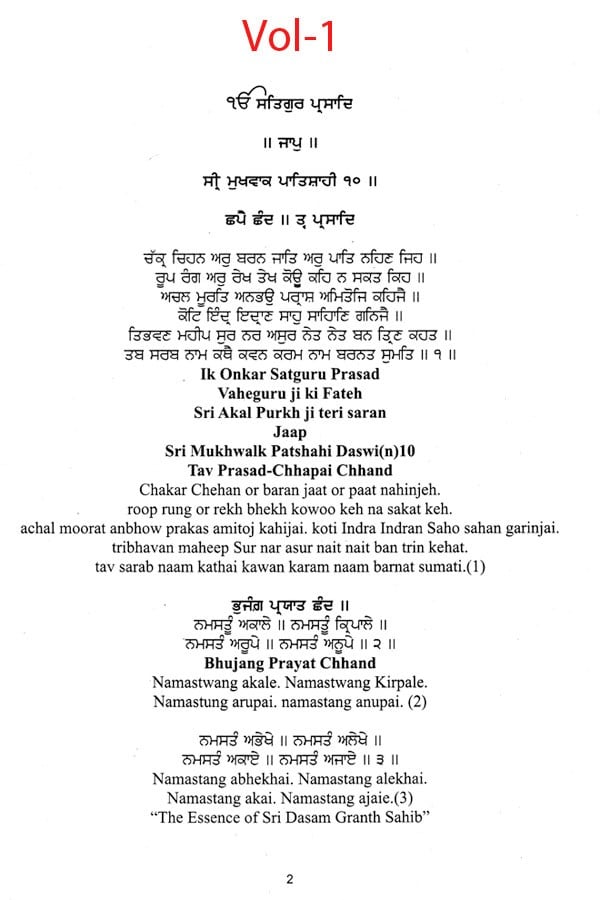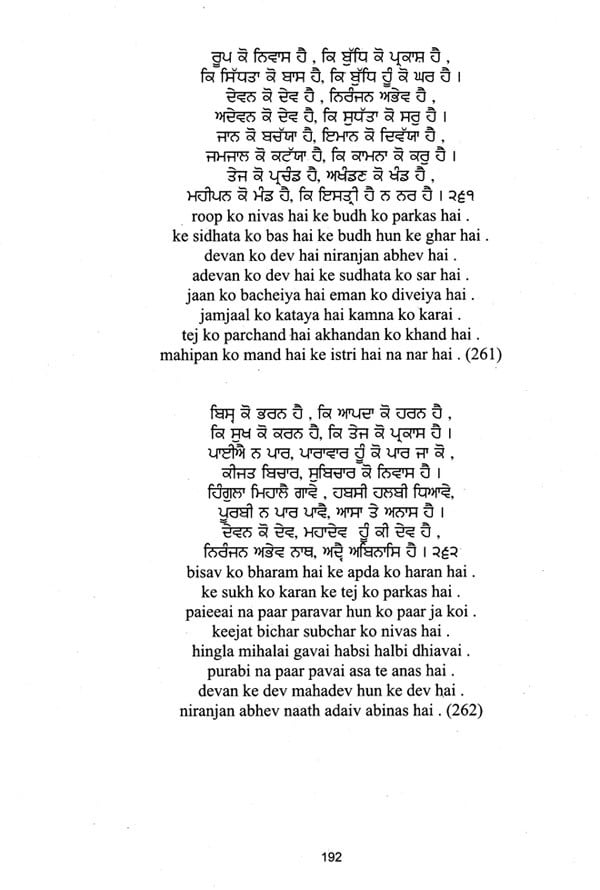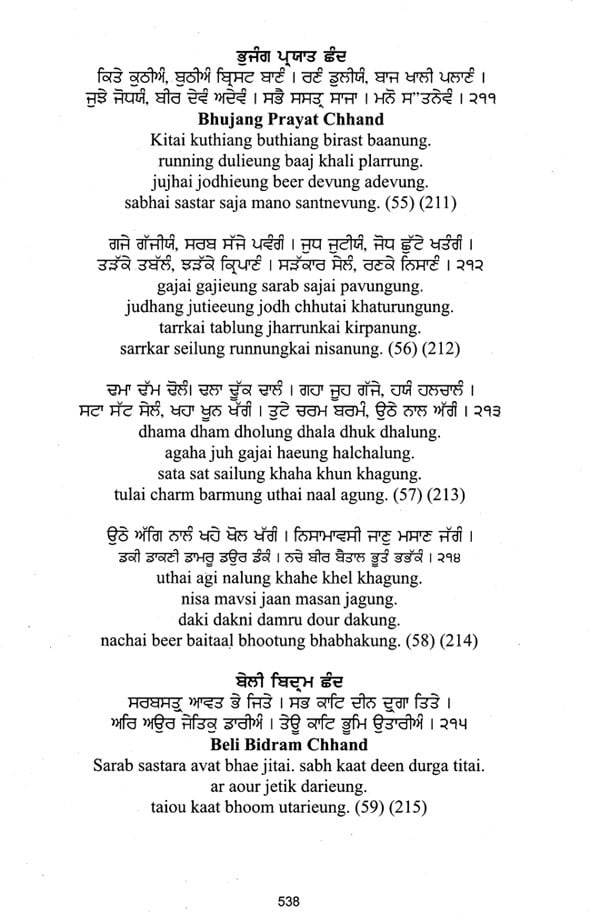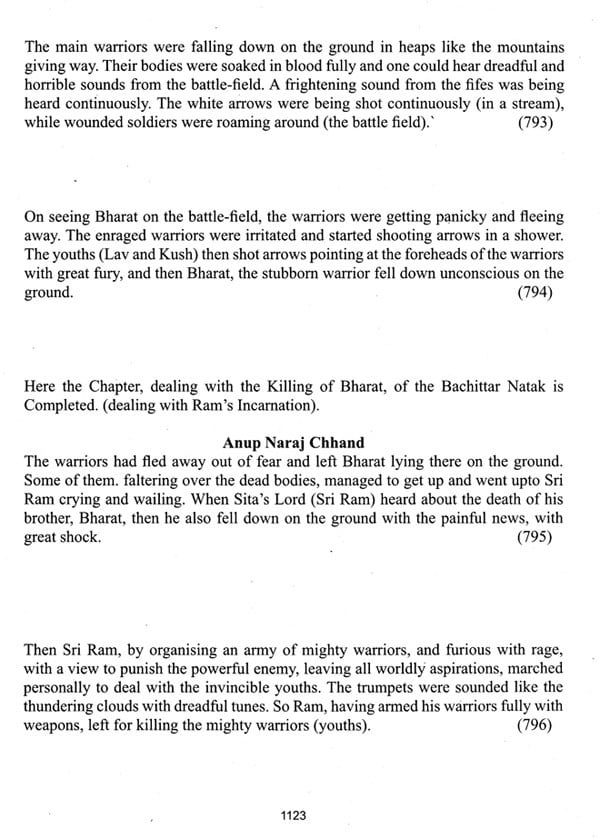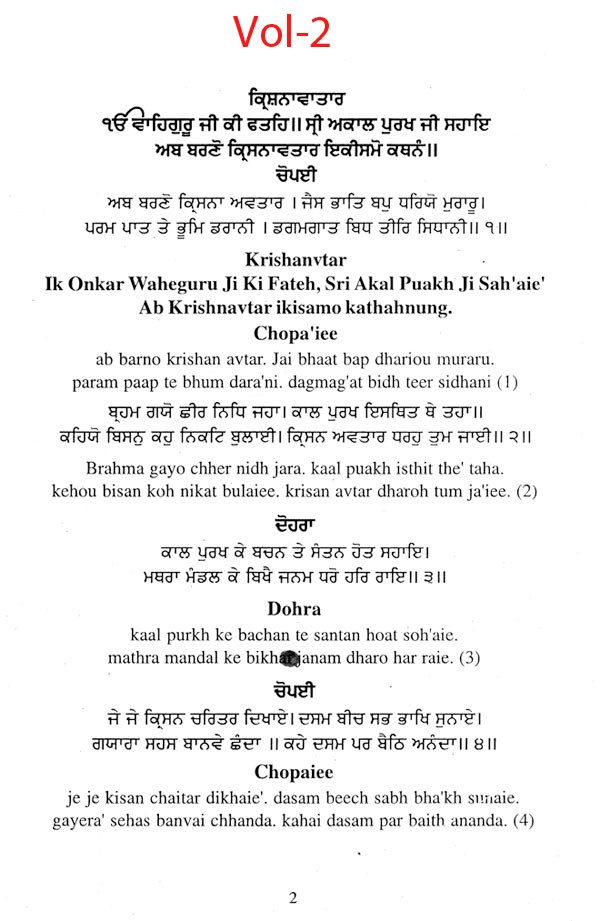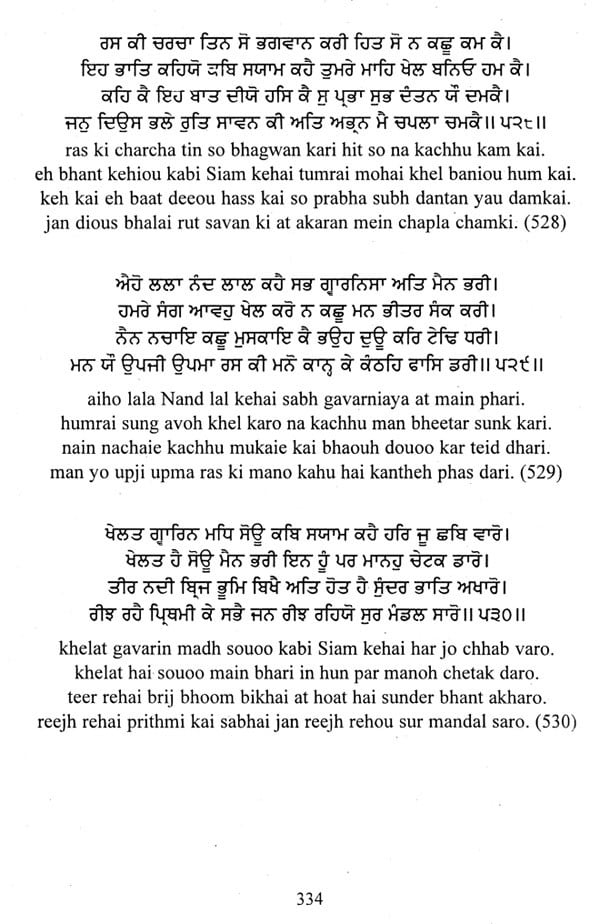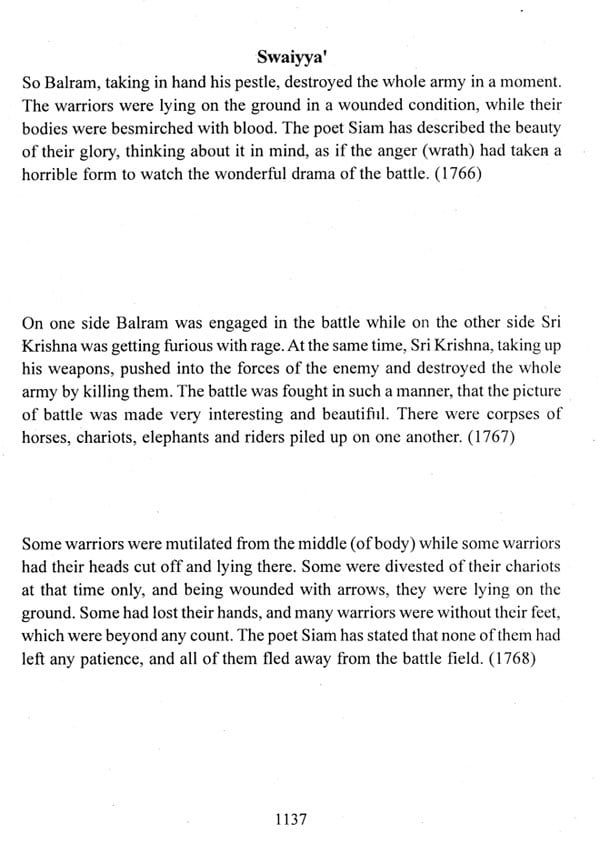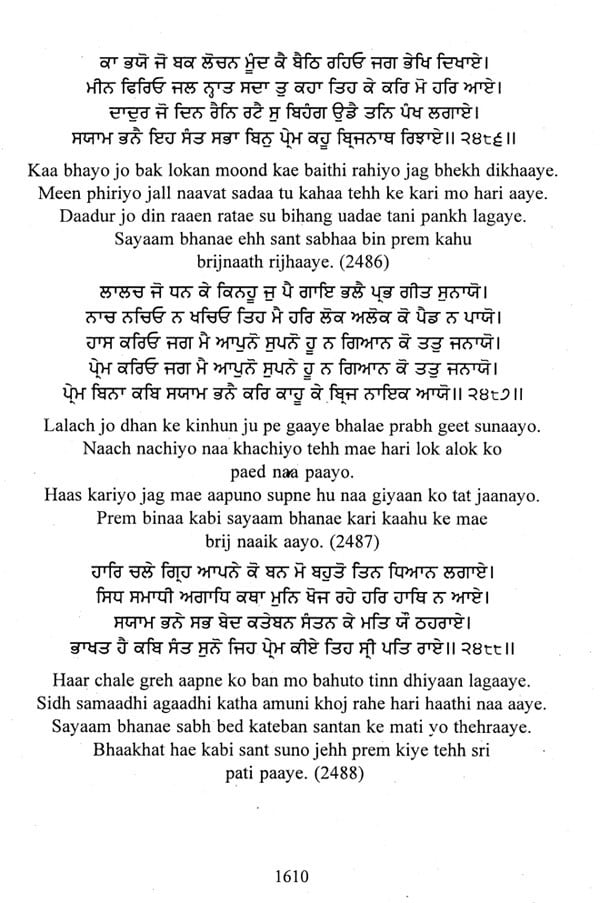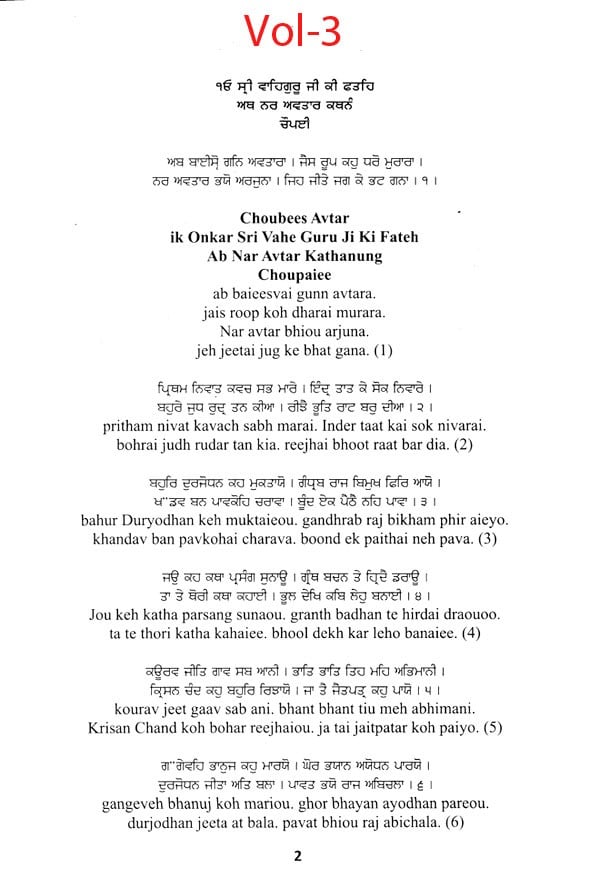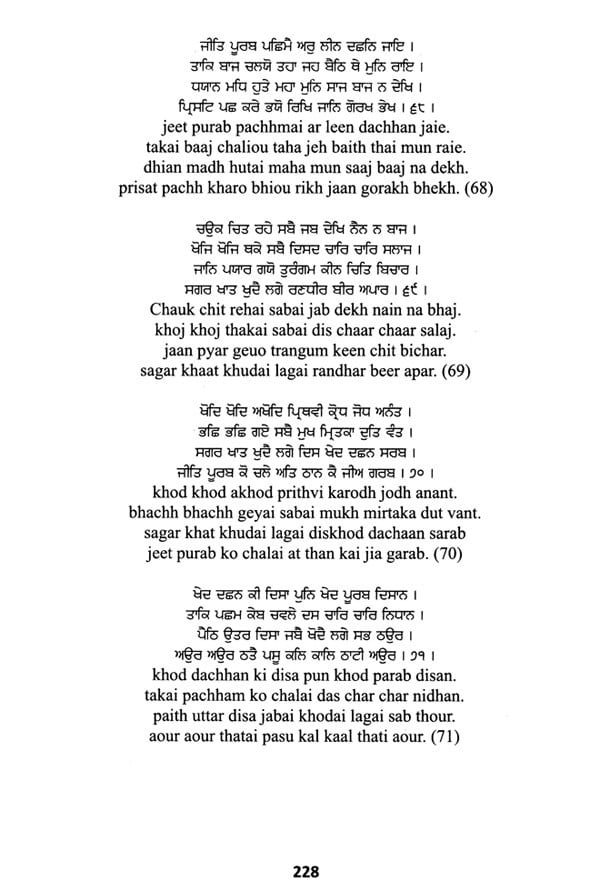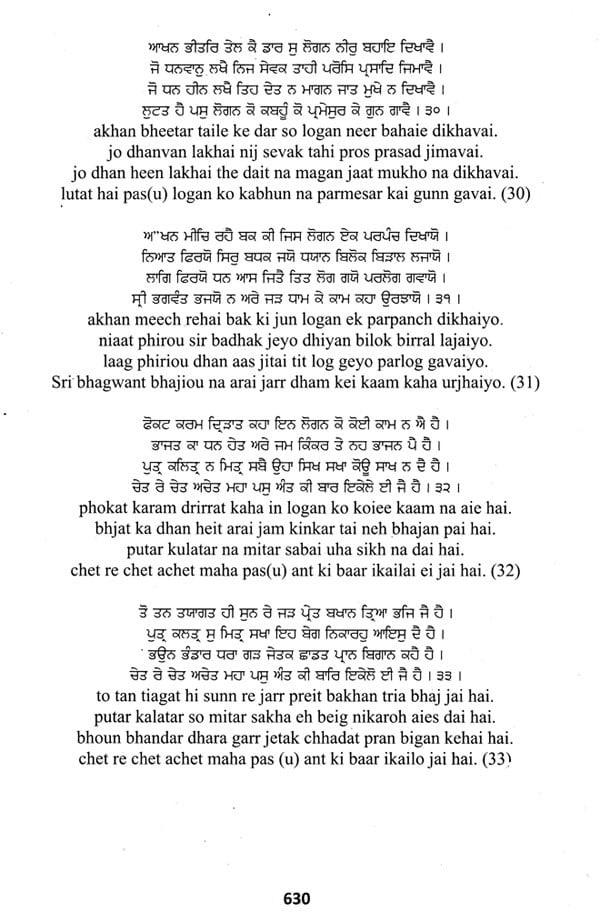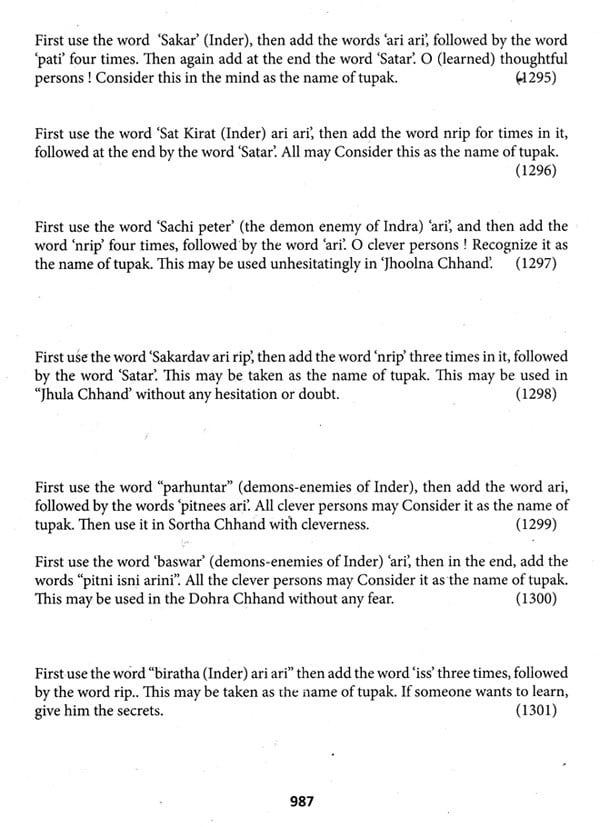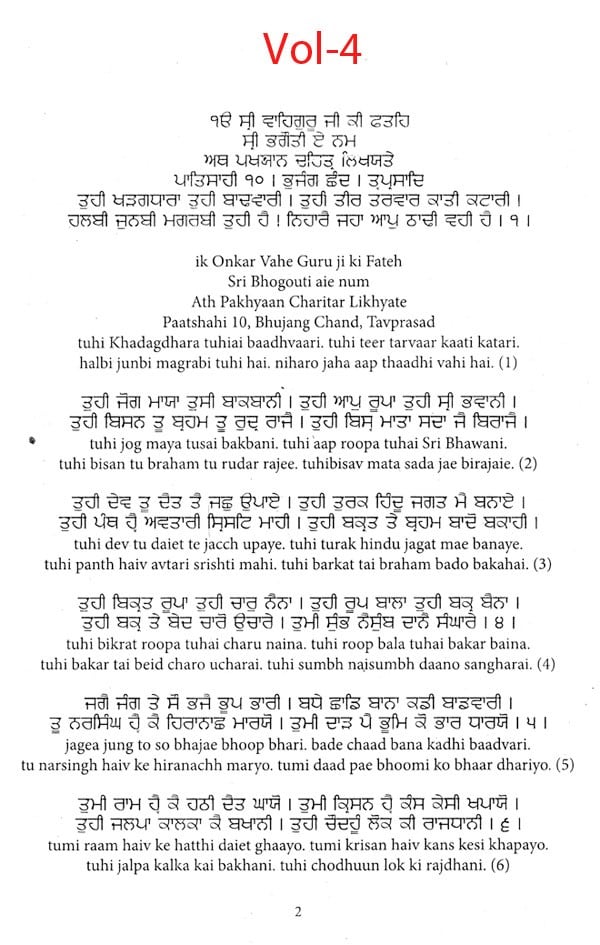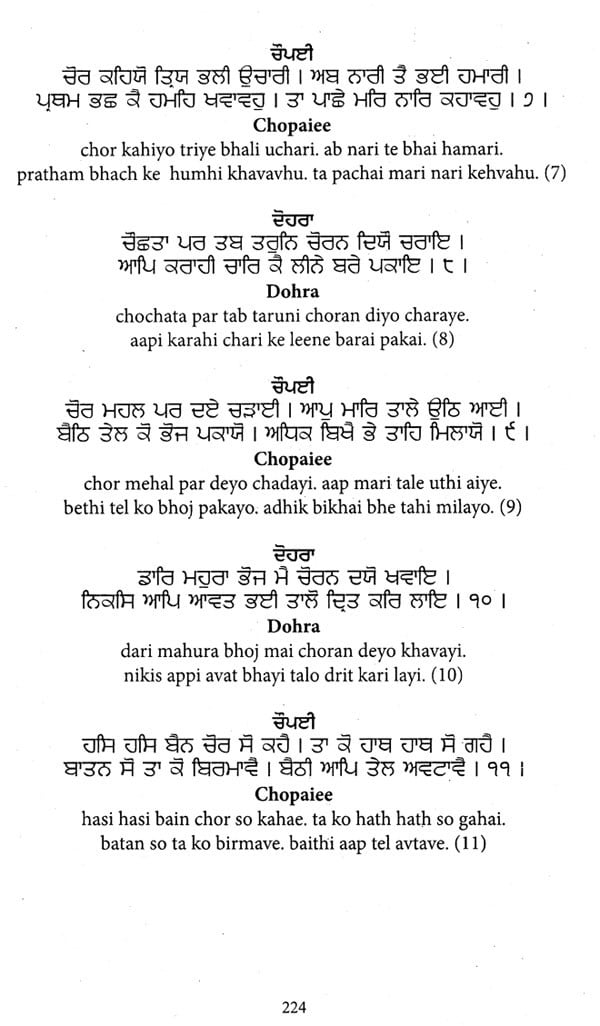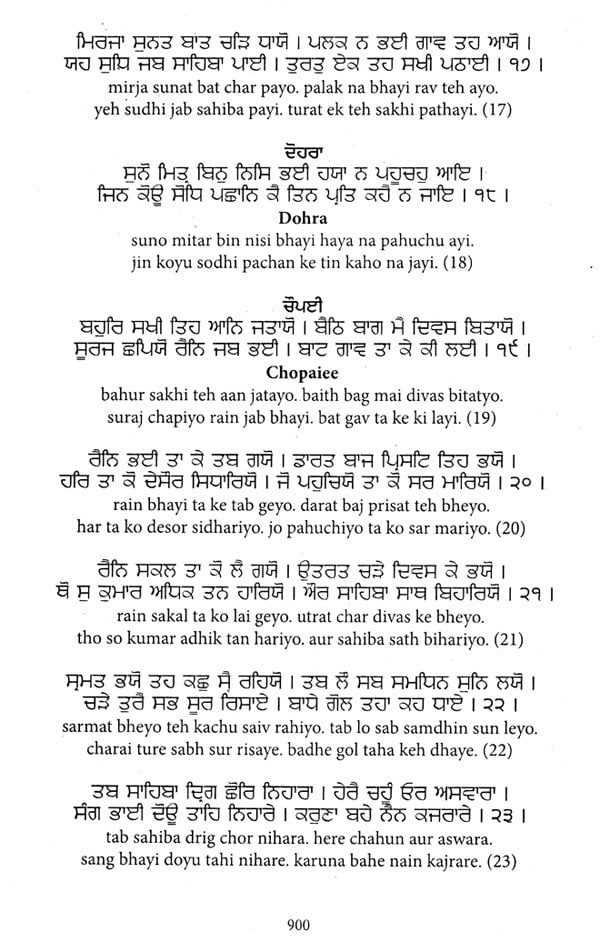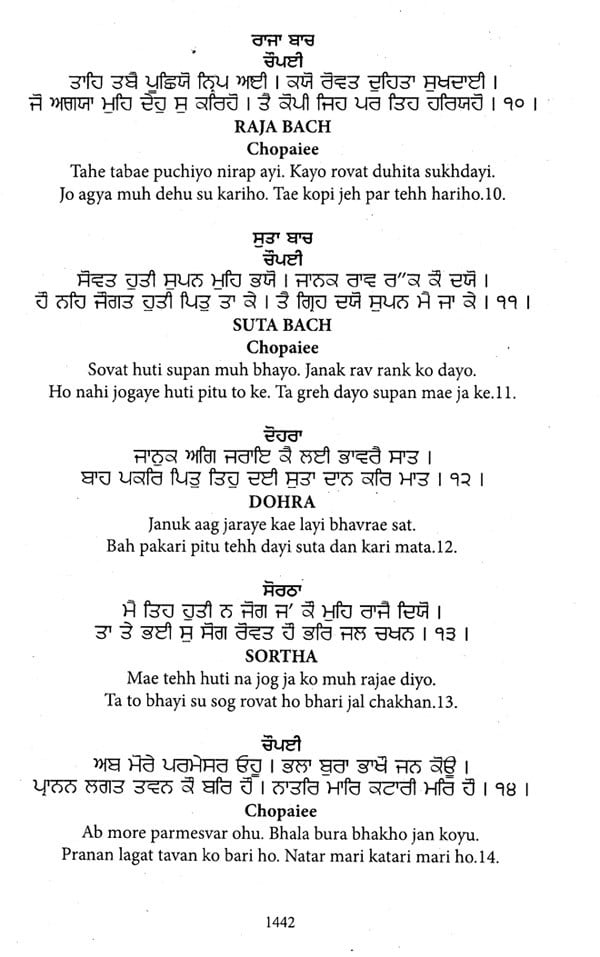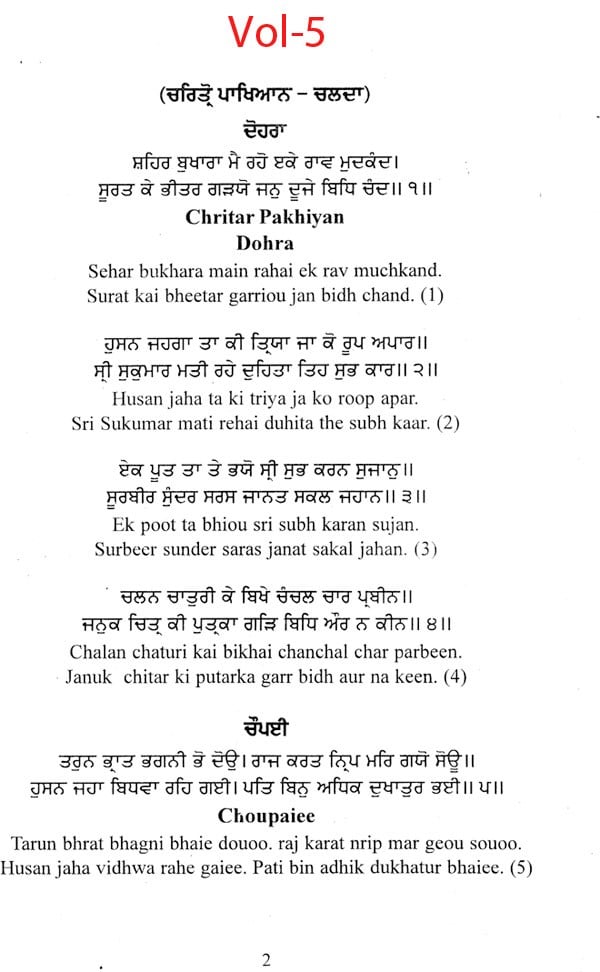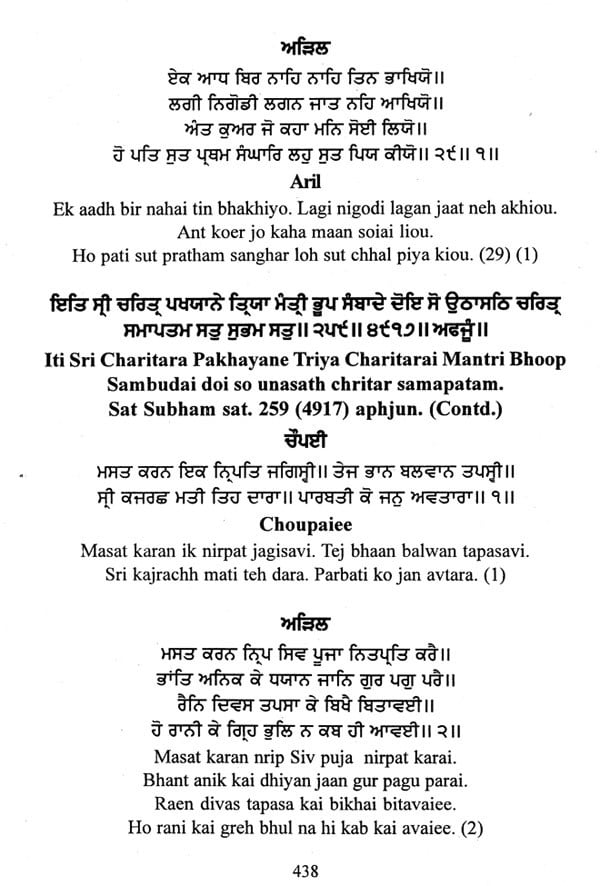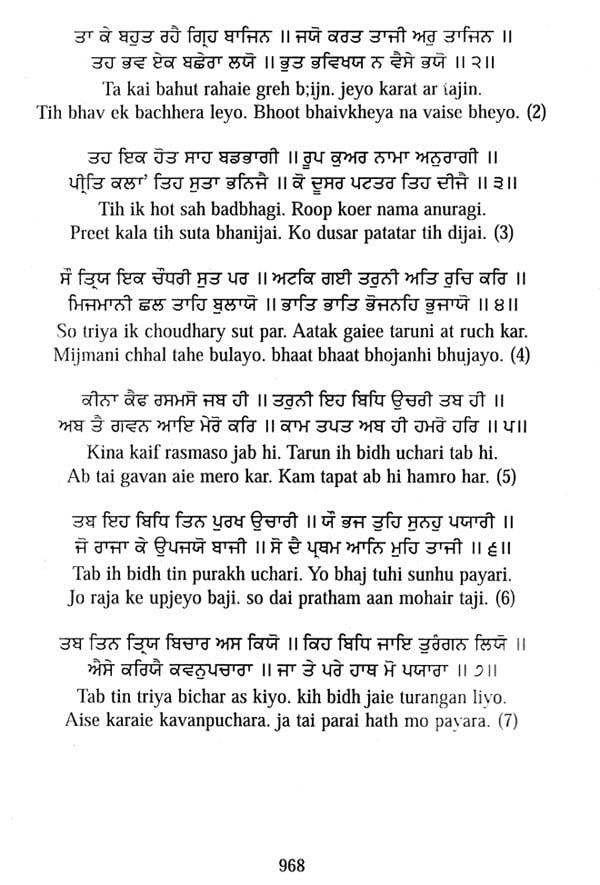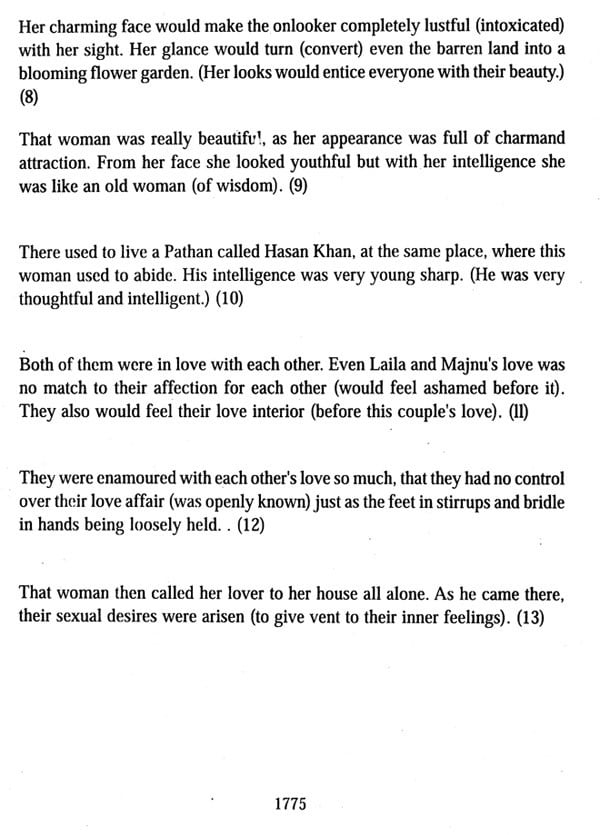 ---
We Also Recommend