Sri Shyama Shastri Kritis (Transliterated Text)
$1600

$16.00
Tax included.
Shipping
calculated at checkout.
---
---
Book Specification
| | |
| --- | --- |
| Item Code: | NAI102 |
| Publisher: | GIRI TRADING AGENCY PVT LTD,CHENNAI |
| Language: | Transliterated Text |
| Edition: | 2013 |
| ISBN: | 9788179505922 |
| Pages: | 80 |
| Cover: | Paperback |
| Other Details | 7.0 inch x 4.5 inch |
| Weight | 60 gm |
Book Description
About the Sri Shyama Shastri
Sri Shyama Shastri was one among the trinity of Carnatic music (Tyagaraja, Muthuswamy Dikshitar and Shyama Shastri). He was a personal friend of Tyagaraja.
He was born to a scholarly Tamil Brahmin priest by name Viswanatha Iyer in Tiruvarur a village in Tamilnadu on April 26, 1762. He was named as Venkatakrishna.
Despite the fact that Venkatakrishna was groomed to become a priest in the future, following the family tradition, he was also taught some music by his uncle. Though he did not come from a family of musicians, he developed a lot of interest and talent in carnatic music. He also learnt about the intricacies of Raga and Tala from an ascetic called Sangeeta Swamy who was a dance & music mastero. This saint noticed the hidden talent of Venkatakrishna and his ability to absorb every detail of music and hence advised him to seek friendship of Pachchimirium Adiyappaia the composer of the famous Ata Tala Vamam "Viriboni".
He became the priest of the Bangaru Kamakshi temple in Tanjore. He like his father was very pious and was very devoted to Goddess Kamakshi.
In the following Venkatakrishna started to write his own compositions which were punched with his Ankita mudra "Shyama Krishna". Though he hadn't composed as many as Muthuswami Dikshitar or Tyagaraja had, his compositions became equally famous.
His compositions are very rich in rhythmic conception. He specialised in composing in an innovatively modified form of Mishrachapu Tala which he called as Vimola Chapu.
He was once challenged by Bobbili Kesavayya to sing a pallavi in Simhanandana Tala, the longest Tala with 128 beats per cycle. To every one's amazement, he not only sang it but also composed a new pallavi in Sarabananda Tala (19 beat cycle).
His compositions are devotional in nature and many of them are in praise of Goddess Kamakshi of Kanchipuram. Out of the 300 odd songs that he composed only about 60-70 are available today.
He composed a group of 9 kritis known as Navaratnamalika in praise of Goddess Meenakshi of Madurai at the request of an unknown person.
He has composed 3 peerless swarajatis, collectively known as Ratna Trayam in Bhairavi, Yadukula Kamboji and Todi ragas .
He also composed a few songs in rare ragas like Manji, Chintamani, Kalagada and Kamataka Kapi. His favourite ragas seem to have been Saveri and Ananda Bhairavi.
Like Tyagarajaand Muthuswami Dikshitar, he was also well versed inAstrology. Like his great contemporaries, he too correctly predicted the time of his death. He passed away on February 6, 1827.
front runners in the field of publishing spiritual books have already published Sangeeta Bala Padam-I and Sangeeta Bala padam-II and 150 Tyagarajar Kritis & 150 Kritis of Muthuswami Dikshitar. These have received much acclaim from the music students as well as teachers.
We are sure, that this book "Sri Shyama Shastri Kritis" in English, too will be well accepted by all. We pray to Goddess Kamakshi to shower Her blessing on the readers.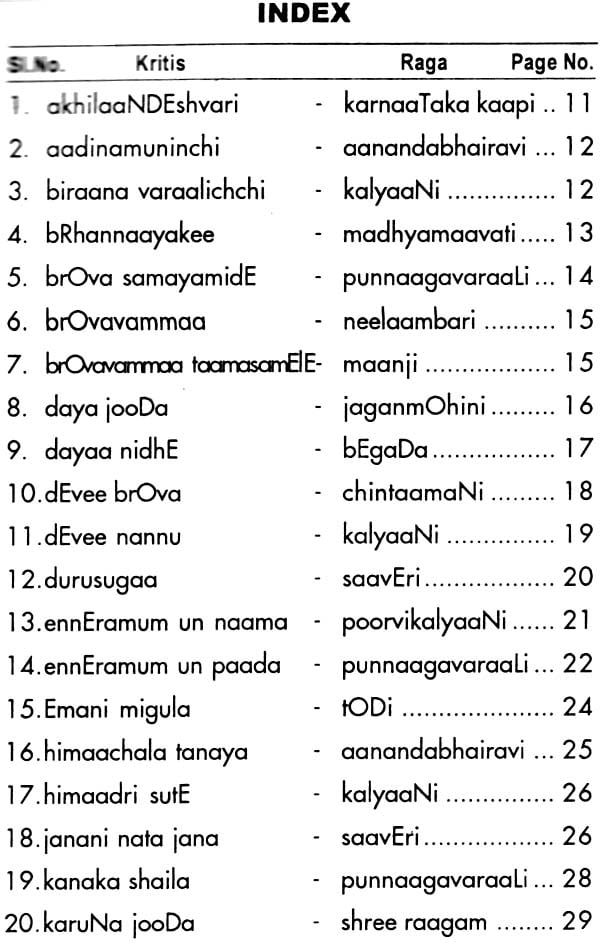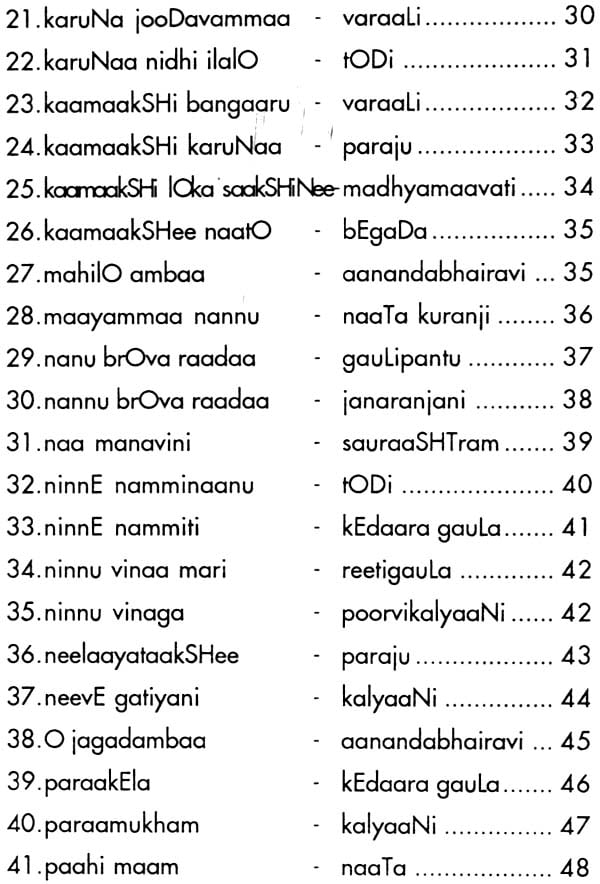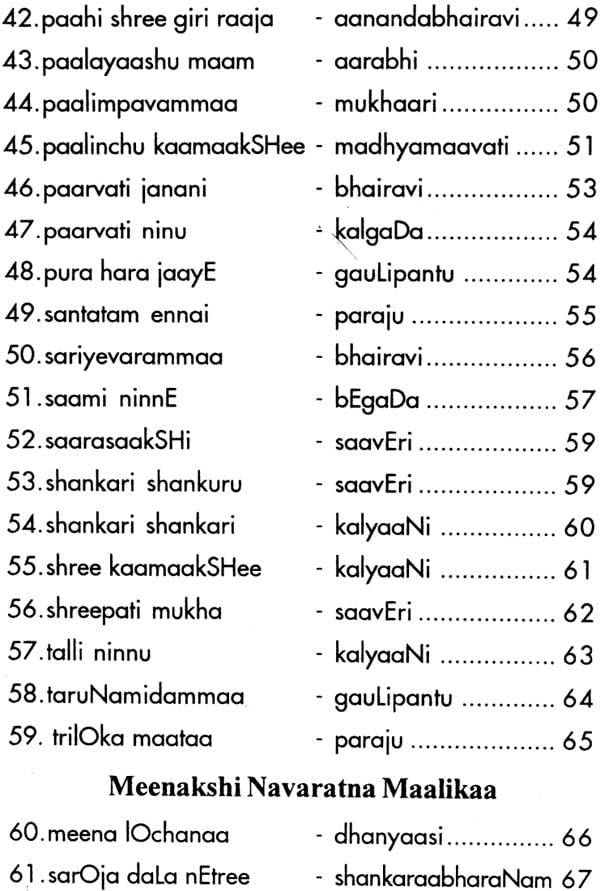 Sample Pages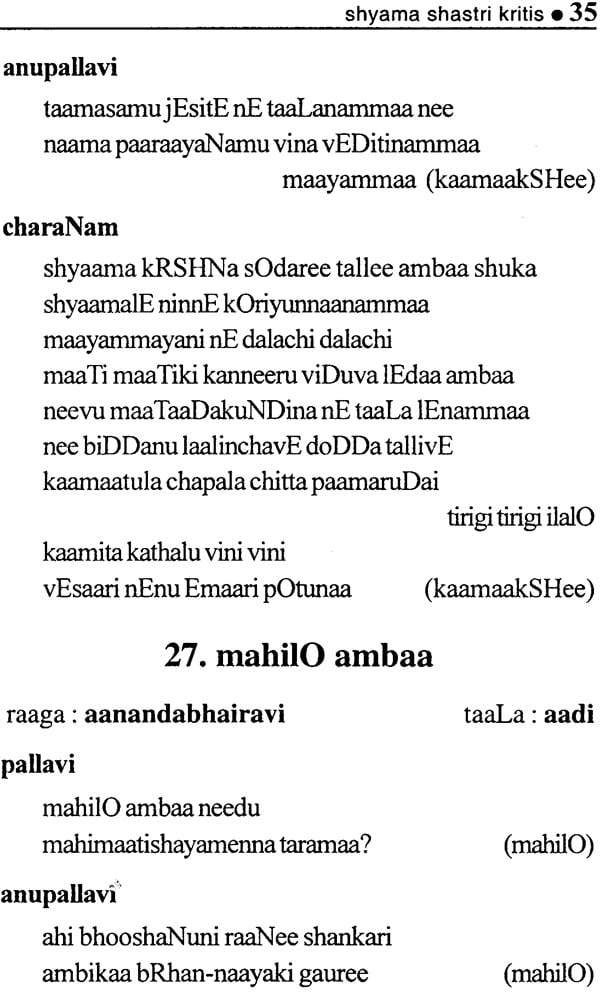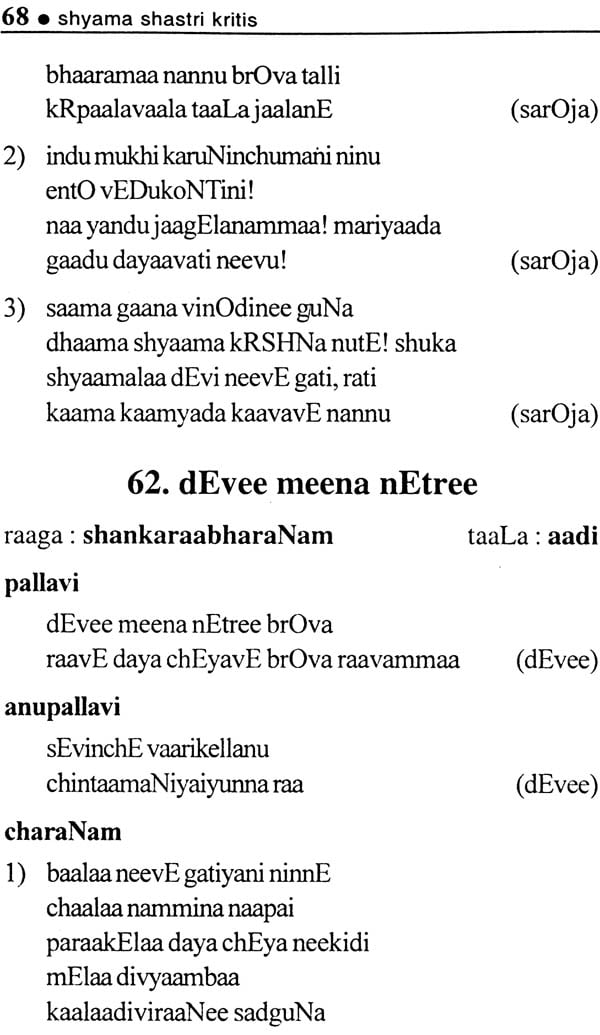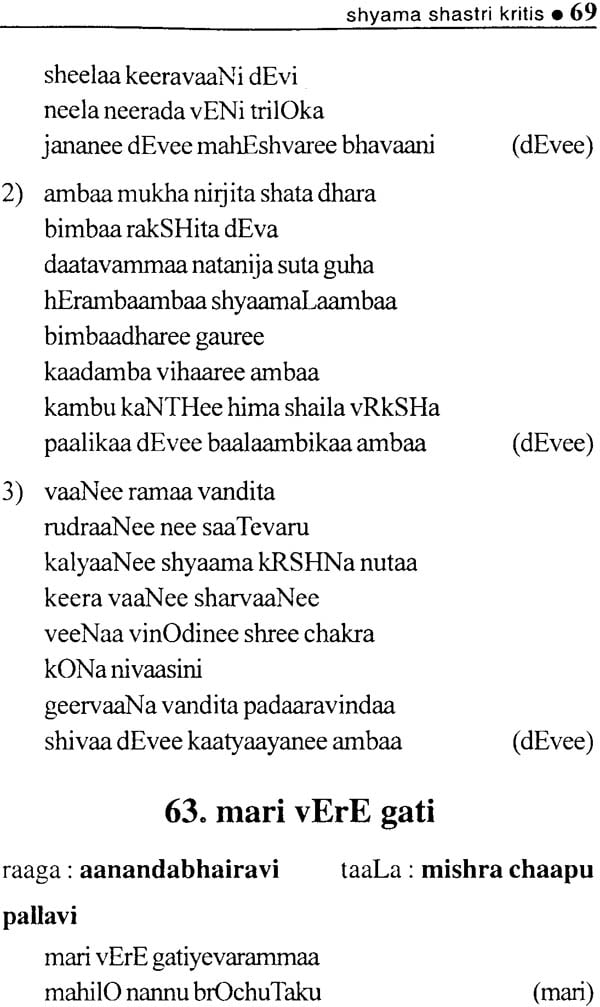 ---
We Also Recommend