Srimad Bhagvad Geeta Astrology and All Religious (Hinduism, Christianity, Islam, Sikhism, Jainism and Buddism)
$3800

$38.00
Tax included.
Shipping
calculated at checkout.
---
---
Book Specification
| | |
| --- | --- |
| Item Code: | UAI121 |
| Author: | T. Mari Muthu |
| Publisher: | Eastern Book Linkers |
| Language: | English |
| Edition: | 2017 |
| ISBN: | 9788178543246 |
| Pages: | 263 |
| Cover: | HARDCOVER |
| Other Details | 9.00 X 6.00 inch |
| Weight | 470 gm |
Book Description
About The Book
When the Author of this book was working in Madurai Kamaraj University from 1973 to 2005 for 32 years. People in Xianity, Islam, Jainism, Buddhism, Science, Marxism, Rationlism, Dalit Hindus, Vaishnava Hindus, Saiva Hindus and other there had become his hidden enemies. Because all of them believe Astrology is a fraud science. But they are openly asking him which holy days are best holy days, In addition, his Astrology Diploma correspondence course stulents (1000 per year) were asking the same questions on praying Holy days.
Hence the Author is compelled to say the best Praying Holy days among Fridays/Ramjohn days of Islam, Saturdays of Jewism & Pentecost, Sundays of Roman Catholic/Protestant Xians, Thursdays of Buddhism, Easter days of Roman Catholics, Xmas Days/ New year days/All Souls days of RC, Mondays/Tuesdays of Saivam, Wednesdays/Saturdays of Vaishnavam, Ascending third Moon days/ Night prayers of Islam etc astrologically. Hence he is decoding spiritual Astro Logic in the Holy books of all religions in this book mainly in Bhagawad Geeta, St Patanjal Yoga Sutra and St Viveka-nanda Raja Yoga.
This book will be useful to the in family life and sainthood. The spiritual researches in South Ampton University and Oxford University of UK are included for scientists in all religions. In short, this book is requesting all sincere noble devotees to strongly follow their Birth religions without doubts and religious changes. This book will decrease religious terrorism based crimes. Please read page XXI of this book for more details.
About the Author
Author T.Mari Muthu is retired from Madurai Kamaraj University as senior Superintendent after 32 years of service. On his requests, MKU had started Astrology Diploma course under correspondence firstly in the world on 1993. He had served as part time teacher for the same Diploma course in MKUEC for 2 years from 1991-93.
Author had suffered to write CC lessons on Prediction methods and to teach the same to yearly 1000 students in the contact seminar classes in 6 centres. Furthermore 1000 students per year had asked the Author to tell Remedies for defective Astrals to the Scientists, Xians, Muslims, Hindus etc.
He had researched the remedies in the last 26 years (1991-2017) for people in all religions and science. He had refered the websites of South Ampton University, Oxford University, Sophia Trust of UK and Duke University Medical College, Washington University Medical College and California University/Berkely of USA.
He had seen the hidden sentences in the Holy books of Jewism, Xianity, Islam, Buddhism and Hinduism like Bhagawad Geeta, Patanjali Yoga Sutra and St. Vivekananda Raja Yoga. Holy Pope had sent him a blessing letter after reading his book (Namely Psycho Astronomy in Christian Astrology 1999)
He had passed B.A., M.A. Economics, Astrology Diploma from MKU, PG Diploma (Psychotherapy) from TN Open University and Honl title M.D (Alternative medicine) medical Astrology from IOUGM/WHO/IBAM For more details, please read page no. XX of this book.
Preface
I sincerely thank Dr. Percy Seymour of Astrological Association and of South Ampton University-Social Work in London. He has written more than five Astrological Science books after seeing 65% correlations in one Lakh Horoscopes of each group of people separately in UK, France, USA, Europe etc by a French Scientist Dr. M Cauquelin, M.A., Ph.D (Statistics and Psychology-Sorbonne University, France) from 1955. Dr Percy seymour has not referred any books of Professional Astrologers in the world. He has refered the Astrological science books of Ph.D Astronomers cum Hobby Astrologers in the west. Because Dr Percy Seymour and Dr Cauquelin are God Fathers of Astrology. He has passed M.Sc., Ph.D (Astro Physics) from a British University. Dr. Percy, Dr Cauquelin and Mrs Sophia are inducers to write this book.
While Space scientists and Spiritual Scientists have only Hypotheses, Space scientists are accusing Spiritual Scientists as false scientists. They are not accepting the miracles of Lords Jesus, Moses, Mohamedji, Bhudda, Mahaveer and spiritual Astronomers. One percent of Scientists in Neurology, Cardiology, Meteorology and Astro Physics are willing to research Spiritual Astronomy cum Astrology. Because they are doing very Risky jobs equal to mini Gods. They partially suspect that Gods or Supreme aliens may control Mass Psychology of people through Astro spectrology.
For Example, the Statements of British Government Astronomer Dr Haw Kings on Supreme Aliens and Philosophy cannot be easily known by all human beings except M.Sc (Physics) degree holders in the World. Hence He is conducting many television serial Programs on Time Machines and Supreme aliens for easy understanding of people. Like Dr Hawkings, my books are to easily tell the Hardest Philosophy in Holy Bhagwad geeta, Bible, Quran, Peedaga, Spiritual Astronomy, of SAU, Yoga Sutra of Patanjali, Raja yoga of Vivekananda, Jainese Grantha, Sikhs granth, Arumuga Anthathi of Agastya, Sam geeta of Birugu, Thiru mandram of Mular, Thiru Kural of Thiru Valluvar and such others.
I am spiritually enforced by Holy people and their noble Gods in the Universes to tell Spiritual Sciences to people with Spiritual Eyes, Tongues, Ears, Noses, Minds, hearts and souls in this World. Because they wish to eat the fruits of life Trees. All people have half beliefs and half doubts on Private Astrologers, Priests, Healers, Saints and Clairvoyants. They are paying them fees to clear their unsolvable problems and diseases. They are seeing many occult science books in all Book shops in the world. But they have not known Dr. Percy, Dr. Cauquelin and their books. Because there are only two or three seymours in each and every country in the world.
Supreme courts banned professional astrologers on 1976 except India all Christian, Muslim, Bhuddist and communist Governments had already banned Professional Astrologers due to their Principles in the last many years.
Introduction
On August 2016,
Dr. Roger of cardiff university in UK has published his research papers that human brain cells are growing more and more, if human beings would feel pleasures frequently through sociable activities. Sociable activities are spending money for poor friends and helping them frequently.
(Times of India daily, Madurai, Science page 16.8.2016). The growing of more and more cells particularly in human cortex myelin is giving healthy and happy life and death to a person.
The same news was already told, by a pre computer. calculator-scientist Dr. Fascal of France (1623-1662 France).
He was an expert in Mathematics, Physics, Mechanic and Astronomy for 29 years from his age of 7 (1630-1652)
He was entered the fields of religion, philosophy and Astrology suddenly in his Age of 29 ten years before his death on 1662. Because he was hanging 5 hours on paris river bridge from his long chariot. (from 1 AM to 6 AM in a day)
When he was returning home from a paris night club.
After this incident, Dr. Fascal was going to churches and orphanges for the last ten years from his Age of 29 to 39.
He had not gone to the Paris night clubs and met his fancy friends. He became an expert in Theology, philosophy, Astrology and psychology deserting mathematics, Astronomy, physics and Mechanical Engineering.
One day, his fancy friends had purposefully met Fascal in the church. They had asked him the reasons for deserting science, fancy friends and Night clubs from 1652 even in his youth hood (29-30 Age).
Fascal had said and written in his theology books that his mind and heart were feeling spiritual pleasures in churches and orphanages.
Dr. Roger of Cardiff university had proved the Fascal writings on 2016 after scanning hundreds at human brains for the last 5 years, that Religions are giving us mental pleasures.
Before 3000 years, Bhagavad Geeta is telling the same in 16 slokas of its chapters 7 and 9 slokas 19 to 26 each that there are four types of Ritual Practices in four types of Religions. (Religions of Good Paramatma, Devendra Gods, Pithru Gods and Poothathi Gods in elements.)
I am merely explaining the 16 slokas of Bhagavad Geeta from Histories of four big Religions and 8 small Religions with Marxism.
Indian Religions are asking people not to live like colourful flowers without scent, fruit or vegetables. Hence Dr Roger of cardiff university is now asking
people to help the suffering people through money or service. Physics. Chemistry, Biology, Allopathy Architecture, Mechanical and electronic engineering, Mathematics and Software have definite theories with 90% accuracy under thesis.
**Contents and Sample Pages**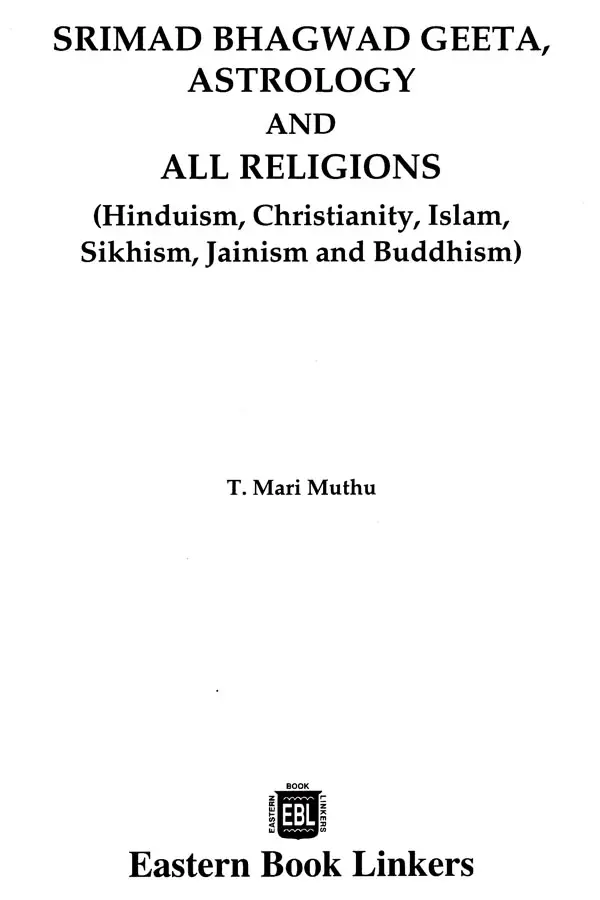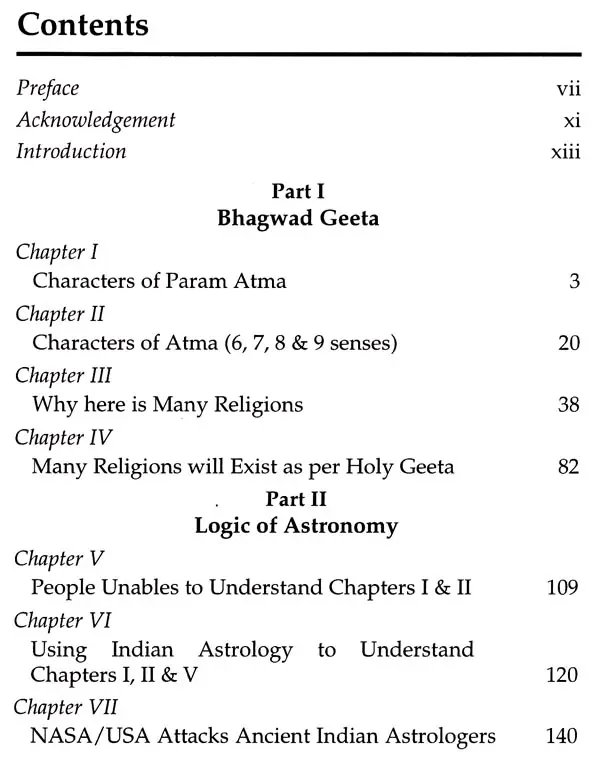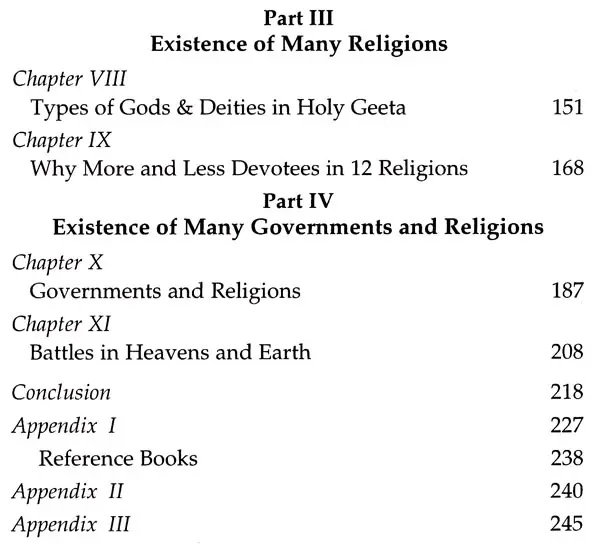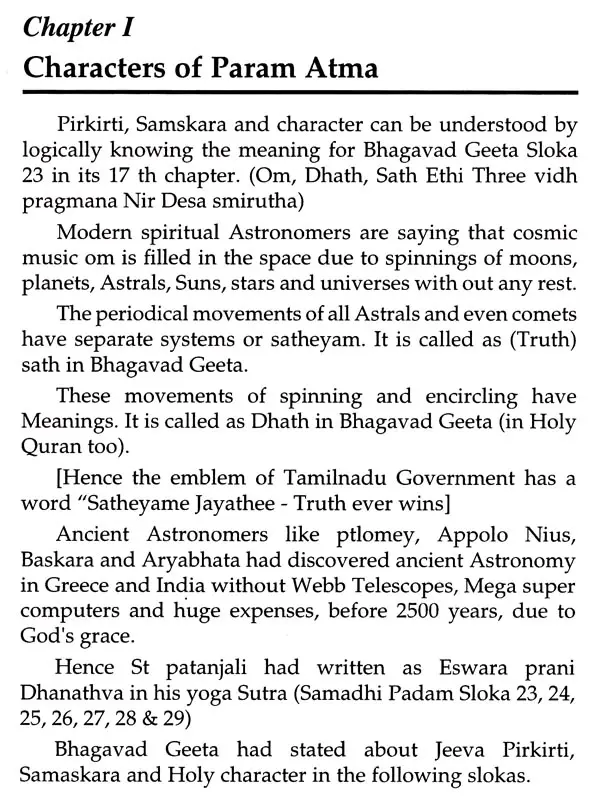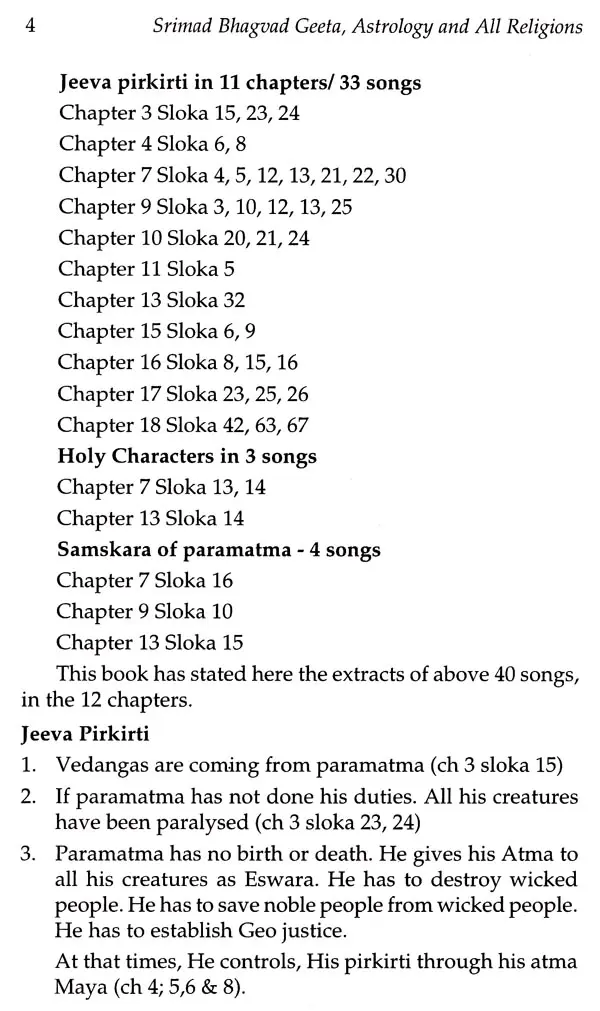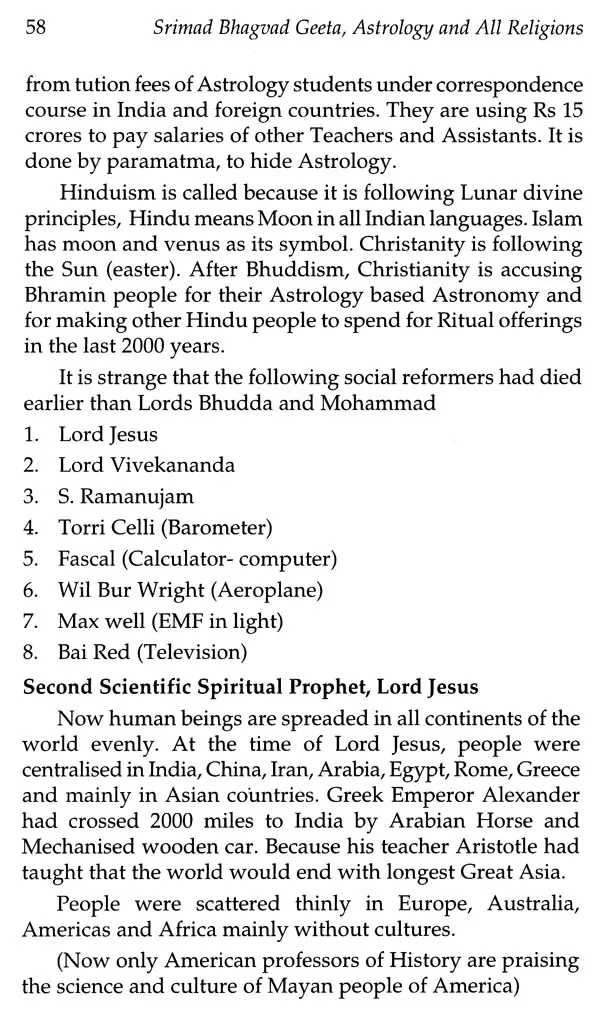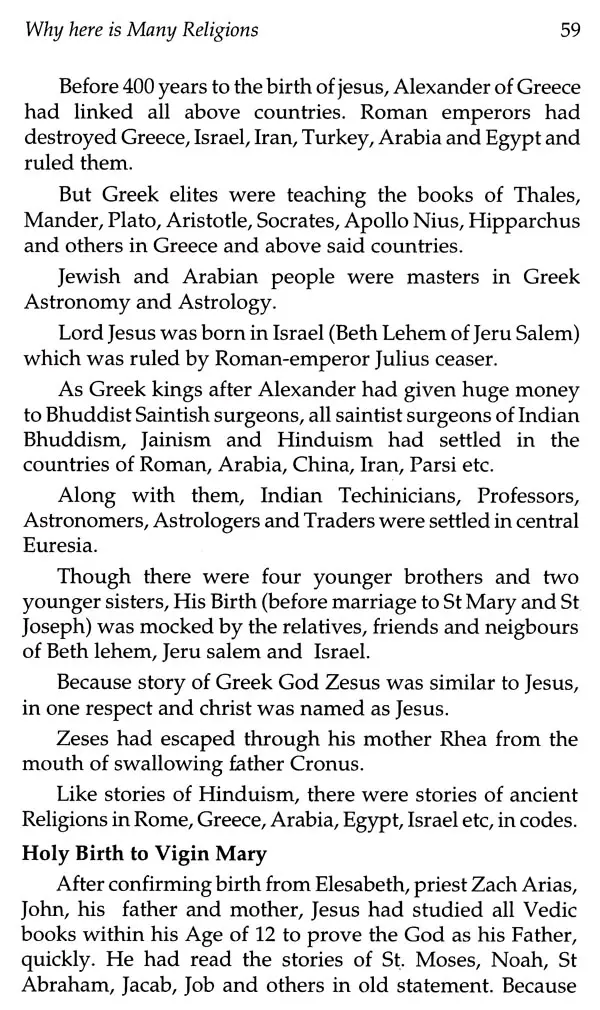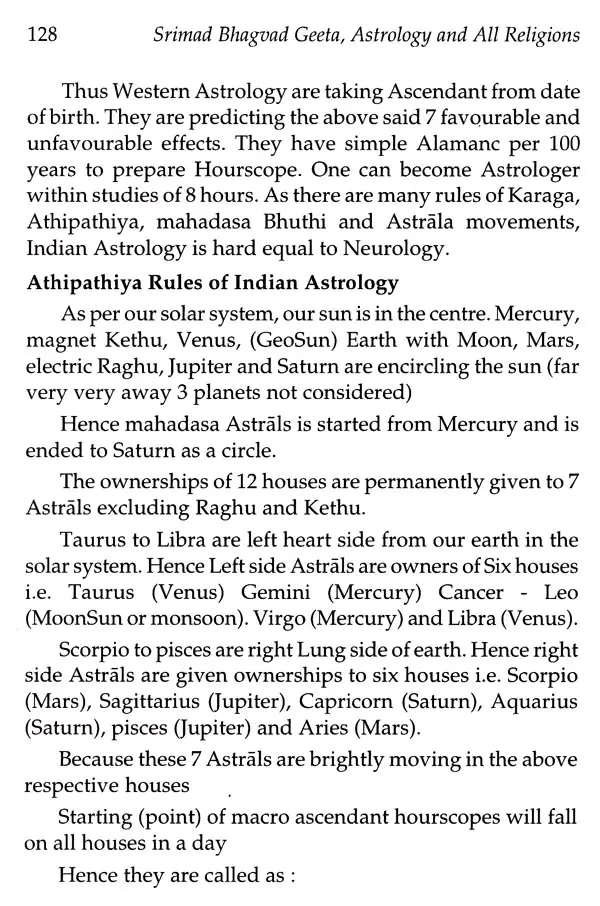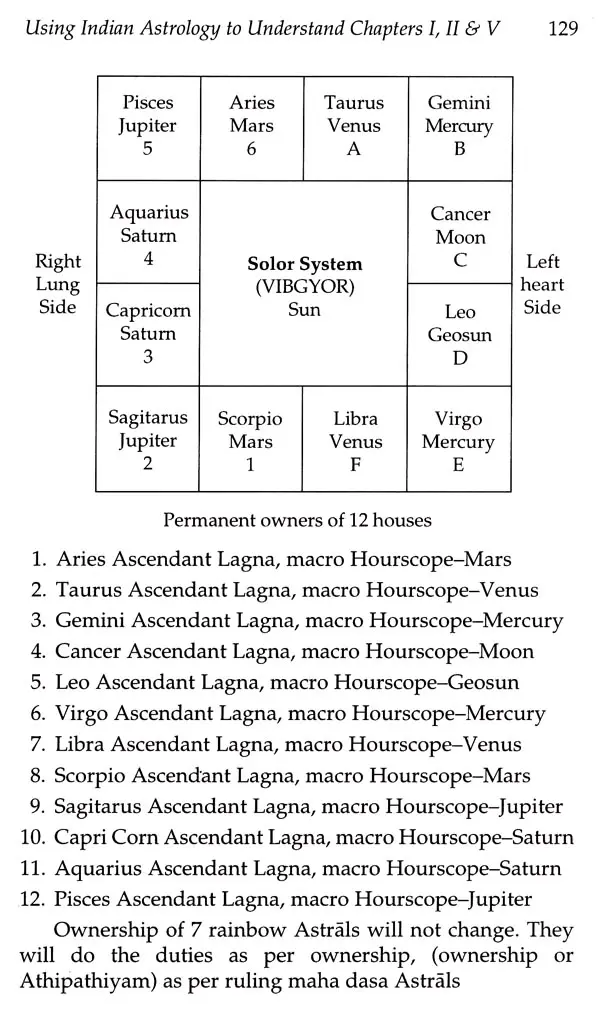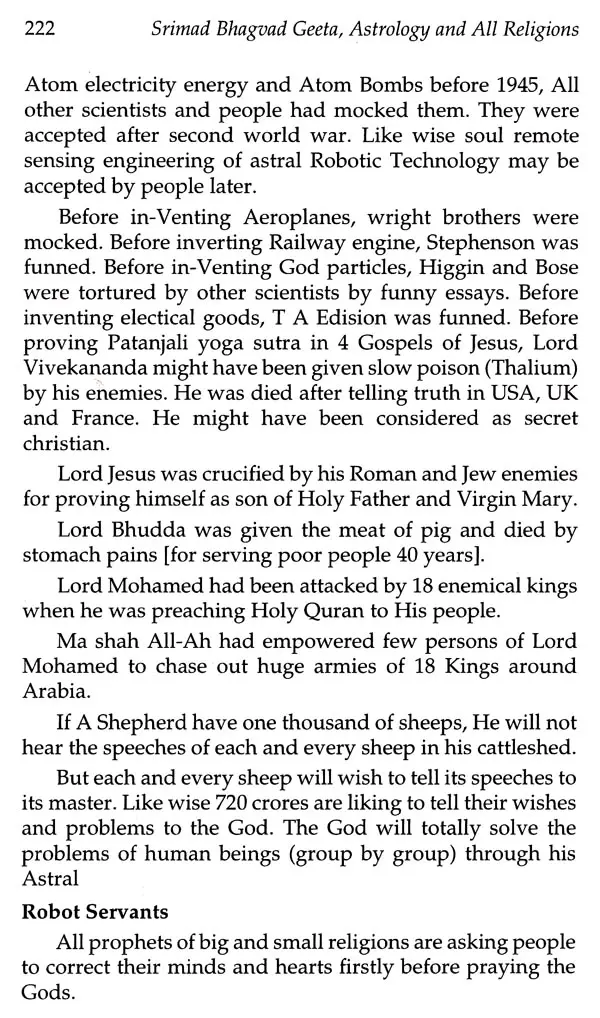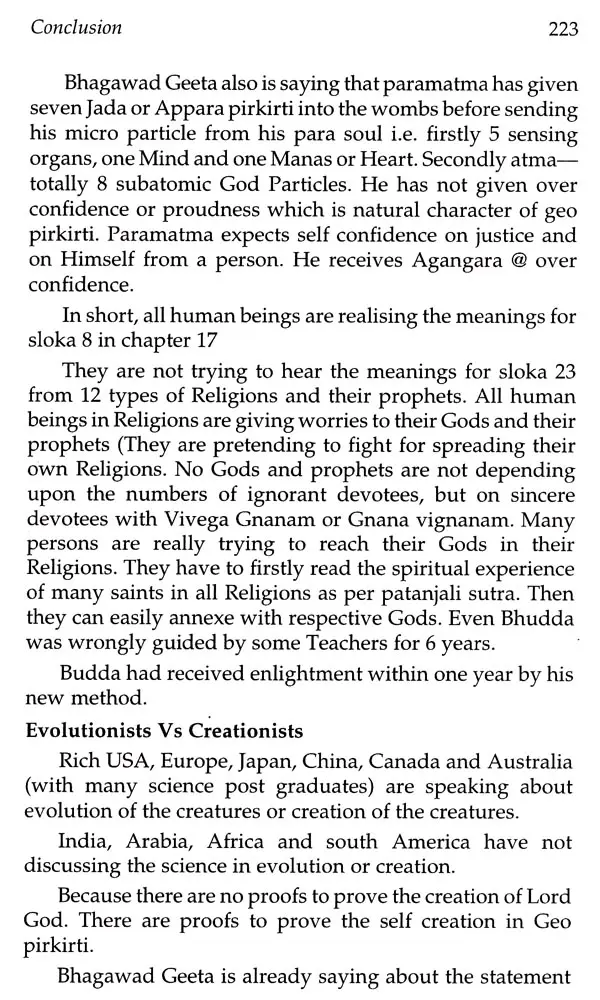 ---
We Also Recommend