Tagore's Mystique of Dance
$6700

$67.00
Tax included.
Shipping
calculated at checkout.
---
---
Book Specification
| | |
| --- | --- |
| Item Code: | AZF833 |
| Author: | Utpal K. Banerjee |
| Publisher: | NIYOGI BOOKS |
| Language: | ENGLISH |
| Edition: | 2011 |
| ISBN: | 9788189738969 |
| Pages: | 259 (Throughout Color Illustrations) |
| Cover: | HARDCOVER |
| Other Details | 11.00x8.00 inches |
| Weight | 1.48 kg |
Book Description
About The Book
Rabindranath Tagore derived inspiration from diverse sources while articulating his unparalleled ingenuity in the realm of visual, literary and performing arts. However, in this process, there always emerged an unmistakable fount of creativity of his own, uniquely expressed through Rabindra Nritya (Tagore's Dance). This book examines, with archival images, three key hypotheses: What were the evolutionary features of Tagore's dance persona? What seminal cross-cultural liaisons did he undertake-within and outside India-to arrive at a coherent choreographic mindset, leading to the genre of Rabindra Nritya? And, what dance-vocabulary and supportive literary content could now be its imprimatur?
About the Author
Dr. Utpal K. Banerjee has been an adviser on Management and Information Technology for thirty-five years, after having studied on a doctoral programme in the UK as a Commonwealth Scholar from 1968-1972. He has an abiding interest in Indian art and culture. His formal exposure to the visual and performing arts of the world was through courses conducted at the Extra-Mural Department, University of Manchester, UK. Dr. Banerjee has been National Project Director for the Indira Gandhi National Centre for the Arts (IGNCA) relating to the UNDP project on Multimedia Database for Art and Culture Documentation and Computerisation from 1991-1993. -
Preface
This book germinated from three observations. First, dance being only a passion with Tagore to be transmuted to his near and dear ones in Santiniketan but not certainly a major preoccupation with him, it never received the due attention. Perhaps, as Tagore himself knew that it was an art form in which he could never be a creative 'professional', he felt more attracted towards it. The abiding interest that he took in the form and the critical acumen he evinced in promoting it in Santiniketan-eventually shaping into full bodied dance-dramas-seems nowhere to be documented, barring the earnest writings and memoirs of primarily, Santidev Ghosh and Pratima Devi and secondarily, by the bevy of ardent students through whom the art was propagated-only in Bengali. There appears to be no connected account of the genesis, growth and full flowering of this domain of Tagore in English.
Foreword
In order to dilate upon Tagore's thoughts on dance, one has to state at the outset that Tagore's own writings on this subject are minimal, almost nil. Whatever is available exists strewn among his letters and other essays: hidden among many other dialogues. Although at a late age he transformed his music dramas into dance-dramas and adorned them afresh with scenes and sceneries, yet there is little material of distinction available from his pen on dance structures or about his mindset on dance. It is also worth pondering that many have noticed a similarity between Tagore's wide canvas of colours and paintings and the styles of dance in the space of the proscenium stage. Indeed, when Tagore was strongly entrenched in the role of an artist, he launched his dance plans, albeit indirectly. So, one can easily weave a garland blending Tagore's fine arts with his terpsichorean arts.
**Contents and Sample Pages**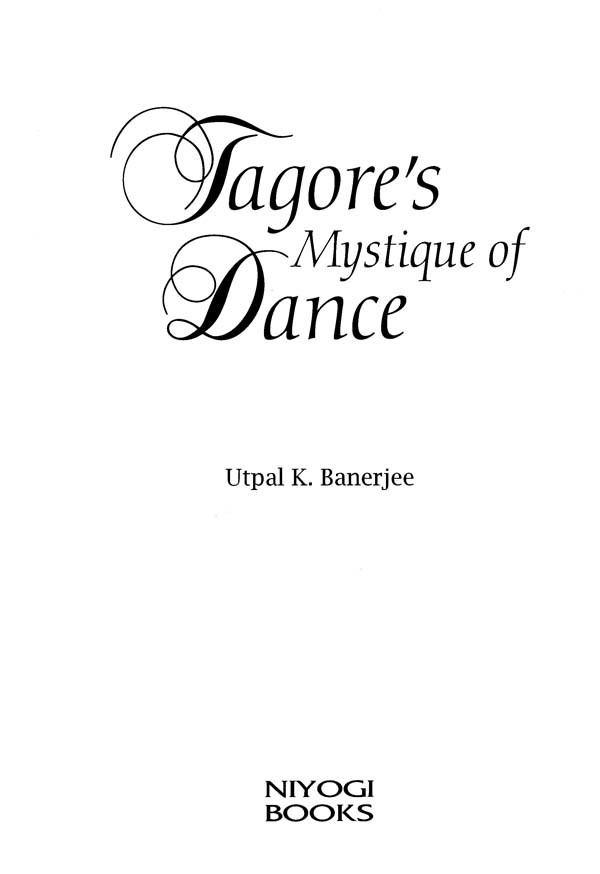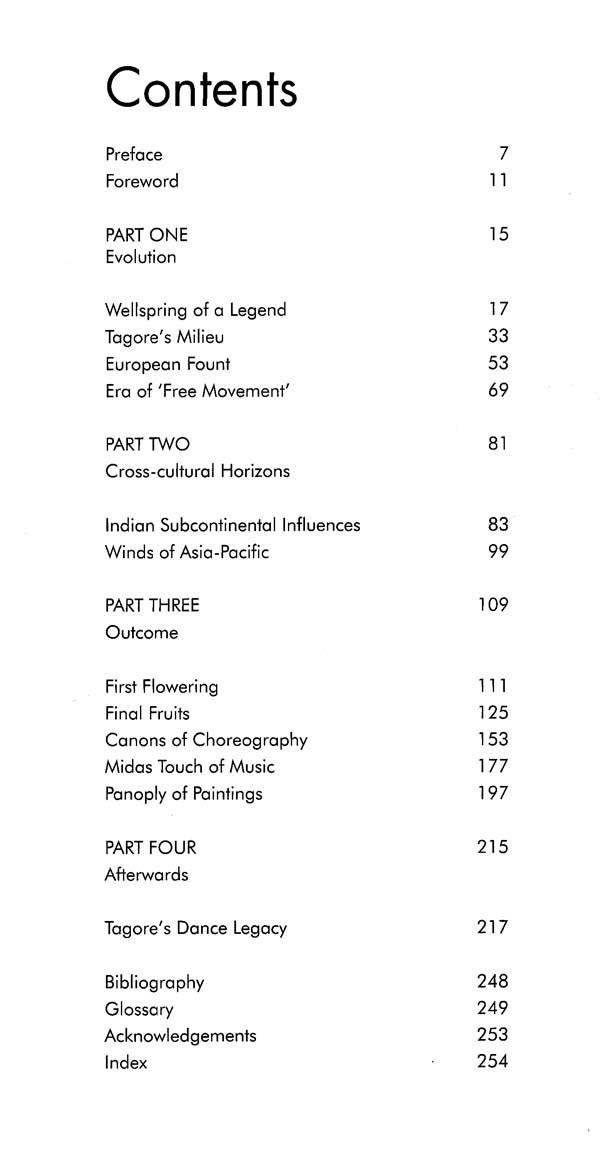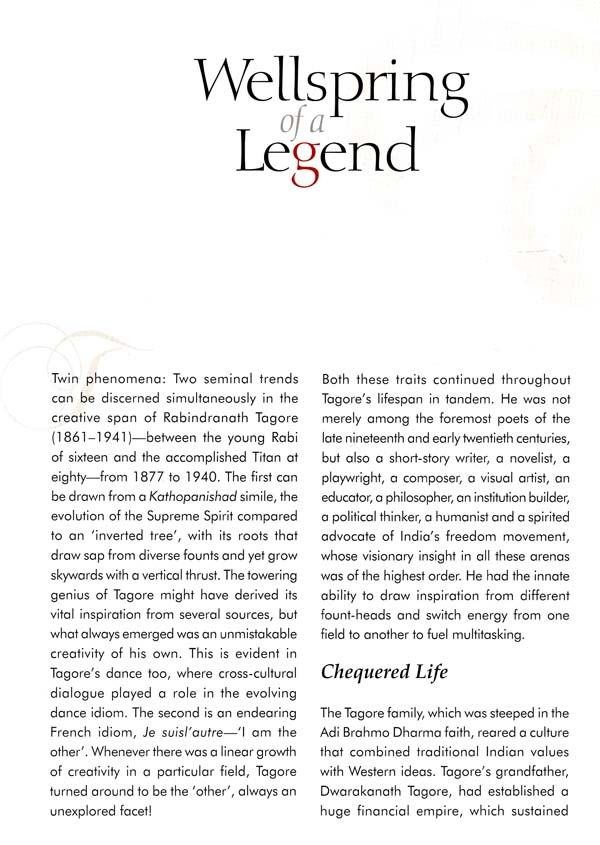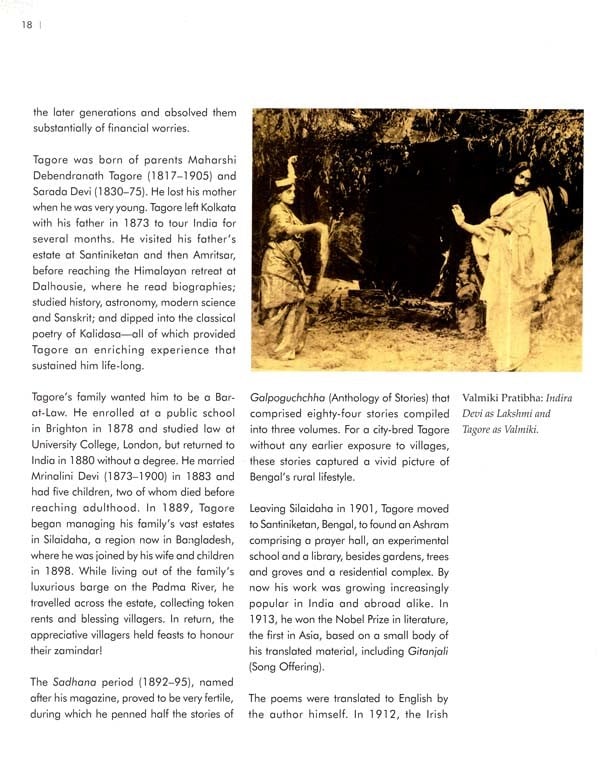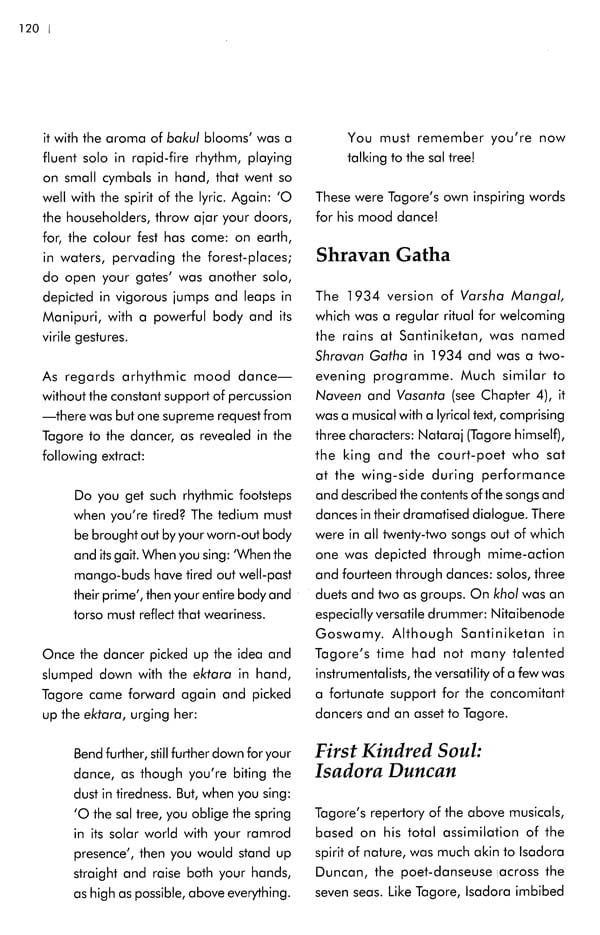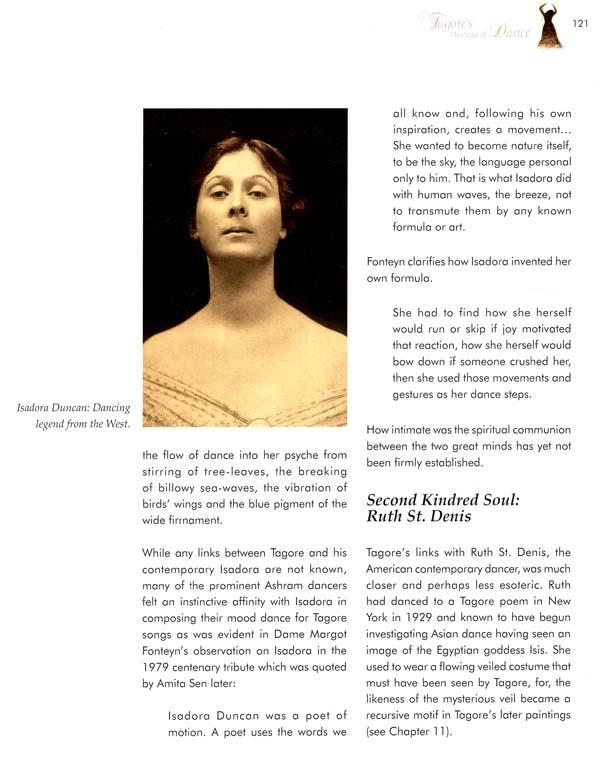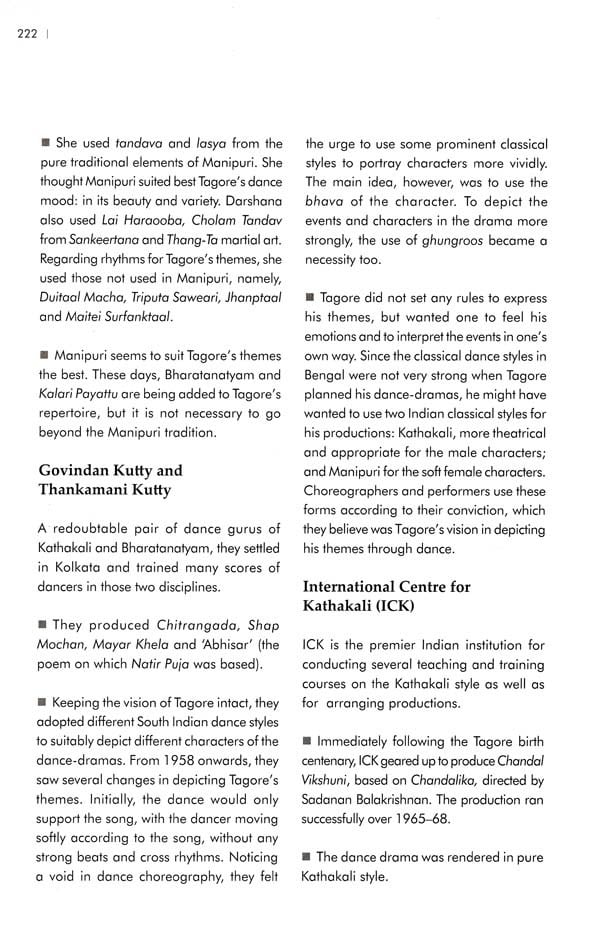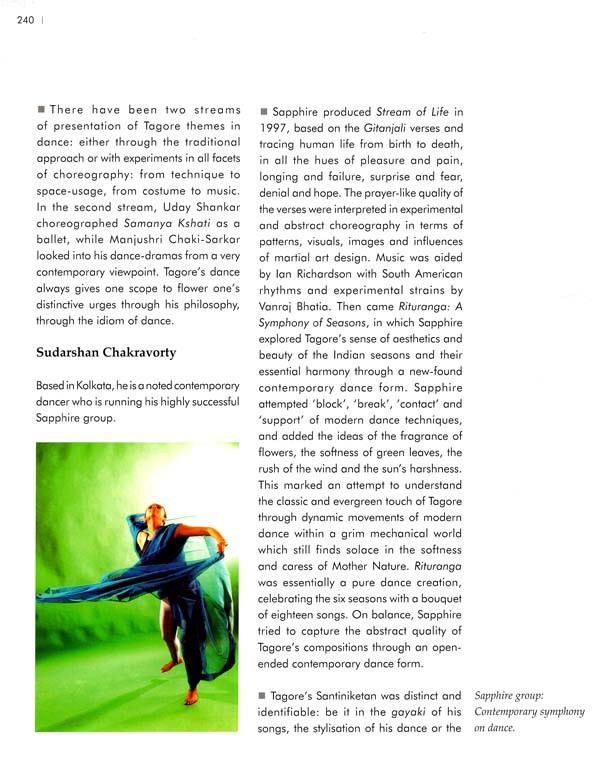 ---
We Also Recommend