Teachers and Their Timeless Teaching
$3600

$36.00
Tax included.
Shipping
calculated at checkout.
---
---
Book Specification
Book Description
Back of The Book
Teachers are like diamond cutters who polish and cut diamonds to make them more valuable and beautiful." Such are the heartfelt words written by Paramahamsa Prajnanananda. In this inspiring book, Paramahamsa Prajnanananda pays loving tribute to the many teachers from the past and present who helped shape and mold the lives of countless people in the world. Their timeless teachings will be a beacon of light for the education of present and future generations.
Teachers and Their Timeless Teachings is not only a tribute to his own teachers but to teachers everywhere, from past to present, who have helped build a strong foundation for the present and instill hope for a better future. This book includes brief biographies and teachings of some of the world's great thinkers and educational activists who have left their love and impact around the globe.
Preface
Educating the mind without educating the heart
is no education at all.
-Aristotle
The universe is the university and each moment a moment for learning. Each event or incident teaches us. In fact, there is no time nor place when we cannot learn. But for such learning, we need a receptive mind and an understanding heart. This education can bring not only transformation in the life of the individual but also a great change in the country, nay, the entire creation. However, true education is not the process of gathering information but an art of transformation. If education cannot bring love, joy, and compassion into life, then what is the value of such education? Looking at the present world and its supposedly educated people, we can easily see where we stand and what our attainment is in modern society with the spread of so-called contemporary education.
In these modern times, the goal of education has become about earning more and more and not about real learning. Consequently, there is an increase in the generation of wealth on the planet earth but there is a dearth of generosity, compassion, and fellow-feeling. Moreover, there is an especially inequitable distribution of wealth and lack of sharing and caring, and as a result, there is quite a widespread visibility of poverty, misery, and suffering. Economic disparity no doubt brings more discontentments in society. Greed is in upsurge and consequently there is a visible spread of unhappiness.
Thirst of knowledge and its practical application makes life more content and beautiful. Since time immemorial, and especially in the land of India when the saints, sages, munis, and rishis were educating people in many different ways, they either travelled from place to place or people came to spend time with them. Many rishis or seers even had their gurukulams or hermitages located in the lap of nature, where little children could grow up with a dynamic method of education, attaining excellence in both secular and spiritual education. In such gurukulams there was no distinction or discrimination among rich and poor children or princes and paupers. Their association and instruction brought inner change in them and made them good citizens. Worthy teachers created thirst and inquisitiveness in the minds of the students and showed them the way to find the answers to problems. During such times, education was free and all worked together to support and sustain gurukulams and fulfil their minimum needs. Plain living and high thinking was truly the maxim of their lives.
But, regrettably, things changed. During the time when Shri Krishna was serving his teacher and working manually while learning in the gurukulam along with ordinary people, the leaders of the Kuru family broke the tradition of sending the princes to the gurukulam. They instead hired teachers to come to their homes and thus started private schooling for privileged families. Who knew this incident was the beginning of the degeneration in India's traditional way of teaching and the commercialization of education?
What is the condition here and now in the world in general and in India, in particular? Surely every sensible person can feel the situation in their nerves and must thereby be reflective in finding a remedy for it. Every problem has a solution, and if there is no solution then it is not a problem at all. So, what is the cure for our modern-day dilemma? True education is the remedy. But it is education not for the accumulation of degrees but rather for the amelioration of love and compassion, with the spread of knowledge to uplift each and every one. Education kindles the lamp of knowledge, and this knowledge brings freedom from misery whether the misery is materialistic, such as poverty; physical, such as disease; mental, such as emotional turmoil; or spiritual, such as ignorance of Self-knowledge.
Indeed, knowledge is power and strength and should be available to all. The seekers of knowledge should make themselves well qualified with humility, self-discipline, and eagerness to learn. A teacher should be like a mother ever ready to feed the child when hungry, looking after all the needs of the baby child. India has a rich heritage of such beautiful teacher and student relationships. Although it has eroded in the course of time, still there is the fire of that knowledge that is kept burning by many such dedicated and devoted teachers. Needless to say, their lives are exemplary and their teachings are unique. That is why wisdom is considered eternal and immortal.
In this small book is a compilation of thoughts on education from various thinkers, from the past to the present, who have given their lives for the service of humanity, especially in the field of education. Hopefully, this work will be a good tool for solving some of the problems of today. Going through all these texts has enriched my mind, and this material will help readers to develop a better understanding of life and to find new ways to make life more beautiful. Life is to be lived not only for oneself but also for others; we must therefore become beacons of light in this world. We must also do what a burning lamp does with its light, as it has the ability to enlighten others, including itself while at the same time kindling other lamps.
Let our love become a powerful tidal wave that brings change in society and in the entire creation. Let us have love and compassion for each living being, not only humans, but also for the tiniest of creatures, because each and every living thing loves to live and loves to be immortal.
Introduction
Education is the kindling of a flame,
not the filling of a vessel.
-Socrates
Life is a precious and attractive gift of the Divine. It is made more beautiful by the teaching, training, and timely guidance of teachers. Teachers are like diamond cutters who polish and cut diamonds to make them more valuable and beautiful. Raw diamonds do not appeal to others and thus are not useful. In writing this, I am reminded of a story.
Long ago there was a sculptor who made idols from stones. Normally, he bought the stones at a special store that mainly sold to sculptors. One day while looking at the stones, he saw in the corner of the store an odd-shaped stone lying there as if abandoned. While gazing at the stone again and again he suddenly saw a beautiful image of Shri Krishna within the stone. as if it was hiding. He decided to purchase the stone but the shopkeeper instead wanted to gift the stone to him. Out of curiosity the sculptor asked why and the shopkeeper answered that this odd-shaped stone had been there for a long time and no one was buying it. He said it would make him happy if someone took the stone.
So the sculptor took the stone and in the course of time, with his skilful touch and his tools, he sculpted a charming idol of Shri Krishna just as he had envisioned it at first sight. He thought it would make a wonderful gift for the shopkeeper. Thus, he took this beautiful piece of his work to the shopkeeper and presented it to him. The shopkeeper was thrilled to get such a valuable gift and asked why the sculptor was giving it to him. The sculptured replied, "Do you remember some time ago you gave me a stone that you said was just lying around your shop, useless and unsold. You gave it to me for free. From that stone this beautiful statue was created, and now it is a present for you in return for your generosity."
We look at beautiful art pieces or deities but we forget the artist who made them. In the same way, we live in this beautiful creation but we are rarely grateful to the Creator. This story reminds me of our teachers who have collectively sculpted our lives and made an invaluable contribution in shaping innumerable lives Just like the stroke of the mallet and chisel, every word, even a sweet scolding or reprimand, was always meant for moulding our lives. I remember the late Binode Behari Dash (Binode Pandit), who taught about three generations of many families in our local school. I recall how proud he was of his role and, in turn, the students were humbled with his dignified service.
Personally, in my heart, I am ever grateful to each of my teachers and, if I may be honest about expressing my feelings, there is nothing in the world that can be given to them in return for their priceless service. But how does one offer gratitude to these great souls for such a priceless treasure that they have given?
In the Sankalini Tantra (verse 94), it is said:
"One who has received even a single letter from a teacher can never pay it back in return, even if one offered everything available on the earth to be free from such a debt."
This verse speaks of the greatness of teachers and our inability to give them anything in return. Still, remembering them or meeting them whenever is possible is a great joy in life, as it reawakens the fresh memory of our student days. To me, the student life is the best period of time in one's life, as there is ample opportunity to learn and to grow.
One day I had a thought to meet all our teachers at least once in this life. With this purpose in mind, the plan of presenting a publication came up. Hence, we have invited the writings from the teachers and are making two separate publications: one in English and another in Odia. It was also decided to include the writings from the teachers of our time as well as the writings from educational thinkers of the world. In a short time these works have been undertaken, and hopefully this book will be a good memento and souvenir for all of us, and also a source of inspiration for others with its encouraging and inspiring study materials.
**Contents and Sample Pages**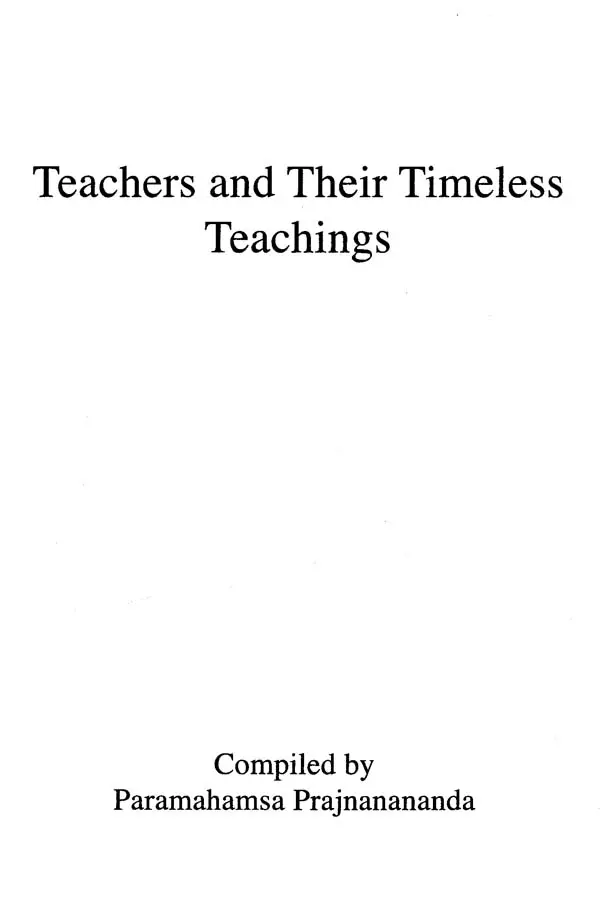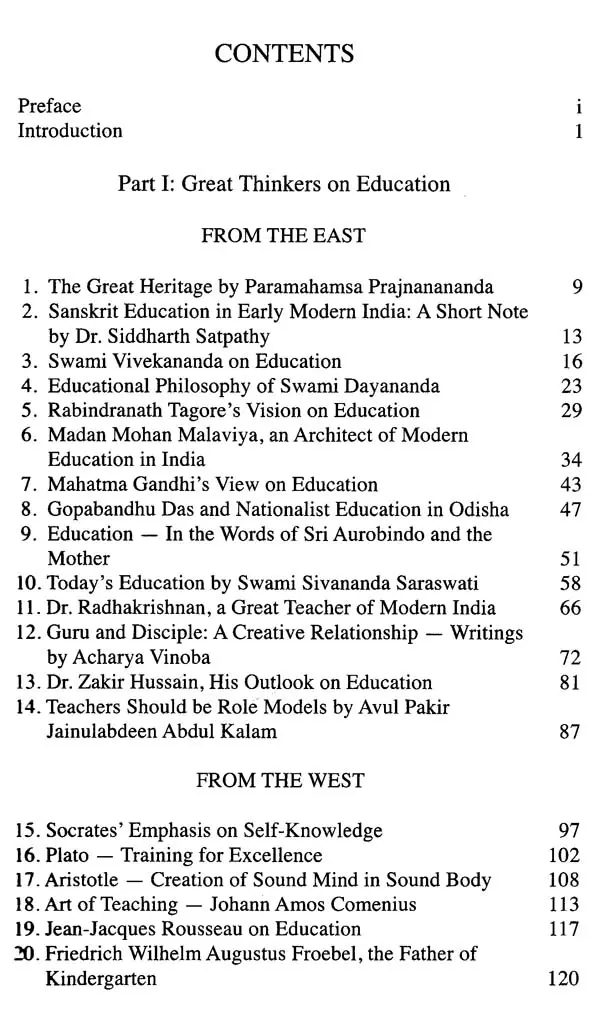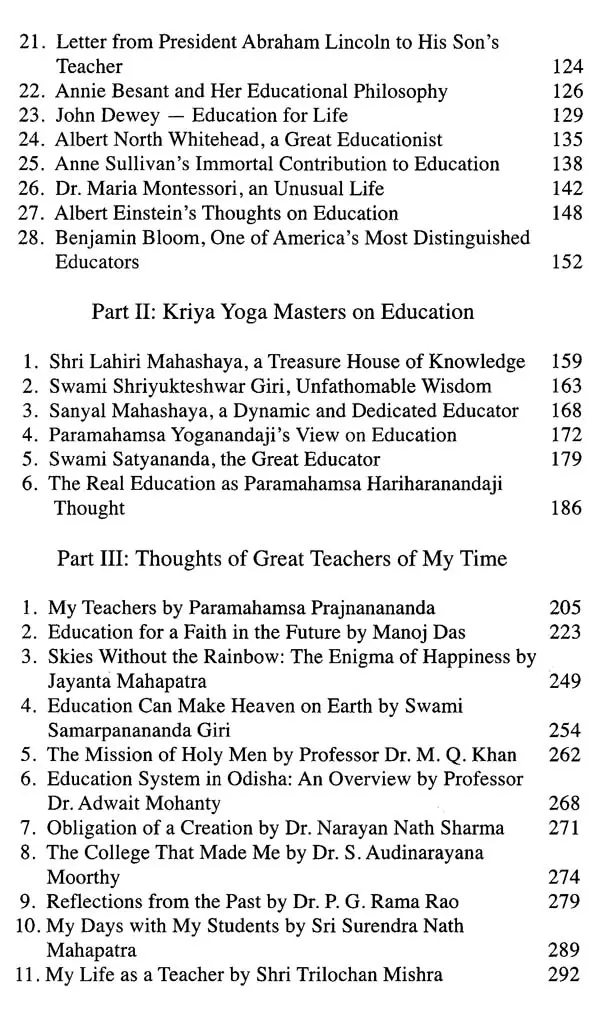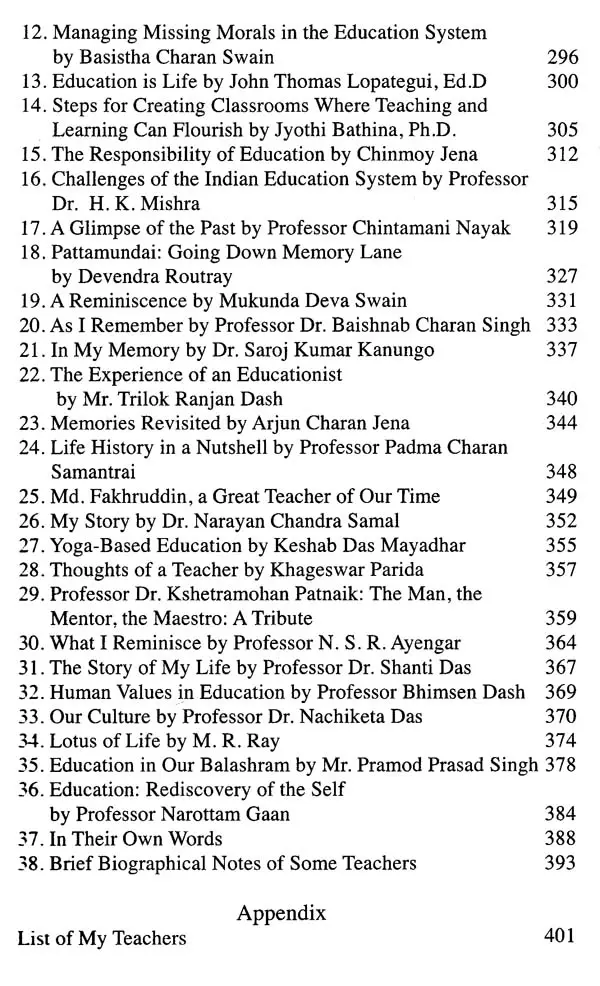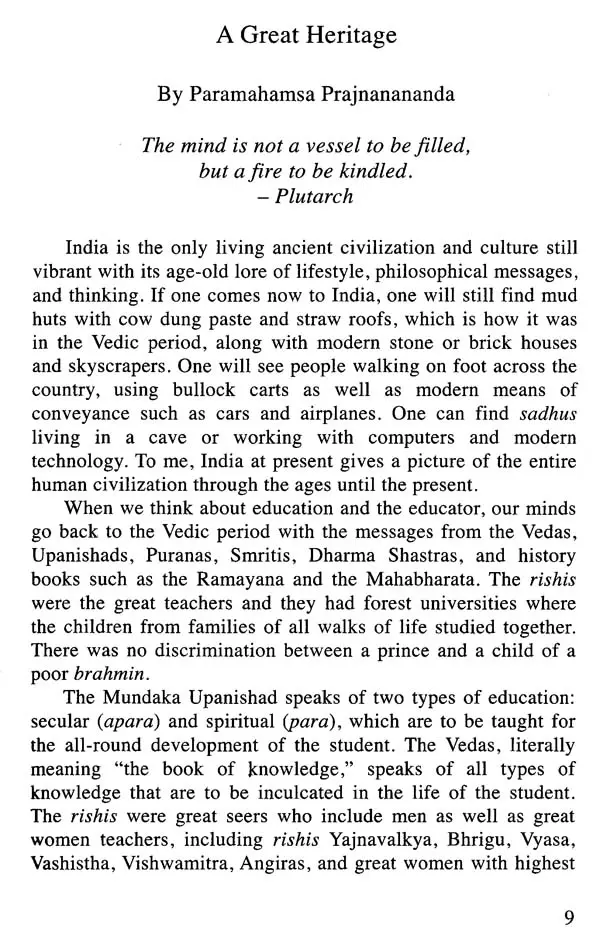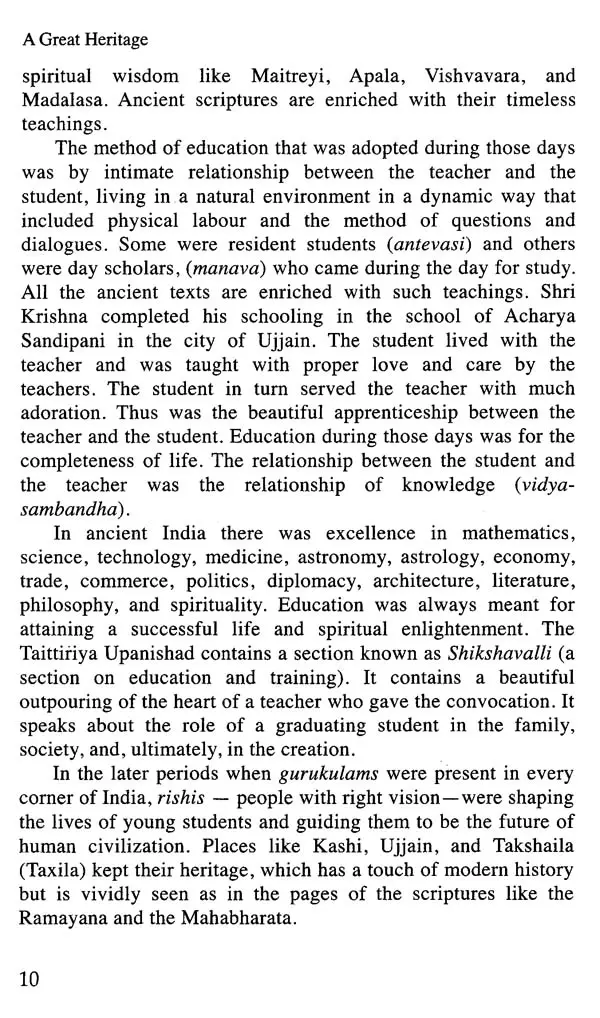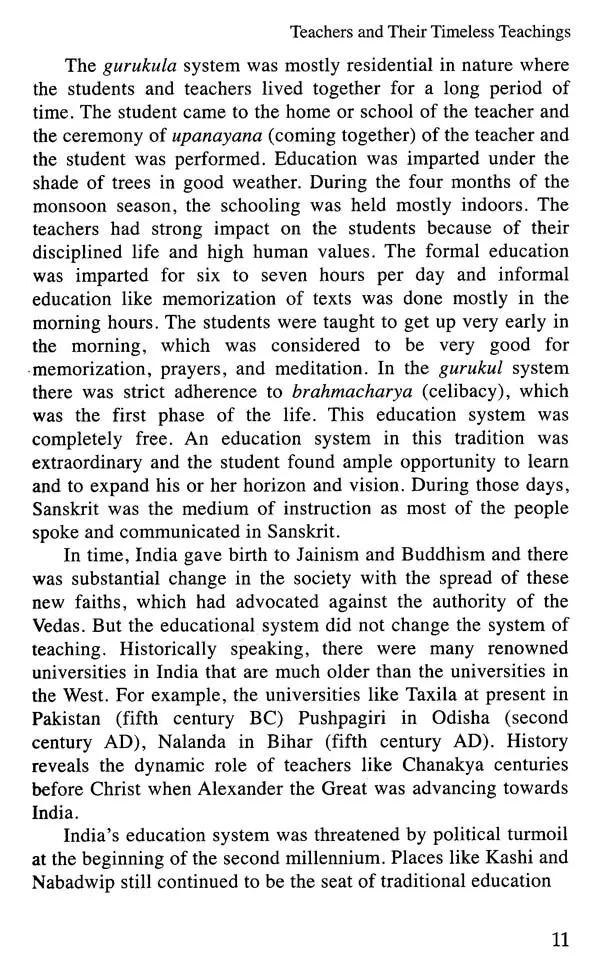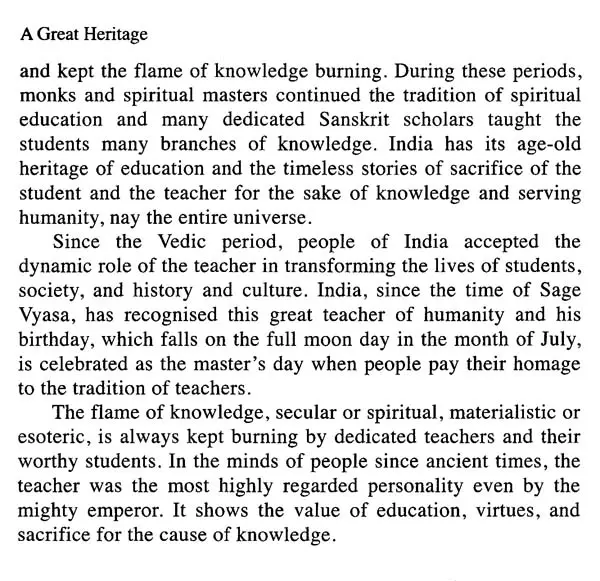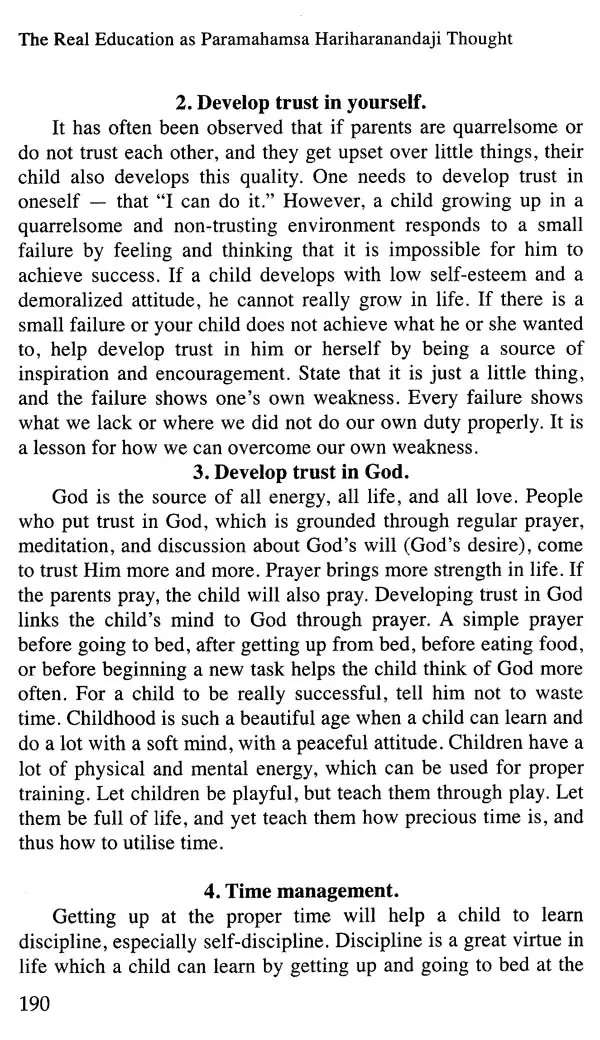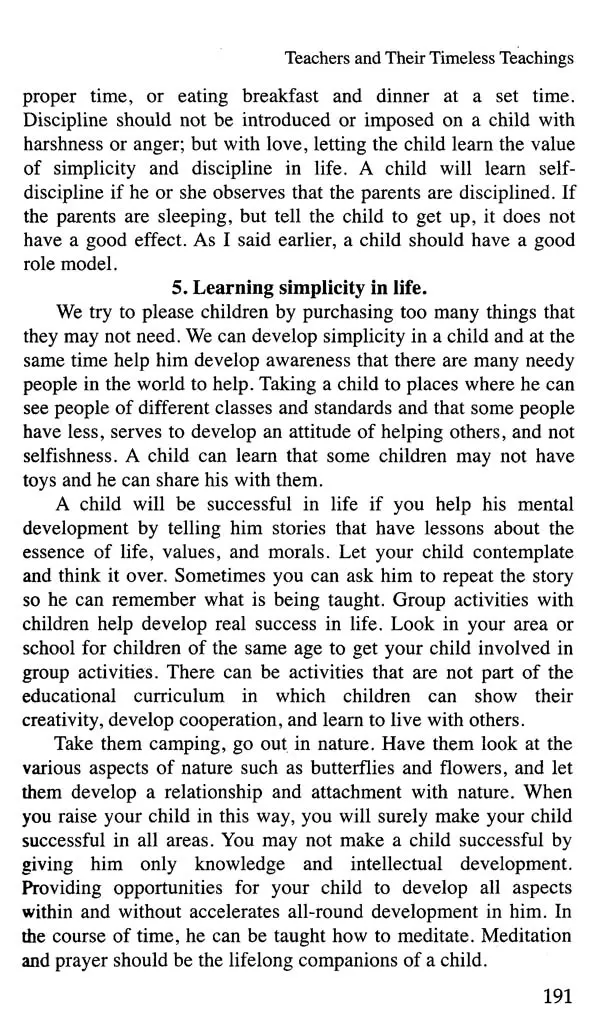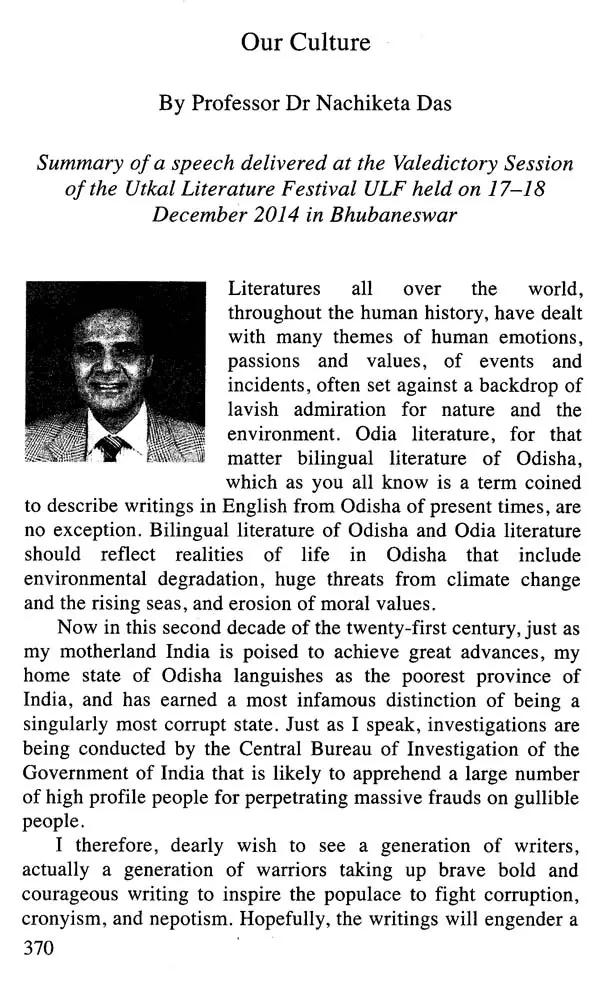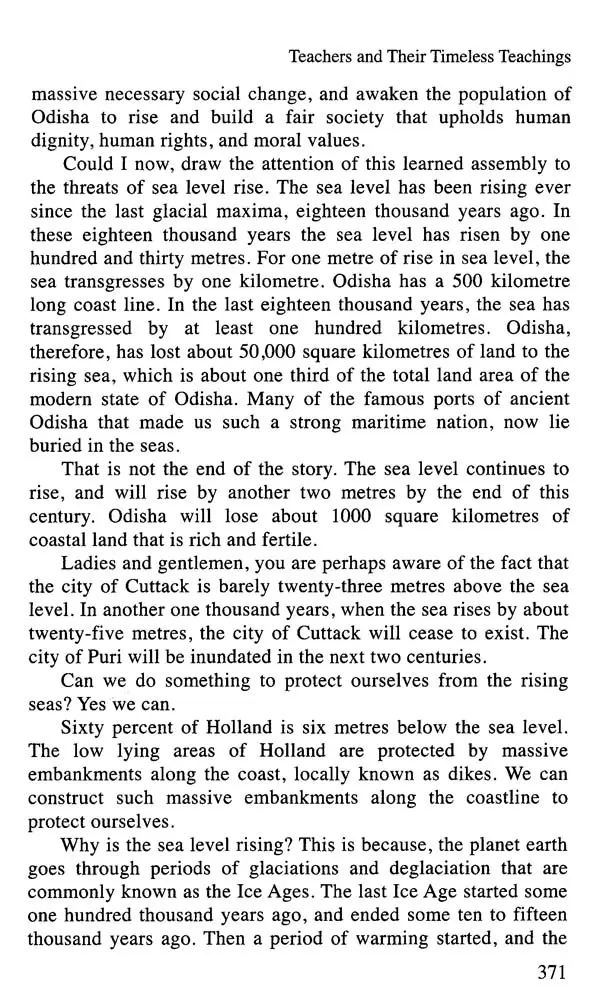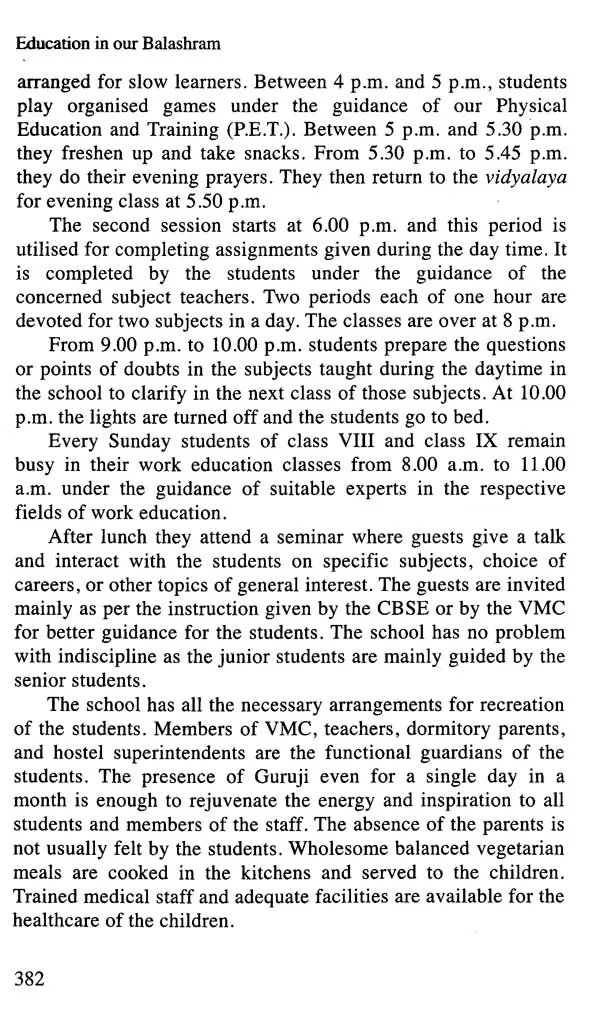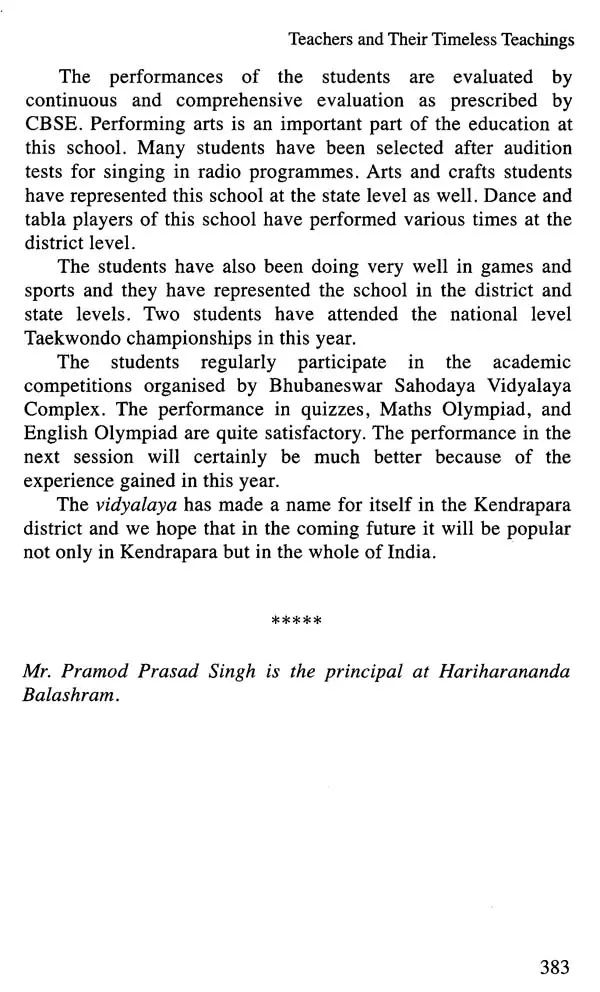 ---
We Also Recommend