Thiagarajara College of Engineering- A Journey into the Founding Vision
$4600

$46.00
Tax included.
Shipping
calculated at checkout.
---
---
Book Specification
Book Description
About The Book
In 1957, Madurai bore witness to the emergence of a temple of learning on the sacred hills of Thiruparankundram. Built on the vision of Karumuttu Thiagarajan Chettiar, to make high-quality education affordable and accessible for everyone, Thiagarajar College of Engineering has since become a beacon of hope for thousands of students. Spread across a vast expanse, the facade of the institution stands testimony to the untiring efforts to uphold this noble ideal. From its precincts have emerged five Padma awardees, leaders, builders, thinkers and innovators. This is a book dedicated to the enduring vision that has made all this possible.
About the Author
Uma Kannan has a doctorate in socio-cultural anthropology. She is the Vice-President of the Thiagarajar College in Madurai and a member of the governing council committee of the Thiagarajar College of Engineering. She is the founder of the Thiagarajar Crafts Foundation.
Uma is actively engaged in several innovative educational, social and philanthropic initiatives that address the challenges faced by rural artisans and disadvantaged women and children. Her interests range from writing to mentoring students. She is also actively involved in the revitalisation and preservation of traditional Indian arts and skills, and in helping artisans create innovative design concepts to sustain their traditional occupations and earn sustainable incomes.
She is the author of Madurai Malligai, a celebration of the unique variety of jasmine grown in and around Madurai. Her inspirational biography, Radha Thiagarajan Remembered, the life of a pioneering educationist in Madurai during the latter part of the twentieth century.
Shobhana Kumar's book of haibun, A Sky Full of Bucket Lists was published by Red River in 2021, to critical acclaim. She has two collections of poetry: The Voices Never Stop (2012) and *Conditions Apply (2014), from Writers Workshop, Kolkata. Her work has been anthologised in journals and books of poetry and Japanese short forms.
Her poem, Just Married was selected and translated by Gulzar in his monumental work, A Poem a Day, published by HarperCollins in 2020. She has authored six books of non- fiction covering biographies, corporate, industrial, and educational histories. Her short stories have been published or are forthcoming in a few anthologies.
Kumar is Associate Editor of Sonic Boom Journal and its imprint, Yavanika Press. She is co-curator at The Quarantine Train, a poetry collective founded by Arjun Rajendran. She works in the spaces of corporate communication, branding and advertising, and education. Along with a group of friends, she runs Small Differences, an NGO working with vulnerable communities.
Preface
In the vast, rich and complex history of India, the stories of extraordinary leaders who built communities, institutions and altered their landscapes, and contributed to nation-building in meaningful ways, does not always find place in the main narrative. In the preservation and pursuit of a larger story, these have become at best, appendices. However, the need to document the contributions of people who were able to adopt a region or community as their own, and tirelessly toil to transform these worlds, has never been more vital than today. For in doing so, the often-hidden accounts reveal how regional histories have influenced and altered the course of the future for the entire nation. In delving into these pasts, the cultural, intellectual and moral fabric bring alive a manual on which we, the leaders of today can build on for the future.
Karumuttu Thiagarajan Chettiar, one of the architects of modern-day Madurai, was among the earliest nation-builders in independent India. His is a story that has never been told and therefore, it became vital to chronicle the breadth and depth of his vision, for posterity. The task was to collect archival material spanning almost a century and piece together the trajectory of his life, and eke from it inspiration, lessons and direction to take the legacy of his uncompromising life of ethics and integrity forward. In many ways, tracing his life history is also tracing the history of Thiagarajar College of Engineering and this is precisely the task that we embarked on. The founder walked uncharted paths and with the passage of time, the number of personal references that we could bank on, became fewer in the recent years. Therefore, this book took on a sense of urgency, so that we may put into black and white all that he did to build a better future for a young India, before collective memory fades.
Foreword
Technical education in India over the decades has been an instrument of the nation's intellectual growth and economic development. In the early years of independence, under the visionary leadership of then-prime minister Jawaharlal Nehru, experts drew up the framework for world-class institutions for technical education as well as for science. Later, the IITs have proven that India has the potential and necessary capabilities to match the best in the world. However, considering our burgeoning population and growing demands, the IIT's alone were not enough. This is when the industrialists, visionaries and philanthropists of the country stepped in. They gave the nation the much-needed. fillip in terms of bridging the learning gaps. Many of them took on the onus of shaping and building the institutions they founded by delving into their own resources. Government aid, was of course, available; however, the operational requirements of technical educational institutions required constant improvements of infrastructure, intellectual capital and other necessary inputs. These had to necessarily come from the visionaries themselves. This alone makes the contributions of the likes of Karumuttu Thiagarajan Chettiar excellent examples of putting service above self.
I have had the pleasure of knowing the Karumuttu family for several decades now and have often marvelled at their relentless commitment to the cause of quality education for everyone. I have witnessed, with a sense of apprehension, the rampant proliferation of engineering colleges in the recent decades. Many of them have started out as purely commercial ventures with profit motives. Fortunately, a few institutions have managed to balance both financial viability and academic quality. However, Thiagarajar College of Engineering has made a conscious effort to stay on the path of probity and quality laid out by the founder.
Introduction
At the turn of the twentieth century, Sea Street in Colombo was a replica of Chettinadu, India. Merchant homes dotted the landscape, as did business establishments. An eager ten-year-old youngster looked out of the window as he prepared for his Tamil lessons. That would be followed by English lessons and then he was free for the day. At times, he would sit at the accountant's desk and learn the nuances of the modest family business from his elder brother, Karumuttu Arunachalam Chettiar. The older sibling noticed that the child was unusually sensitive for his age. Perhaps this stemmed from the fact that he was barely nine when he lost both his parents and was far away from his homeland. Arunachalam Chettiar showered him with paternal affection and introduced him to the ropes of the family business alongside his formal education. The young star was a quick learner and displayed a great proclivity for languages. He would carry this love for literature throughout his life.
The youngster was keen to pursue higher education but circumstances dictated otherwise. Despite this, it was evident that Karumuttu Thiagarajan would chalk out a very different destiny for himself rather than remain tied only to the family business. The first of these signals came to light when he turned journalist for the Morning Leader, one of Colombo's leading dailies. His work in highlighting the abysmal conditions of bonded labour was instrumental in charting the first course of reforms for labour dignity. He saw first-hand, how education could alleviate suffering. This unfulfilled longing in himself would transform into a lifelong mission for educational excellence.
During his lifetime, Karumuttu engaged in varied, far-impacting work as journalist, labour leader, industrialist and educationist. When he came back to India in 1916, he was immediately swept away in the rapidly gaining momentum of India's freedom movement. Once again, the deep chasm of disparity bothered him deeply. The experiences during the time deepened his empathy for his fellow humans. He was clear that he would devote himself to nation-building but unsure of the path to take. His decision was guided by his vision.
**Contents and Sample Pages**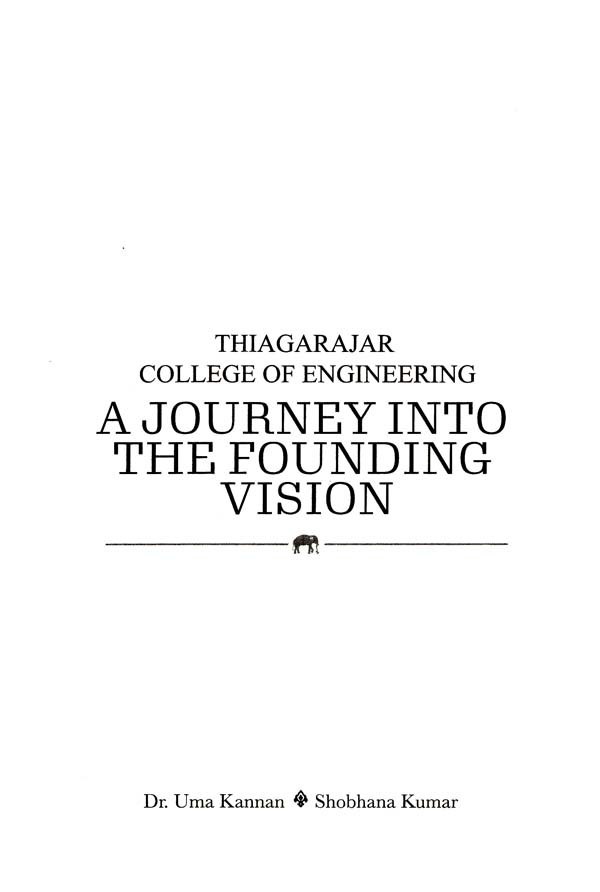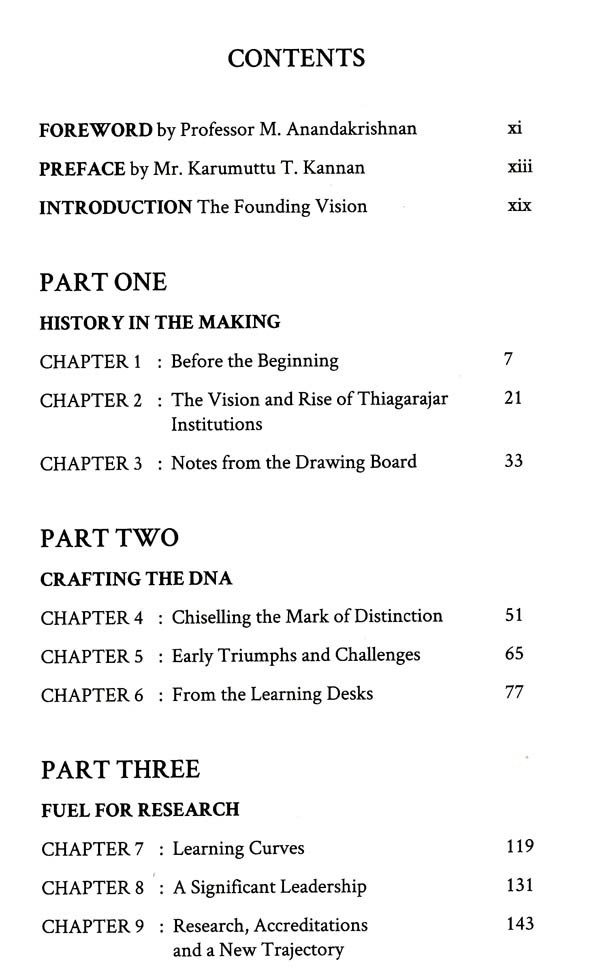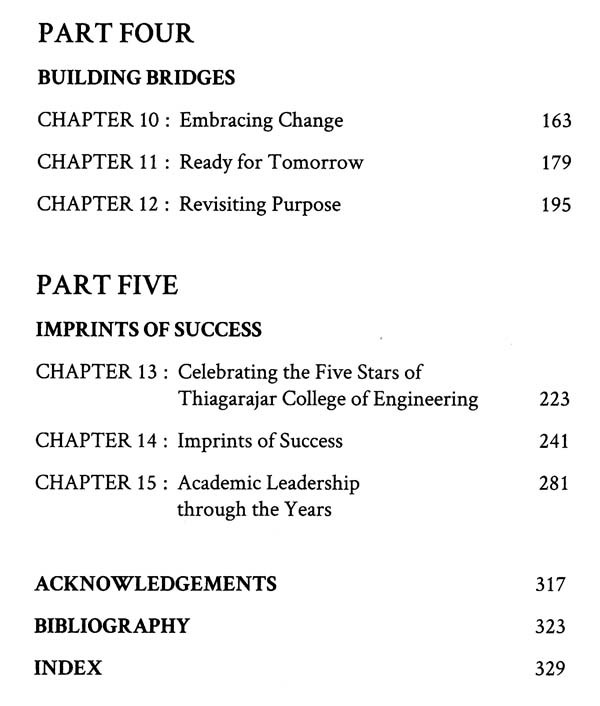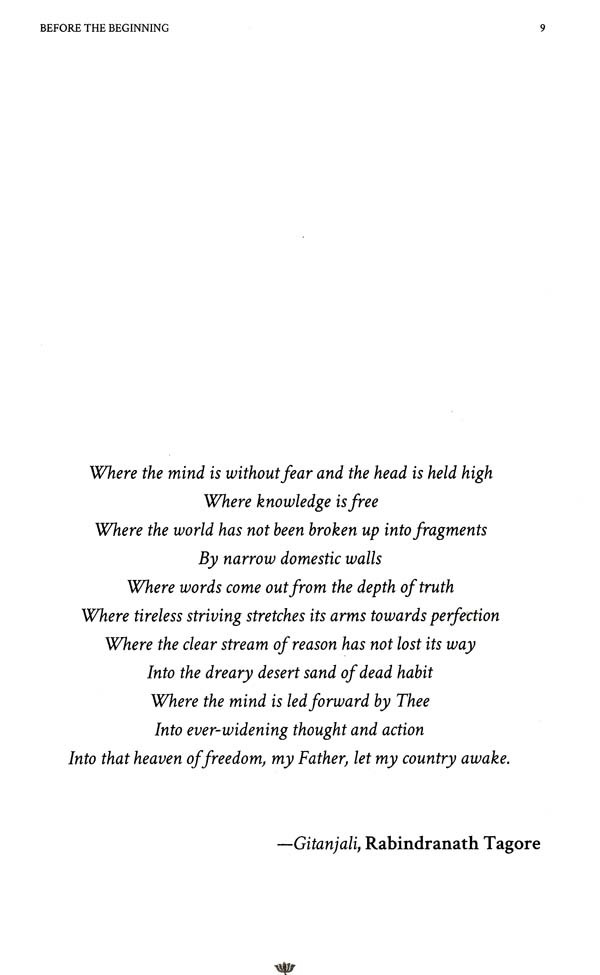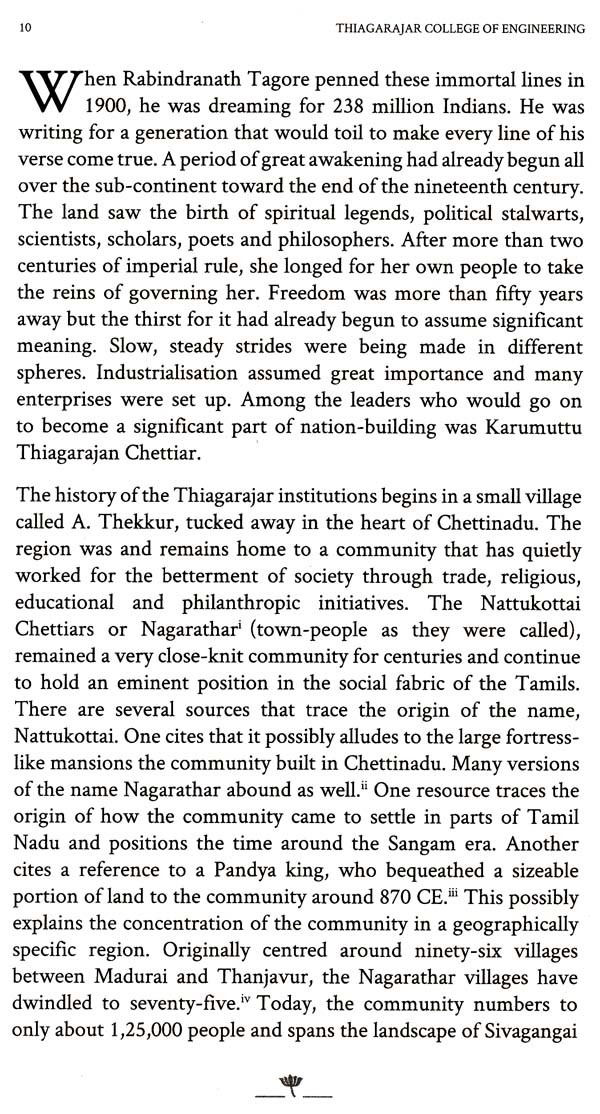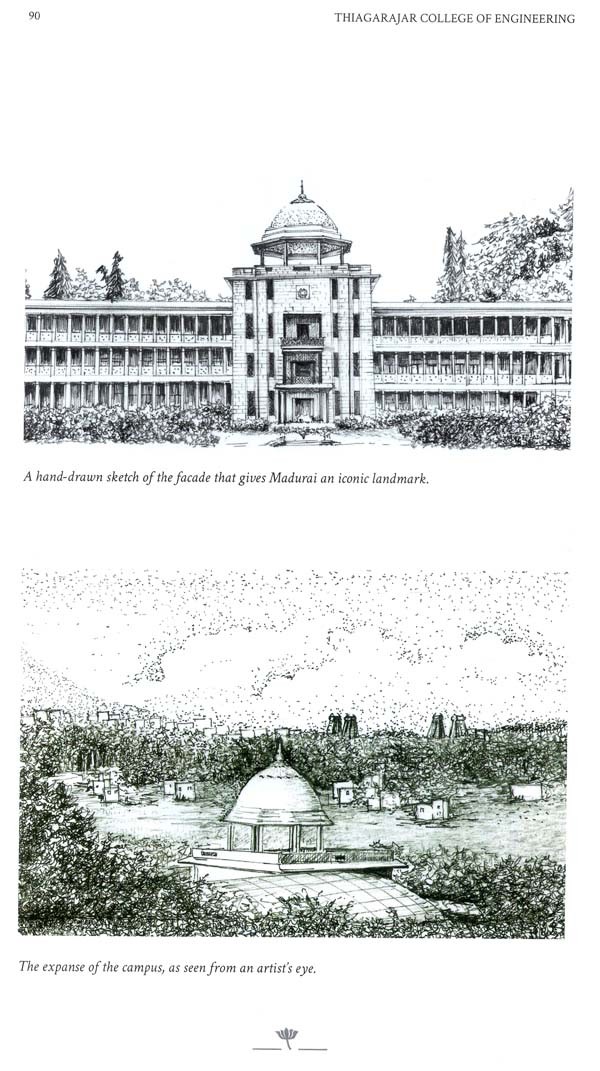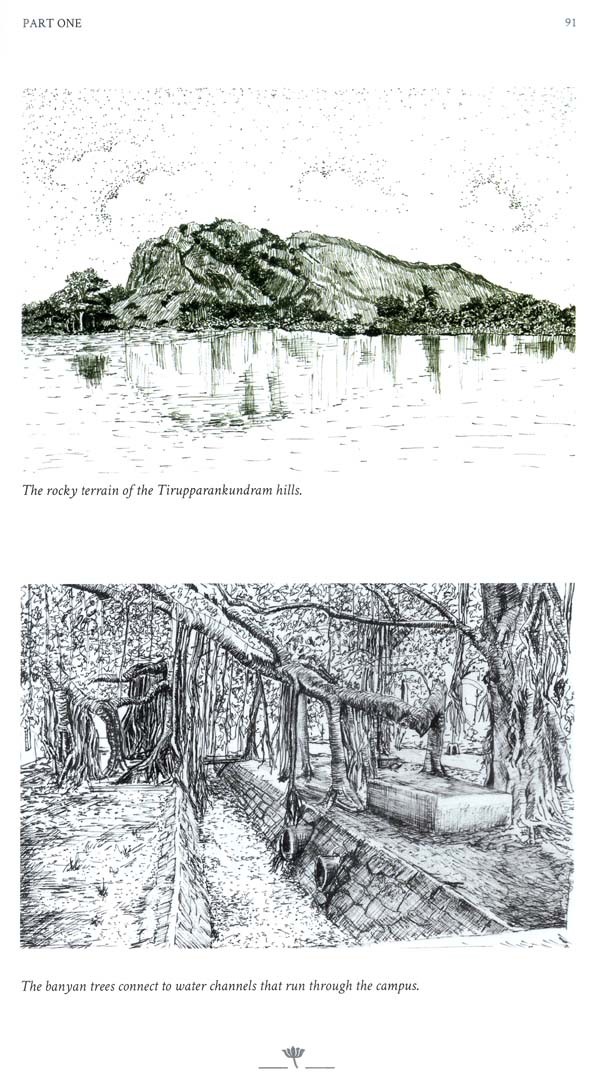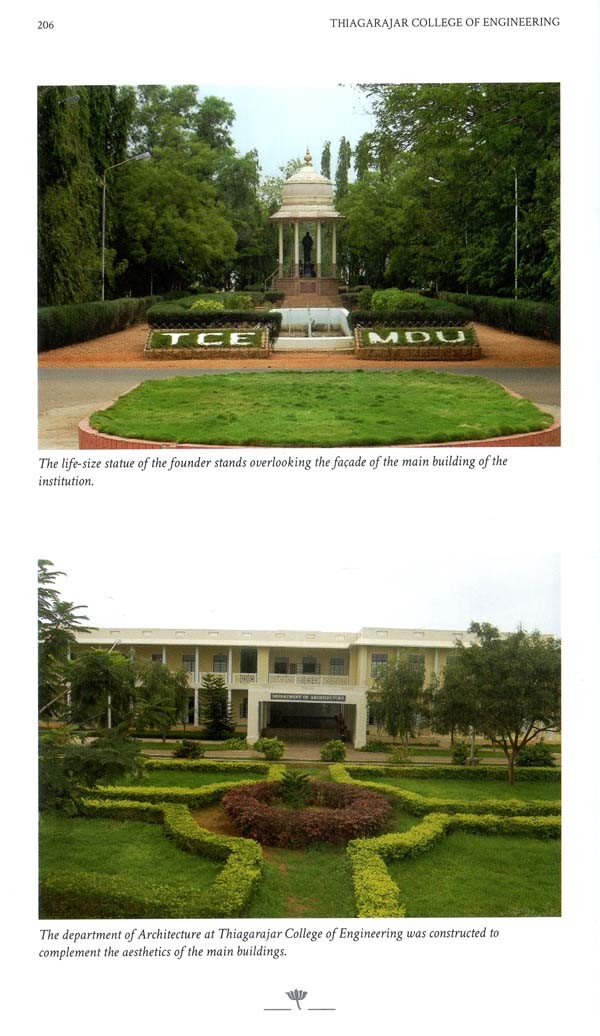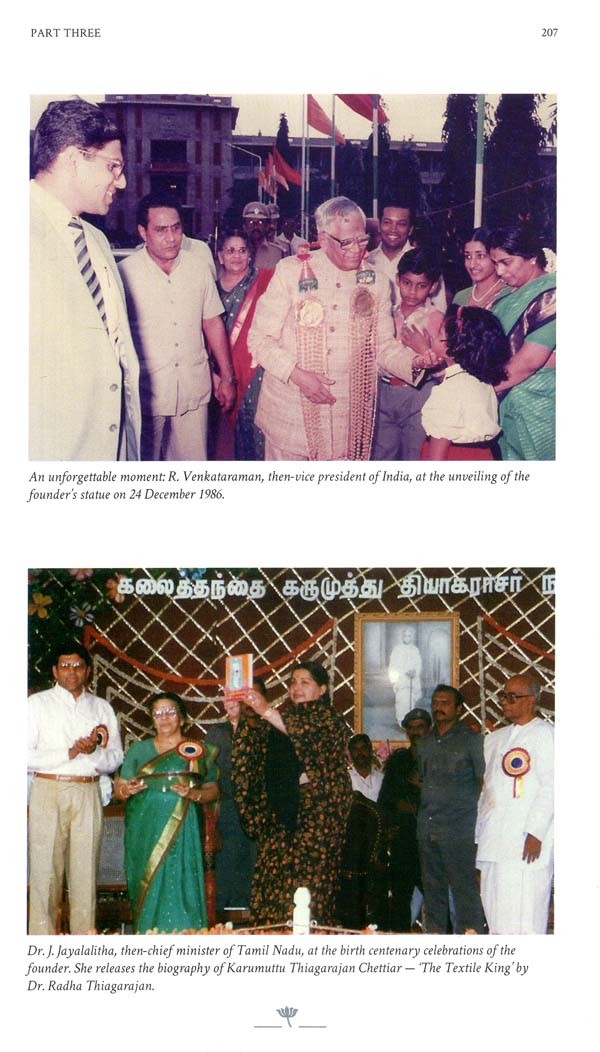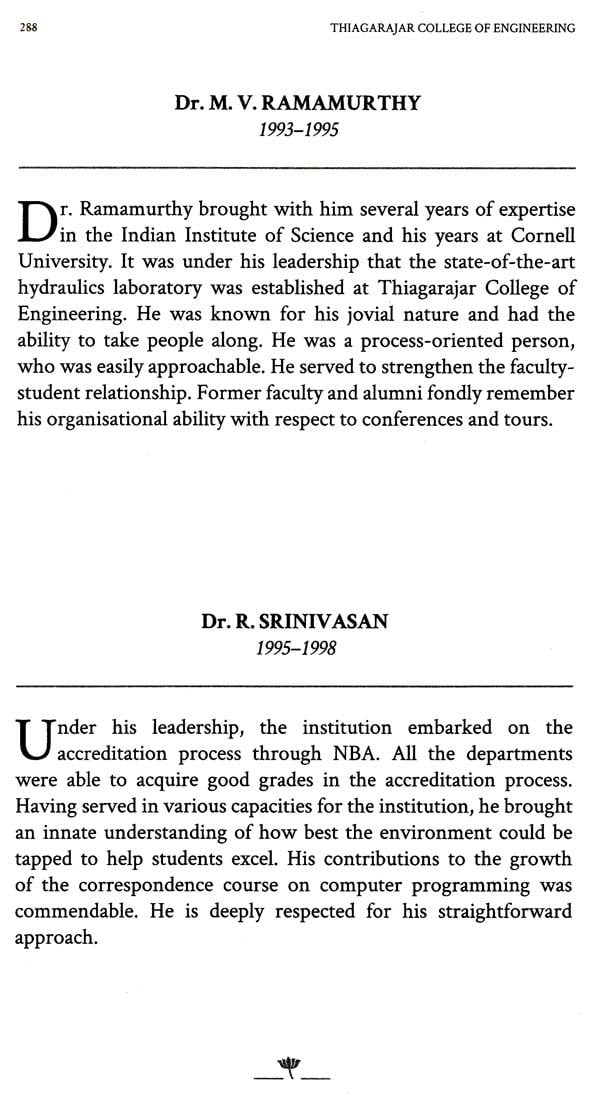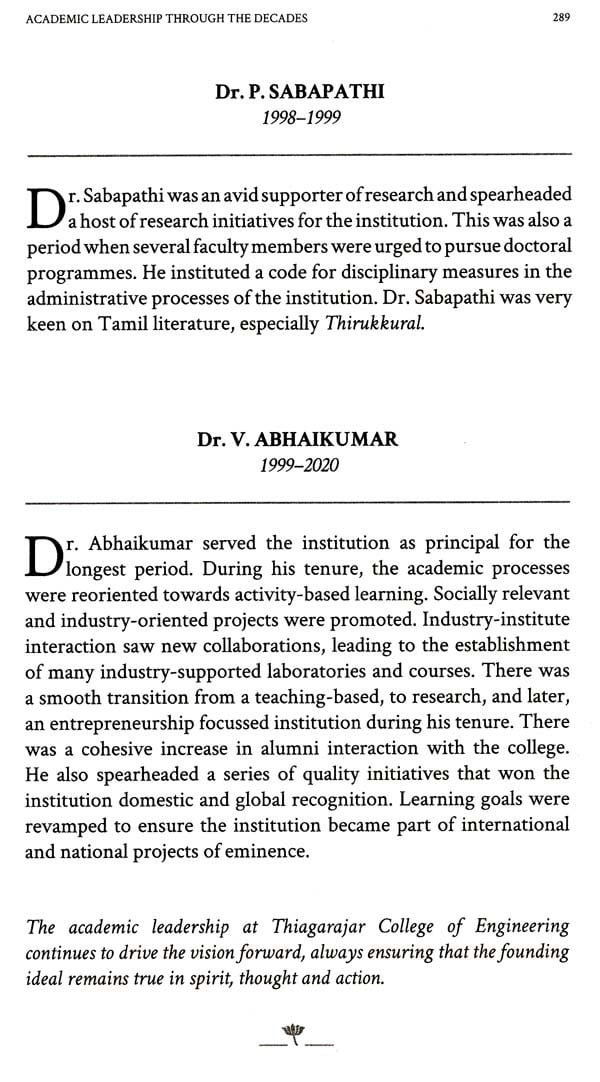 ---
We Also Recommend