Tirukkural in Punjabi
$4700

$47.00
Tax included.
Shipping
calculated at checkout.
---
---
Book Specification
Book Description
Foreword
The Tamils may be justly proud of the fact that Tamil has won the status of a Classical language, the status it richly deserves and should have got long, long ago. The Central Institute of Classical Tamil (CICT), established in Chennai, has mapped out various plans including preparation of definitive editions of forty-one Classical Tamil texts and translation of these works into English and other major European languages as well as into major Indian languages and writing of a historical grammar of Tamil. Language being the autobiography of a people, our objective is to preserve and safeguard the invaluable treasure of the literary compositions in our language. If only we could delve into our past and recover the riches and wealth of the mighty treasure trove of Classical Tamil poetry, we will be amply rewarded by its lofty poetry, the poetry that strengthens and purifies the holiness of heart's affection and enlarges our imagination. Apart from these, reading the ancient Tamil texts such as Tolkappiyam, Ettuuokai, Pattuppattu, Tirukkural etc., provides a foundation for scholarship for the present and in this sense they do provide enlightened education.
It is heartening to write this foreword to the series of publications brought out by CICT, which I am sure, will do full justice to the masterpieces in Tamil without compromising on the quality of production. The Cankam corpus being a repository of our glorious culture, it behoves our present and future generations to study them and to convey their message and the vision of life embodied in them to the public at large. Let me, therefore, commend the series to the enlightened beings the world over.
Preface
Tirukkural, of which the Tamils can justly be proud, is one of the most translated literary works in the world and, has among the classics in Tamil, the largest number of translation, covering a wide range of languages.
The present volume in the first translation of the celebrated book into Punjabi by Tarlochan Singh Bedi.
I am pleased to thank him for coming forward to undertake this responsibility and bringing it to a successful completion with so much involvement.
I am thankful to the Department of Translation of the Institute and the Publications Division for their help in bringing out this volume.
The Hon'ble Minister of State for Human Resource Development and Vice-Chairman of the Central Institute off Classical Tamil has written the foreword which lends grace to this present volume. We are indeed privileged to have her foreword for this volume and it is our bounden duty to express our sincere thanks and gratitude to her.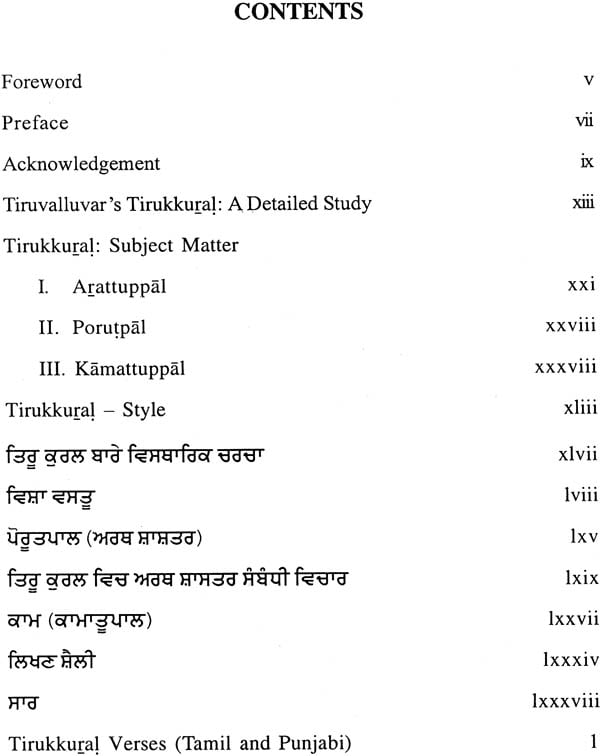 Sample Page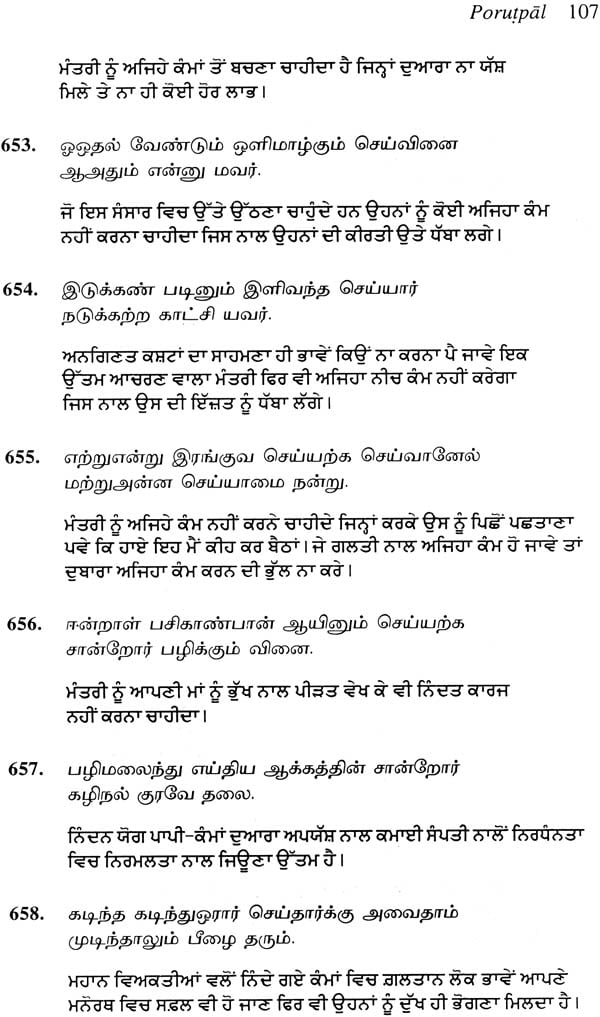 ---
We Also Recommend