The Two Truth in Bon
$6700

$67.00
Tax included.
Shipping
calculated at checkout.
---
---
Book Specification
| | |
| --- | --- |
| Item Code: | AZG887 |
| Author: | Seiji Kumagai |
| Publisher: | VAJRA PUBLICATIONS, NEPAL |
| Language: | ENGLISH |
| Edition: | 2011 |
| ISBN: | 9789937506601 |
| Pages: | 348 |
| Cover: | PAPERBACK |
| Other Details | 8.50x5.50 inch |
| Weight | 410 gm |
Book Description
About the Book
The Truths in Bon is an innovative survey of Madhyamika's two truths theory of the Bon religion in comparison with Indian and Tibetan Madhyamika. Since 1960's Bompo study has developed rapidly in western countries. Concerning its doctrine, they seem to have focused on Vajrayana and Dzogchen. On the 1967:12. other hand, the study on Satrayana has been left behind Madhyamika philosophy is the fundamental basis of Vajrayana and Dzogchen, and the two truths is the basic theory (gzhi) of Madhyamika. The Two Truths in Bon is the first comprehensive study published in western language on Bonpo Madhyamika philosophy.
In the Introduction of The Two Truth in Bon, Seiji Kumagai provides an overview of the general history of the two truths in Indian Buddhism and Tibetan Buddhism. This is also helpful to understand how Bonpo thinkers were influenced by Buddhist doctrine and how they have created religion. their own theory.
About the Author
"Bom might indeed claim to be the true religion of Tibet. Accepting everything, refusing nothing through the centuries, it is the one all embracing form of Tibetan religion." This is what Dr. David Snellgrove, who has accelerated the modern Bon studies, wrote in his Nine Ways of Bon.
In recent years, enormous effort has been made to clarify what Bon religion is. Although the research basis was successfully established to some extent, precise analyses of Bonpo doctrines still are far behind those in Buddhism. In this context, Dr. Seiji Kumagai's careful analysis of Bonpo Two TRUTHS theory, that is the basis of Madhyamika philosophy. makes a great contribution along Snellgrove's claim.
This volume, the first comprehensive study on that topic written in English, will give a strong impetus to further study of Bon Prof. Nagano Seiji Kumagai is Assistant Professor of Young Researcher Development Center (Hakubi Center) at Kyoto University. His speciality is Madhyamika philosophy of Indian, Tibetan, and Chinese Buddhism and also Bon religion.
Bonpo thinkers were influenced by Buddhist doctrine and how they have created religion. their own theory.
Foreword
It is for the first time that a study of the Madhyamaka philosophy in its Bon interpretation has now been published. In this regard Dr Seiji Kumagai is to be congratulated for this most arduous work and making available a critical edition of the relevant Tibetan texts as well as providing their English translation.
The Bon tradition of course derives its inspiration of this philosophy from Buddhism. The Yogacăra Madhyamaka was introduced into Tibet by Santarakṣita in the eighth century A.D. It was the main philosophy in Buddhist institutions such as bSam yas Monastery. Until the advent of the Präsangika Mädhyamika school in the eleventh century with the translation of the Madhyamakavatära of Candrakirti by Pa tshab Lotsawa Nyi ma grags (b.1055), the Yogacara Mädhyamika school was prevalent in Tibet.
However, the dbu ma philosophy of the Bon tradition originates from Me ston Shes rab 'od zer (according to the Bon chronology, his dates are 1055-1132, but Dan Martins proposes 1118-1192). His dBa ma bden gnyis was the first of its kind in the Bon religious movement, but it was only about two centuries later that a commentary of it was written by mNyam med Shes rab rgyal mtshan (1356-1415). Seiji Kumagai has also made an English translation of this commentary which is regarded as the main work for teaching the dbu ma philosophy in Bon monasteries.
Introduction
What is the Bon religion? It is still quite difficult to offer a complete answer to this question. Followers of the Bon religion, or Bonpos, believe that this religious tradition was founded as the Everlasting Bon (g-Yung drung Bon) by the Teacher (ston pa) Shen rab Mi bo (16,016-7,816 BCE), who was born in 'Ol mo lung ring, which is generally identified with the land of sTag gzig to the west of western Tibet. His teachings spread from sTag gzig to the countries such as Zhang Zhung, India, and China, and then to Tibet.
**Contents and Sample Pages**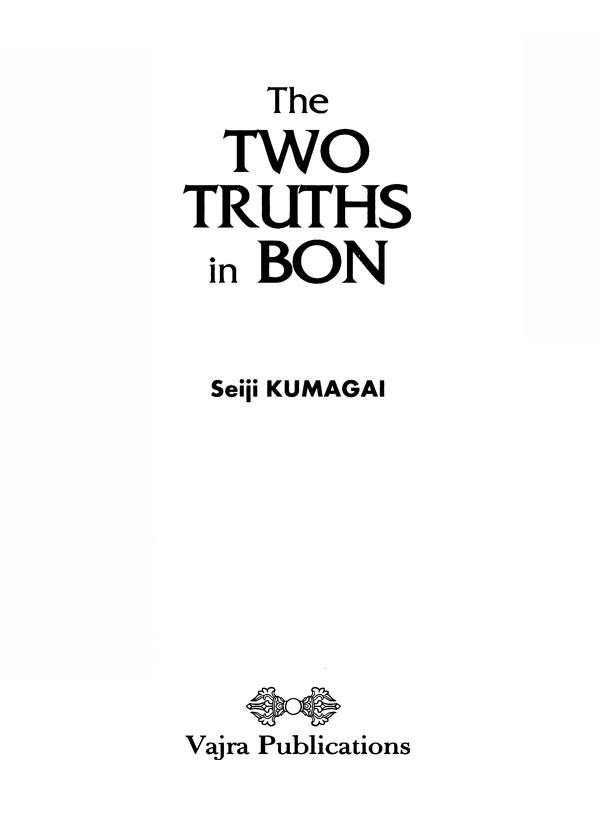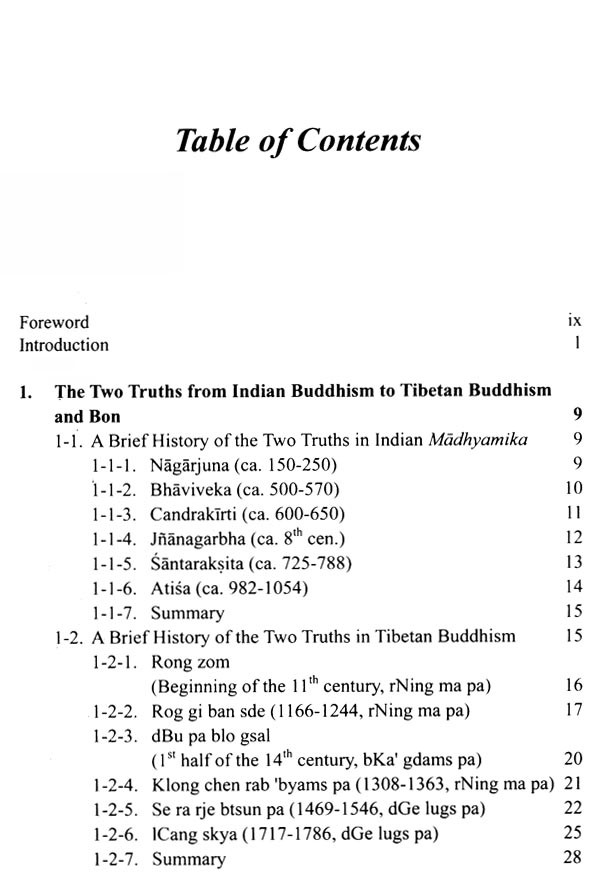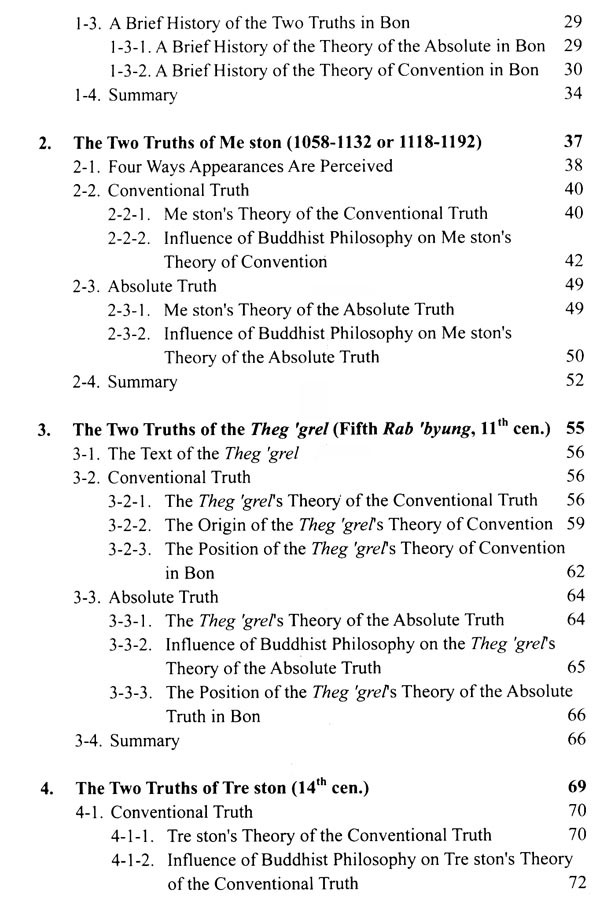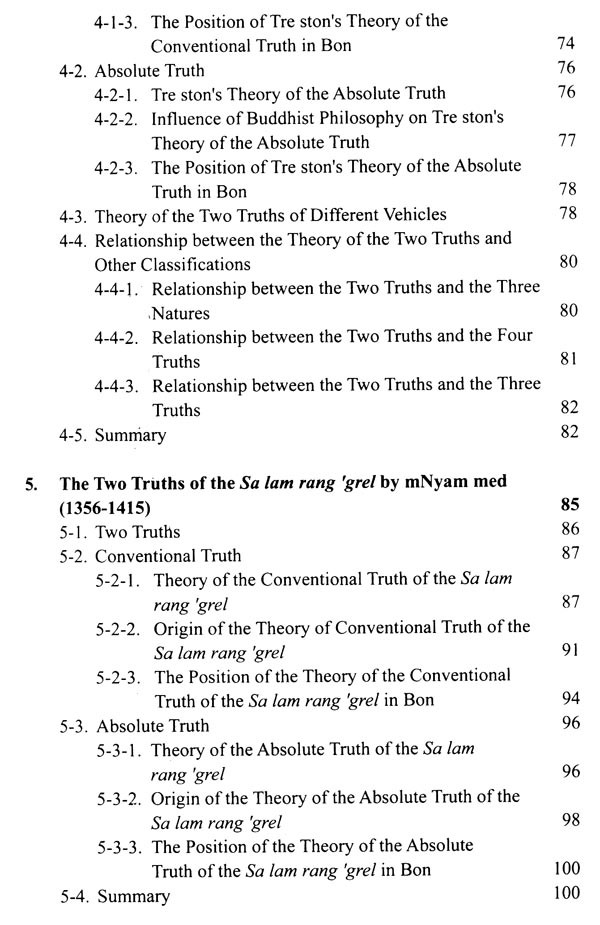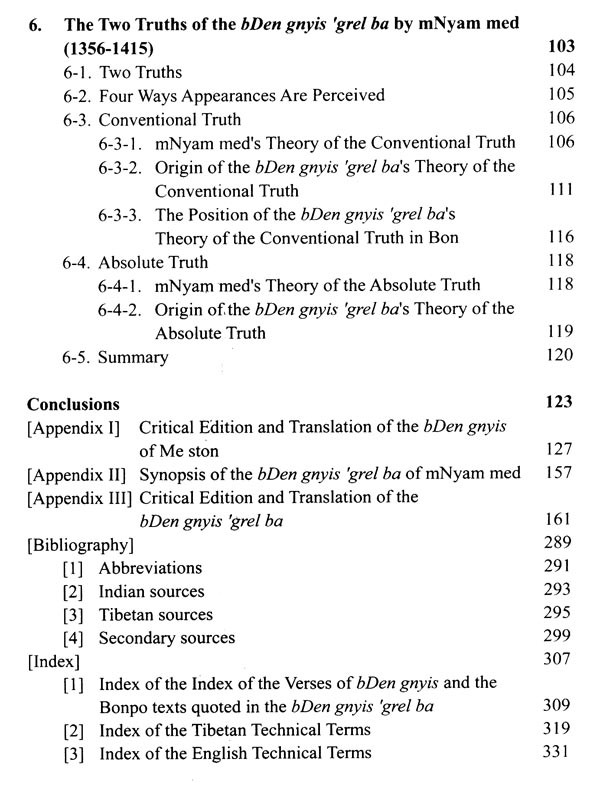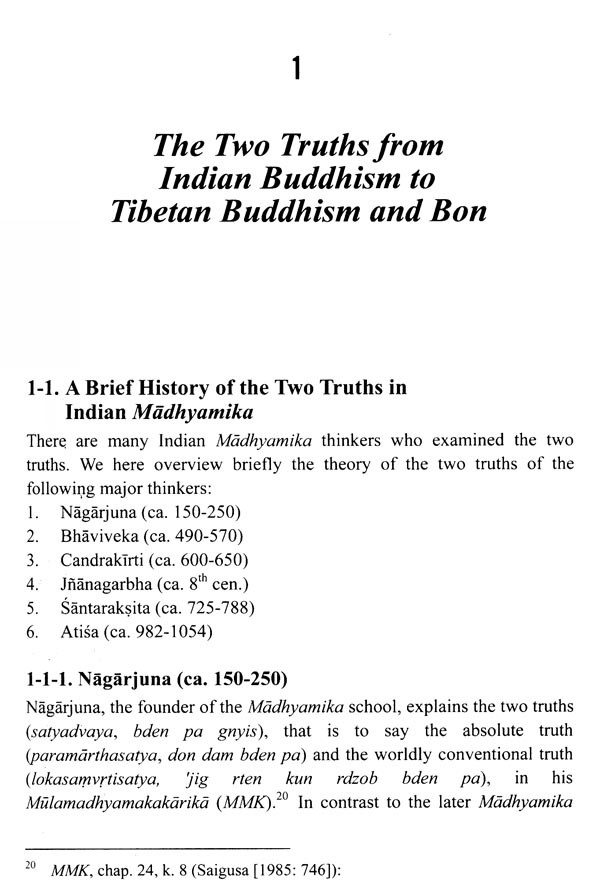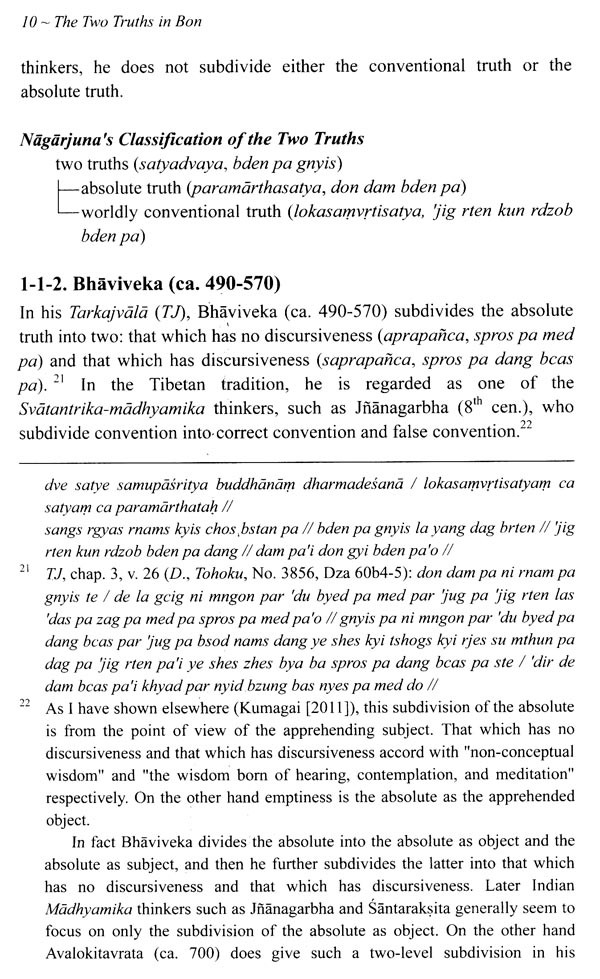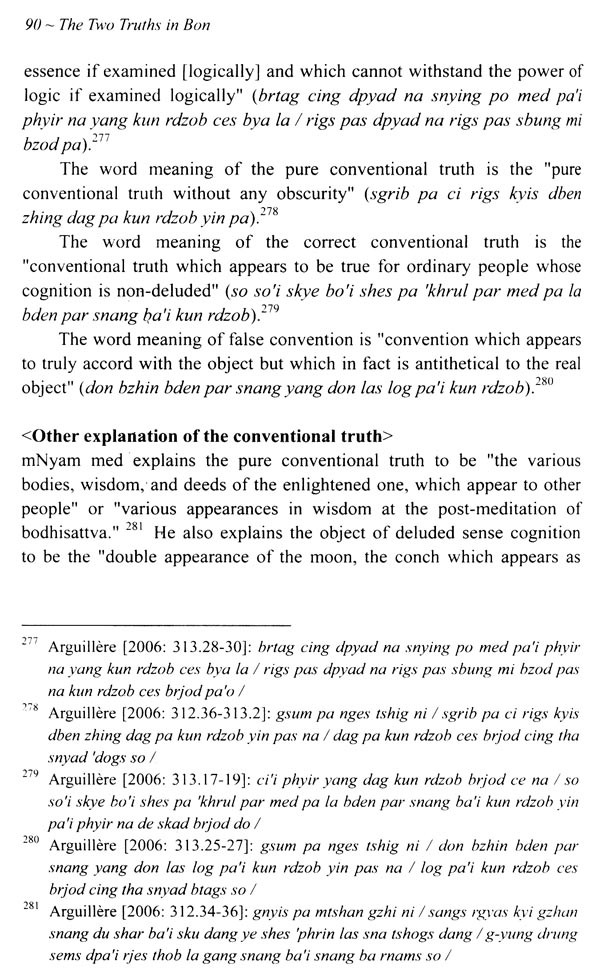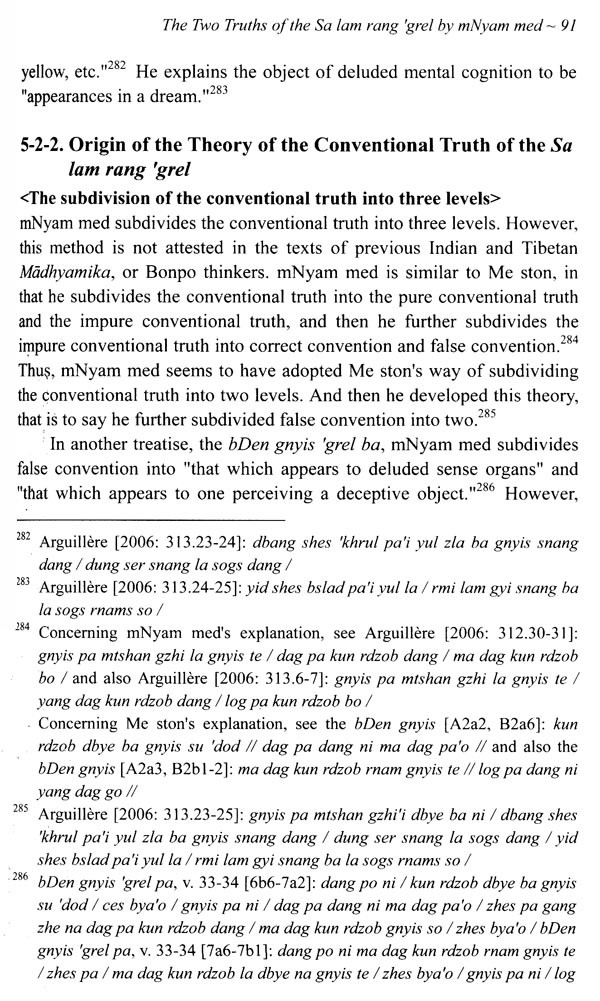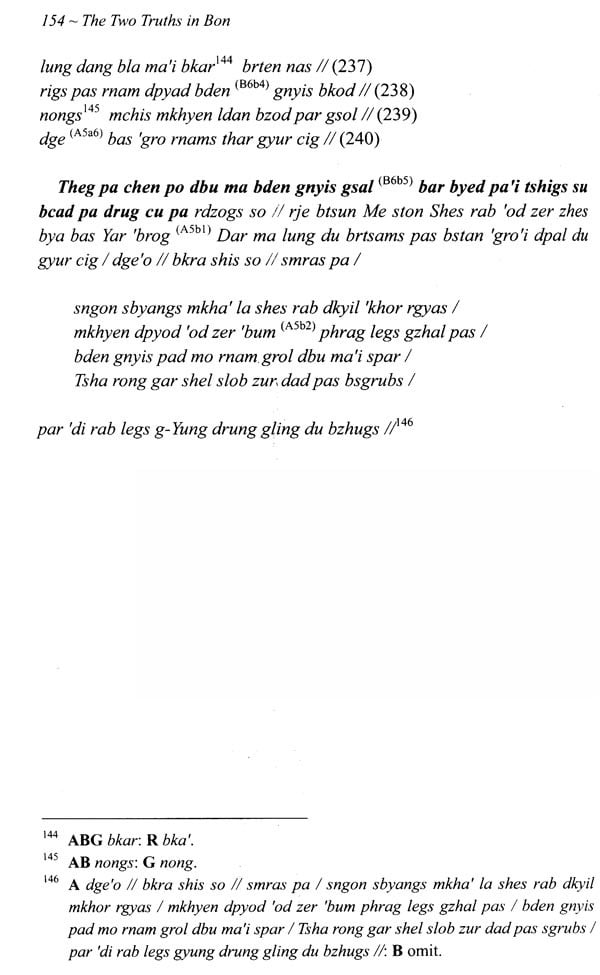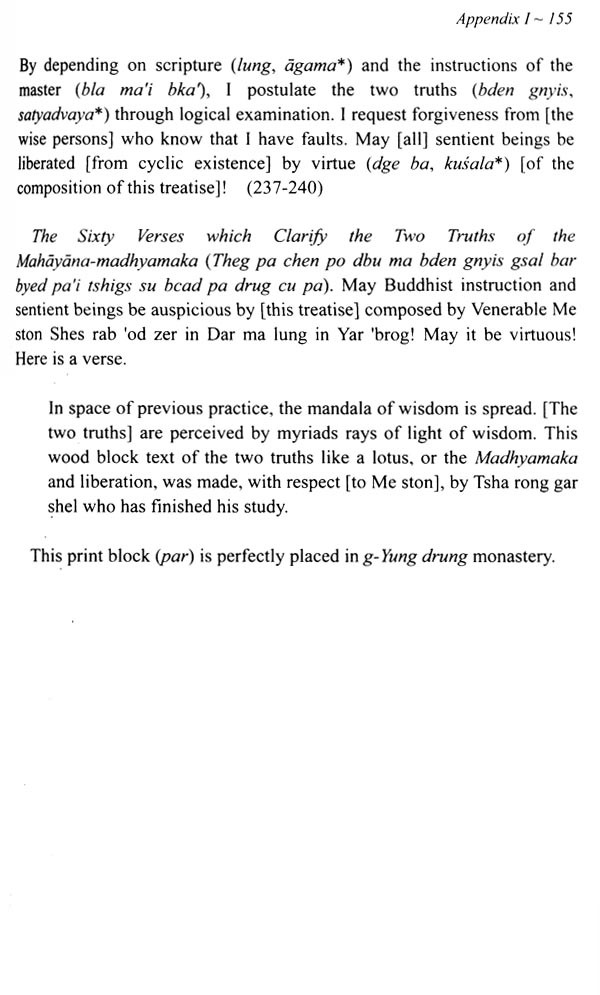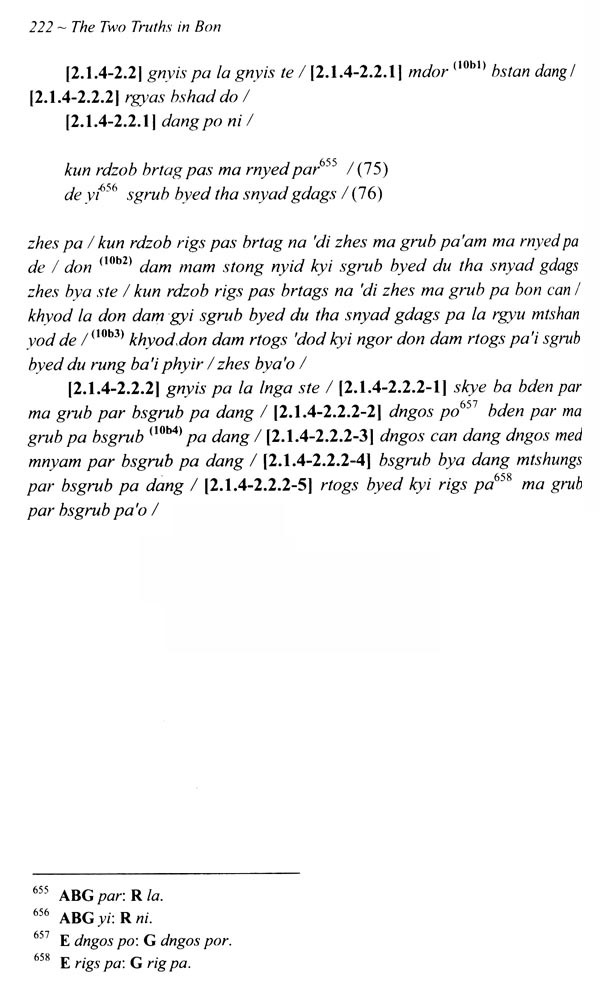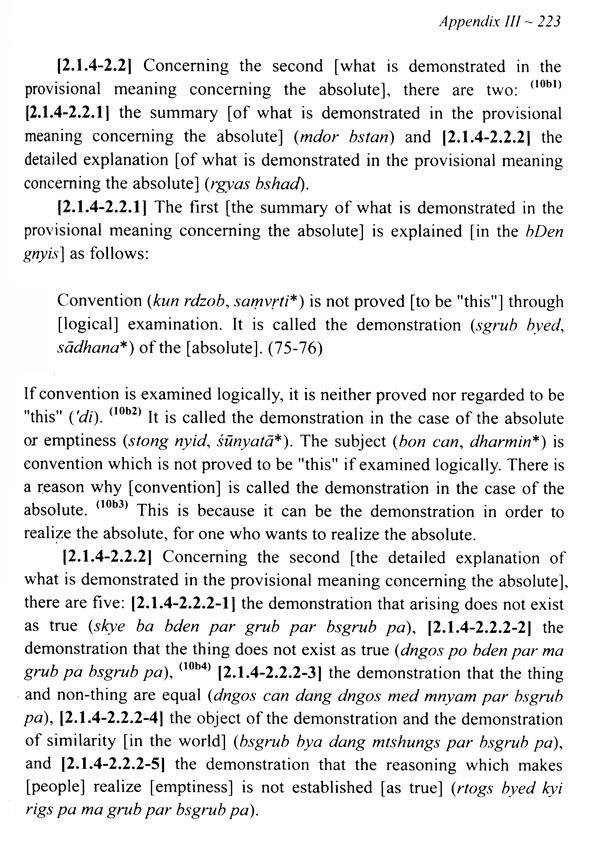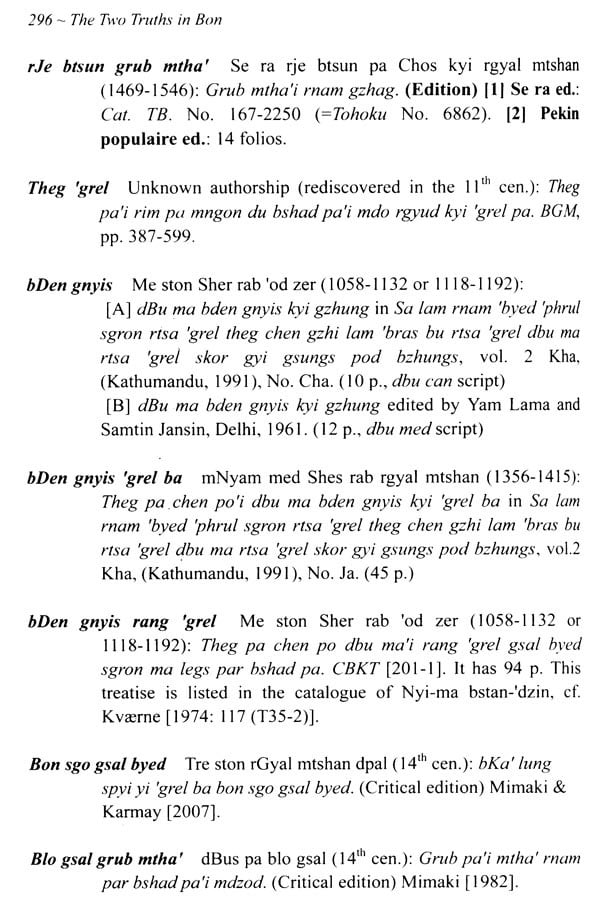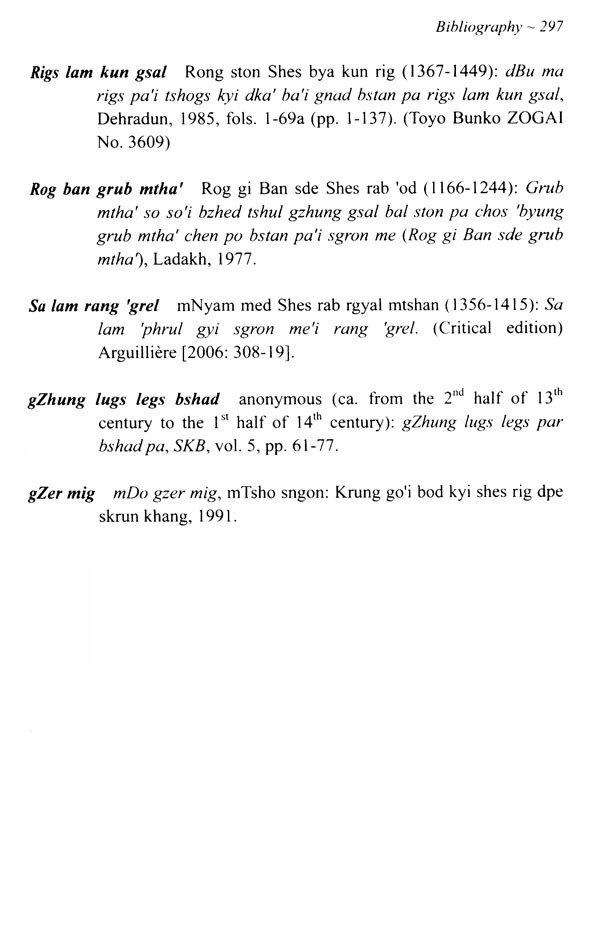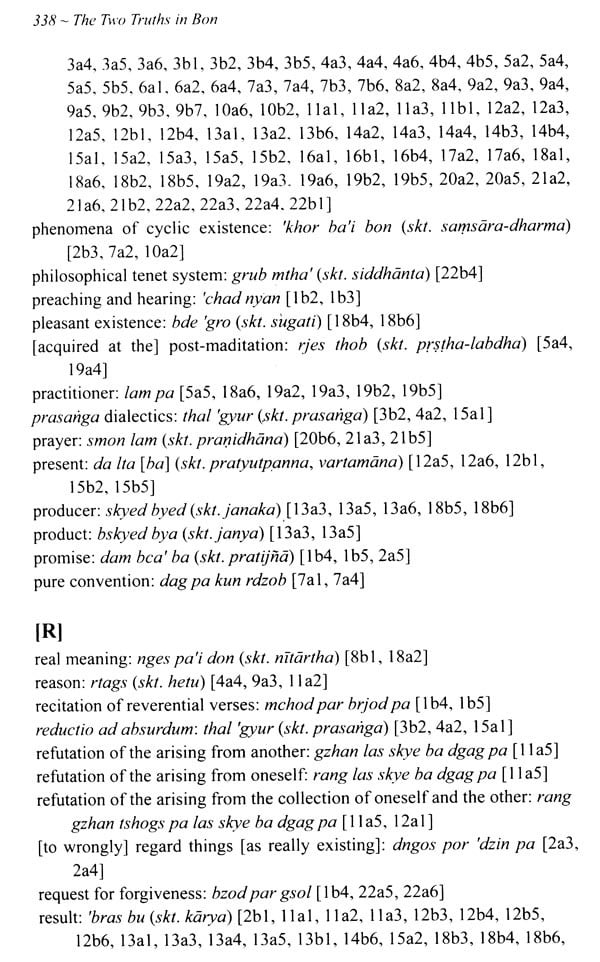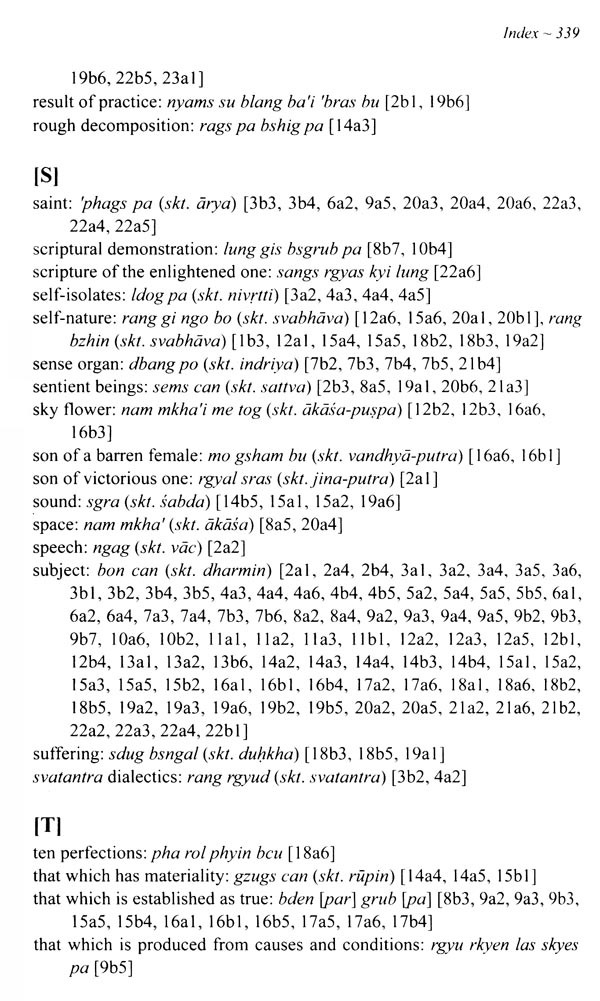 ---
We Also Recommend