The Upanishadic Approach to Reality
$1800

$18.00
Tax included.
Shipping
calculated at checkout.
---
---
Book Specification
Book Description
Publishers Note
Second Edition
This is the substance of the series of lectures delivered by Sri Swamiji at Mysore during Sankara-Jayanti Saptaha (from 17-5-72 to 23-5-72). It is expected to be complimentary to the lectures delivered by Swamiji at Bangalore during the same year. The first edition of the book which was published in 1947 was out of stock.
As there was an increasing demand for this enlightening work, of Swamiji, of revered memory, we have pleasure in bringing out this second edition.
Preface
There is very little to add to what I have written in the preface to the 'Intuition of Reality' already published by the Karyalaya.
The art of interpreting the Upanishads so as to convince the reader that there is really a unique method adopted in these holy rev elations, has been preserved by Gaudapada and Sankara, whose works are fortunately still available.
I hope that this small book contains in a nut-shell the most important principles involved in the method adopted by the Upanishads in presenting Reality and Truth.
The last lecture contains the most important innovations and revolutionary doctrines introduced by Post-Sankara-Advaitins in the guise of sub-commentaries. The reader who is interested in the subject, is referred to my Sanskrit work 'The Vedanta-Prakriya-Pratyabhijna' and the English Introduction to that publication.
Contents
| | | |
| --- | --- | --- |
| I | The Wisdom of the Upanishads | 1-11 |
| II | Practical Life Confined to the Sphere of Avidya | 11-17 |
| III | The Nature of Vidya and Avidya | 18-24 |
| IV | The Language and Style of the Upanishads | 24-38 |
| V | The Vedanta-Sastra as the only means of Right-Knowledge | 39-44 |
| VI | The Method of Superimposition and Rescission | 44-54 |
| VII | Innovations of sub-commentaries | 54-75 |
Sample Pages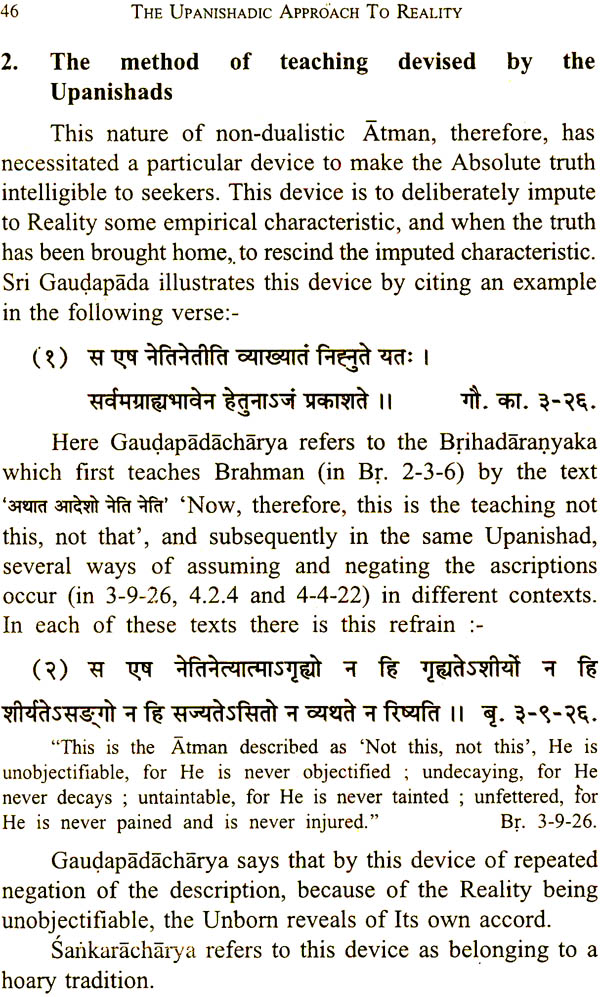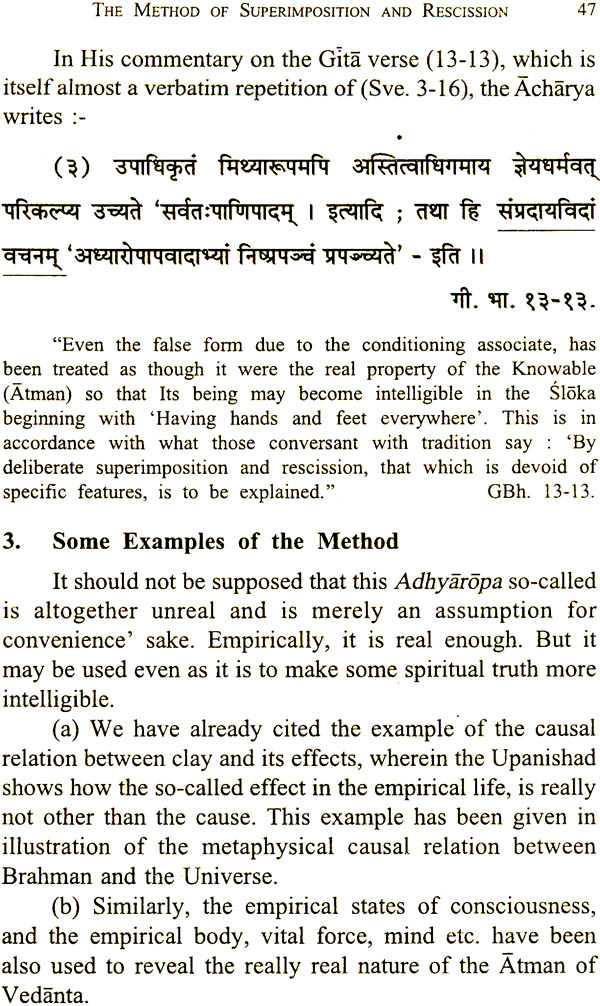 ---
We Also Recommend