Vedic Studies
$4600

$46.00
Tax included.
Shipping
calculated at checkout.
---
---
Book Specification
| | |
| --- | --- |
| Item Code: | AZE682 |
| Author: | Nirmala R. Kulkarni |
| Publisher: | BHARATIYA KALA PRAKASHAN |
| Language: | Sanskrit Text With English Translation |
| Edition: | 2006 |
| ISBN: | 8180900975 |
| Pages: | 300 |
| Cover: | HARDCOVER |
| Other Details | 9.00x6.00 |
| Weight | 520 gm |
Book Description
About the Book
Vedic Studies is a collection of research papers dealing with Vedic themes. The articles presented in various seminars and published in different reputed journals are given a coherent form in the present book. These are presented in two parts. Part One includes papers on religion, mythology and philology such as Arāti: A Developed form of Arätrika, Yama and Niyamana, Negative compounds in Veda and Avesta etc. Part Two includes papers dealing with Sikṣas and Prati sakhyas such as, Problems of Editing the Sikṣa Texts, On Aplutavad Upasthite etc.
About the Author
Dr. Mrs. Nirmala Ravindra Kulkarni is working as Research Scientist in the Centre of Advanced Study in Sanskrit, University of Pune since 1988. She teaches Veda, Linguis tics and Manuscriptology. Besides teaching, she has published various articles in reputed journals.
Major Achievements :
First Class first (with distinction) in M.A. (1980) and has won the coveted B. J. Patel Gold Medal. Ph.D. (1984) on "A Grammatical Analysis of the Taittiriya Pada pätha" (Published in 1995, Indian Books Centre, Delhi). She has completed the following projects for the fulfilment of the award of Research Scientist :
1. Lakṣaṇacandrika (A Commentary on the Taittiriya Prátiśäkhya by Mahadeva Ramacandra Gadre), (Published in 2004, Bharatiya Kala Prakashan, Delhi).. 2. Salvation and Women in Jainism with special reference to Strimukti vada of Prabhäcandrasūri.
3. Strikarmani in the Atharvanic Tradition.
At present she is working on various themes such as Edition of Athar vagrhyapaddhati, Negative compounds in the Veda and Avesta, Ritual Tradition of the Atharvaveda etc.
Preface
It gives me pleasure to put forward this volume of collected papers dealing with the Vedic literature. These papers were presented and discussed in various seminars arranged by many prestigious institutes.
These articles deal with two aspects of Vedic study. Part One deals with the problems concerning religion, mythology and presents the interpretation of the Vedic texts whereas Part Two deals with a particular branch of Vedic analysis, the first and foremost Vedanta Siksa and Prätiśākhya. In the first part nineteen papers are presented.
The first paper 'Arati : A Developed Form of Aratrika' tries to show the development of a rite performed everyday in the Puja ritual. As the etymology of the word ärati given in a prestigious Marathi encyclopedia was not convincing, I tried to trace out its origin and development and thereby successfully arrived at the original source of the word as well as that of the rite.
The second paper entitled 'Interpretation of Dream Through the Eyes of Moderns and Ancients' tries to point out the similarity in the beliefs regarding dream in ancient mind and in the mind of a modern Indian man. The paper was presented in a seminar on the 'Living Customs and their Ancient Indian Sources' and is published in the proceedings of the same.
**Contents and Sample Pages**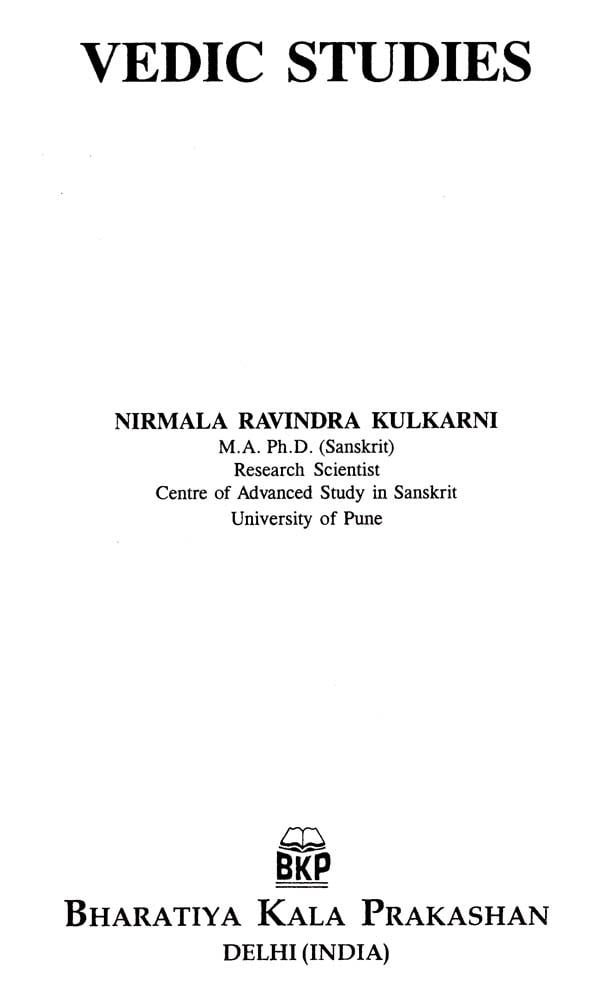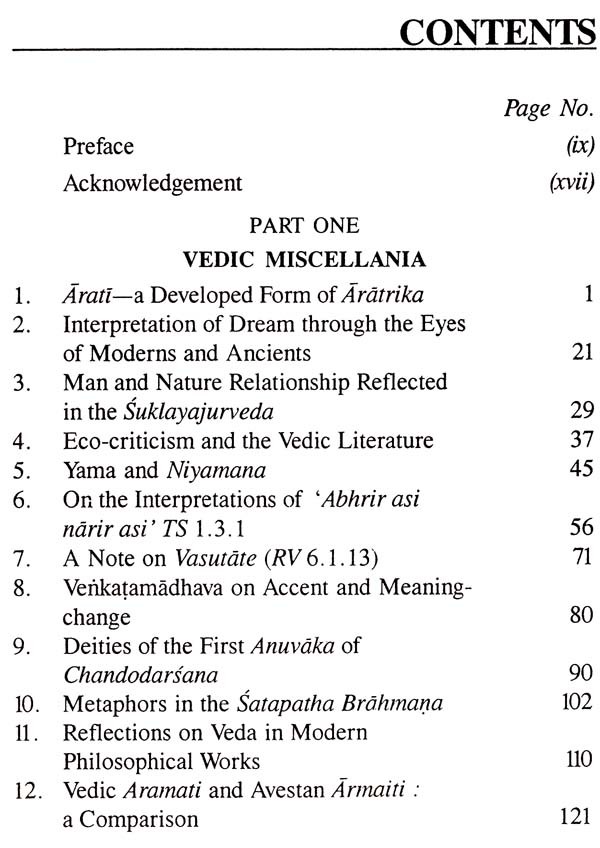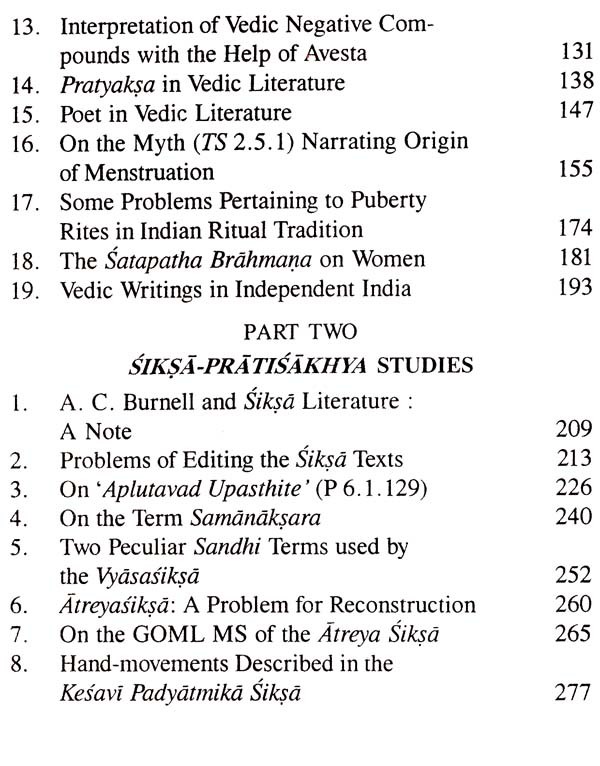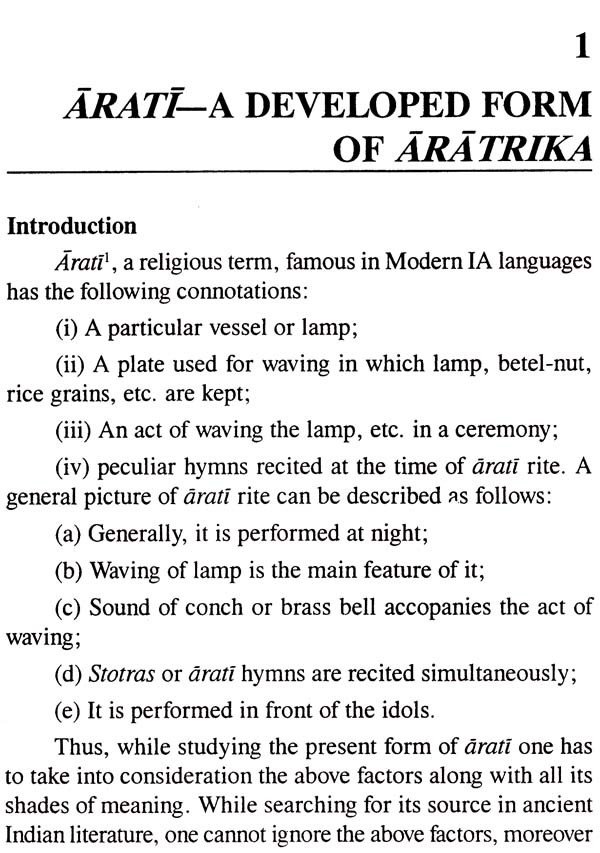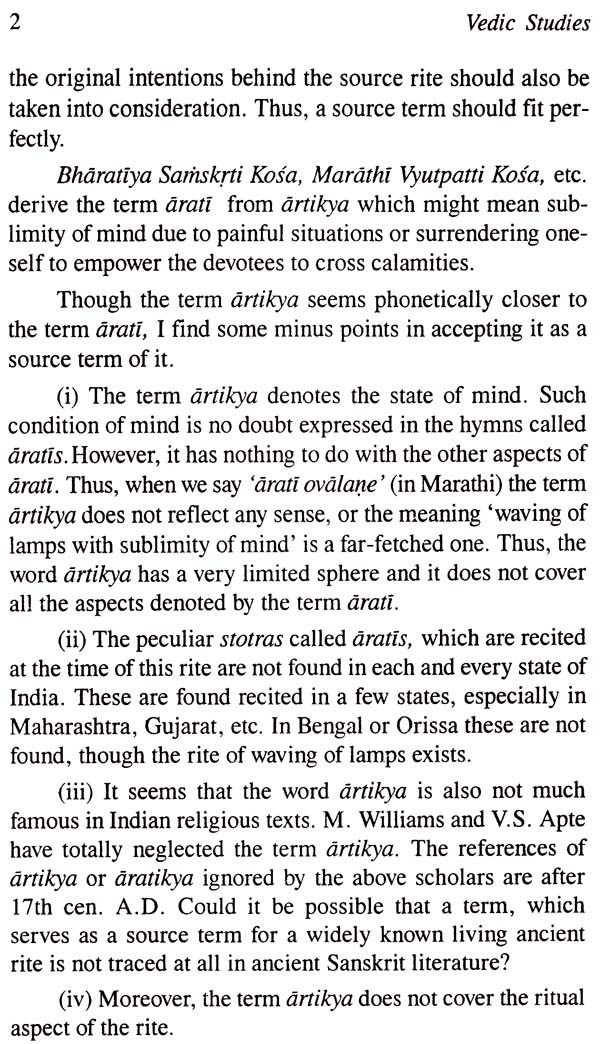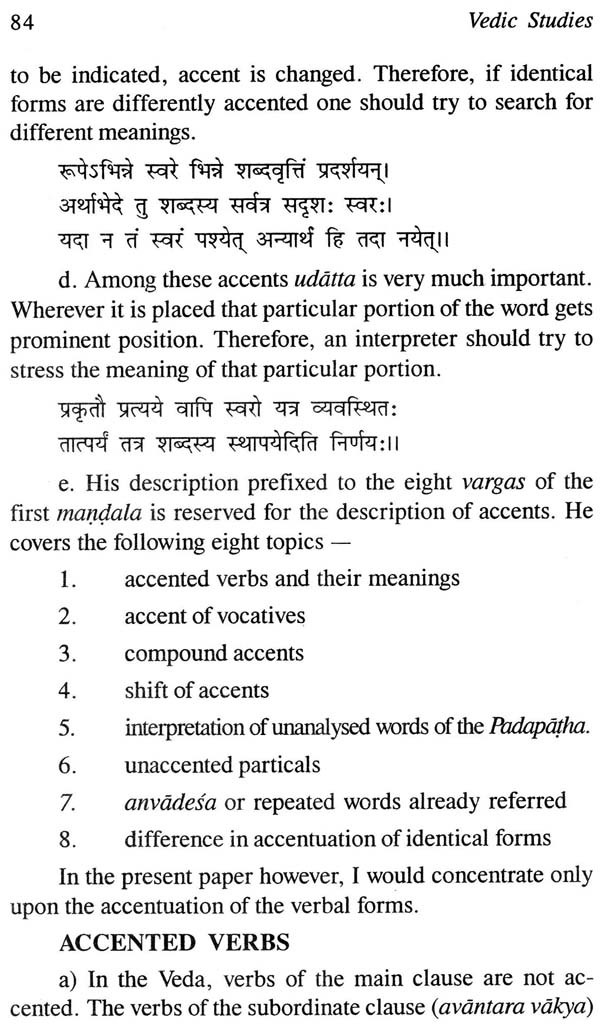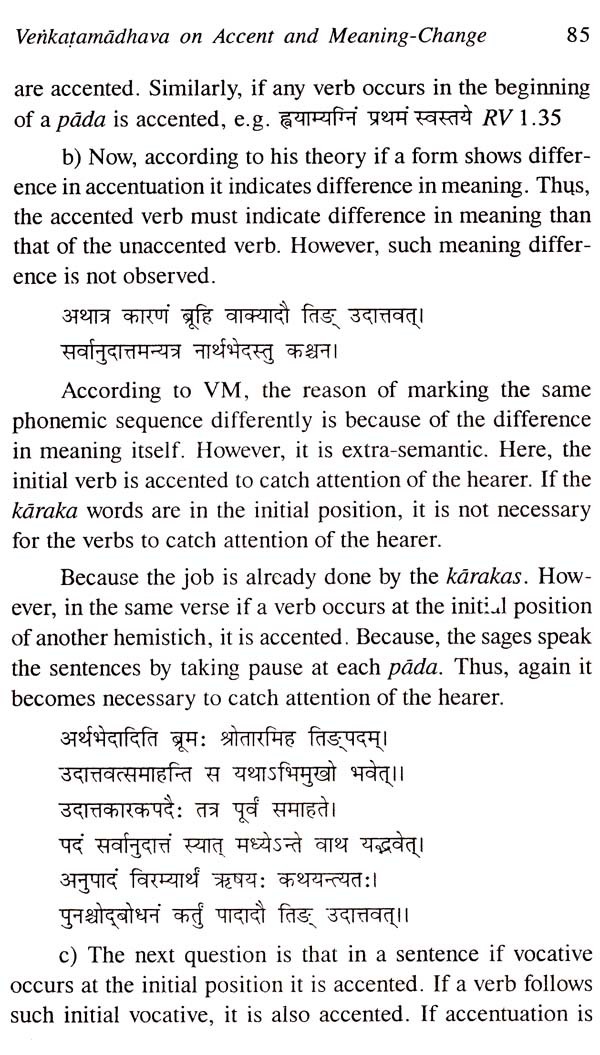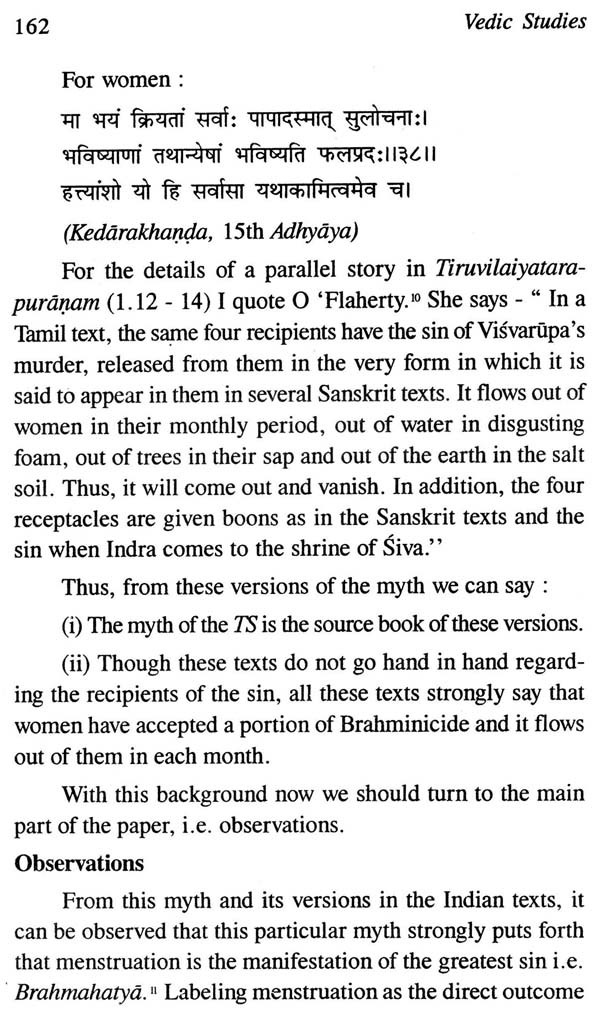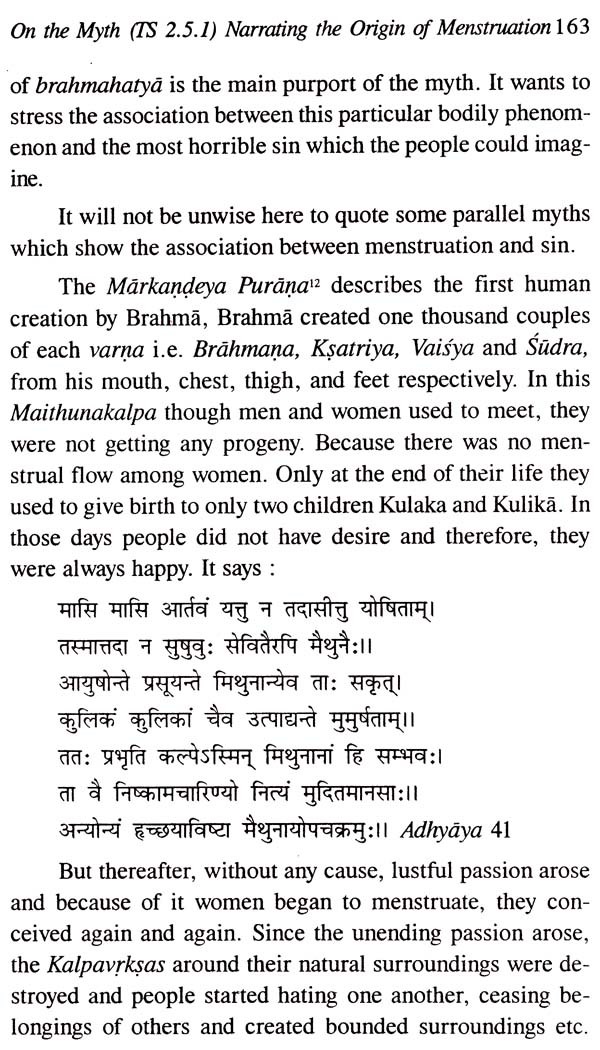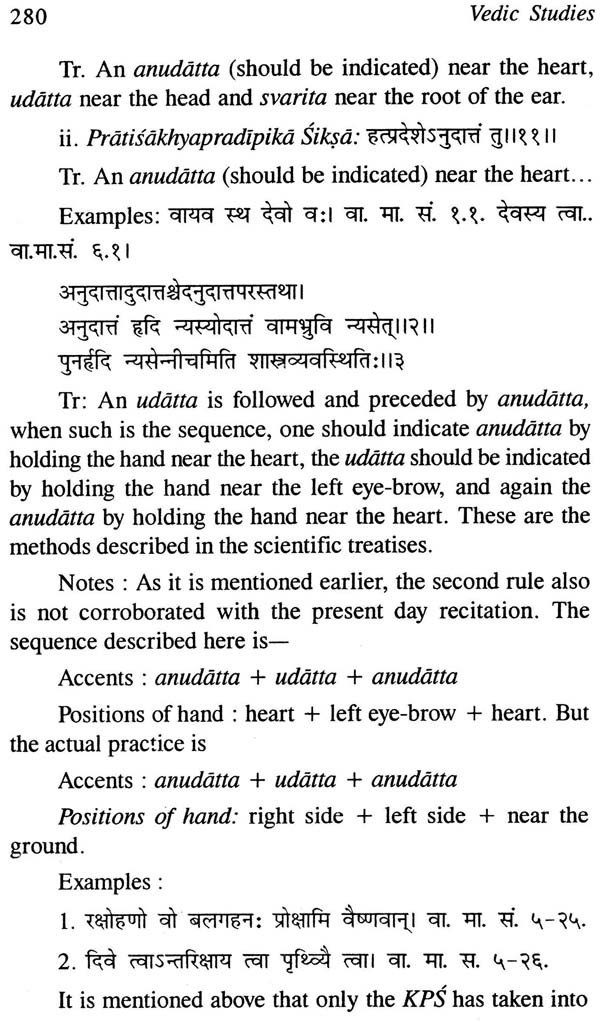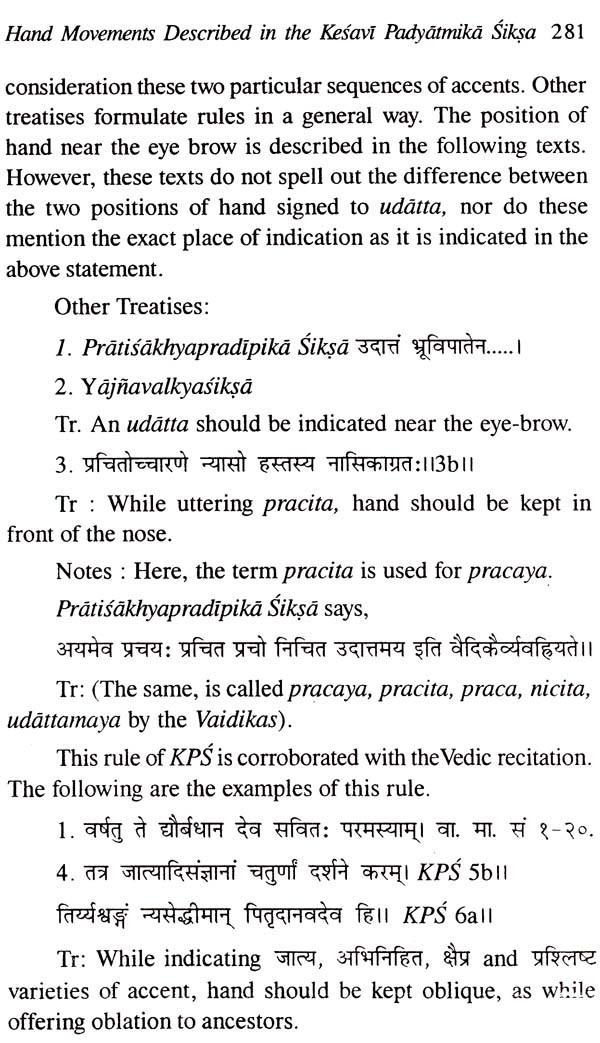 ---
We Also Recommend