The Word Speaks to the Faustian Man: Volume Four (Chandogya Upanisad) (A Translation and Interpretation of Sankara's Bhasya for the Participation of Contemporary Man) - An Old Book
$6400

$64.00
Tax included.
Shipping
calculated at checkout.
---
---
Book Specification
| | |
| --- | --- |
| Item Code: | IDE147 |
| Author: | Som Raj Gupta |
| Publisher: | MOTILAL BANARSIDASS PUBLISHERS PVT. LTD. |
| Language: | A Transliteration, Translation and Interpretation of the Pasthanatrayi and Sankara's Bhasya for the |
| Edition: | 2001 |
| ISBN: | 9788120817975 |
| Pages: | 805 |
| Cover: | Hardcover |
| Other Details | 9.8" X 6.5" |
| Weight | 1.33 kg |
Book Description
From the Jacket:
The Chandogya Upanisad: The culture it reflects is remote and archaic, the texture of its ritualistic and contemplative symbolism thick and dense - virtually a closed book for us moderns. A sustained self-submitting attentiveness, however, discloses its language as resonating disturbingly modern notes, focusing our attention on many of our pathologies as well as our possibilities, pathologies and possibilities that have escaped the notice of us moderns, despite our [belated] disillusion with our logo centrism and with our sight or vision: we continue to remain humanists, we moderns, with all our self-analyses, with all our awareness of the invisible in the visible, of the concealed within the unconcealed. The spirit of quiet hermeneutics that characterizes this study illumines many an opaque spot in this text, solves many an interpretive puzzle, turns many of its 'archaic naivetes' into living and compelling profundities. We are made to realize that what some moderns call Gestell is far more primordial than they would envisage it to be, far more ominous and primitive, tragic and persistent. A radical transformation is required, an ontological transformation, not a transformation is mere attitudes, if we would escape from its chilling and killing tyranny.
Not mere 'a masterly exposition' of an ancient text is, therefore, this study, but 'an authentic springboard for fresh philosophical thinking fecundating [the] two shores of the human experience: East and West.'
About the Author:
Until his retirement in the year 2000, Som Raj Gupta taught English at Kirori Mal College, University of Delhi. Now his time is spent mostly in solitude and in reading and writing.
Preface
The Chandogya Upanisad is, perhaps, the most contemplative among the principal Upanisads and is, for this very reason, the hardest to comprehend. The bhasya attributed to Sankara is, no doubt, helpful but only up to a point. It concerns itself more with matters of doctrine than with the rich symbolic imagery of the Upanisad and the vision is invokes. The same is largely true of the other traditional commentatorial literature too. The result is that many dimensions of the contemplative vision this Upanisad presents before us have remained a closed book for most modern students. Only what may be called the 'philosophical content' of this Upanisad, 'philosophical' in a narrow sense of the term, has occupied their attention. Obviously, this state of our understanding cannot in any way satisfy those whose eyes can see what its images evoke and whose ears can hear what its words resonate.
The reader who can linger with leisure on the images of this Upanisad and listen to its words will find, as did the author, that it is precisely its 'naïve and fanciful' sections that are the most sage and serious. This realisation will no doubt raise in his mind serious questions regarding the authenticity of the authorship of the bhasya . I, on my part, will be candid enough to admit my deep sense of dissatisfaction with many of its interpretations. At very many places have I asked myself: Is this work really the work of the master? I have not, however, tried to answer this question. It raises issues not in consonance with the aim of the present work.
This volume has had the support of the Jawaharlal Nehru Memorial Fund and Department of Culture, Ministry of Human Resource Development in the shape of a Nehru Fellowship and a Senior Fellowship. The Nehru Memorial Fund desired that I do a comparative study of the Chandogya vision and modern philosophy. Their wish was in harmony with the approach and perspective adopted in the present series. The term 'comparative philosophy' however, has some undesirable implications. More often than not, it implies investing modern thought and assumptions with a legislative authority. An exercise of this kind cannot but be futile and barren, it can never bear creative and fruitful results. I have tried to keep myself away from this self-complacent arrogance. There has been a tradition in India to equate vada, dialogue, with Brahman, with the Reality Absolute. A genuine vadin lets every point of view posses and occupy him, along with all its existential moorings. He now lives this point of view, this perspective, now another, developing the capacity or the humility to identify himself with every being and the way he lives and suffers and thinks and opens out to the world. That is the ideal laid down for vada; to be the humility that is Brahman itself, Brahman that is born with every creature, lives with it and dies with it. Genuine comparative philosophy should also, as far as possible, share in this spirit: one engaged in it should ever be ready to be undone and replaced by the living centre of every point of view. This does not com to be possible without a rich gift of imaginative.
I fear to apply this criterion to myself, I tremble to do so. Do I have the generosity of the spirit for this encounter, this replacement, this sharing of the other's sight and vision? Am I the humility that does this kind of dialogue or a mere monad to repeat, ad nauseam, only a monologue? I know I cannot pass the test; my humility may echo and reecho man a Satanic whisper! Let the reader judge for himself.
Let me conclude with a note of a much easier humility, let me acknowledge with gratitude what I owe to others; to Professors J.N. Mohanty some enlightening discussion, to my friend Sivanarayana Sastri the explanation of some grammatically puzzling phrases; to Dr. Karan Singh and Dr. Karan Singh and Dr. Kapila Vatsyayana the encouragement I received from them, to Mr. N.P. Jain very many facilities. The person with whom I feel myself bound with the bond of gratitude is Professor Raimundo Panikkar, a soul endowed with incredible generosity. I don't think he is aware of the role he has played in the recent year of my life. I am grateful to the moment that brought us together. I may mention in passing that it is owing to his initiative that all the volumes of this work are going to appear in a Spanish translation.
CONTENTS
| | |
| --- | --- |
| Preface | vii |
| List of Abbreviations | ix |
| Scheme of Transliteration | xi |
| Chandogya Upanisad | 1-767 |
| Sanskrit Glossary | 769-779 |
| Index | 781-797 |
Sample Pages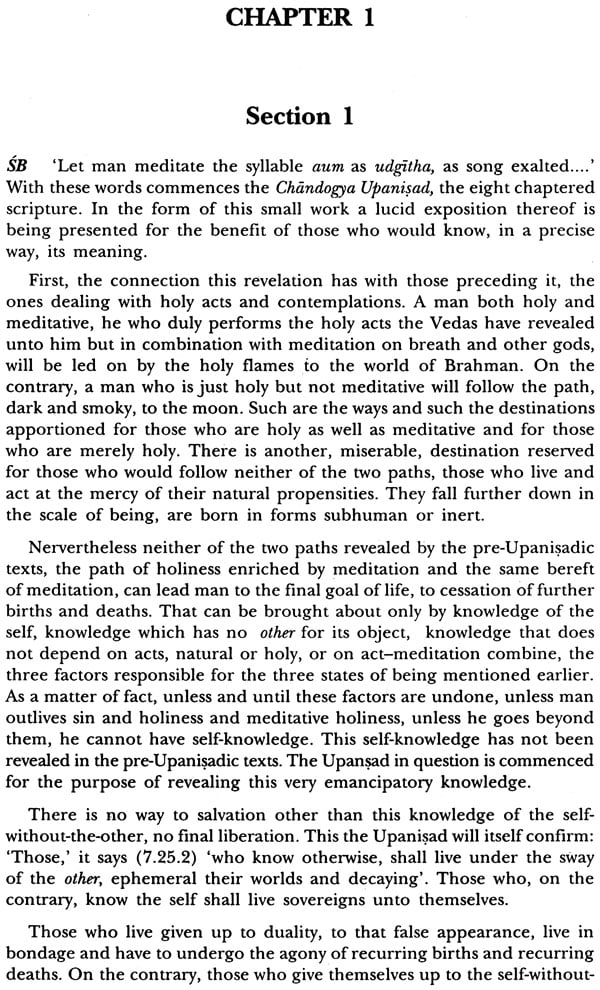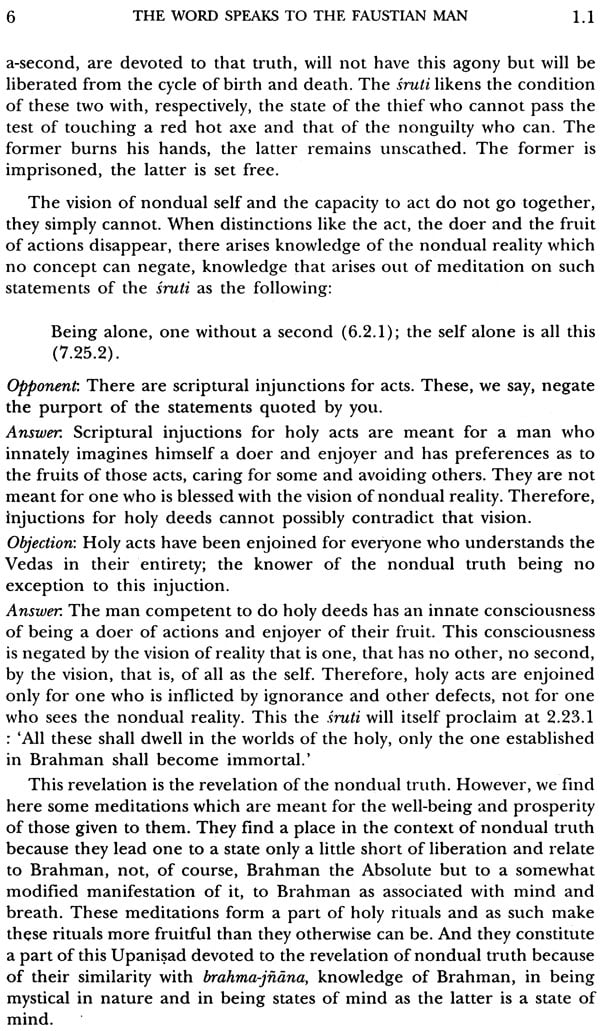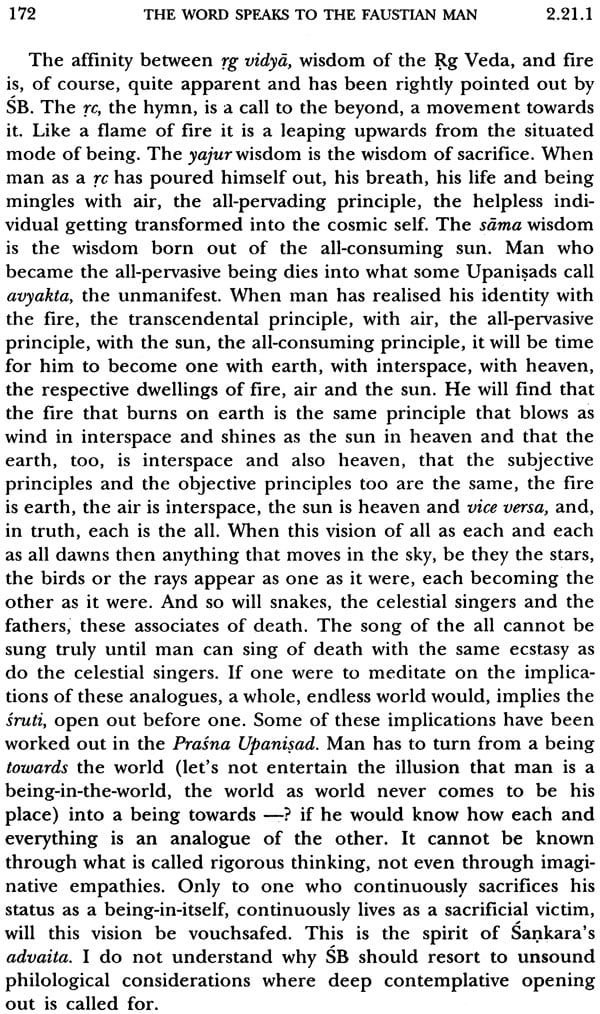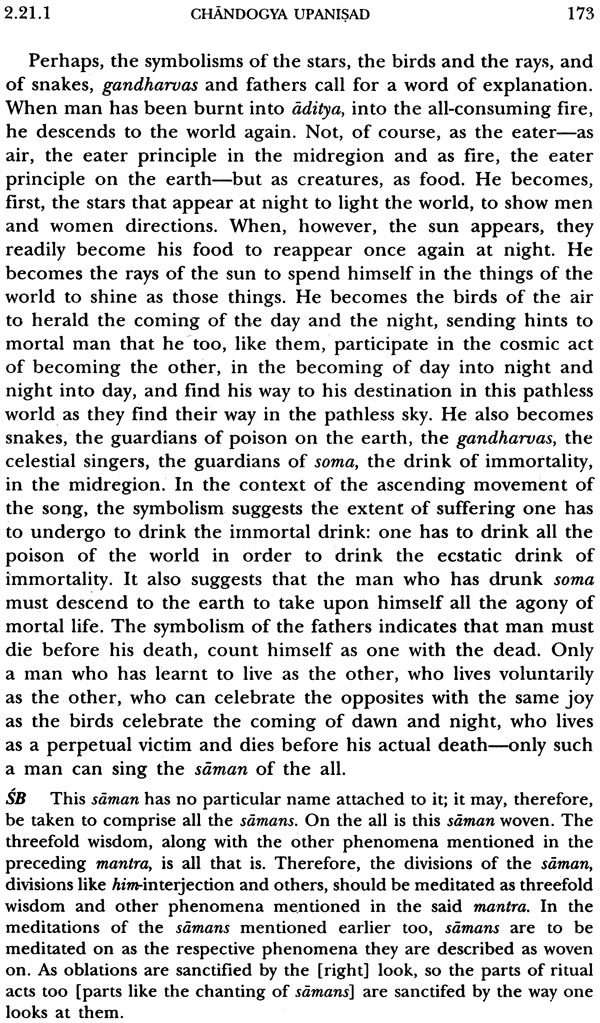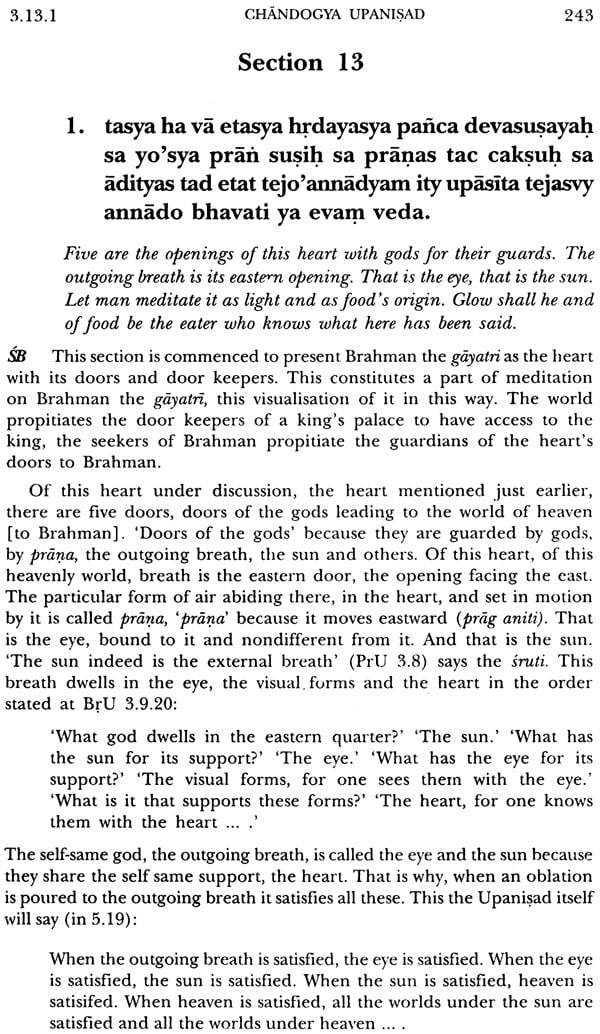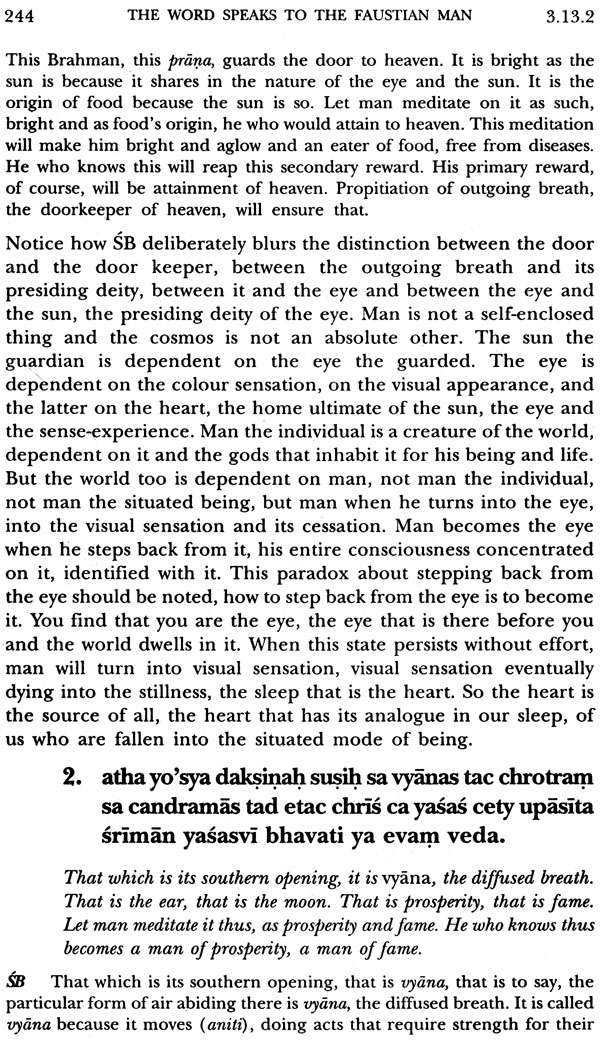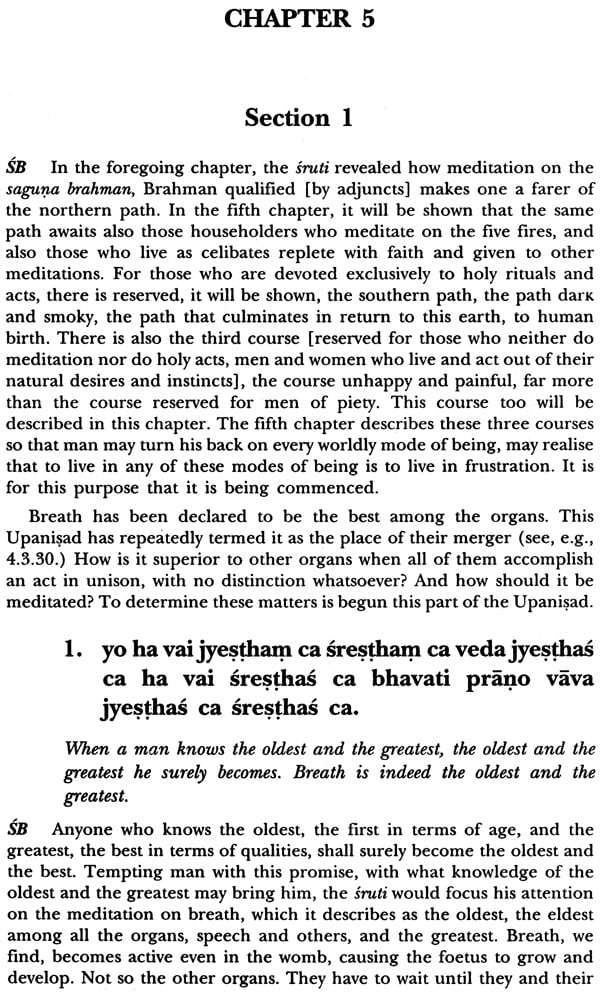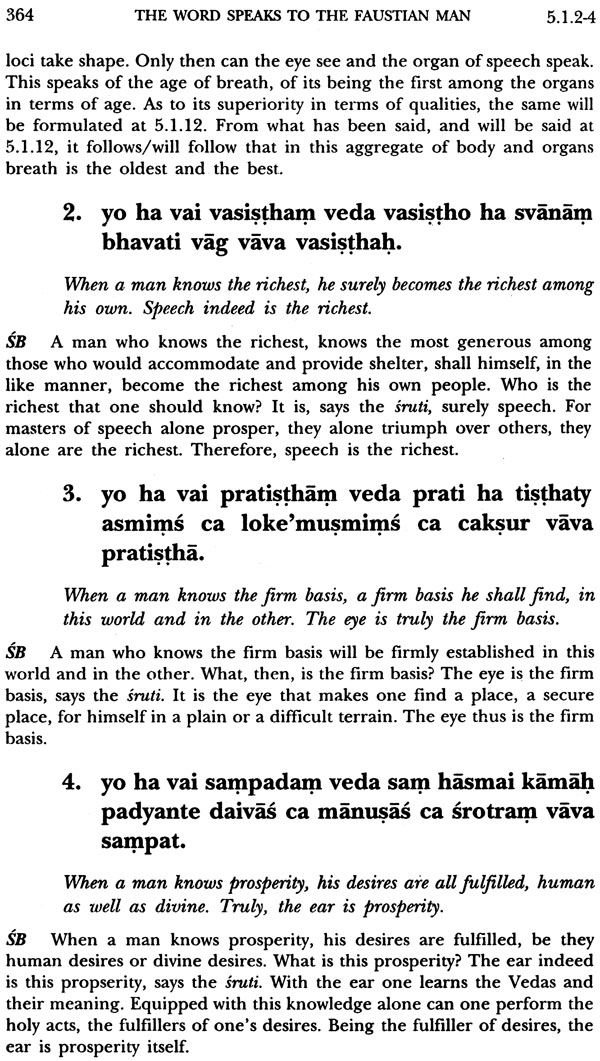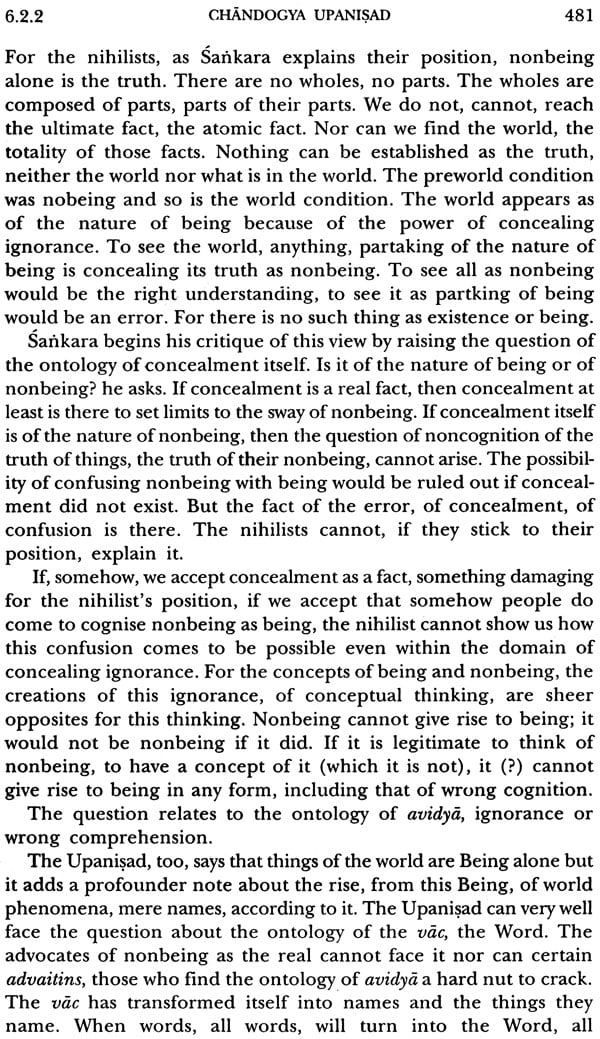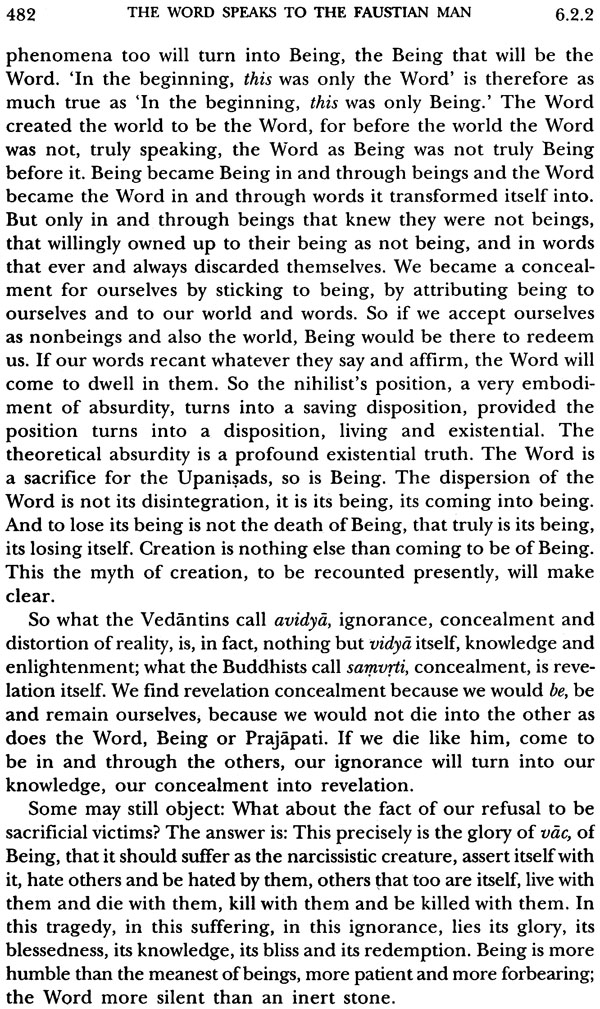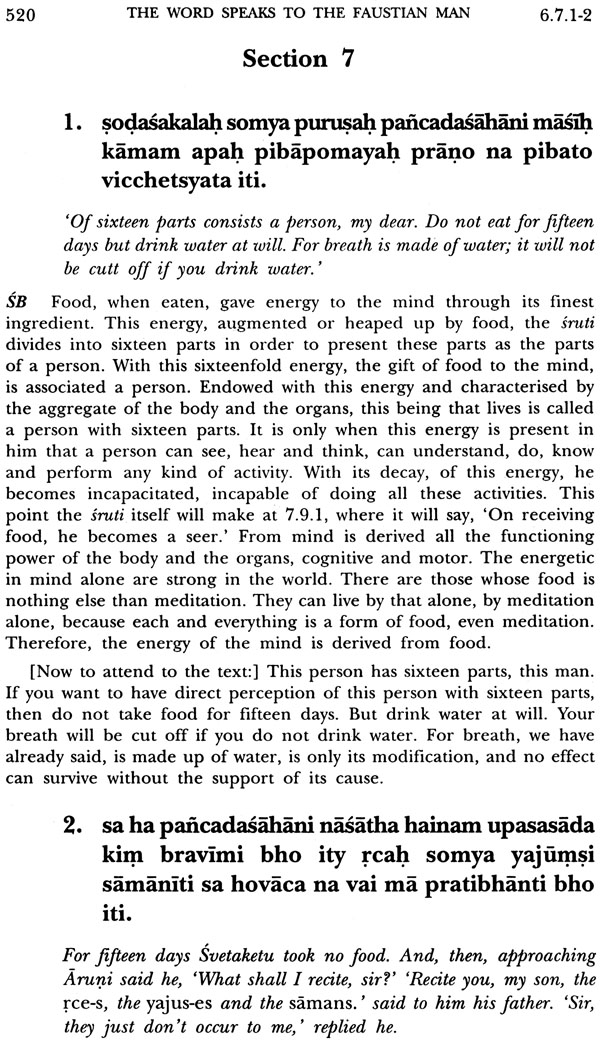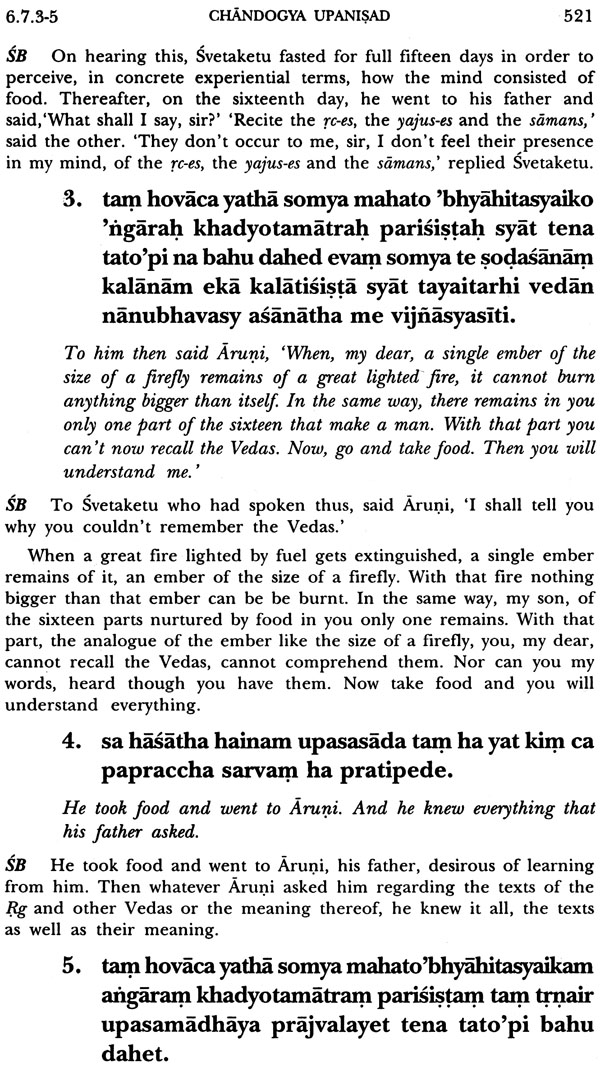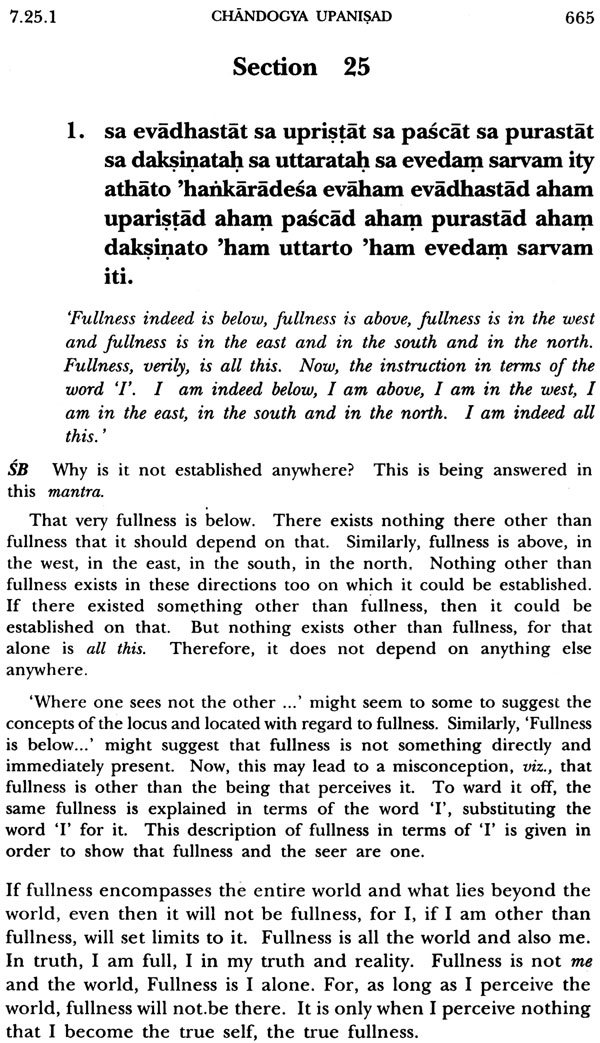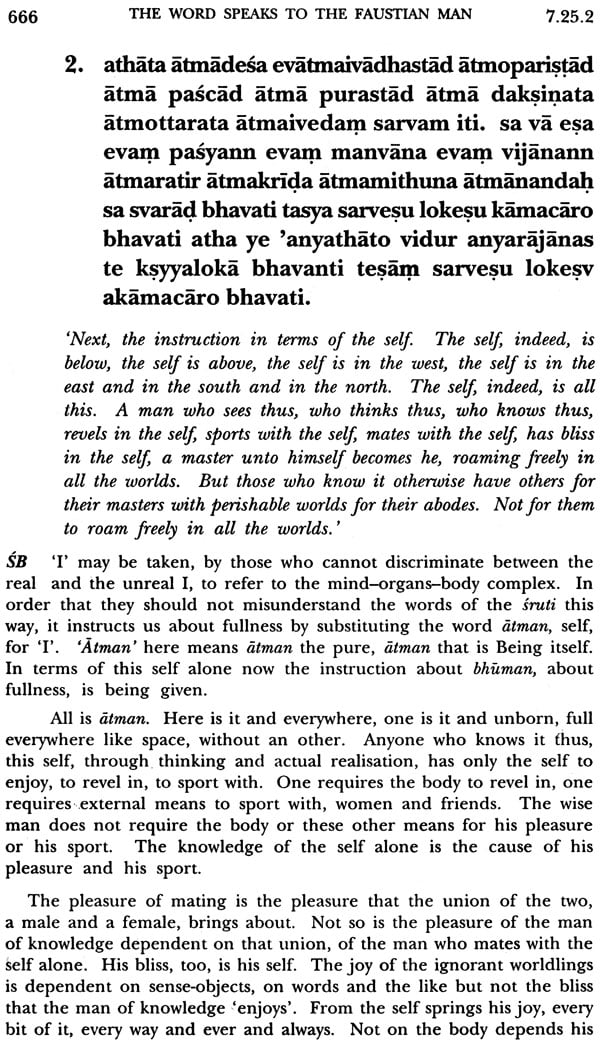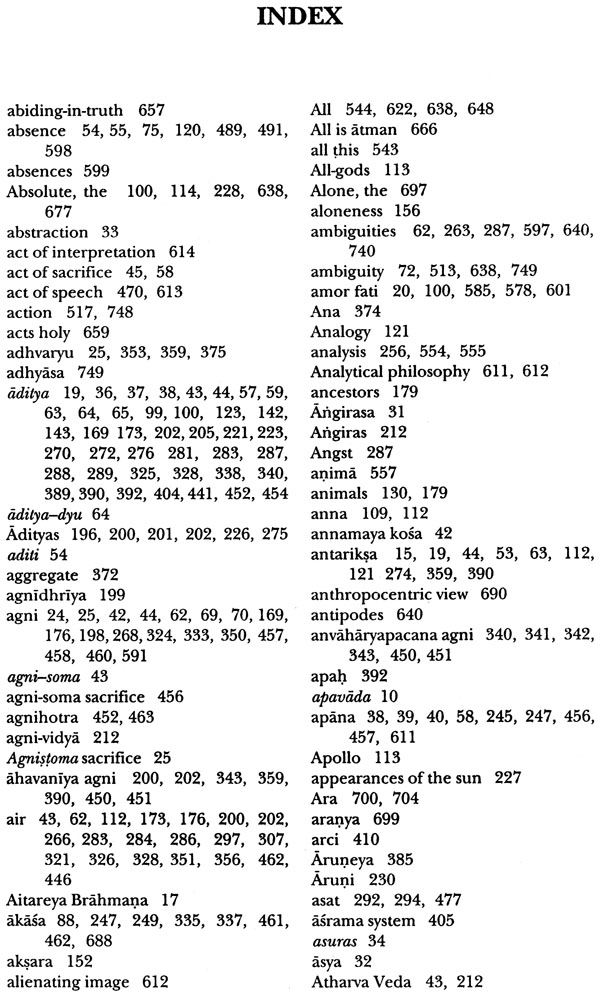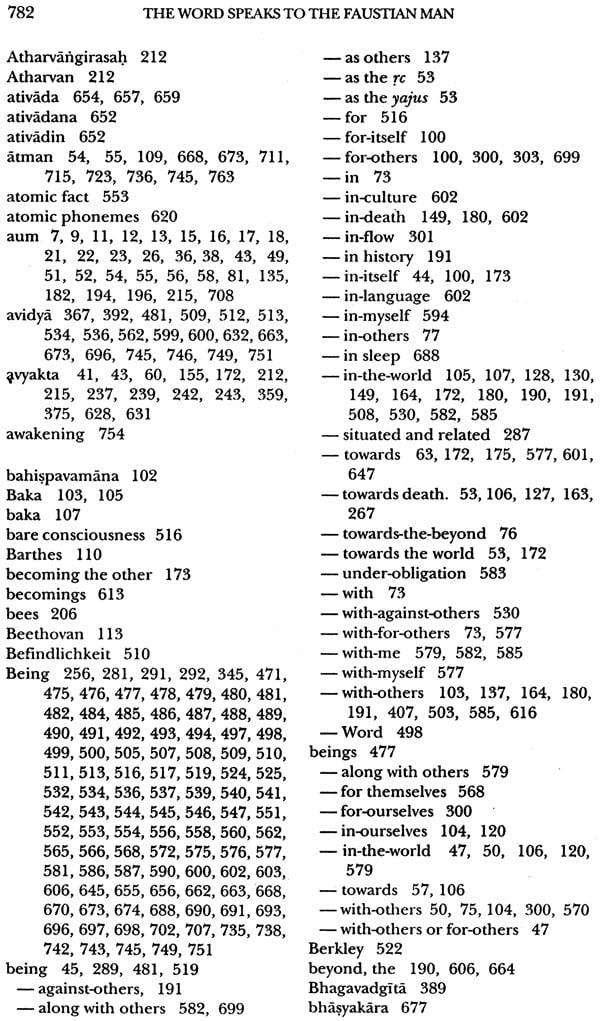 ---
Free Shipping. Delivered by

to all international destinations within 3 to 5 days, fully insured.
---
Of Related Interest:
Life of Shankaracharya - The Adventures of a Poet Philosopher
Click Here for an Exhaustive Collection of Books Relating to Shankaracharya
---
We Also Recommend