Years of Laughter (Reminiscences of a Cartoonist)
$4500

$45.00
Tax included.
Shipping
calculated at checkout.
---
---
Book Specification
| | |
| --- | --- |
| Item Code: | NAM882 |
| Author: | P. K. S. Kutty |
| Publisher: | Thema Books, Kolkata |
| Edition: | 2009 |
| ISBN: | 9788186017630 |
| Pages: | 310 (Throughout B/W Illustrations) |
| Cover: | Hardcover |
| Other Details | 9.5 inch X 7.5 inch |
| Weight | 830 gm |
Book Description
About the Book
P K S Kuty (b. 1921), one of India's Foremost has been witness to a rich history of social and political change from the final phase of colonial rule in India to the immediate present which he has chronicled over the years in his cartoons in some of the major dailies of the country. In his reminiscences, he re-lives his growing up in karala , his first stint as a cartoonist in Delhi and Lucknow, his encounters with the great journalist of the time and the political figures who shaped postcolonial India , his after career in Madras, Bombay , Delhi and Calcutta , With his sharp insight into personalities; all with his characteristic wit and humour. His text and cartoons together offer a highly original reading of the history of Modern India.
About the Author
P K S Kutty, born 4 september 1921, in ottaplam, kerala , is one of India' s foremost cartoonist . starting on his professional career in 1940 , he has served as a regular political cartoonist on some of the country 's major dailies, including the national herald , free press journal , Hindustan standard, Anandabazar patrika and Aajkaal .Kutty takes pride in acknowledging the cartoonist Shankar has his master , and was a regular contributor to Shankar 's Weekly , the cartoon periodical that the legendry Shankar edited.
Introduction
1
Kutty and I have been friends for nearly sixty years now. So when I was asked to write an introduction to his autobiography, it hardly came as a surprise! This is not his first book. A selection of his cartoons in The Hindusthan Standard appeared in print quite some time ago. In those days, when Kutty used to be the staff cartoonist of the Ananda Bazar Group of Publications; I used to write a column in the Hindusthan Standard called 'Like This- Like That', which would have a cartoon with each piece. Once, giving in to my persistent egging, Kutty finally agreed to a book of his cartoons. I took three weeks off from my routine sub-editing job, rummaged through the Hindusthan Standard files (ably assisted by the extremely cooperative library staff), selected about three hundred probables, and photographed them. Finally on a visit to Calcutta Kutty made a selection for his book Laugh With Kutty which was brought out by Ananda Publishers. The Bengali version, in my translation, followed. Of all the cartoonists that I have met and exchanged ideas with, Kutty was perhaps the most unambitious and loved the adda sessions with us. He enjoyed his tea and coffee and beer, and of course good food of any variety, including the typical Sunday fare in a Bengali household-a curry of succulent goat meat.
Another outstanding cartoonist O V Vijayan became a close friend when I was a budding cartoonist myself in 1949. Those were the days when K S Pill ay, the doyen of cartooning in modern India, had launched Shankar's Weekly. It became an instant success. English readers with a keen sense of humour, and artists with a critical frame of mind found for the first time a common platform from where they could communicate with the public. Hundreds of artists poured their contributions to the Editor of Shankar's Weekly. Independent India was getting her first taste of outsourced democracy. The more or less honest pre-Independence leaders changed dramatically, basking in euphoric illusions, and fattening themselves on public money.
Though cartoonists were never short of ideas, they came to realize rather ruefully that they were being entertained neither by the majority of the media, nor by the masses who saw that the cartoonist's wrath hardly changed anything, and soon got bored. The cynicism of the late 1940s was snowballing without any hope of respite. Cartoonists were gradually losing their sense of humour. Most newspapers found out that cartoons were no longer being talked about. There was hardly anything new in them. The optimistic lot among cartoonists gradually started dwindling, much to the delight of cartoonists like Vijayan, who seldom hoped for the better. Vijayan was a popular Malayalee writer and a Sahitya Akademi Award winner.
2
I met a cartoonist called R K Laxman in London in 1956, at an exhibition of his cartoons. The man who took me there was Abu Abraham, who later became the famous 'Abu' for his soft-touch, mild pictorial presentations and his soft-voiced ire that made him so adorable. At the exhibition I remember Sir Pethic Lawrence being rather milled at Laxrnan's rendition Of Mrs Eleanor Roosevelt! Later, Laxman's Common Man became quite an institution. In his birthplace, Pune, there is a statue of the Common Man. The people of Pune feel proud of it. But something has happened to the common Indian. He is not small or despicable any longer. He has become a voter at eighteen, a legislator at twenty one. The common man has become powerful. Dissatisfied common men routinely flex their muscles, training weapons rather too frequently on fellow human beings. Perhaps this will pass, perhaps not. Honesty is no longer good; corruption is not bad either. History will not judge anything because as always, history, being man-made, is subjective and devoid of absolute truth.
I remember the incredible cartoonist, Abu Abraham, during his days of struggle in London. Abu would come to our subsidized canteen for a lunch of rice, dal, meat curry, generous helpings of vegetable curry and a sweet dish-all for one shilling and nine pence- nearly every working day of the week. And then one day Abu told us that two of his cartoons had been accepted by Punch. An unbelievable piece of news! Sure enough, after about three weeks Abu's cartoon appeared-it was an Indian Sadhu with a nail-studded oblong portable seat I forget what the punch line was, but I remember it was a non- political gag. It was a small beginning; not particularly mention worthy, but it boosted him up when his morale was at its lowest ebb. Eventually he found a permanent place in the Sunday Observer. Over the years Abu became quite an institution in the world of cartooning. ln April 1972 he took his oath as a nominated member of the Rajya Sabha.
3
Cartoonists rarely had freedom. This is true from the earliest days of newspaper cartooning, The legendary David Low's contract stated that his cartoons could not be rejected by the editor or the management, but he felt the pressure all right, instinctively perhaps-that some themes need to be avoided at all cost. An innocent comment on religion could incite fanatics to fury and violence. It was probably in the 1930s that Low drew a cartoon showing a garden where the newinternational political sensation Gandhiji was circulating among the best known celebrities of the time. The idea was to underscore that Gandhiji was a force to reckon with. Unfortunately Low forgot that Prophet Mohammad's picture could not be represented in any form whatsoever. Passions rose fast, and The Statesman in Calcutta, which had nothing to do with Low's cartoon, was attacked by a violent mob. I have serious doubts about whether the mob actually saw the cartoon at all! Times have changed. But the same intolerance is evident all around us.
4
One could ask me perhaps: What sort of a person is Kutty? He is a very simple person, looks very ordinary, and amiable; but his eyes shine-shine with an honesty and frankness that is quite extraordinary. A cartoonist equally popular among people and on paper, I remember him doing sketches of ordinary people working in the press-proof readers, editors, sub-editors, lift men and all. Whenever the State Assembly was in session he would be there with his sketch book. But he did not need one really, because his memory for faces was simply phenomenal. Not only did he attend the Assembly routinely after a major election (with an opportunity to study plenty of new faces), he listened to speeches being made by members from both the benches. Very popular with the MLAs, he developed enduring friendships with several of them.
He was in many ways quite different from other cartoonists in Calcutta. He reminds me of David Low, that outstanding man from New Zealand who made London his home. In 1956, when some of Hitler's henchmen were being being put on trial for war crimes at Nuremberg, Low attended the sessions and a series of his sketches were published in The Manchester Guardian. As far as I can remember, Kutty was in Paris-not very far from Nuremberg-at that time. But missing that one historical trial was hardly the end of the world for him! He was witness to a lot of events, happy and not-so-happy. With his keen, perceptive, analytical mind, he has been able to glean from the history of mankind incidents that he has immortalized in his cartoons. With all the cynicism that is eating into our system like vitriol, I do believe that generations would learn to appreciate the genius of a cartoonist. There are not too many like Kutty. May their tribe increase!
Contents
| | | |
| --- | --- | --- |
| | Prologue | 1 |
| | Life as I see It | 4 |
| 1 | My Birth | 5 |
| 2 | Kerala Then | 11 |
| 3 | Economics of the Era | 19 |
| 4 | Childhood | 23 |
| 5 | School | 28 |
| 6 | Brahman Dominance | 35 |
| 7 | Ottapalam | 38 |
| 8 | College | 45 |
| 9 | College ends | 50 |
| 10 | My First Visit to Delhi | 57 |
| 11 | Shankar | 61 |
| 12 | Journalists in New Delhi | 66 |
| 13 | Lucknow | 71 |
| 14 | Madras | 81 |
| 15 | Bombay | 88 |
| 16 | Delhi Again | 95 |
| 17 | Freedom at last: Nehru and His Men | 103 |
| 18 | Dosa-Iddali Imperialism | 113 |
| 19 | British panic | 116 |
| 20 | Nehru and his men-the Sycophants | 120 |
| 21 | Stenographer ERA | 123 |
| 22 | Hindusthan Standard | 125 |
| 23 | Swami Ranganathananda | 131 |
| 24 | Rajaji and the Constitution | 134 |
| 25 | South Indian Brahman Priests | 142 |
| 26 | PESTS in DELHI | 144 |
| 27 | President Rajen-babu and Vice President Radhakrishnan | 146 |
| 28 | V P Menon | 150 |
| 29 | On a European Tour | 154 |
| 30 | A Couple of Marriages | 166 |
| 31 | After Marriage | 173 |
| 32 | Syndication | 178 |
| 33 | US Tour | 181 |
| 34 | Jeeru's Birth | 190 |
| 35 | My Connection with Bengal | 193 |
| 36 | Birth of the Dynasty and the Congress Split | 198 |
| 37 | The Year 1969 | 209 |
| 38 | Cartoonist in Bengali | 211 |
| 39 | Congress, Indira, Emergency-and after | 213 |
| 40 | Maya's Marriage and after | 226 |
| 41 | An Apartment in Calcutta, thanks to Biman | 236 |
| 42 | Gouri | 235 |
| 43 | Eye Surgery | 238 |
| 44 | Madison, USA | 241 |
| 45 | My Goodbye to ABP, Aajkaal-and Cartooning | 244 |
| 46 | Friends in and from Bengal | 246 |
| 47 | Shankar's Weekly and Snippets of Delhi | 264 |
| 48 | My Career as a Political Cartoonist | 271 |
| 49 | Freedom of the Press Today | 279 |
| 50 | Scoring Over Death | 282 |
| 51 | Last Chapter | 284 |
| 52 | God and Me | 287 |
| | INDEX | 288 |
Sample Pages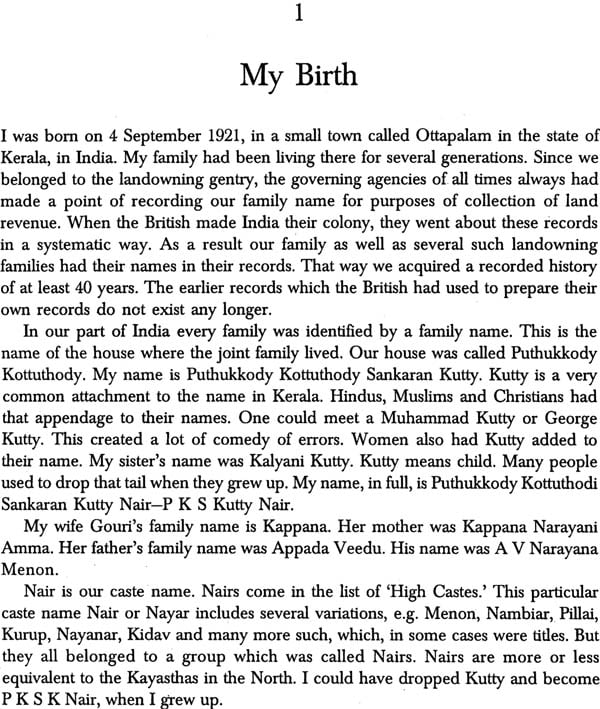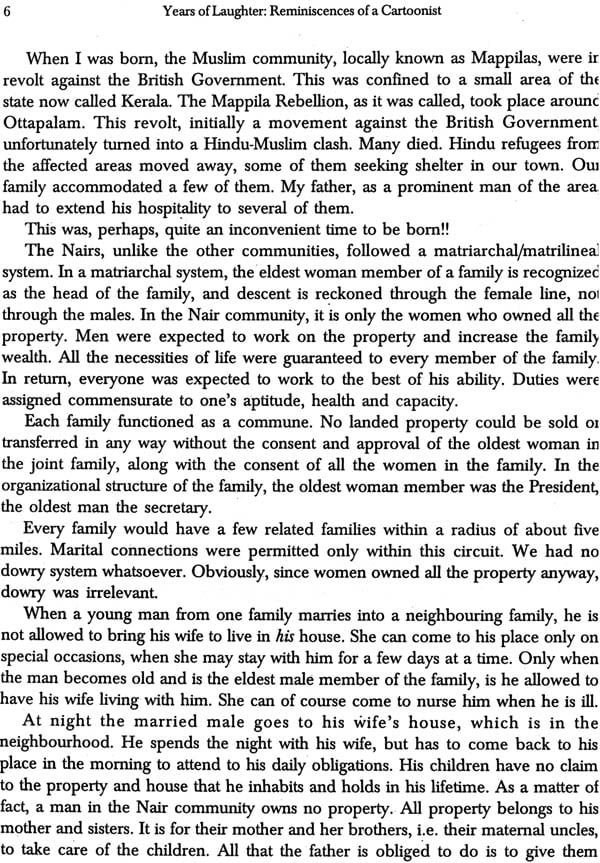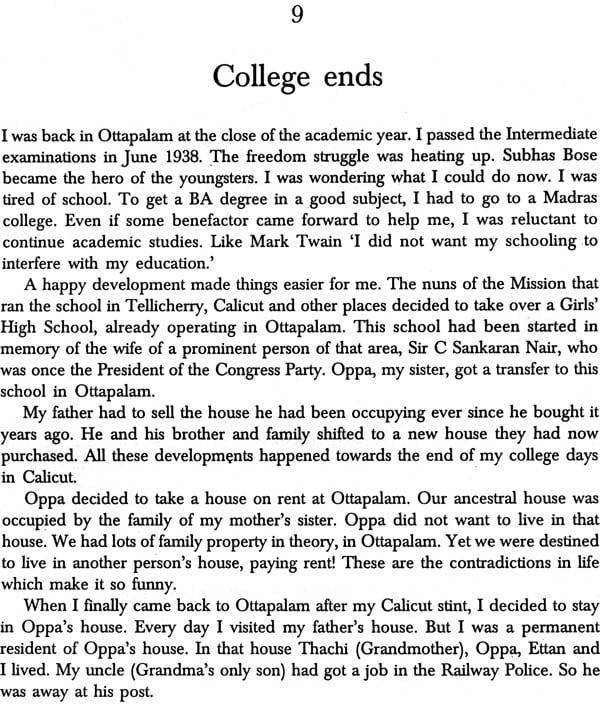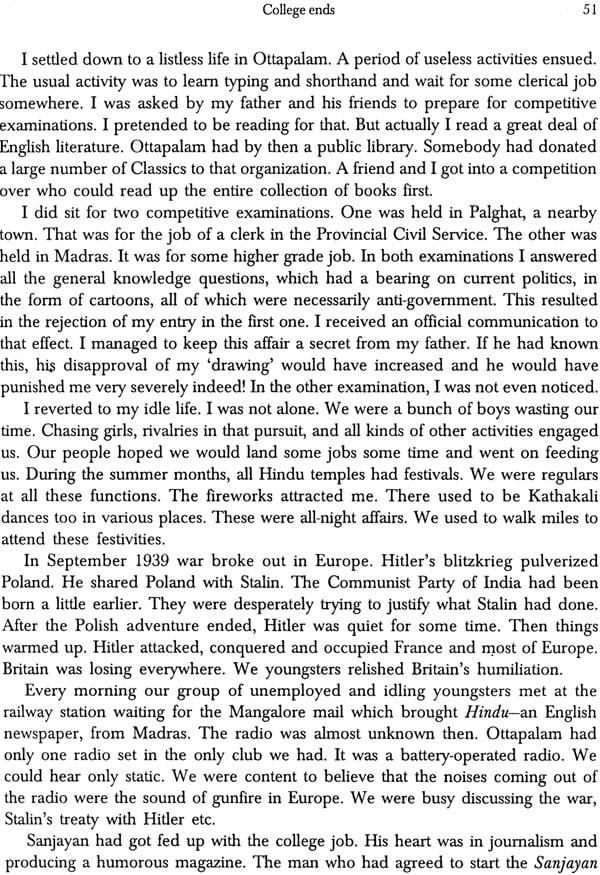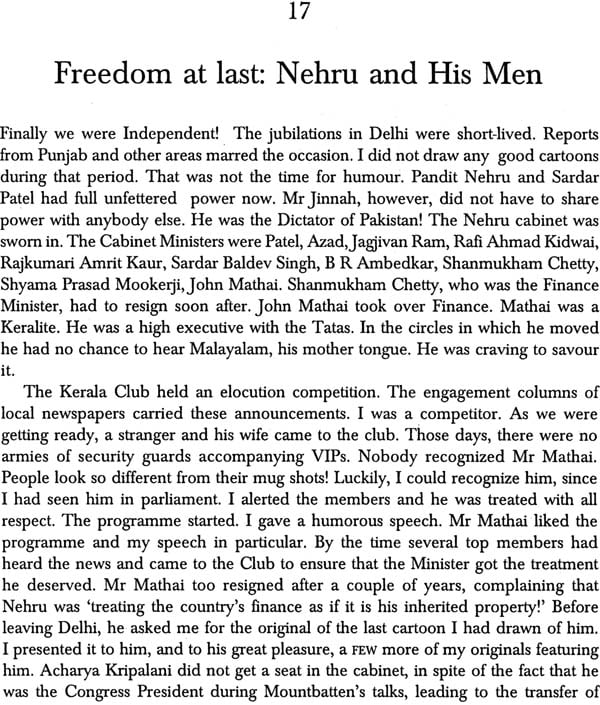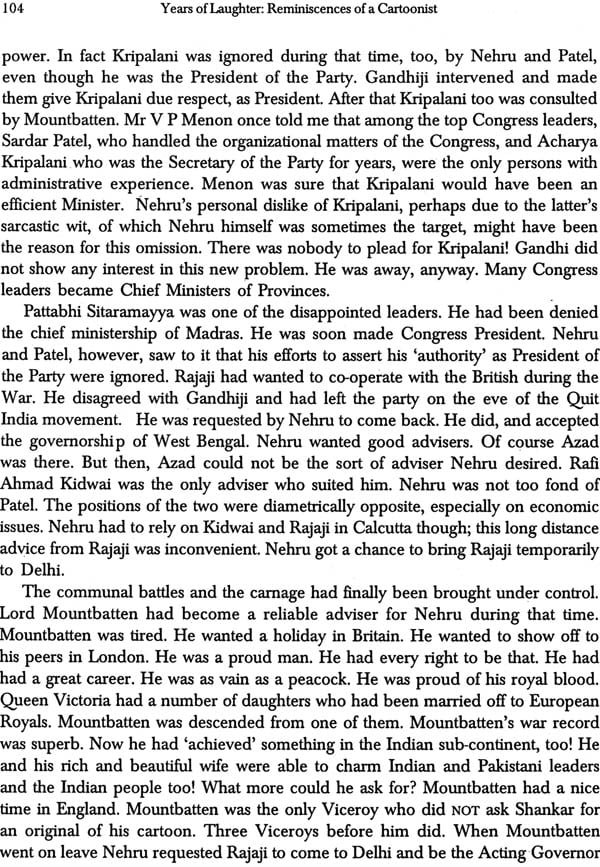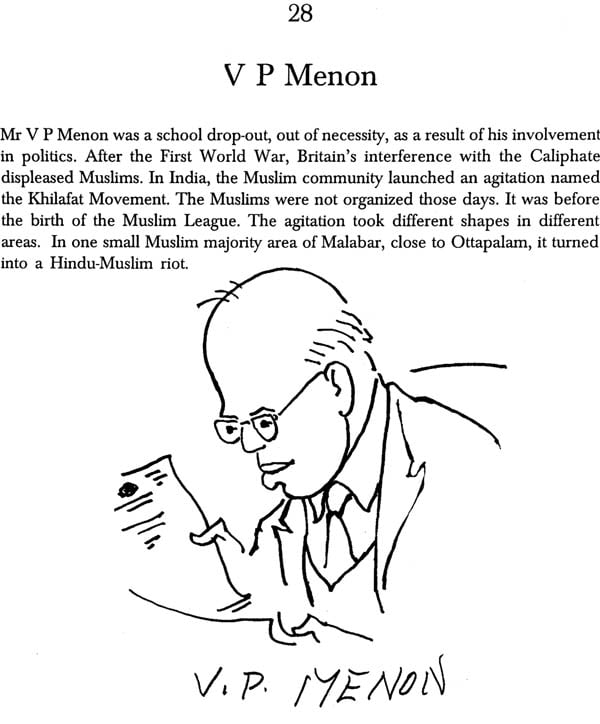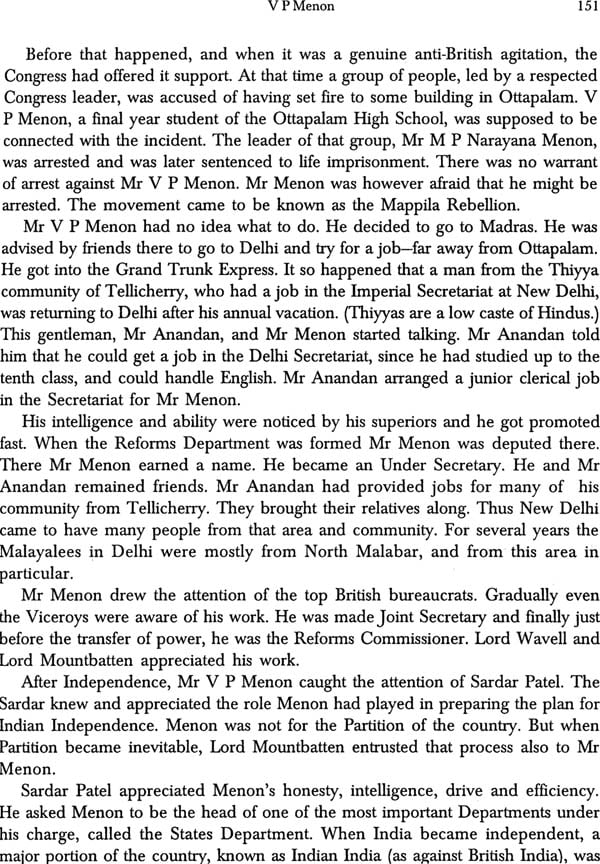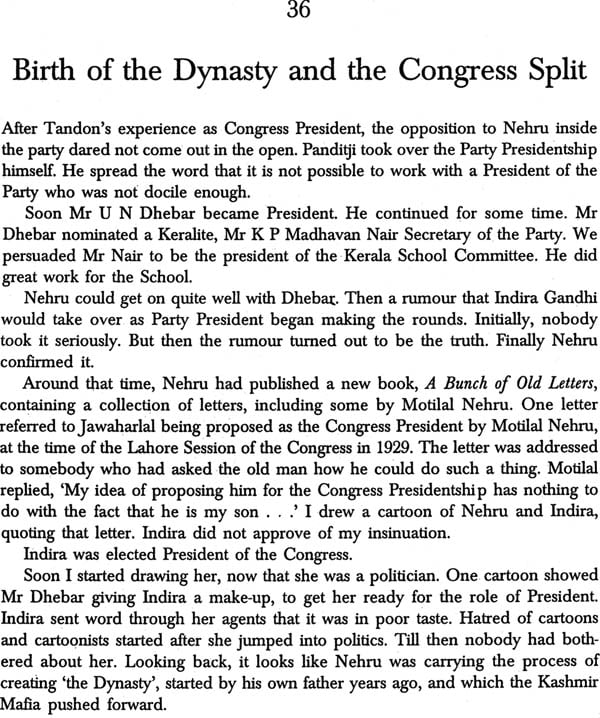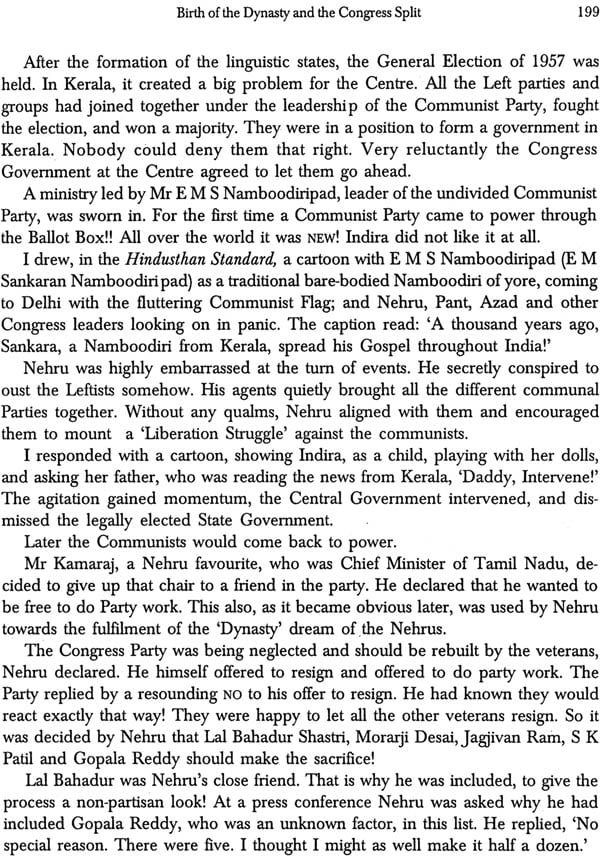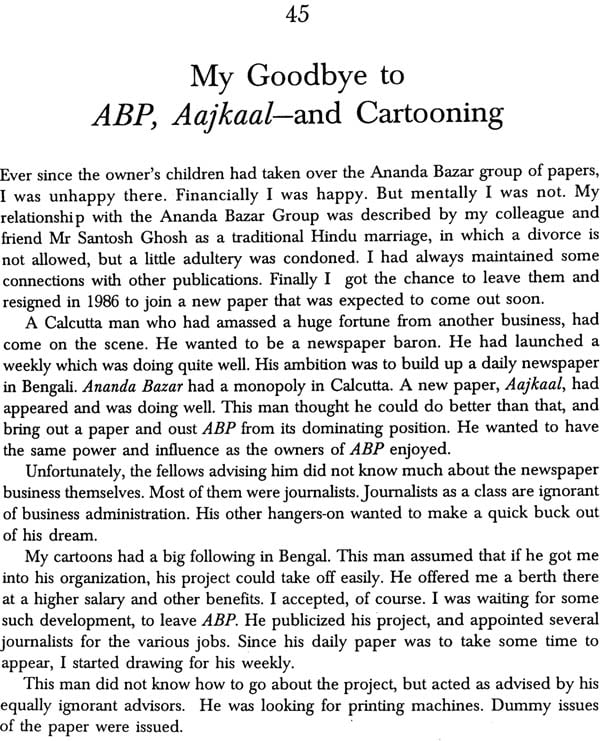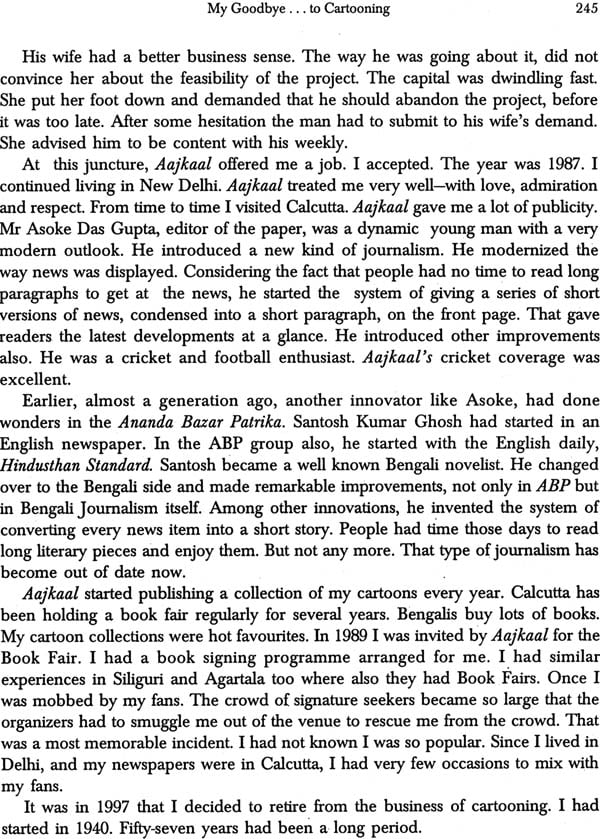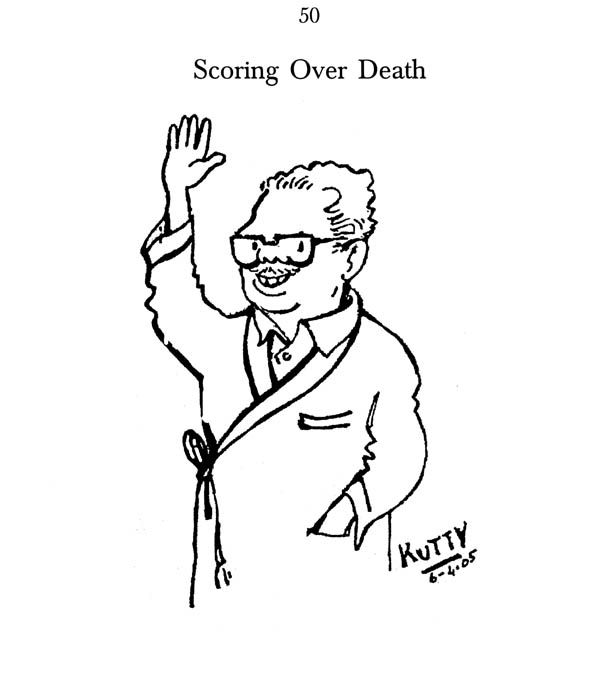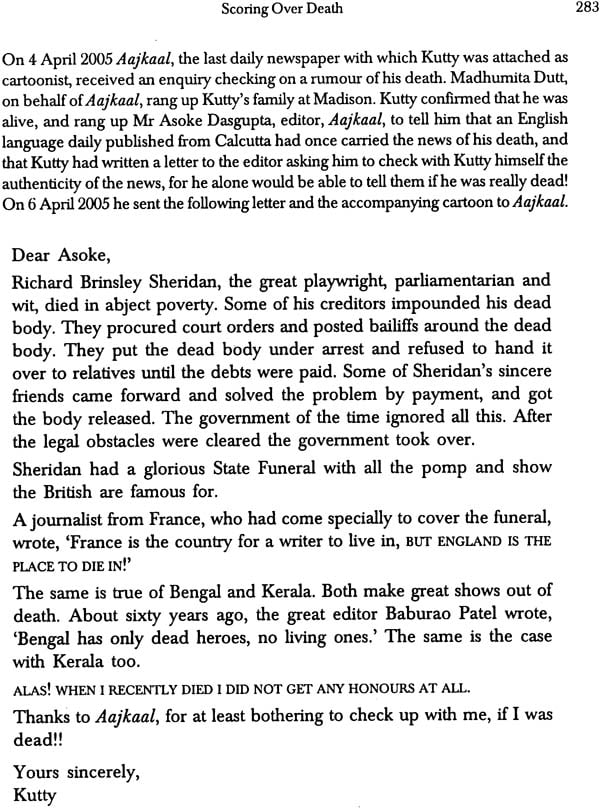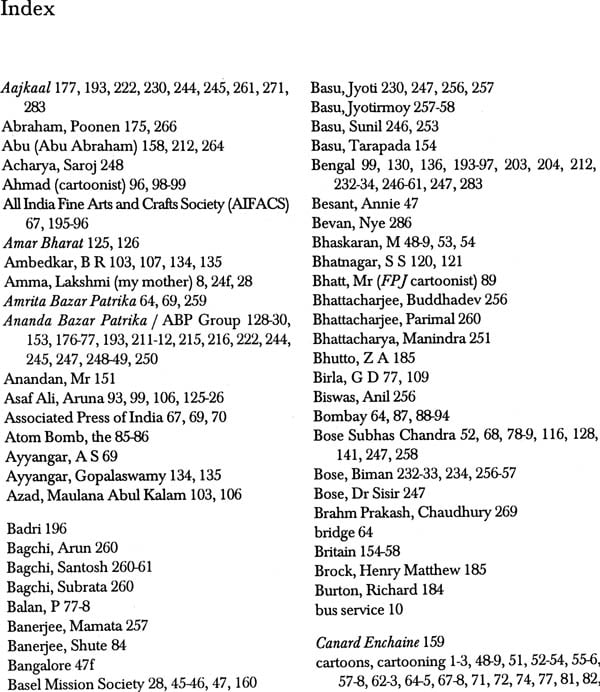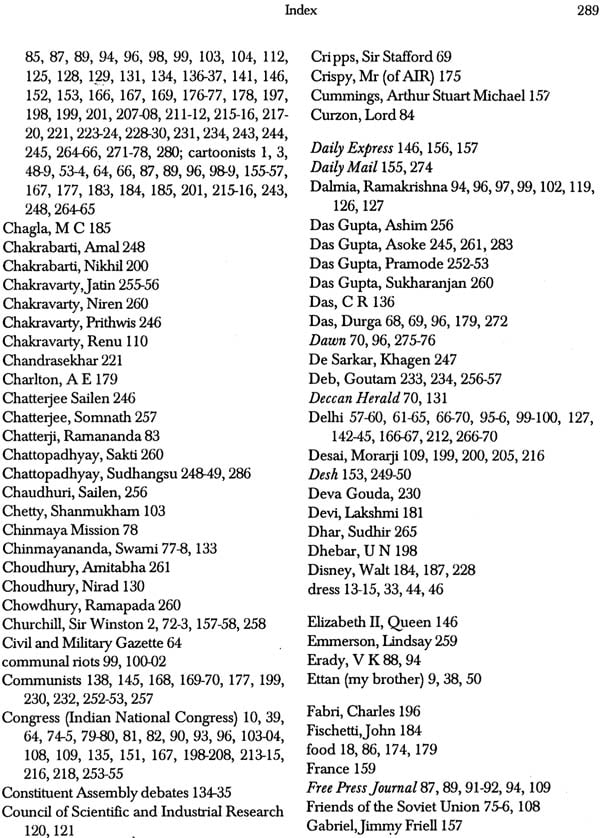 ---
We Also Recommend